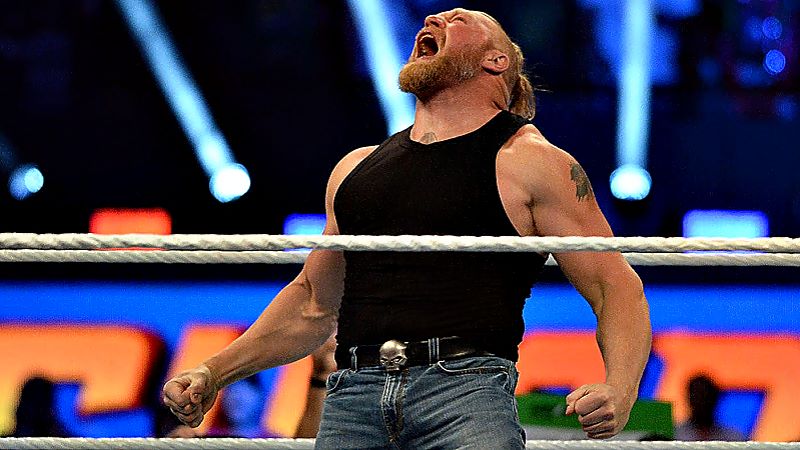 Paul Heyman protégés both past and present will collide when the 2021 edition of Crown Jewel pits WWE Universal champion Roman Reigns against his predecessor, Brock Lesnar.
In a swapping of roles that's rejuvenated the WWE universe's thirst for this feud in particular, fans are getting a lot out of seeing Reigns as the heel and Lesnar as the less familiar face of the company.
So much so, in fact, that recent rumours regarding the managements plans heading forward suggest their bad blood won't be finished at Crown Jewel on Thursday, October 21.
Wrestling Attitude was recently reinforced regarding the rumours of where this head-to-head is moving, with signs suggesting WWE could even draw matters out until Wrestlemania 38 next April.
Dave Meltzer wrote in a recent Wrestling Observer Newsletter, suggesting a Lesnar win at Crown Jewel may in fact be the method to squeeze new life out of their rivalry:
"From what we understand, and what makes sense, is this is not a one-and-done program. For one, unless Dwayne Johnson is wrestling Reigns at next year's WrestleMania, this would appear to be the biggest possible 'Mania match.
"So the idea here is to build to a return, whether that means Lesnar wins to build to a rematch or some disputed decision takes place. There is also Paul Heyman in play as the storyline is written to tease that Heyman is a double agent and you don't know who he will side with when all the chips are down."
But what of the Universal title now, and what can fans expect to see unfold when the WWE takes the action to Mohammed Abdu Arena in Riyadh, Saudi Arabia, later this month?
The current odds and UK betting offers paint Lesnar as the far more valuable of the pair, putting up a +155 price to walk away from Crown Jewel with his former belt in tow.
Lesnar, 44, has held the Universal Championship on three occasions in the past and is the all-time longest holder, with those three spells in possession of the title combing for 688 days in total.
Reigns—a -220 favourite at Crown Jewel—is quickly catching up after what's been a dominant second tenure with the Universal belt, however, having taken the belt from Bray Wyatt all the way back in August 2020:
It's supposed that the longevity of that reign (no pun intended) may depend on whether or not The Rock is going to make his way back into the WWE picture in time for Wrestlemania 38.
Given the tightening competition with AEW as a genuine rival for the dedicated wrestling audience, one would be tempted to believe Vince McMahon will pull out all the stops to make that happen.
In the event The Rock's return isn't looking likely, it puts all the more pressure on the company to ensure this current feud—which, as we say, the fans are lapping up for the time being—remains a major draw.
It also makes business sense to keep the back-and-forth going between this pair as it provides a natural avenue for Heyman to have a say, and who would turn down that opportunity?
As Meltzer mentioned, putting Lesnar over in Saudi Arabia could actually work as a means of reinvigorating Reigns, as his time with the title has become slightly overpowering at this stage.
Predictability has its place in wrestling, but history has taught us no one figure is too big to fail, and Lesnar pulling up to a title fight as an underdog is almost always worth some form of punt.