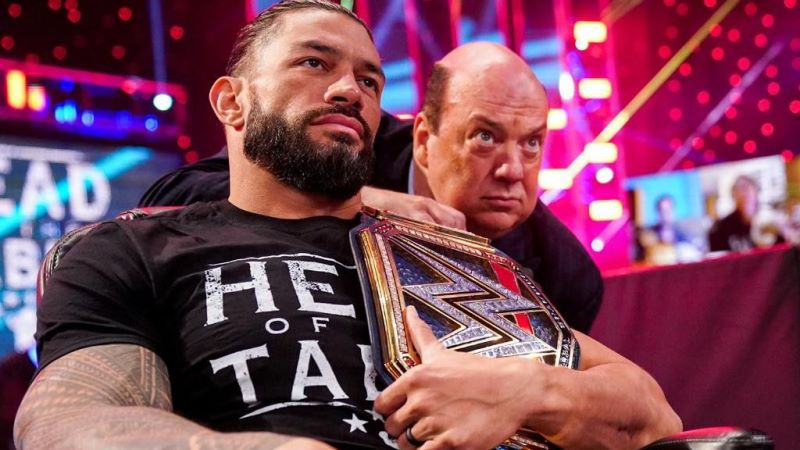 Roman Reigns Defeats Bobby Lashley And Big E – As promised earlier this evening, Roman Reigns brought Monday Night RAW and The New Day to the island of relevancy But it was an easy night for The Head Of The Table.
Tonight's show kicked off with The Bloodline (Reigns and The Usos) defeating The New Day, thanks because of Bobby Lashley attacking all the members of The New Day. Reigns was also speared by Lashley after the match. The All Mighty later claimed to be the REAL champion during a backstage segment with Adam Pearce and Sonya Deville. The two co GM also had to deal with Big E, who demanded a match with both Reigns and Lashley. That led to the main event being made for the end of the show pitting Reigns against Big E and Lashley in a Triple Threat Match.
The main event started with a bang, as all three superstars went at it almost immediately. Lashley clearly seemed to be targeting Big E, though, as he continued to try and assault the man that Lashley claims stole his WWE Championship. However, Reigns wouldn't be left out of things, and ended up getting some huge hits in on Lashley in retaliation for spearing him earlier in the night. After a brief break ,it was Big E's turn to snatch momentum, as he hit Roman Reigns with a big belly-to-belly suplex that nearly ended things.
As the match drew to a close, things ended up heading outside of the ring after Lashly stopped Big E from hitting Reigns with a Big Ending. Outside of the ring, Lashley then dragged Big E to the announcer's table, where he promptly put Big E through it with a vicious chokeslam. Inside the ring, Reigns was waiting with a SUperman Punch for Lashley, but that wasn't enough to end things. "The Tribal Chief" then tried to hit him again, but Lashley countered with a massive spear that seemed destined to end things before Big E slid back into the ring, broke up the pin by tossing Lashley out of the ring, and then hit the Big Ending on Reigns.
With Big E going to pin Reigns, Lashley had seen enough, and came back into the ring with a chair before absolutely laying into the WWE Champion. With the referee unable to do anything to prevent it, Lashley was able to essentially take Big E out of the match, but was so preoccupied with his attacks that he didn't see Reigns, who lined up a big spear on the superstar for the win.