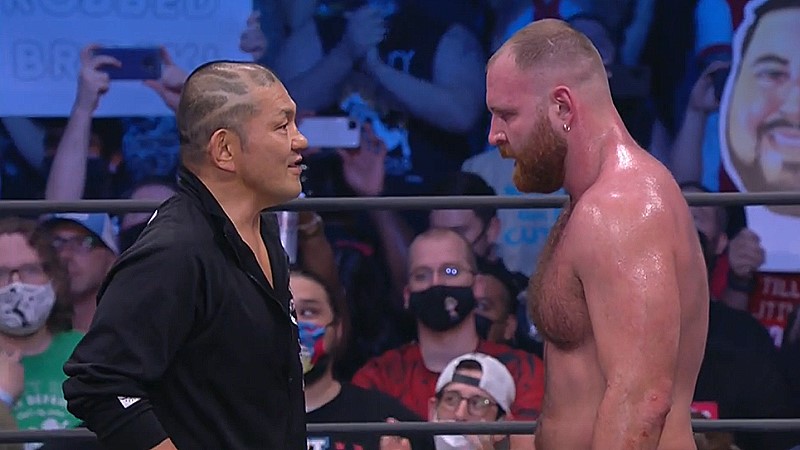 During tonight's AEW All Out PPV, Jon Moxley defeated NJPW star Satoshi Kojima.
The match started out with Kojima hitting a shoulder block and then hitting a dive onto Moxley after Moxley rolled out of the ring. Moments later, Moxley got the upper hand and he hit a dive through the ropes onto Kojima. He followed up with chops in the corner of the ring.
Kojima fought back and hit machine gun chops in the corner. They did a spot with Kojima biting the forehead as Moxley sat on the top rope. Kojima then followed up with a super plex. Moments later, Mox locked in a rear naked choke and then followed up with a slam and cross arm breaker.
Mox tried a Paradigm Shift but Kojima countered into a brainbuster and pin pattempt. Mox fought back and hit a fisherman suplex and forearm shots to the chest. Kojima and Mox both hit a forearm shot and Mox hit a high knee to the face but Kojima hit a lariat and Koji Cutter and was not able to make the pin. Both men traded punches and forearms. Mox hit a clothesline into a pin attempt.
Mox locked in the bulldog choke but Kojima got his foot on the bottom rope. Kojima fought back with Mongolian chops, Mox with a head butt and then the Paradigm shift. Mox hit a second one and then pinned Kojima for the win.
After the match, Minoru Suzuki's music hit and a surprised Moxley looked to the stage in confusion. Suzuki eventually came out and calmly made his way to the ring.
Moxley and Suzuki faced off for a moment, Suzuki then took his jacket off and they battled in the ring. The two threw some big shots and laughed along the way. Suzuki eventually put Moxley down with a rear naked choke and a gotch style piledriver.
Minoru Suzuki Appears At AEW All Out, Confronts Jon Moxley