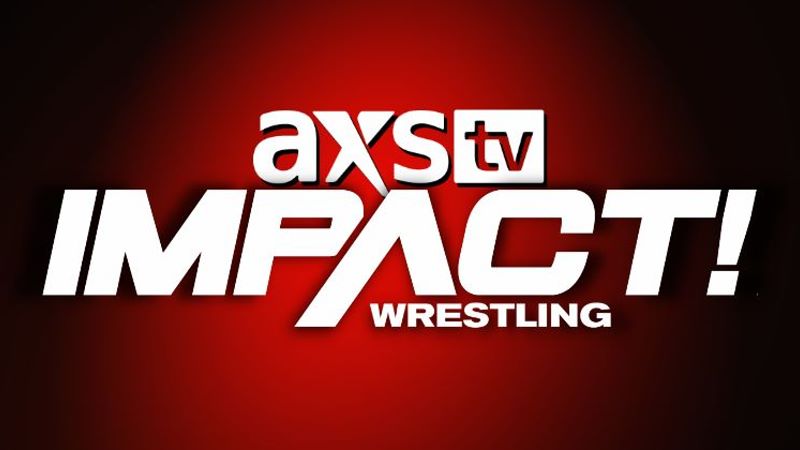 D'Lo Brown and Matt Striker welcome fans to Impact Wrestling! We kick things off with a grudge match between two of the best on the roster!
Chris Sabin vs. Sami Callihan
Chris Sabin doesn't allow Sami Callihan to make it into the ring before flying out of the ring with a suicide dive. Callihan and Sabin exchange counters on the outside before Callihan tosses Sabin back in the ring. Callihan hits a powerbomb for a two-count. Sabin rocks Callihan with a punt kick on the apron, followed by a backslide driver! Callihan recovers quickly before throwing Sabin back-first towards the ring post with another powerbomb. Sabin refuses to let Callihan keep control. He lands several chest chops.
Back in the ring, Callihan eats a big back elbow in the corner. Callihan catches a back kick on Sabin as he's climbing up the ropes. Callihan mocks Sabin by yelling out, "Motor City" before connecting a nasty headbutt. Callihan applies a modified Indian Deathlock on Sabin in the center of the ring! Sabin struggles to grab the bottom rope, but he finds a way. Callihan blocks Sabin in the corner and hits a hard chop. Both men are up on the second and top rope. Sabin hammers a few shots in, then drives his fingers into Callihan's eyes – stealing something straight out of "The Death Machine's" playbook. Sabin takes Callihan on a ride for a tornado DDT. He looks for cover. Callihan kicks out.
Both men exchange pump/bicycle kicks. Callihan lands another strong headbutt. Sabin returns with a chop. Callihan connects a low curb stomp, followed by his Cactus Special '97 piledriver. Can Callihan capitalize? No! Sabin kicks out. Sabin rolls Callihan up. Callihan pops free. Sabin hits Cradle Shock, and this time, the pinfall succeeds. Chris Sabin picks up the win in this bout!
Winner: Chris Sabin
Post-Match: Moose runs out and throws Chris Sabin out of the ring. Callihan slowly rises to his feet. Moose plants a Lights Out on "The Draw." Moose throws a steel chair and baseball bat. It looks like Moose is trying to recreate Callihan-Eddie Edward's infamous baseball bat incident. Speak of the devil, Eddie Edwards makes the save in time before Moose slams that baseball bat on top of Callihan. Moose retreats while Edwards and Callihan stand tall in the ring.
Backstage: Taylor Wilde looks to seek vengeance in a 3-on-1 Handicap match against The Influence (Madison Rayne, Tenille Dashwood & Kaleb) tonight.
– An advertisement is shown for NWA EmPowerrr and NWA 73. These action-packed shows will occur this weekend on Fite TV!
Backstage: Sami Callihan finds Eddie Edwards. Callihan mocks Edwards for saving him earlier. Edwards reiterates again, going forward, he doesn't need his help anymore. Or does he?…
– D'Lo Brown and Matt Striker run through the matches still to come on tonight's show.
Speaking of NWA EmPowerrr, Mickie James makes her way down to the ring!
Mickie James' In-Ring Segment:
Mickie James is so excited for fans and wrestlers to see and compete, respectively, in the first-ever all-women's pay-per-view under the NWA brand. James', the Impact and NWA production crew put together a promo package ahead of Deonna Purrazzo's Knockouts Title defense against Melina, which gets shown. Seconds after it's aired, Purrazzo and "The Drama King" Matthew Rehwoldt make their way to the ring.
Purrazzo chuckles once she makes her way into the ring. She comes off aggressive by asking James how it feels to have her spotlight taken away from her? Purrazzo takes a breathe and starts over. Purrazzo reveals she is thrilled for EmPowerrr, but she thinks people won't be too excited to see her match against Melina because everyone knows how the ending is going to go: Purrazzo retains her Knockouts Championship.
James calls Purrazzo out for having Rehwoldt win the mixed tag team match for her at Emergence last Friday against Melina and Trey Miguel. Both women trade more fiery words before Purrazzo throws down on Mickie James. Rehwoldt gets invovled, too. Trey Miguel runs out and takes his fight with Rehwoldt to the outside. Purrazzo jumps on top of James again. Melina kicks her shoes off and runs down to the ring to put a stop to this chaos.
– This week, Brian Myers is teaching Sam Beale more on how to be the most professional wrestler. This week's lesson has to do with their gear. Beale thinks Myers is deflecting following his loss to Christian Cage last Friday.
Chris Bey vs. David Finlay
Chris Bey charges toward David Finlay, trying to get the early advantage. Finlay ducks out of the way. Finlay lands a nice uppercut. Bey throws Finlay into the corner and slams him face-first onto the top turnbuckle. Both men trade short arm reversals. Bey bounces into the corner then spills to the outside. Finlay rolls him back in.Bey takes control of Finlay with two big stomps before the commercial break.
Coming off the break, Bey hoists Finlay up. Finlay ducks out from behind and hits another uppercut. Bey counters with a swinging neckbreaker before the cover. 1-2, Finlay kicks out. Bey connects several kicks on the chest of Finlay. Finlay bolts out of a sleeper hold, but Bey grounds him with a front facelock. Bey turns it into a suplex for another near-fall! Finlay takes it to the skies with a plancha. Both men play a little cat and mouse game before Finlay drops Bey spine-first on top of the apron.
Back in the ring, Finlay executes a perfect diving European uppercut. Will this be enough? No! Bey kicks out. Bey smoothly connects a series of kicks. Finlay looks for Trash Panda, but Bey counters it into a small package. Finlay gets his shoulders up at two. Bey catches Finlay with a spinning hook kick. Bey stacks Finlay up and places his feet on the ropes. 1-2-3. Bey steals the pinfall victory.
Winner: Chris Bey
Backstage: Rich Swann and Willie Mack are ok with losing at Emergence because they weren't the ones pinned! They are prepared to go to war with The Good Brothers for another shot at the Impact World Tag Team titles.
– An ad for Bound For Glory is shown. That exciting event will take place Saturday, October 23!
Backstage: The X-Division Josh Alexander stands tall following his matchup with Jake Something last Friday. Next week, he is going to issue an Open Challenge. He welcomes all former X-Division champions to step up to him.
Up next, we hear from the Impact World Champion Christian Cage!
Christian Cage's In-Ring Segment:
The fans start it off by chanting his name in unison. Christian Cage says hearing that never gets old. He is so proud to have defeated Brian Myers last Friday, but now, he has a new target on his back, Ace Austin. Someone in the audience yells out [about Austin], 'He sucks.' Cage asks is that true because he thinks Austin could take it from him at Victory Road next month. Right after, Tommy Dreamer's music hits, and he makes his way into the ring.
Cage wants to know what is up with Dreamer's new hairdo. The fans have a chuckle. Dreamer, too. Dreamer admits he was hesitant when the forbidden door was open. He saw how Kenny Omega treated the titles during his Impact run, but he says Cage changed his mind after winning it at AEW Rampage. Dreamer is so thankful to see Cage make such a strong comeback. He thinks Cage hasn't missed a beat since his time away from the ring. Dreamer thanks him for being a true representative of the Impact World title. Cage embraces Dreamer with a hug.
"One last thing," Dreamer says. Dreamer would like to earn his opportunity to face Cage for the title. With that said, here comes Ace Austin (with Madman Fulton). Austin introduces himself to Cage. He adds that next month, he will become the youngest Impact World Champion. He calls himself a protege following his successful two-time X-Division reign. Austin guarantees Cage's bags and schedule will be a lot lighter following their bout next month.
Cage responds with, "As long as I'm here, you aren't the man." Then, he takes a shot at Austin's height. Austin comes at Cage, fists blazing. Cage and Austin throw down shots while Dreamer and Madman Fulton duke it out. Austin and Fulton retreat out of the ring.
– Eric Young tells Rhino because of him, he cost Violent By Design another World Tag Team title reign. Young asks Rhino if he's ready to get cleansed in the holy waters of change.
Backstage: Ace Austin and Madman Fulton approach EVP Scott D'Amore about a match for next week. Austin wants Tommy Dreamer. D'Amore is granting it to him. But there's a stipulation: if Dreamer wins their bout, he'll be added to the Impact World Title match at Victory Road, making it a triple threat!
Taylor Wilde vs. The Influence (Madison Rayne, Tenille Dashwood & Kaleb)
Taylor Wilde wastes little time as she drops on top of them on the outside. Wilde takes Kaleb on a ride with rope-assisted tilt-a-whirl head scissors. She looks for a cover. Kaleb kicks out. Madison Rayne and Tenille Dashwood double team by trading shots on Wilde. Wilde is hung up on the ropes. Kaleb mocks Wilde by posing with her.
Rayne and Dashwood toss Wilde in the corner with a double Irish Whip. Wilde escapes and stacks both of them in the corner, raining down stomps. Wilde spins Kaleb with a rope-assisted tornado DDT. It still isn't enough for her to gain the pinfall victory just yet. Rayne holds Wilde while Dashwood tries to plant a forearm strike. Wilde lands a kick to the Dashwood's midsection. Dashwood recovers and hits her Spotlight Kick for the pinfall victory.
Winners: The Influence
Post-Match: The beatdown on Taylor Wilde continues until Jordynne Grace and Rachael Ellering run out and put a stop to it.
Backstage: Su Yung and Kimber Lee break up Brandi Lauren's interview and drag her with them.
– We look back at Steve Maclin-Petey Williams' matchup at Emergence last Friday. Then, we see the ending of tonight's BTI, which saw Williams run in and cost TJP the victory against Maclin.
Backstage: TJP is furious that he took the loss. Petey Williams comes in the frame. TJP wants to make it clear that he does not have an alliance with him. TJP refuses to thank Williams for saving him tonight. Williams agrees that from this point forward, they'll stay out of each other's way.
Up next, the Impact Plus Moment of the week. It's Monty Brown vs. Christian Cage for the NWA Worlds Heavyweight Championship from Destination X, 2006
Backstage: GCW World Champion Matt Cardona (w/Chelsea Green) calls out Rohit Raju and Shera. Green wants all of them to have a tag match next week.
Backstage: Gia Miller asks Tasha Steelz and Savannah Evans where they go from here, following their defeat against Decay last Friday. Steelz says Fallah Bahh ruined their shot at becoming top contenders for Knockouts Tag Team titles. Bahh and No Way come in and promise they'll make it up to them.
Next Week:
* Josh Alexander's X-Division Title Open Challenge
* Ace Austin vs. Tommy Dreamer
If Dreamer wins, he will be added to the Impact World Championship match at Victory Road
* The Influence (Madison Rayne, Tenille Dashwood & Kaleb) vs. Taylor Wilde, Jordynne Grace & Rachael Ellering
* Rohit Raju & Shera vs. Matt Cardona & Chelsea Green
* Before The Impact: John Skyler vs. Jake Something
And now, the main event!
Championship Contenders Match: The Good Brothers (Doc Gallows & Karl Anderson) vs. Rich Swann & Willie Mack
Rich Swann and Karl Anderson kick things off. They go straight for a tie-up. Anderson sends Swann down on the mat before smashing his face in the corner. Anderson pulls Swann out of the corner and applies a side headlock. Anderson lands a European uppercut. Swann counters with a perfect hurricanrana. Swann makes a tag to Willie Mack. Mack and Swann hit double offense (leg drop/splash). Mack looks for a cover. Anderson pops out at two.
Anderson traps Mack and drags him to his corner to make a tag out to Doc Gallows. Mack works Gallows' wrist and brings Swann back in. Swann soars off the top with a double axe handle. Gallows decks Swann with a heavy right. The shots continue to corner. Swann looks dazed. Swann recovers with a short jab and tags Mack back in. Mack drives himself into Anderson in the corner. Anderson makes another tag out to Gallows before retreating to the outside. Gallows connects a nice roundhouse kick on Mack for another near-fall.
Anderson is back in for Gallows. Gallows throws Mack in the corner with a powerful Irish Whip. Anderson walks into a pop-up forearm from Mack! Swann comes back in and hits a flurry of offense on The Good Brothers. Anderson catches Swann with a massive spinebuster. Will this be enough to keep Swann down? No! Swann kicks out at the 2.5 mark! Anderson looks for the Gun Stun. Swann catches him in roll up. 1-2-3. Swann wins!
Winners: Rich Swann & Willie Mack
Rich Swann and Willie Mack have earned a future World Tag Team Title match!
Post-Match: The Good Brothers hoist Swann up in the Magic Killer position. Willie Mack slides back in and makes the save. The Good Brothers keep Swann and Mack down. They launch Swann into a chair that is set up between the ropes and ring post. Then, they hit Magic Killer on Mack before throwing them out of the ring. But the beatdown doesn't stop there. The Good Brothers find a table underneath the ring and set it up. The powerbomb Mack right through the table! The Good Brothers retreat and hold their titles, well, dangle them in the air before the show ends.
That concludes this week's episode.