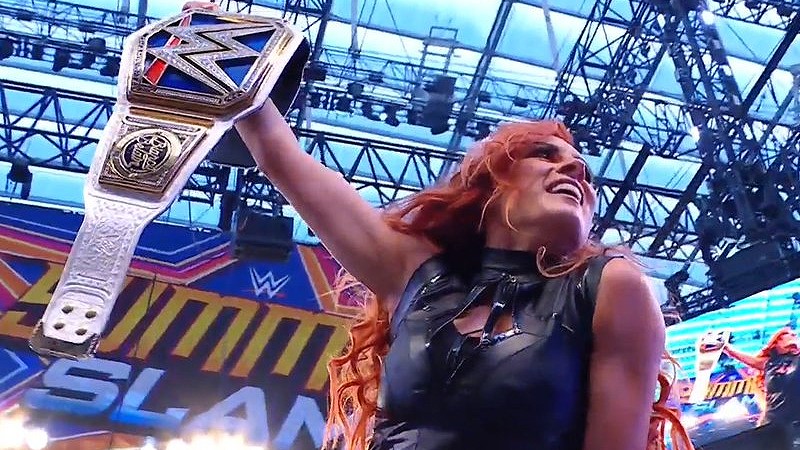 Becky Lynch To Work As Heel On SmackDown – Becky Lynch, who is adored by the WWE Universe and just made her triumphant return to the ring, is going to be positioned as a heel moving forward. According to a new report from PWInsider, multiple WWE sources have confirmed that Lynch is now being pushed as the top heel on SmackDown, and she will initially feud with Bianca Belair.
Lynch made a surprise return at SummerSlam as the impromptu opponent of Bianca Belair, who was originally scheduled to face off with Sasha Banks on the show. Banks' status has been a topic of conversation for the last week, as she has missed several appearances due to "unforeseen circumstances." Banks was absent on Saturday at SummerSlam as well, as ring announcer Greg Hamilton told the crowd she "is unable to compete this evening."
Belair was instead prepared to defend against Carmella, but Lynch then came to the ring and inserted herself into the match. Lynch won in quick fashion thanks to a cheap shot and a Manhandle Slam, so Lynch working as a heel does make some sense if you look at how things unfolded at SummerSlam. This won't be the first time Lynch has been positioned as a heel, as she was originally slotted into that role after she attacked Charlotte Flair and dubbed herself "The Man" in 2018. Fans ultimately got behind her and turned her face back then, so it remains to be seen if the experiment will have a different result the second time around.
Lynch took time off last year to give birth to her daughter and had been training for her in-ring comeback, and has been present at several WWE events in recent weeks. Prior to this week, it was reported that Lynch's return was originally planned for October.
Becky Lynch To Work As Heel On SmackDown