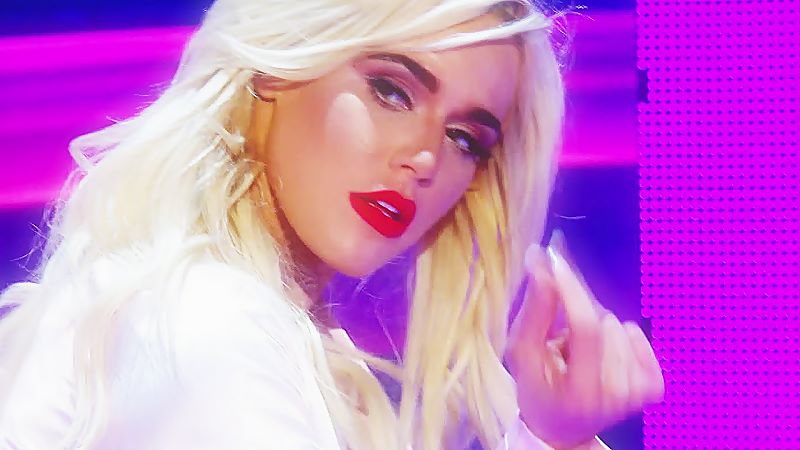 Former WWE star "Lana" CJ Perry was the guest this week on Chris Jericho's "Talk Is Jericho" podcast.
During the interview, she officially said goodbye to the character she played for 8 years in WWE. She explains why her release was a total surprise and how she found out at a party while she was texting Mandy Rose. She also talked about why she feels WWE needs to change the way they release people, how her real-life engagement led to her getting heat after the news was leaked by TMZ, what she owes to people like Triple H, Road Dogg, and Billy Gunn and she explains why she believes WWE broke her away from Rusev on TV.
Perry explained the controversy of the picture of her "posting a picture" of her and Miro getting engaged. A few years ago, there was heat on her when news broke on TMZ that she and Rusev (Miro) got engaged because it happened around the time when she was in a storyline relationship with Dolph Ziggler.
Perry said, "I feel so good that I really didn't f**k up. For so long [time], I hit myself on the head. I regretted it. I was like, 'Oh my God, maybe we shouldn't have gotten engaged.' I didn't even put up a picture. I just sent it to my friend. Then I guess, someone leaked it. I never, ever posted it. TMZ got a hold of it, and then basically TMZ said we were engaged.
The story [with Dolph] got cut, and we got blamed for it. Personally, I got blamed. It's insane. I got in trouble. I wasn't on television for three months. I was made to feel that it was all my fault. I had to take the blame. For years I thought, maybe it was my fault. Then we did the Bobby Lashley story. I had given Vince my word that I would not take a picture with someone I am feuding with, or send it to anyone. If I take it, it's not leaving my phone. I gave him my word that I am not going to do that anymore. My word is all that I have.
When we went into the story with Bobby Lashley, Heyman and our social media had definitely suggested that we blur the grey line. I respect that, so I didn't post Miro on my social media for probably 11 months. I didn't post anything until after, not even after he was fired, so it was after I got 'divorced' (from Bobby Lashley), and still waited for about a month. Lana has been married, divorced, and has lots of exes. I love her love life. That story was just, I feel like, there's a lot of reasons people might have not been happy with it, but I feel like there wasn't a follow through.
Bobby Lashley, I'm actually grateful he spoke out about this a lot. He talked about how he didn't feel like they had the proper match, him and Miro. I think it was amazing storytelling that for months, and huge amazing segments they gave us, and valuable television time, and that's awesome, but at the end of the day, this is pro wrestling, and we have to have the proper payoff in the ring. It's not even just what I felt. Miro might not say this, but if Bobby, who is the champion right now in WWE, as well as a fighter is saying, 'Hey, there wasn't a proper resolve and match, and we should have had more matches', I think that's saying a lot.
That's when I realized that Vince might have been getting bored with the story, with the Dolph Ziggler story, who's to say, and then all of a sudden you give him one reason to drop the ball and point the finger, that's what's going to happen. I think that's the problem with WWE programming right now.  There's no follow through with stories like The Hurt Business, and you can go on and on and on. As an avid TV watcher, I watch so many scripted television shows, when storytelling starts to f**k up, that's when I get angry as a viewer."
Lana Says She Was Punished When News Of Her Engagement To Rusev Leaked On TMZ