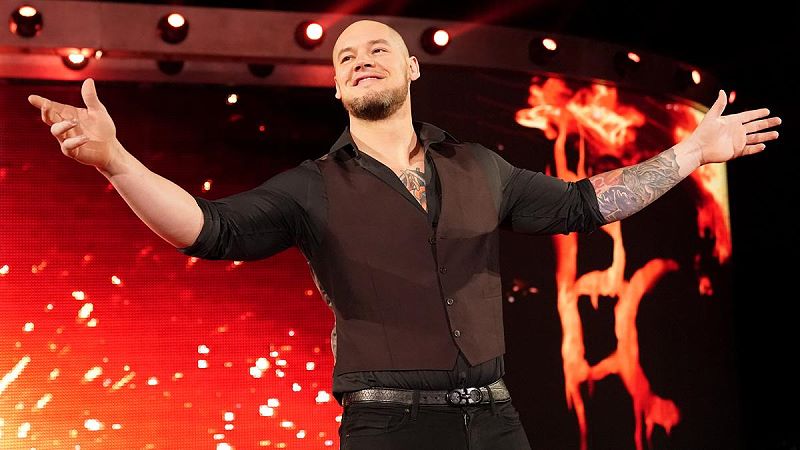 Baron Corbin Now Known As "Happy Corbin"? – As noted earlier, King Corbin's name was reverted back to Baron Corbin on the official WWE website following his recent loss to Shinsuke Nakamura in a Battle for the Crown.
Now a much bigger change seems to be coming his way, as WWE has registered a trademark for "Happy Corbin." That very well could become Baron Corbin's new name, and it might fit the bill as well. The storyline has been pointing to a shift.
This new copyright for Happy Corbin was filed on June 25th and entered into the database on June 29th. That could signify that WWE might pull the trigger on that new name as early as this week's SmackDown.
Speaking of new trademarks, WWE has also registered "Nikki A.S.H.", where A.S.H. stands for Almost Super Hero.
Nikki had referred to herself as 'Nikki A.S.H.' on the June 28 episode of Monday Night Raw during a backstage interview and has embraced her new superhero gimmick. It seems that the WWE has decided to go ahead and make the new moniker official.
The full information regarding the trademarks can be seen below:
Entertainment services, namely, wrestling exhibitions and performances by a professional wrestler and entertainer rendered live and through broadcast media including television and radio, and via the internet or commercial online service; providing wrestling news and information via a global computer network; providing information in the fields of sports and entertainment via an online community portal; providing a website in the field of sports entertainment information; fan club services, namely, organizing sporting events in the field of wrestling for wrestling fan club members; organizing social entertainment events for entertainment purposes for wrestling fan club members; providing online newsletters in the fields of sports entertainment; online journals, namely blogs, in the field of sports entertainment
h/t to Heel By Nature