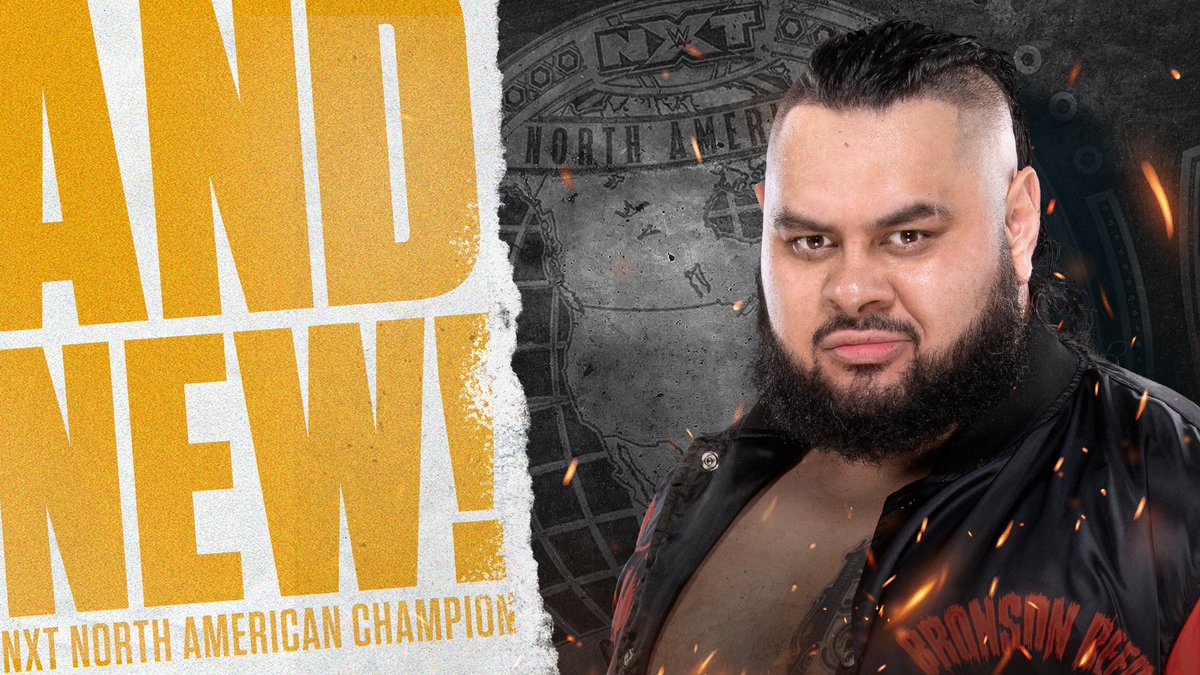 Bronson Reed Wins NXT North American Title – Tonight's NXT main event saw Reed capture the title by defeating Johnny Gargano in a Steel Cage match.
The match started with Gargano immediately making a b-line for the cage door once the bell rung but Bronson brung his best and made sure Johnny Wrestling did just that. Gargano ended up dictating the pace of the bout much in thanks to an assist from Theory. After the break, Bronson got his second wind and used his brute force to bring Gargano great anguish. That is all the more highlighted by an avalanche Samoan drop by Reed who picked up a near fall due to that.
Johnny had his own avalanche in mind as he powerbombed Reed from up top. Theory tried to interfere again as he tried to pull Johnny out of the cage, but Bronson dropped his weight down on Johnny before disposing of Theory. Gargano however, reversesd a bomb attempt for a reverse rana and both men are grounded. Soon, Gargano went for a springboard DDT, but Reed caught him for a slam. Once more, Theory interfered at the door and it nearly got Gargano a pinfall win.
Reed soon gave Gargano chase at the top of the cage and it paid off as he launched Gargano from up top with an avalanche powerbomb. "This is awesome" chants broke out. Reed once more climbed the cage, but Austin met him on the other side. Reed fought off to crash down on Gargano, but made sure to dot the "I's" and cross the "T's" as he closed the door, climbed the turnbuckle and Golden Tsunami splashed on Johnny for the 1-2-3.
In the post-match, an emotional Reed celebrated as sparks fly and "NXT" chants are echoed to close the show.
This is Reed's first title reign since signing with WWE in January 2019. Gargano won the title back at "Takeover: WarGames 2020" on December 6, by defeating Leon Ruff in a Triple Threat that also included Damian Priest.
Stay tuned for more. Below are several shots of tonight's main event title change from the Capitol Wrestling Center at the WWE Performance Center in Orlando, Florida:
Let the games begin.

The COLOSSAL @bronsonreedwwe vs. The Leader of #TheWay @JohnnyGargano for the #NXTNATitle inside a #SteelCage NEXT on #WWENXT! pic.twitter.com/0Q4Xz2BRIx

— WWE (@WWE) May 19, 2021
"It's my night. It's my night." – @JohnnyGargano

…is it really? The #NXTNATitle is on the line RIGHT NOW in a #SteelCage Match on @USA_Network! #WWENXT @austintheory1 pic.twitter.com/UiWlrjhYfS

— WWE (@WWE) May 19, 2021
14 years has led to this moment. #WWENXT @bronsonreedwwe pic.twitter.com/p7y30QYzt8

— WWE NXT (@WWENXT) May 19, 2021
Johnny Wrestling is BACK. Honestly, he never left. #SteelCage #WWENXT @JohnnyGargano @bronsonreedwwe pic.twitter.com/lIHQt21GGQ

— WWE NXT (@WWENXT) May 19, 2021
The strategy? Don't hate it tbh. #WWENXT #SteelCage @JohnnyGargano @bronsonreedwwe @austintheory1 pic.twitter.com/iSN8jlC4P4

— WWE NXT (@WWENXT) May 19, 2021
Will it be @JohnnyGargano or @bronsonreedwwe that exits the #SteelCage with the #NATitle? #WWENXT pic.twitter.com/g5wffFFr12

— WWE (@WWE) May 19, 2021
Carnage. #WWENXT #SteelCage @JohnnyGargano @bronsonreedwwe pic.twitter.com/0nbYdsIIN3

— WWE NXT (@WWENXT) May 19, 2021
.@JohnnyGargano with that SUPERHUMAN strength! 💪 🦸‍♂️#WWENXT #SteelCage @bronsonreedwwe pic.twitter.com/44T5imoa3W

— WWE (@WWE) May 19, 2021
The #WWENXT Universe knows: 𝑻𝑯𝑰𝑺 IS AWESOME. #WeAreNXT #SteelCage @JohnnyGargano @bronsonreedwwe pic.twitter.com/Nxi4HZiiwh

— WWE NXT (@WWENXT) May 19, 2021
Take it all in, @bronsonreedwwe.

14 years to the day of his first match, @bronsonreedwwe has fulfilled his destiny in becoming #WWENXT North American Champion! #AndNew #SteelCage @JohnnyGargano pic.twitter.com/fc9yBWcP5G

— WWE (@WWE) May 19, 2021
Worth it. #WWENXT #SteelCage #WeAreNXT #AndNew @bronsonreedwwe pic.twitter.com/NCUg3Rb2pQ

— WWE NXT (@WWENXT) May 19, 2021
For his family in Australia.
For his wife in attendance.
For all of you watching at home.@bronsonreedwwe made a lot of people proud tonight. #AndNew #WWENXT #SteelCage #WeAreNXT pic.twitter.com/cedjYgPliv

— WWE NXT (@WWENXT) May 19, 2021
🏆COLOSSAL CHAMP🏆

AND NNEEEEEEEEEEEEEWWWWWW NXT North American Champion: @bronsonreedwwe! #WWENXT pic.twitter.com/6HC37JzsVV

— WWE on FOX (@WWEonFOX) May 19, 2021
All roads lead to championship gold for @bronsonreedwwe as he dethrones @JohnnyGargano to become the NEW #WWENXT North American Champion! #AndNew #SteelCage pic.twitter.com/4AJ8ErerFq

— WWE NXT (@WWENXT) May 19, 2021