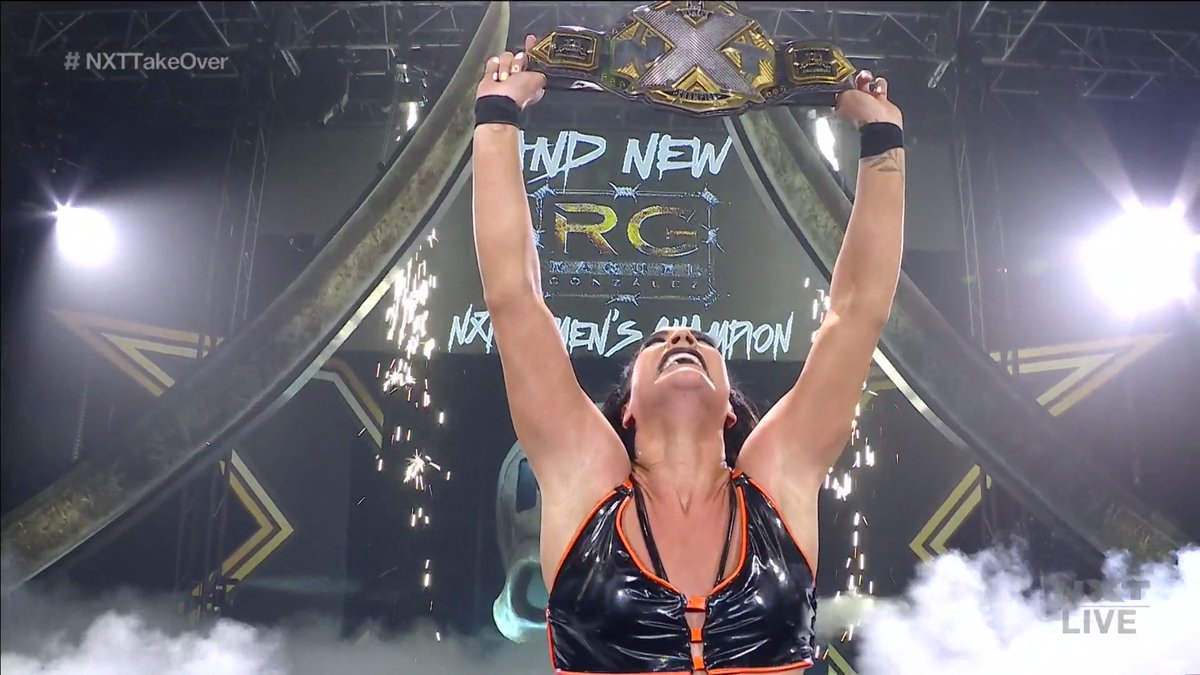 Raquel Gonzalez Defeats Io Shirai – Wins NXT Women's Title – Tonight's NXT "Takeover: Stand and Deliver" Night One event saw Gonzalez win the title by defeating Io Shirai in the main event.
In a match that took place throughout nearly the entire ring and up along the ramp, Gonzalez and Shirai brawled from the very start of the match. At one point, Shirai even climbed atop the giant skull placed at the top of the ramp, and jumped down on top of Gonzalez in a stunning move. Late in the match, though, Gonzalez finally rallied, and was able to gain some momentum towards the end of things. 
After surviving a moonsault from Shirai, Gonzalez landed a huge one-armed powerbomb outside of the ring to her opponent that changed things. Gonzalez then dragged Shirai back into the ring and yelled at her to stay down, before landed a big palm strike that she quickly followed up with a clothesline and another one-armed powerbomb for the win. 
This is the first singles title reign for Gonzalez. Shirai held the title for 302 days after winning it from Charlotte Flair on June 7, 2020 at the "Takeover: In Your House" event.
Below are several shots of tonight's title change from the Capitol Wrestling Center at the WWE Performance Center in Orlando, Florida:
Tonight is undoubtedly the biggest match of @RaquelWWE's career. #NXTTakeOver @DakotaKai_WWE pic.twitter.com/uU22ZCNg17

— WWE (@WWE) April 8, 2021
EVERYONE is watching @shirai_io, and we mean EVERYONE. 😈 #NXTTakeOver @RaquelWWE pic.twitter.com/nGuygc48Vk

— WWE (@WWE) April 8, 2021
It all comes down to the #WWENXT #WomensTitle.@shirai_io defends her gold against @RaquelWWE in our commercial-free main event on @USA_Network, simulcasting on @peacockTV in the U.S. and @WWENetwork elsewhere! #NXTTakeOver pic.twitter.com/lbr8lP2pSV

— WWE NXT (@WWENXT) April 8, 2021
The playing field is level between @shirai_io & @RaquelWWE…@DakotaKai_WWE has been tossed from ringside! #NXTTakeOver pic.twitter.com/YWj5Z93ZMe

— WWE (@WWE) April 8, 2021
By any means necessary. #NXTTakeOver #NXTWomensTitle @RaquelWWE @shirai_io pic.twitter.com/EIUear2igB

— WWE NXT (@WWENXT) April 8, 2021
"Give up, @shirai_io!" – @RaquelWWE

Easier said than done. #NXTTakeOver #NXTWomensTitle pic.twitter.com/9nlYPXK2KV

— WWE Universe (@WWEUniverse) April 8, 2021
💀 #NXTTakeOver #NXTWomensTitle @RaquelWWE @shirai_io pic.twitter.com/Dq41gkm1VH

— WWE (@WWE) April 8, 2021
.@shirai_io is doing whatever she has to do to defeat @RaquelWWE
and retain the #WWENXT Women's Championship! #NXTTakeOver pic.twitter.com/iiCGEhSNlS

— WWE (@WWE) April 8, 2021
History, no, HERSTORY is made tonight as @RaquelWWE defeats @shirai_io to become the NEW #WWENXT #WomensChampion!!! #AndNew #NXTTakeOver #NXTWomensTitle pic.twitter.com/1a3YRVi4tB

— WWE (@WWE) April 8, 2021
.@RheaRipley_WWE couldn't do it.@DakotaKai_WWE couldn't do it.
Toni Storm couldn't do it.@RaquelWWE did it and is now our NEW #WWENXT #WomensChampion! #NXTTakeOver #NXTWomensTitle #AndNew @shirai_io pic.twitter.com/EFnWYJbA2E

— WWE NXT (@WWENXT) April 8, 2021
Congratulations, @RaquelWWE!

The shock and awe continues on tomorrow's Night 2 of #NXTTakeOver : Stand & Deliver on @peacockTV in the U.S. and @WWENetwork everywhere else. #AndNew pic.twitter.com/04cacK3Yjd

— WWE Network (@WWENetwork) April 8, 2021
We'll always be #NXTProud of you, @shirai_io. ❤️ #WeAreNXT #NXTTakeOver pic.twitter.com/Wy08ES9GjD

— WWE NXT (@WWENXT) April 8, 2021
Raquel Gonzalez Defeats Io Shirai – Wins NXT Women's Title