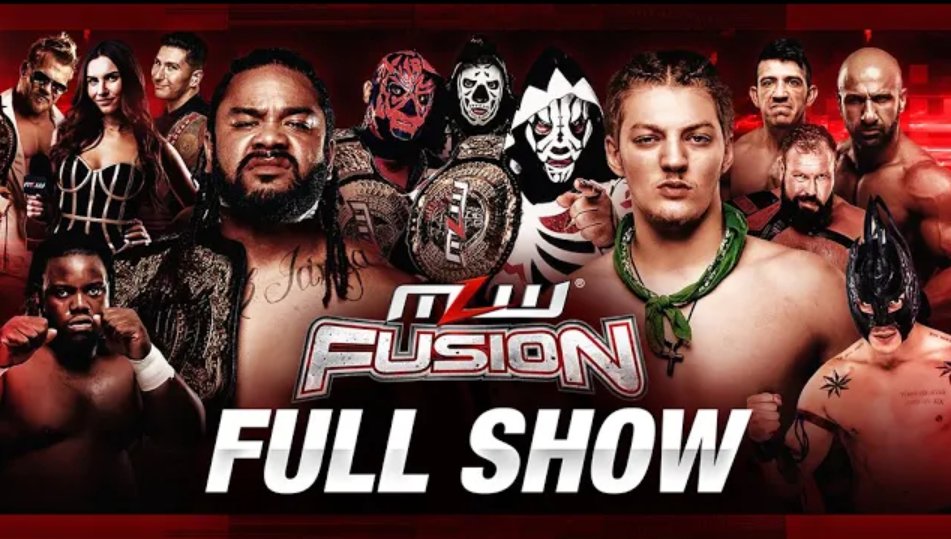 MLW Fusion #123 Results – Rich Bocchini and Saint Laurent welcome fans to MLW Fusion. We kick things off with one of the two title defenses set for tonight!
MLW World Tag Team Championship: Los Parks (c) (w/Salina de la Renta) vs. CONTRA Unit (Simon Gotch & Daivari)
Daivari and Hijo de LA Park commence the matchup with a collar and elbow tie-up. Daivari breaks it up with a big forearm, then turns it around with a shoulder separating lockup on the mat. Hijo de LA Park counters by twisting Daivari's legs. Simon Gotch runs into the ring to break the lockup. LA Park charges towards him with a running boot and sends him out of the ring. Daivari works Hijo's knee by putting him in the Figure Four. Hijo slips right out with a big boot counter.
Hijo and Daivari restart the match with a deep arm drag from Hijo. He ties both of Daivari's arms. Gotch comes in again to break it up. LA Park runs in with another big boot and sends him out of the ring. Gotch taunts LA Park around the ring. Back in the ring, Daivari plants a textbook power slam for just a two count. Daivari goes back to working Hijo's injured left knee by driving himself into it. Hijo de LA Park picks up the momentum with a headbutt, followed by a bridge lockup. Gotch runs in for the third time to break it up. Gotch and LA Park duke it out on the outside. Hijo de LA Park climbs out of the ring to deal with Gotch. Gotch lands a firm Muay Thai kick on Hijo. Daivari throws some heavy forearms onto LA Park. He and Gotch roll LA Park back into the ring.
They both are stomping away on the tag champion. Salina de la Renta yells out at Hijo de LA Park to get back in the ring. CONTRA Unit corners Los Parks with a series of stomps. LA Park ducks the line and sends CONTRA Unit onto the canvas. Hijo de LA Park comes raining down with a double missile dropkick. Los Parks comes flying through with two stereo dives onto CONTRA!
Daivari and LA Park trade kicks. Back in the ring, Hijo and Gotch exchange knife edge chops. Hijo lands a flying crossbody off the top. He tags in his dad. LA Park gets fired up by Daivari's chops and puts him in an abdominal stretch. Gotch comes in for the fourth time and breaks it up. All four men come into the ring. Hijo misses a chance to land a second missile dropkick. The referee catches LA Park Jr. trying to climb into the ring. Out of nowhere, Injustice runs out and grabs ahold of Gotch and Daivari's legs. Hijo turns it around with a double bulldog on CONTRA! LA Park spears Daivari in half! LA Park goes for a lateral press and gains the pinfall victory. Los Parks retains their titles.
Winners & Still The World Tag Team Champions: Los Parks
In Kauai, Ross and Marshall Von Erich are miffed about Tom Lawlor and his unspeakable antics two weeks ago on Filthy Island. They are coming up with some creative ideas on how they want to take him down.
– We look back on how far Jordan Oliver has come in the company before he challenges Jacob Fatu for the World Heavyweight Championship in the main event tonight.
Backstage: Alicia Atout is standing by with Salina de la Renta. Salina says she wants all of the gold. So, she is putting a target on Alex Hammerstone's back for his National Openweight Championship. She wants Alicia to go find Hammerstone and relay the message. But before that happens, Salina tries to stir the pot by telling Alicia she heard a rumor that Richard Holliday is her new boy toy. Alicia is furious and goes looking for Holliday.
Parrow vs. Dugan
Dugan looks for the upper hand by throwing shots on Parrow while his back turned. Parrow catches Dugan in the air and throws Dugan towards the corner with a massive fallaway slam! Dugan uses the ropes to get himself back up. Parrow sends Dugan crashing two times: once with a chokeslam and the other with his Murder Bomb finisher. Parrow goes for a pin and pickups the victory.
Winner: Parrow
Post-Match: Parrow calls Mil Muertes out for a fight.
– Next, we look back on the ending from Tom Lawlor's "Filthy Island" event two weeks ago. This week, Lawlor wants to address the chaos that unfolded after Low Ki defeated King Mo in the main event. Lawlor is throwing all the blame on Low Ki and the Von Erichs. Lawlor is laying out a challenge to all three men.
After the harsh comments TJP made two weeks ago, Bu Ku Dao wants a match with his former mentor.
– Before his big match tonight, Jordan Oliver takes a moment to reflect on this career accolade. In his monologue, he mentions how he refuses to be looked at as a middleweight anymore. He wants people to see him as a heavyweight, and he thinks winning the championship tonight will solidify that.
Calvin Tankman vs. Laredo Kid
Both men lockup. Calvin Tankman throws Laredo Kid across the ring. The same thing happens again. Laredo Kid looks to slow Tankman down with some kicks and a head scissors takedown. Tankman comes flying off the ropes with an enormous shoulder tackle! Tankman goes for a cover. Kid kicks out at two. Tankman with a nice hip toss. He looks for another cover. Kid kicks out.
Tankman throws down a few punches on Kid's chest. It may have knocked the wind out of his sail, but Kid keeps himself alive with another kick out. Tankman catches Kid with a brainbuster and then a lateral press pin. Kid gets his shoulders up at two. Tankman helps Kid back up before laying a few chops on his chest. Kid creates some separation with two big boots in the corner. Tankman comes charging in again, and Kid dodges out of the way and onto the apron.
Kid comes off the top with a nice missile dropkick. Next, he wipes out Tankman with a crossbody off the top again. Kid looks for a cover. Tankman kicks out. Kid hits two big flying elbows for another near fall. Tankman catches Kid with a heavy spinning back fist. Kid recovers with a flying forearm. Kid with a cover. Tankman keeps himself alive at two. Tankman sets Kid up for the Tankman Driver. He nails it and picks up the pinfall victory.
Winner: Calvin Tankman
Post-Match: Calvin Tankman says that Laredo Kid put up a hell of a fight, but he was just one step ahead of him. He dedicates his win to his daughter. He also makes it known that he wants a shot at the MLW World Heavyweight Championship. As he mentions this, CONTRA Unit cuts into the feed.
Backstage: Alicia Atout finds Richard Holliday and Alex Hammerstone. Atout wants to know if either of them is spreading the rumor that Holliday is Atout's boy toy. Hammerstone tells her that she needs to tell Salina to quit running her mouth. In the same breath, Hammerstone adds that he's not afraid of Salina's entourage or any of them stealing his championship.
– Before the main event, Josef Samael of CONTRA Unit has a chilling message to send to Injustice. Samael says that he has warned Jordan Oliver time and time again that he is playing with fire if he thinks he'll win the title off of Jacob Fatu tonight.
– Next, we look back on Gino Medina and Gringo Loco's match from two weeks ago. Although Medina won the match, an altercation ensued between the two challengers after Medina called Loco out for being a fake Luchador. This week, Medina informs Gringo Loco that he isn't finished with him yet.
– After, we look back on Salina de la Renta and Alex Hammerstone's comments from earlier. Next week, Hammerstone will defend his National Openweight Championship against LA Park. Then in two weeks, Parrow will clash with Mil Muertes!
MLW World Heavyweight Championship: Jacob Fatu (c) (w/Daivari) vs. Jordan Oliver (w/Myron Reed)
Jordan Oliver comes soaring through the ropes with a big dive on Jacob Fatu before the bell even rings! Oliver rocks Fatu with three big forearms. Fatu turns around and runs right into the ring post.
The bell rings, Oliver lands a few more shots toward Fatu's midsection. The Heavyweight Champion looks for a gutwrench powerbomb, but Oliver escapes from the back and connects a big knee to the back of Fatu. Fatu catches Oliver through the ropes with a Samoan Drop! Fatu sends Oliver back into the ring.
Fatu catches Oliver with a heavy back elbow. He continues the elbow shots with two more on his battered opponent. Oliver clips Fatu's knee. Fatu is furious Oliver found a way to try and take him down, so he flings him over the top rope. Fatu bites Oliver's fingers while he's trying to recuperate in the corner. Oliver picks himself up and trips Fatu up with a combination flurry. Oliver tries to land a back kick on Fatu in the corner. Fatu catches him with a kick of his own, which sends Oliver crashing face-first into the top turnbuckle.
Oliver blocks Fatu with two enziguris. Daivari and the referee get into it. Myron Reed grabs Fatu's foot which helps Oliver land with a superkick. Then, Reed lands a superkick on Daivari. Oliver comes out of the ring with a slingshot. Fatu grabs Oliver and throws him back-first on the apron. Fatu's knee gives out as he makes his way to the top for his moonsault finisher. He tries to make it to the top again. This time Oliver meets him up there with a massive German Suplex! Oliver hoists himself up with a cutter in the corner and then another one off the top rope. Oliver gets another superkick in before Fatu turns it around pop up, Samoan Drop. Fatu climbs to the top and flies off with his signature moonsault. Fatu goes for a cover. 1-2-3, Jacob Fatu will continue his deadly reign as the World Heavyweight Champion.
Winner & Still The World Heavyweight Champion: Jacob Fatu
Post-Match: Everyone from CONTRA Unit runs down and attacks Jordan Oliver and Myron Reed. They want payback for Myron Reed's interference. Calvin Tankman heads down to the ring and tries to clean house. Tankman sends Jacob Fatu out of the ring with a massive shoulder tackle!