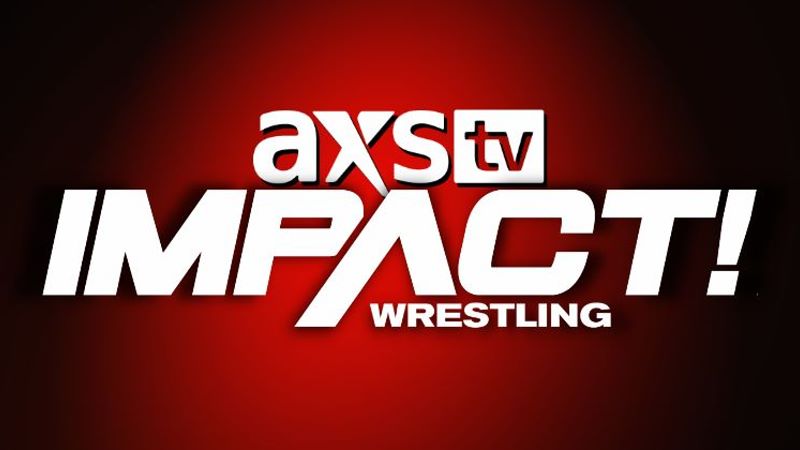 Impact Wrestling Results – March 16, 2021 – Impact opened with clips of this past week as well as the Sacrifice PPV over the weekend, including Rich Swann unifying the TNA and Impact World Championships.
Impact Tag Team Champions FinJuice vs. XXXL
Larry D and Juice Robinson start out. Juice is blacked into the corner but used a series of rights and a dropkick to take D off balance. The Champions double team him. Acey tagged in and they went for a double bulldog but couldn't move the big man. He caught Juice going for a kick but speared his leg, then splashed him and knocked David Finlay off the apron.
Finlay and D tagged in. Finlay nailed him with a jawjacker elbow off the ropes and covered him but saw Acey coming to interfere and move. Acey dropped an elbow on Larry D. Finjuice knocked Acey out of the ring and hit a flapjack on D. Robinson nailed a pescado on Romero. Finlay nailed the Acid Drop on Larry and scored the pin.
Your winners, FinJuice!
A nice spotlight for the new champs.
The Good Brothers came to the ring. Karl Anderson said their match over the weekend shouldn't have even counted. They said they've been so busy as a team lately and they weren't prepared. Gallows said he had jet lag from Atlanta to Nashville and they want their rematch. They want their titles back. FinJuice said they'd be happy to give them a rematch, but they are busy men too. They have to go to Japan, so the rematch will have to wait for April. The Good Brothers attacked them but FinJuice slid out of the ring and backed up the entrance ramp. Matt Striker said the belts were heading to Japan.
Matt Striker and D'Lo Brown ran down the lineup for tonight's show.
Sami Callihan hacked in and said his mission from day one was to expose fakes and phonies. He said Trey Miguel fakes having passion. He confuses anger with having passion. He said that he sees who Trey really is. He might get a few wins but he's lacking the passion to get to the next level. Sami is going to embarrass him in front of the entire world tonight.
The Good Brothers come into Scott D'Amore's office. They questioned how the belts can go to Japan for the month. Scott agreed and questioned how it happened. He said they said it was easy but they lost the belts, so it's on them. He made the Tag Team title rematch for Rebellion on 4/24 on PPV.
As they left, Tommy Dreamer entered the ring. He said they have no Tag Titles now. Scott said they forged a relationship with a company that hated them and now they have to deal with that and the belts will be in Japan for a month. He said they could just run the company into the ground like he did with Paul E. Scott said if he thinks it's so easy, he can take and book the card for Hardcore Justice on Impact+. Dreamer said he already has a card and handed it to D'Amore. Scott said it looks good and Dreamer can be the Commissioner for the evening.
Rhino with Violent by Design vs. Jake Something with James Storm & Chris Sabin.
Rhino charged him before the bell and attacked, having joined VBD at Sacrifice. He worked over Jake in the corner but Something fired back. Rhino cut him off and nailed a clothesline. Rhino controlled Something, snapmaring him over and locking in a rear chinlock. Jake fought himself out and fired away with some right hands.
Violent by Design got on the apron. Storm and Sabin fought with them. The chaos distracted Jake, who was Gored and pinned.
Your winner, Rhino!
Deaner attacked his Cousin Jake immediately. Sabin and Storm tried to help but Rhino gored them. Violent by Designs beat them all down.
Impact has done a great job building Eric Young as the modern day Kevin Sullivan in Florida with his group of monsters and freaks.
Backstage, Tenille Dashwood's partners tonight didn't want to be known as her Followers. The team didn't agree on who would be in charge and lead the strategy. Deonna said they can all get on the same page and leave the other team laid out. They all agreed on that.
Rohit Raju vs. Mahabali Shera
Raju attacked Shera and worked him over, trying to keep Shera from using his strength. He ripped his face across the top rope. Shera drilled back, beating him across the back. Shera absorbed Rohit going after his arm and beat him off, nailing an Avalanche in the corner. He went for another but was met with a knee strike. Rohit nailed another leaping knee, then hit a double knee strike in the corner.
Rohit nailed a cannonball in the corner, then went to the top. He dove off but was caught and chokeslammed for a close two count. Rohit avoided a charge in the corner and scored the pin with his feet on the ropes.
Your winner, Rohit Raju!
Backstage, Willie Mack congratulated Impact Unified World Champion on his win and on beating Moose. He said they have to go party and celebrate. Swann said now isn't the time, because he has to go to the ring and take care of some business. Mack said he's going to stay in the back and listen.
Swann came to the ring. He said he was weighed down by all this gold. He said Sacrifice was possibly one of the hardest things he's gone through in his entire life. He said that he and Moose went out and proved why Impact is one of the best companies in the world and has the best talent. He may not like Moose but he can respect him. At Sacrifice, it just seemed to be that Swann was riding his stallion and came out champion. Winning a Title is hard to come by, but to have two is unthinkable and unspeakable but he did it. He said that he partied for three days. In January, he had a monkey on his back, Kenny Omega. Omega pinned him then and now it all comes back around.
Swann said that he's going to get the chance to right his wrong on 4/24. He said they are going to have something that never happens in this business. He's going to get to face another champion from another company. On 4/24, there will be no Good Brothers, No Moose, No Chris Sabin. The match will be one of the most important things to ever happen to the industry and they will face off, one on one, to see who the real World Champion is. He said we'll find out who the best.
Don Callis made his way to the ring. He said he was proud to be out here with Swann. He took credit for Swann coming to the company and said he was Swann's guy. He pushed for Rich to be in the main event of Bound for Glory last year. He said that learned a lesson from Kenny Omega's uncle that when you want something and get it, there will always be something more, something greater – so he's moved on from Swann to Kenny Omega. He said that Swann thanked him for booking him in Bound for Glory, but he's sorry but Omega moved on. He asked when Swann won the titles at Sacrifice and was celebrating with his wife and friends, did his wife tell his friends not to mention that loss to the One-Winged Angel at Hard To Kill. He wondered if that loss kept Rich up at night. You can't change history, he lost to Kenny Omega at Hard To Kill 1-2-3. He said Rich is a great talent but Omegs is a God of professional wrestling. When no one thought Omega could beat Okada, Callis was there. When no one thought Omega had nothing left against Jon Moxley for the AEW title, Don was there. When no one thought Kenny couldn't headline another company's PPV, Don was there and in all of those instances he was calling The One-Winged Angel. Callis said Rich made history at Sacrifice but at Rebellion, Callis has already written that history. He walked off, leaving a solemn Swann standing in the middle of the ring.
Tremendous segment.
They went to the AEW "paid" ad, promoting the St. Patrick's Day Slam lineup.
Backstage, Eddie Edwards and Matt Cardona were speaking when Brian Myers walked into them. Cardona asked Edwards to let him speak to Myers privately. Myers asked him why Cardona keeps getting in his business. Myers said Impact was for him to come and do things on his own. He doesn't want Cardona here and told him to get lost. He stormed off.
Deonna Purrazo & Fire N' Flava & Kimber Lee & Susan & Tenille Dashwood vs. Jordynne Grace & Jazz & ODB & Havok & Nevaeh & Alisha Edwards.
Edwards nailed a Thesz Press on Tenille to start the match but was cut off with a stiff forearm. She used the Woogie on Edwards. Edwards avoided a charge and was nailed with a charging back elbow and a hip attack. ODB tagged in and nailed the Bronco Buster.
Susan tagged in and used a drop toehold for a two count. Lots of tags in and out. Havok nailed an over the knee backbreaker on Lee, then teamed with Neveah. Lee was whipped into her own corner. Hogan tagged in and got into Havok's face, then shoved her down with a pie-face. Everyone began hitting the ring with big moves. Grace and Steelz battled back and forth with forearms in the ring, then hit stereo dives on everyone else brawling on the floor.
After the commercials, everyone brawled. Edwards was cut off in enemy territory. She finally cut off Susan and tagged Grace in. Grace began laying in clotheslines and elbows on Kimber Lee. She nailed the Grace Driver for a close two count. Grace scored several two counts. Jazz tagged in and nailed a series of shots to the mid-section but was cut off with a side slam for a two count.
Everyone began hitting the ring and hitting big moves again. Tasha and Kiera double-teamed ODB but Grace began lobbing big clotheslines. Jazz nailed the Jazz Stinger on Lee for a two count but Lee's team all dived in to break it up. Everyone began brawling. It came down to Jazz and Lee again as Jazz drilled herwith big forearms. Jazz ducked an enziguiri and locked in a STF for the submission.
Your winners, Jordynne Grace & Jazz & ODB & Havok & Nevaeh & Alisha Edwards!
Backstage, the new X-Division Champion Ace Austin and said that after this weekend, everything is once again everything that it should be. He said he took the title from TJP and knocked him back down a peg. Chris Bey said that last Tuesday, Austin lost to him, so that X-Division title would look better around his waist. Josh Alexander showed up and said he was the true number one contender, but TJP stormed in and said Scott D'Amore told him it's him against Ace Austin next week.
Matt and D'Lo ran down the lineup for next week.
Sami Callihan vs. Trey Miguel
Trey attacked him in the ring but was caught with a stiff kick to the face. Miguel fired back with a running knee. Callihan ate a superkick and was sent to the floor. Trey nailed a sliding dropkick to the floor. Callihan tried to toss him into the railing but Miguel blocked it and they brawled up the entrance ramp. They battled back and forth on the stage. Miguel escaped a powerbomb and superkicked Sami.
Trey grabbed Sami for a DVDR and ran down the entrance ramp but Sami tossed him off. Trey nailed a 619 and went for a dive but Sami blocked him and locked in a Boston Crab on the floor. Back in the ring, Sami continued to torture the leg, trying to set up Miguel for the Stretch Muffler. Callihan beat him down to the floor and stretched the leg around the ringpost.
Miguel was brought back into the rope and ate a clothesline. Callihan stalked him into the ring and ripped at his face in the corner before chopping him down. Trey was hit with a Beel into the corner, slamming into it upside down. Callihan repeated the feat. Callihan grabbed and slammed Trey, then went right back after his leg, trying to force the submission. Callihan then locked a Boston Crab while in the ropes.
Callihan argued with the referee, leaving himself open for Trey to nail a leaping enziguiri. Miguel went for a springboard move but his injured knee gave way. Miguel was able to avoid a Callihan piledriver attempt and nailed a double stomp. Both men were out as they went to commercials. When Impact returned, they were firing back and forth with punches and forearms. Miguel fired away with big maneuvers. Miguel missed a double stomp off the ropes and ate a clothesline. Callihan nailed a slingshot neckbreaker off the ropes for a close two count.
Callihan drilled Miguel and called for a powerbomb but Trey rolled through with a rana, then nailed a series of kicks for a two count. Trey went for The Hour Glass submission but Callihan bit him on the calf to force a break. Callihan nailed several forearms and clotheslines. Callihan went for a powerbomb and snapped it for a close two count.
Callihan rolled through with a Boston Crab, then cinched in a STF in the center of the ring. Trey fought his way to the ropes and finally made it. Trey was sent to the floor, where Callihan sent him into the guard rail and beat him down with some stiff chops. Callihan went to charge but Trey ran up to the apron and nailed a stunner, wiping them both out.
They were almost counted out as Sami shoved him into the ring steps and returned to the ring. Trey made it in just in time but was out on his feet. Callihan began drilling a series of slaps but Trey nailed a back kick and covered Callihan for a close two count. Trey went to the top but the referee was checking on Sami, which kept Trey from coming off the top. He yelled at the referee to move but Callihan crotched him and nailed a Package Piledriver off the ropes and pinned.
Your winner, Sami Callihan!