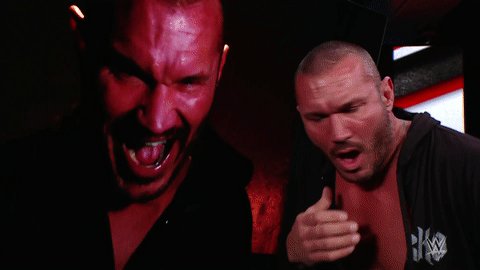 Alexa Bliss Summons A Demonic Randy Orton Doppelganger – Alexa Bliss took her rivalry with Randy Orton to a new level on tonight's WWE RAW episode.
During a backstage segment, Kayla Braxton asked Orton of the events he has been subjected to. Randy said he doesn't know what the hell happened last week. He said Alexa Bliss had a part to play. Unless Alexa Bliss wants to end up like The Fiend, he suggests that she move on with her life and she gets out of his.
Alexa appeared behind Randy on a monitor and she laughs. She called Randy 'silly'. Alexa sais there is something Randy should know. As seen in the below video, a hooded figure appeared in the monitor and he revealed himself as another Randy Orton. He said it doesn't end on your terms. You will come face to face with everything that you have ever done.
Then, once again, the real Orton vomited black goo, which could suggest that he has been poisoned or somehow possessed by The Fiend's mysterious powers.