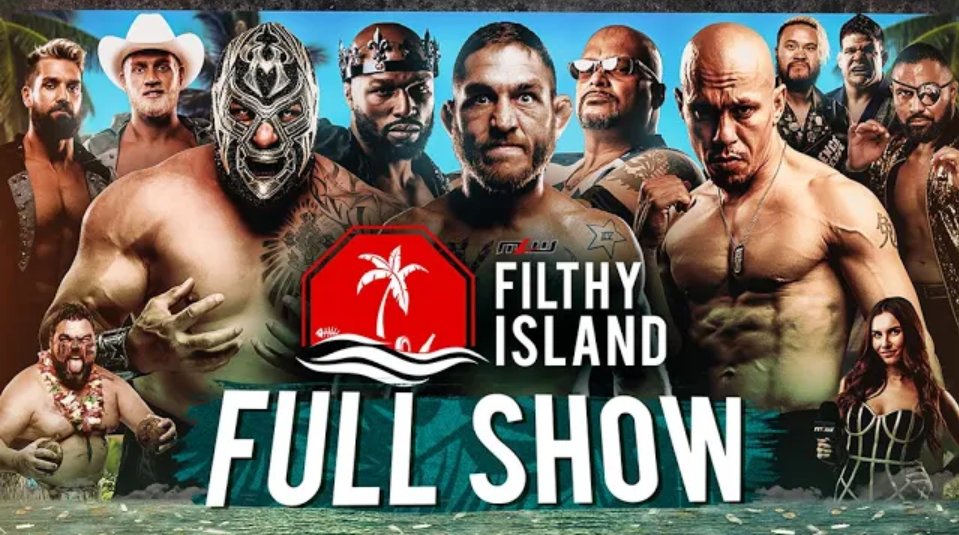 MLW Fusion #122 Filthy Island Results – On a beautiful beach in Hawaii, Tom Lawlor gets off the phone with catering. He calls Dominic Garrini over and informs him that catering does not have any Spam – which is a delicacy on the island – to offer. He wants Garrini to talk to a man named Cunnigham. He hands him a bottle of hand sanitizer. He says the sanitizer is not for Cunningham; it's for Garrini. We'll find out what transpires after that questionable conversation later on in the broadcast.
Lawlor welcomes fans to his "Filthy Island" special. Dan Lambert is joining him on commentary. They promise tonight's action is going to be the best fans have ever seen before in MLW. Lambert is concerned Lawlor isn't going to make any money off the main event tonight between King Mo and Low Ki because to him, Low Ki is not a top-money draw. Lawlor isn't too worried about it. They kick things off with a prize fight challenge!
Dominic Garrini vs. Mauna Loa
Mauna Loa charges towards Dominic Garrini, causing him to fall onto the mat. Loa flattens him with a full-body drop. Loa with a cover. Garrini kicks out at two. Garrini runs over to the commentary table and tells Lawlor and Lambert he's being put in an unfair situation. Lawlor just tells him everything will be fine and to get back in the ring.
They restart. Garrini throws Loa with a side takedown and locks in a deadly Kirifuda Clutch. Loa taps out right away. Garrini picks up the submission victory.
Winner: Dominic Garrini
– We turn our attention now to Chichen Itza, Mexico, where commentators Rich Bocchini and Saint Laurent are standing by for the Azteca Jungle Fight that's set for later tonight!
Before they call the match, we take a look back at Mads Krügger and Alex Hammerstone's Baklei Brawl from two weeks ago. Bocchini and Saint Laurent were told that Krügger is awaiting his next orders from Josef Samael, but tonight, Alex Hammerstone is on Filthy Island. Los Parks has a message for Hammerstone. LA Park mentions how he would like to become a double champion. So, he wants to issue a challenge to Hammerstone for his National Openweight Championship! Will Hammerstone accept his proposal?
– We head back to Filthy Island, where Lawlor and Lambert are running through the matches still to come. Next, a highlight clip is shown from last year's King of the Knockouts match between King Mo and Low Ki. Their second King of the Knockouts match will be the main event tonight!
Next, we see a quick advertisement from Azteca Underground that says, "Opportunities Abound For Believers," with a website link below.
– Richard Holliday is unimpressed with Hawaii. His Dynasty ally, Alex Hammerstone, agrees. They're going to go back to the resort.
Before their match tonight, we see a hype video on how this match between Savio Vega and Mil Muertes came to be. Salina de la Renta and the referee have just arrived in Mexico. We are just minutes away from their violent confrontation. But first, we'll see Kevin Ku of Team Filthy fight Zenshi back on Filthy Island in Hawaii.
Kevin Ku (w/Dominic Garrini) vs. Zenshi
Zenshi flies down on Kevin Ku from the tree above! Kevin Ku is startled. Zenshi rolls Ku on through and plants him with a big dropkick that sends Ku out of the ring. Ku catches Zenshi off his shooting star press and throws him back-first onto the apron. Ku slides into the ring. Zenshi ducks from behind with a rollup. Ku gets his shoulders up at two. Zenshi shows off his strength by grabbing onto the ring post and shoving Ku off. Ku then catches Zenshi's dominant leg. Zenshi counters Ku with a twisting enziguri! Ku counters his counter with a rollup. Zenshi pops free at one.
Ku adds pressure to Kenshi with a single-leg Boston crab. Zenshi has nowhere to go but to the ring post. He creates some distance with another boot shove. Ku catches Zenshi with another Boston Crab. Zenshi breaks free. Ku isn't too happy about that. He keeps kicking the high flyer while he's down. Several of his kicks land right on Zenshi's shoulder blade. Ku rocks Zenshi with a nice knife edge chop. Zenshi rolls through with another near fall before smashing Ku with a powerful headbutt. Ku gets back up on his feet. Zenshi sends him down again with another big enziguri. Zenshi hooks the leg for another kick out at two.
Ku cradles Zenshi in the corner. Zenshi out of Ku's first snapdragon suplex. He goes for it again. But this time, he keeps Zenshi down for the pinfall victory.
Winner: Kevin Ku
Ross and Marshall Von Erich are going to go over and crash Lawlor's Filthy Island special.
We head back to Mexico, where the Azteca Jungle Fight is underway!
Azteca Jungle Fight: Mil Muertes vs. Savio Vega
Savio Vega gets in Salina de la Renta's face. Both of them exchange words in Spanish. Mil Muertes surprises Vega with a blind attack to get the match started. Muertes smashes Vega's head-first into a tree. The production crew starts to experience some technical difficulties.
– During a quick commercial break, MLW announces their Underground series will return next week!
– We head back to Filthy Island, where Lawlor says they're trying to get feedback on what's going on in Mexico. Until they hear anything new, they will continue with their scheduled programming. Lawlor sends it over to Alicia Atout, who's about to speak with TJP.
Atout wants to talk to TJP about his attack on Bu Ku Dao after they unsuccessfully challenged Los Parks for their Tag Team Championship two weeks ago. She wants to know what happened. TJP begins by saying that in his 20 plus year career, he has had to maintain a certain level as a performer and as a mentor. To him, Dao failed him. Atout adds that fans now see him as a bully. TJP says he doesn't define his actions as bullying. He thinks Dao needs to own up to his accountability on how their match went down weeks ago.
After that heated exchange, we head back to Filthy Island to see two highly decorated veterans in the industry duke it out in singles competition!
Rocky Romero vs. Gringo Loco
Both men go right for a collar and elbow tie-up. Gringo Loco turns things around with a tight wrist lock. Rocky Romero rolls through and applies the same hold on Loco. They reset. Next, they both look for a Greco-Roman knuckle lock. Both men exchange flip counters. Loco picks the leg for a swinging head scissors on Romero. The audience seems pleased with how the pace of this match is going so far!
Romero shoots back with a textbook arm drag. Loco counters with a tilt-a-whirl backbreaker. Loco hooks the leg on Romero. "The King of Sneaky Style" kicks out at two. Next, Loco stretches Romero out while he drives his knee into Romero's spine. Romero lands a spinning kick. Loco resorts to some back elbow strikes to break out of Romero's arm lock. Loco makes the mistake of turning his back on Romero.
Romero chops him down with a dropkick. Loco tries to work Romero's legs by twisting them up and driving his knee again into his back. The fans start to boo. Loco breaks the hold on Romero. Romero gets back up and throws a few slaps towards Loco's direction. He gets the crowd fired up! Romero fires up two forever clotheslines before sending Loco onto the ground with a beautiful hurricanrana. He runs up to the camera and says he dedicates that move to his dog! He gets the crowd to chant, "For my dog!" He throws Loco onto a couch. Romero rolls Loco back into the ring. When he starts up his chant again, Loco comes flying in with a huge senton, sending Romero over the couch!
Loco continues his offense with a British fall for another two count on Romero. Loco tries to fire up the crowd. The fans respond with boos. Loco misses a springboard backflip and lands right on his head. Romero drops on top of Loco. He tries to grab his leg, and Loco turns it around with a spinning enziguri. Loco hooks the leg… 1-2…nope; Romero stays alive! Loco hoists Romero up on his shoulders. Romero escapes with a returned enziguri and a knee lift. He sends Loco crashing face-first onto the canvas with an assisted tornado DDT off the ring post. Romero goes for a lateral press cover and wins the match!
Winner: Rocky Romero
Lawlor receives word that the production set is up and running again in Mexico. We head back to the jungle for the continuation of Muertes and Vega's match!
Vega and Muertes trade big right hands. Muertes briefly has his hands wrapped around Vega's neck. Vega creates some distance, but we don't get to see what happens next because Josef Samael interrupts the match with a message for Jordan Oliver.
Josef Samael says that Jordan Oliver should stay in the kiddie pool instead of trying to swim over towards the deep end when he challenges Jacob Fatu for his World Heavyweight Championship in two weeks. He says there will be consequences for his actions, like a public execution from Fatu himself.
– We go back to see more footage from Low Ki/King Mo's King of the Knockouts match before the commercial break.
Last week, Lio Rush became the AAA Cruiserweight Champion in an interpromotional title versus title match. This week, he has signed an open contract, where anyone from any promotion can challenge him for both titles. More information will be announced on the upcoming fights for Rush soon.
Earlier in the show, Ross and Marshall Von Erich were gung-ho on crashing Tom Lawlor's show. Now, they're in their car about to head on over to the event.
Alicia Atout provides an update on what fans can expect for the next two weeks on MLW:
* Next week (Feb. 24), MLW will go back in time with an Underground episode that will show career highlights from big named stars like CM Punk, Joey Styles, Terry Funk, Steve Corino and The Xtreme Horsemen.
Then in two weeks (March 3), Fusion will return with two big title defenses between:
– Jacob Fatu vs. Jordan Oliver for the MLW World Heavyweight Championship
– Los Parks vs. CONTRA Unit (Simon Gotch & Daivari) for the MLW World Tag Team Championships
* Then on March 31, MLW will present "Never Say Never" for free!
Alicia Atout gets cut off as more footage pops up from Mil Muertes and Savio Vega's brawl.
Savio Vega strikes Mil Muertes with a heavy knee strike. Muertes finds a vine and wraps it around Vega's neck. Vega breaks free with a hard headbutt. Muertes clocks Vega in the head and chest. Muertes sees that Vega has a crowbar in his hand. He takes it from him and bashing him in the head with it! Vega is knocked out. Salina de la Renta tells Mil to finish the job. He goes for a pin and wins the match.
Winner: Mil Muertes
Post-Match: "The Man of a 1,000 Deaths" grabs a shovel and starts digging a grave.
– We go back to see the last few minutes of Low Ki/King Mo's King of the Knockouts match from last year. With the help of Tom Lawlor and Dan Lambert, King Mo won the match.
– Alex Hammerstone and Richard Holliday come back to Lawlor's event. Holliday is disgusted that Lawlor is serving Spam as the main course meal.
Before the main event, Saint Laurent reveals who made it on Pro Wrestling Illustrated's Top-10 List this week:
10. Jordan Oliver
9. Calvin Tankman
8. Myron Reed
7. Mil Muertes
6. Richard Holliday
5. Mads Krügger
4. Low Ki
3. Lio Rush
2. Tom Lawlor
1. Alex Hammerstone
And now, the main event!
King of the Knockouts 2: King Mo vs. Low Ki
Low Ki goes right in with some low side punches on King Mo. Mo throws Ki down on the mat and slams his ankle on the canvas. King Mo keeps his offense going with another big drop on Ki. Mo looks for a single-leg takedown. Low Ki climbs on top of Mo and wraps his leg around his neck with what's look his Iron Octopus, except he can't lock up Mo's arm. Mo drops down on the mat and tries to crawl over to the edge of the ring. As he's crawling, he keeps tapping his hand down on the mat. The referee calls it a tap-out and awards Low Ki the submission victory.
Winner: Low Ki
Post-Match: Dan Lambert and Tom Lawlor are furious on the referee's call. Team Filthy surround Low Ki on each side of the ring and go for a beatdown. The Von Erichs finally come in and crash the party. They even the odds by laying down some big shots on Team Filthy. Low Ki throws Lawlor onto the Von Erichs' jeep. Low Ki and the Von Erichs stand tall in the ring as the show comes to an end.
That concludes this week's episode.