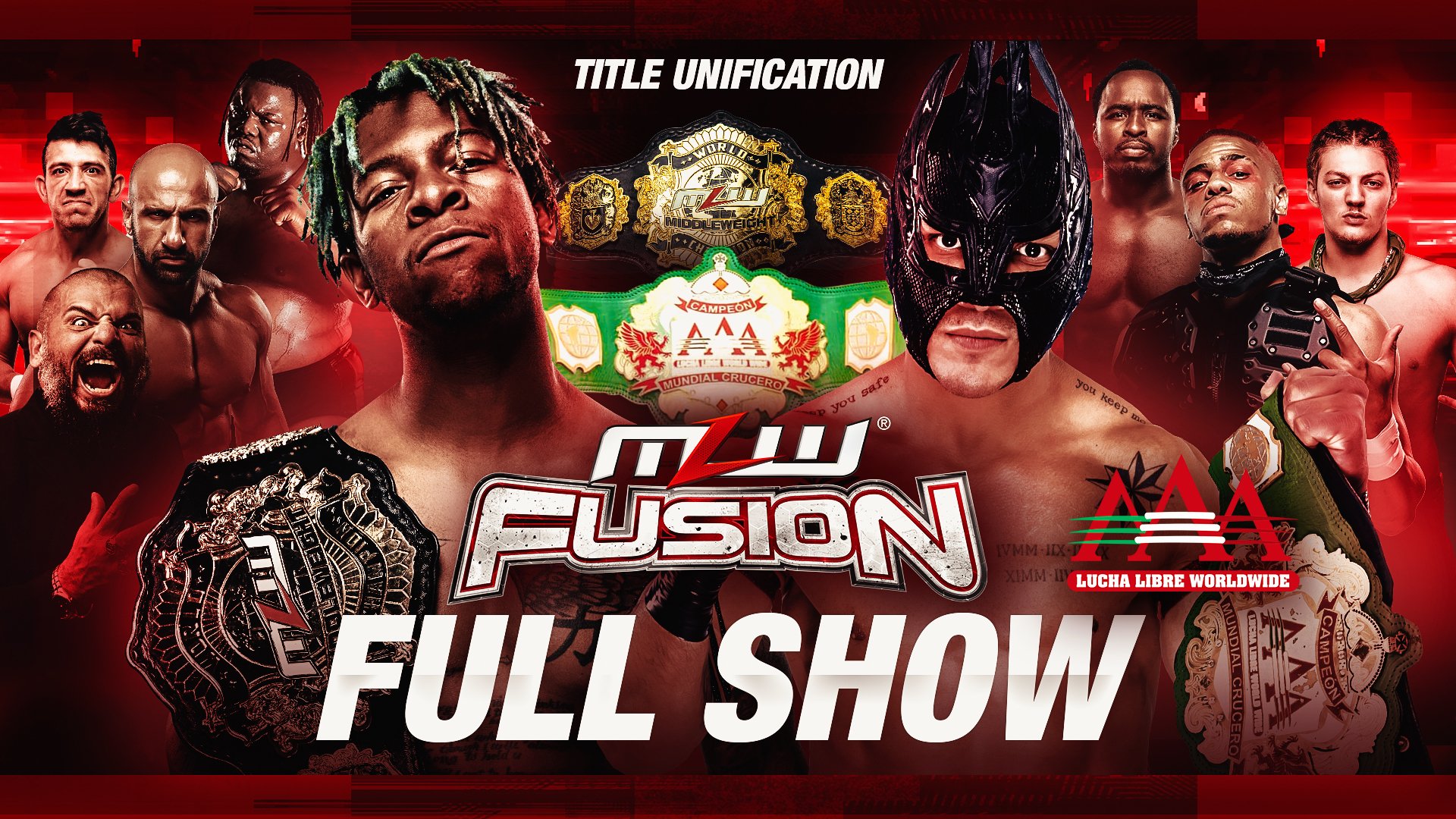 MLW Fusion #121 Results – Rich Bocchini and Saint Laurent welcome fans to MLW Fusion. They run through what fans can expect from tonight's show before the first match begins.
ACH vs. Brian Pillman Jr.
Both men look for a test of strength at the beginning of the match. ACH gains control with a tight wristlock. Pillman cartwheels out of it and goes over for a handshake. ACH rejects it. Team Filthy is standing at the top of the stage watching. Pillman puts a wristlock on ACH. ACH rolls through with a big chop. Pillman rocks ACH with a big back elbow. ACH answers back with a dropkick off the ropes. Pillman rolls through with a small package. ACH gets his shoulders up at two.Pillman rolls ACH over with a snapmare before connecting a knee strike. ACH kicks out with a near fall of two
ACH briefly locks "Flyin Brian" up with a surfboard submission. Pillman finds his offense again with a big powerslam in the center of the ring for another two count. ACH takes Pillman's leg out from under. Pillman twists out of a double underhook. Both men showcase their brawling skills with forearm exchanges in the center of the ring. ACH turns it around with an overhand chop and a nice roundhouse kick. Pillman counters ACH's tiger driver. ACH catches Pillman with a Matrix-style kick before sending Pillman off his feet with a brainbuster. ACH hooks the leg on Pillman and wins the match.
Winner: ACH
Post-Match: Team Filthy circle around the ring and all three men make their way in and stomp away on ACH. The Von Erichs rush down to help ACH out. ACH is glad the Von Erichs came out to save the day.
Last week, Salina de la Renta extended an olive branch to Savio Vega to help put some money back into IWA. The proposal was to have Azteca Underground acquire IWA. Will Vega accept this great offer? In Puerto Rico, Vega informs de la Renta and Azteca Underground that IWA and its pride is not for sale. He declines their offer.
Up next, the "Heavyweight Hustle" Calvin Tankman will return for singles action!
Before Tankman's match, we look back at the exchange TJP and Bu Ku Dao had after they unsuccessfully challenged Los Parks for their World Tag Team Titles. On social media, everyone is on Bu Ku Dao's side. They believe TJP was a sore loser and shouldn't have put his hands on Dao.
Calvin Tankman vs. Zenshi
Zenshi ducks behind for a single leg takedown after the bell rings. The "Heavyweight Hustle" throws Zenshi towards the corner. Zenshi tries to send Tankman flying with a head scissors takeover. Tankman meets Zenshi midair with a huge dropkick! He follows it up with another big power move, a spinebuster. He looks for a cover. Zenshi kicks out at two. Tankman tosses Zenshi across the ring again for another near fall.
Tankman puts Zenshi down with a powerslam but misses a running shooting star press. Tankman has Zenshi up in the fireman's carry position. Zenshi tries to scratch and claw out of it. Tankman charges toward Zenshi with a big pounce! Zenshi escapes out of a backbreaker attempt! Zenshi shimmies free from the Tankman Driver to land a 619 from the ropes. Tankman finally catches Zenshi with the Tankman Driver and gains the pinfall victory.
Winner: Calvin Tankman
Last week, MLW broadcasted their first-ever Baklei Brawl Match between Mads Krügger and Alex Hammerstone. Hammerstone thought he had won the match, but Krügger fooled him with a decoy of himself before ripping Hammerstone apart.
This week, Rich Bocchini reports that Hammerstone suffered a concussion, and "The Black Hand of CONTRA" hasn't been seen since. CONTRA Unit demands the production team to play their propaganda video from Josef Samael. He says that he has recruited Krügger to the mountains of Russia to get him prepared to take down Hammerstone's empire for good. And tonight, he believes Injustice will see their demise against Daivari and Simon Gotch.
We look back on how this eight-month rivalry between CONTRA Unit and Injustice began. Both teams will settle the score later on in this broadcast.
Up next, Alicia Atout will sit down with Richard Holliday to address his controversial win over Savio Vega from two weeks ago.
Before Alicia Atout puts Richard Holliday in the hot seat, MLW speaks with Lio Rush before his main event Title vs. Title Match. He says this is a big opportunity for Laredo Kid to prove himself in the company. But he thinks that he'll win the match and become a double champion.
Richard Holliday doesn't like how Alicia Atout introduced him as the "Self-Proclaimed Caribbean Champion." Atout ignores his statement and asks what's going on between him and referee Tim Donaghy. He says all he knows is that they're good friends, and he had no say on having Donaghy officiate the match. Atout wants to know why so many people betted on him to win the match at the very last second. He doesn't have an answer for that. All he says is that gambling is a popular thing right now. Atout questions Donaghy gatekeeping his title match. Holliday warns Atout it's never good to make assumptions if she doesn't have proof. Holliday warns her that his father/lawyer will be in contact with her soon. He hangs up on their interview.
CONTRA Unit (Simon Gotch & Daivari) vs. Injustice (Jordan Oliver & Myron Reed)
Before the match even begins, the World Heavyweight Champion Jacob Fatu viciously attacks Injustice from behind. Daivari and Simon Gotch take advantage of this. Myron Reed takes flight with a beautiful senton over the top rope! Injustice join forces with a superkick/cutter combination on the World Champion. Gotch and Daivari make their exit with Fatu. It looks like Injustice is winning this one!
Winners: Injustice
Alicia Atout welcomes everyone to Tom Lawlor's Filthy Island control center. She announces who will appear on next week's show and more of the scheduled matches set to take place. It'll be:
* New Japan Pro Wrestling sensation Rocky Romero will be in action
* Dominic Garrini vs. Mauna Loa
* Salina de la Renta responds to Savio Vega's comment from earlier. Because he said no to her offer, Salina warned Vega that he'll seal his fate when he faces "The Man of a Thousand Deaths" Mil Muertes in an Aztec Jungle Fight next week!
* King Mo will clash with Low Ki in a No Holds Barred Fight
Rich Bocchini reports that on Wednesday, March 3, two matches have been added to Fusion. It'll be:
* Los Parks vs. Contra Unit for MLW World Tag Team Championship
* Jacob Fatu vs. Jordan Oliver for the MLW World Heavyweight Championship
Up next in the main event, both Lio Rush (MLW World Middleweight Champion) and Laredo Kid (AAA Cruiserweight Champion) will put their titles on the line in an Interpromotional Title Vs. Title Fight!
Title Vs. Title Fight: Lio Rush vs. Laredo Kid
Laredo Kid ducks the line with a tight waist lock on the Middleweight Champion and throws him down on the canvas. Cover…Lio Rush kicks out at one. Kid looks chases after Rush's feet. Rush moves out of the way and rolls to the outside. Rush slides back into the ring by the two count.
After both men find themselves in a cat and mouse chase, they each connect a double dropkick in the center of the ring. Rush rolls out the ring again. Kid follows him out there. They make their way back into the ring where Kid is rocking Rush with a big forearm and kick combination. Kid plants a sidewalk slam for another near fall. Rush uses the ropes while he chokes out the Cruiserweight Champion. The referee begins the count. Rush backs away from the ropes and sends Kid off his feet with a running clothesline. He goes for a pin. Kid kicks out at two. Rush decks Kid with a series of punches.
Rush rolls Kid through with a snapmare before striking him with an uppercut to the back of the head. He looks for another pin, and Kid kicks out again at two. Rush snaps Kid with a big suplex for another near fall. Rush slows things down with a tight chin lock. Kid blocks another suplex attempt. Rush answers back with another knee strike at two. Rush jumps Kid with a step-up enziguri. Both champions exchange blows in the center of the ring until Kid takes it up a notch with a flying forearm and then a Michinoku Driver. Instead of going for the cover, he flies off the second rope with two exclamation point moonsaults on Rush. Kid with a cover and Rush escapes at 2.8!
Kid continues to lay on the punishment by working Rush's injured knee. Kid twists the Middleweight Champion up like a pretzel. Rush crawls over to the bottom rope. Kid lands a jumping neckbreaker before heading towards the top. Rush moves out of the way…Kid rolls through. Rush slides over to the bottom rope to connect a basement cutter. Rush heads to the top and nails his Final Hour finisher. Lio Rush did it! He has now become the new AAA Cruiserweight Champion while retaining his Middleweight Title!
Winner and New AAA Cruiserweight Champion: Lio Rush