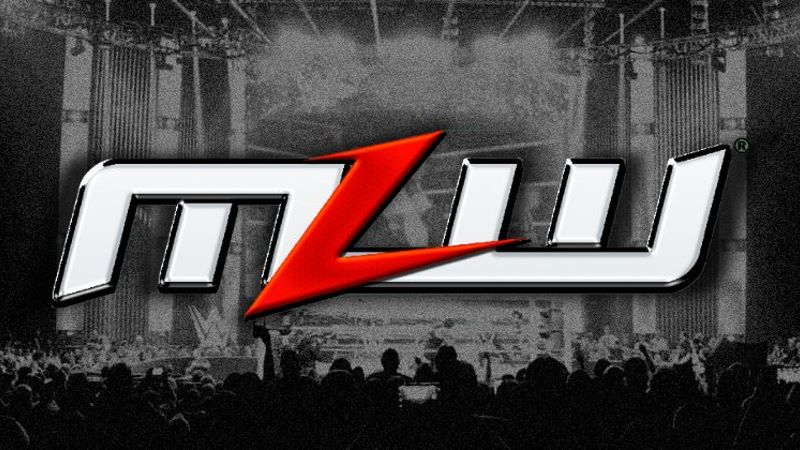 MLW Fusion #120 Results – Rich Bocchini and Saint Laurent welcome fans to MLW Fusion. Before the first match starts, Bocchini runs through tonight's card.
Jordan Oliver (w/Myron Reed) vs. Sentai Death Squad (w/Daivari)
Jordan rolls out of the way as the Sentai Death Squad member charges towards him. Both commentators notice Oliver grabbing his knee after connecting two big boot kicks to the front and back of the Sentai Death Squad member; it looks like he may have tweaked his knee doing it. Oliver looks for a cover, and the Sentai member kicks out at two. That doesn't stop Oliver from planting a huge cutter off the middle rope. Oliver hooks the leg again and gets the pinfall victory!
Winner: Jordan Oliver
Post-Match: Jordan Oliver wants Jacob Fatu to go back and watch his match. He also mentions that he's now officially in the heavyweight division, which is the same division that Fatu is in.
After the first match, Bocchini reports that Sports Illustrated has written an expose over the controversial finish to last week's main event with Richard Holliday and Savio Vega. Since it's still a developing story, more information on it will be released soon.
Earlier today, MLW caught up with the former Promociones Dorado owner, Salina de la Renta. Salina can't help but make fun of Savio Vega's shortcomings last week. She's heard a little rumor that IWA is lacking money, and they could use an investor. She says the new proprietor of her company has deep pockets. She says they both have a generous offer for Vega if he's interested.
After the quick break, Rich Bocchini goes back to discussing the controversial finish to Savio Vega and Richard Holliday's main event match last week. They say the referee of the match, Tim Donaghy, was known for fixing games in the NBA. Alicia Atout reports that MLW owner Court Bauer is taking these allegations very seriously. She says that some gambling was involved. Next week, she will speak with Richard Holliday to find out more information.
In Kauai, Ross and Marshall Von Erich want to give them a proper greeting when Tom Lawlor hosts his "Filthy Island" event near where they live. The Von Erichs did not get an invite. They heard rumors that Lawlor's sponsors are pulling out from this event, and the locals are not keen on having him there. The Von Erichs say regardless, they'll find a way to sneak into Filthy Island.
We head back to the ring for a World Tag Team Championship match!
World Tag Team Championship: Los Parks (c) (w/Salina de la Renta) vs. TJP & Bu Ku Dao
LA Park throws the first punch on TJP to get the match started. LA Park throws TJP out of the ring. Now, Bu Ku Dao is outnumbered in the ring. Hijo de La Park takes legally starts the matchup with Dao. Hijo pokes fun of Dao's height by putting his hands up and down. They lockup. Dao drives Hijo down with an arm takeover. Hijo counters with a rollup. Dao gets his shoulders up at two. LA Park catches Dao with a forearm on the apron. TJP makes his way back into the ring and takes LA Park off his feet. LA Park sticks his hand out for a truce. TJP refuses to shake his hand.
Back in the ring now, Hijo and Dao go back to having a clean restart, until LA Park kicks Dao right in the kidneys. TJP, once again, steps in. The referee pulls him towards the corner. LA Park comes in and joins his son with double stomps onto Dao while the ref's back is turned. Dao gets fired up with a big clothesline off the ropes. TJP runs in and pushes Dao off. He lays down a flurry of punches on Hijo. Dao is confused about what just happened. Their fights spill on the opposite sides of the ring. LA Park clocks Dao while Hijo waits for TJP to get back into the ring.
Hijo lands a big superkick to TJP's face. LA Park watches on. Hijo starts to choke out TJP, who pushes him off. Hijo does it again. Dao rolls into the ring. Hijo stomps away on Dao in the corner. Los Parks smash TJP in the face with a double boot. Dao finds himself in a similar position. Los Park sends Dao and TJP crashing into each other in the center of the ring. TJP finds his fire again a head scissors takeover off the top rope. Dao and TJP fly out of the ring with a dive and slingshot crossbody. Now in the ring, TJP and Dao lock Los Parks up in a crossface and octopus submission. Nothing comes of it. Dao comes charging in with a swinging DDT for only a two count! Hijo fires back with a Superman punch. He goes for a lateral press, and Dao kicks out at two. Both men crash into each other with two big crossbodies.
Salina gets up on the apron and distracts the referee while LA Park Jr. and Hijo De La Park switch out. LA Park Jr. kicks out at one and throws Dao off of him. LA Park Jr. smashes Dao's head into his knee for the shoulder breaker. LA Park Jr. looks for the final pinfall, and his dad and brother retain their titles.
Winners: Los Parks
Post-Match: Both TJP and Bu Ku Dao look extremely disappointed. Dao sticks his hand out for a shake, TJP rejects his handshake. Dao goes over towards TJP, TJP shoves him off and heads up towards the stage.
Mads Krügger is gearing up for his big match with Alex Hammerstone tonight. He warns him that he'll be a changed man after their Baklei Brawl.
Last week, Laredo Kid made it clear that he wants to become a double champion in MLW. The title he's gunning for now is Lio Rush's Middleweight title. This week, Lio Rush has something to say about it. Rush says that he does not know who Kid is. He thinks that next week, they should have an Interpromotional Title Fight. He wants to help Kid "become famous." 
– We look back at Los Parks questionable victory over TJP and Bu Ku Dao from earlier.
– Alicia Atout is hanging out at the Filthy Island control center. She brings Tom Lawlor on to see who he has invited for his show in two weeks. Tom Lawlor and Team Filthy are having a great time hanging out on the beach ahead of their big event! He doesn't reveal any of his invited guests, so Alicia lists some of the guests and matches that are set so far:
Guests: Team Filthy (Dominic Garrini and Kevin Ku)
Matches: King Mo vs. Low Ki in a 2021 King of the Knockouts match
More guests and matches will be announced next week. Stay tuned!
Outside: Alex Hammerstone is out looking for Mads Krügger before their main event match.
We head back to the ring to see two fighters make their return back to MLW!
Gino Medina vs. Gringo Loco
Gringo Loco flies up and over Gino Medina, who looks for a single leg takedown. A couple of arm drags are displayed. Gringo misses a moonsault. Gino misses a kick. Both men stare each other down. Gino tells Gringo that he's untouchable. Gringo sticks his hand out for a shake. Gino rejects it and rolls Gringo through with a one-armed snapmare. Gringo puts Gino's cockiness to the test when he throws him out with a deep arm drag off the middle rope. Gino sweeps Gringo's legs on the apron. He rolls him back, puts him down with a stomp, and only gets a one count.
Gino smashes Gringo with a big boot kick to the back. Gino puts Gringo in a nice front facelock and shows this athletic skill by doing a headstand while keeping the hold locked in. Gringo finds his offense with a counter and charges down on Gino with a spinning moonsault. He looks for a cover, and Gino kicks out at two. Gringo creates some separation with a 540 kick. Gino counters Gringo's second moonsault by getting his boots up in time. Gino lands a beautiful knee strike in the corner. Both men go back and for with rollups. Gino's rollup lasts longer on Gringo. He gains the pinfall victory.
Winner: Gino Medina
Post-Match: As Gino Medina is cutting a promo, Gringo Loco comes flying in off the stage and crashes into him.
– Just in, Injustice will face Simon Gotch and Daivari of Contra Unit next week! Also, Lio Rush and Laredo Kid will clash in a Interpromotional Title Fight.
And now, the main event!
Baklei Brawl: Alex Hammerstone vs. Mads Krügger
Outside: The referee and cameraman are nervous to be out there with Alex Hammerstone looking for Mads Krügger. Hammerstone keeps yelling his name.
Mads Krügger makes his appearance. Hammerstone goes right for a midsection kick, then a bicep right to the face. They're making their way towards the dumpster. Krügger catches Hammerstone in the face with a big metal gate. Hammerstone tries to fight back with a forearm. Krügger sends Hammerstone off his feet temporarily by throwing a pallet towards him. Hammerstone sends Krügger into the dumpster with a short arm reversal. On spaghetti legs, Hammerstone takes advantage of a wobbling Krügger by throwing him face-first into the dumpster again. Hammerstone looks for a lateral press and gets the pinfall victory! Or did he?
Hammerstone, the referee, and the cameraman notice that the Krügger laying on the ground is not the same Krügger he's supposed to be fighting. This guy doesn't have any arm tattoos. Distracted by who this guy is, Mads Krügger clocks two left hands on Hammerstone to conclude the show.
That concludes this week's episode.