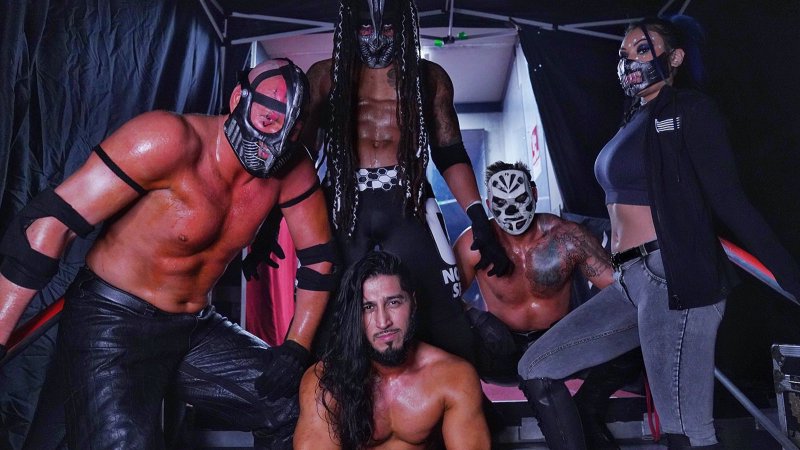 Retribution Wants to Destroy Goldberg – WWE held their first RAW of 2021, a night dedicated to their Legends, and Retribution was not seen at all. This fact was not lost on Mustafa Ali and he let it all out on RAW Talk after the show.
As seen below, Ali said that Retribution shouldn't have been passed up by a bunch of legends. He vented about WWE wasting three hours on "guys that can barely walk." Ali said he understands that the legends paved that way, but "when are you going to let me walk on that path?"
"Guys like Drew Gulak, Akira Tozawa, Retribution — all off the show because we have to hear [Hulk Hogan impression] 'Whatcha gonna do, brother?' again for the seven millionth time."
Mustafa Ali said that "they pumped the cheers in really good for them," when referring to the legends. WWE can control all of the fan reactions in the ThunderDome, and Mustafa Ali called that out in a big way.
He continue on with his rant while wondering why WWE didn't give them a chance. He said they can contribute to the company's weekly show, unlike the legends.
Earlier today, T-BAR teased a potential showdown with Goldberg, one that Riddle supports. "RT this if you want to see #RETRIBUTION destroy Goldberg," he wrote.
Riddle, who has had back & forth issues with Goldberg for a few years now, is the only WWE Superstar to respond to T-BAR's message as of this writing. "I support this message," Riddle wrote back.
Goldberg has not responded to the comments as of this writing.
I support this message

— matthew riddle (@SuperKingofBros) January 5, 2021
Retribution Wants to Destroy Goldberg