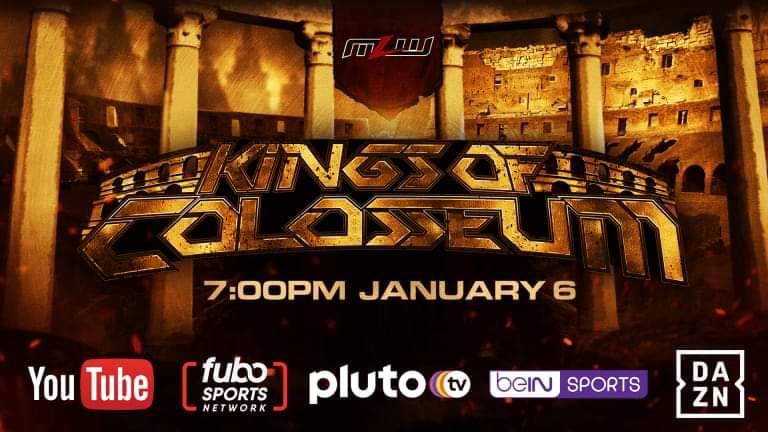 Watch MLW Kings Of Colosseum in the embedded video below (Full results are below the player).
Rich Bocchini and Saint Laurent welcome fans to Kings of Colosseum! They run through the matches set for tonight, which include three title defenses and a grudge match. The first title defense is about to start next!
Tornado World Tag Team Championship: Ross & Marshall Von Erich (c) vs. The Dirty Blondes (Leo Brien and Michael Patrick) (w/Aria Blake)
Neither team wastes any time by throwing a series of shots towards one another. Marshall Von Erich gets kicked out of the ring. The Dirty Blondes bring out a rope and cowbell. The Von Erich connect in stereo dropkicks. Leo Brien takes a chunk of out Ross Von Erich's head. Marshall comes to his brother's aide.
Their brawl spills to the outside. Marshall throws Leo through the exit door, and he crashes into a set of stools. Michael Patrick and Ross join them on the outside. Ross throws Michael towards a chair. The teams head back to the ring to make their victories count.
Marshall hits Leo right in the head with the cowbell. Michael distracts Ross as Aria Blake sneaks in a low blow on Ross. On the outside, Marshall reverses out of a piledriver from Leo Brien. He sends Leo crashing back-first onto the hardwood floor. Aria climbs on top of Ross. She gets booted onto the canvas. Marshall smashes Michael Patrick with their Claw Slam finisher. The Von Erichs retain their championships!
Winners: Ross & Marshall Von Erich
Post-Match: Ross and Marshall inform the MLW locker room that they are ready to take on any and all newcomers going forward as tag champs.
Rich Bocchini reports that Simon Gotch is currently MIA before his grudge match with Jordan Oliver tonight. Bocchini says they'll check back with MLW officials later on in the broadcast.
We look back at "Filthy" Tom Lawlor and Low Ki's historic 2020 Opera Cup Finals Match two weeks ago. Lawlor gained the monumental victory via pinfall from Low Ki's Rolling Koppu kick in the corner.
Lawlor says since he's one the Opera Cup Trophy, he has taken it everywhere with him. He announces that soon, MLW fans will join him and his trophy on Filthy Island.
Still, to come, Myron Reed will defend his MLW World Middleweight Championship. We hear from him and Lio Rush just before their big title match.
Before we get to Reed/Rush's match, Saint Laurent goes over "Pro Wrestling Illustrated's" Top-10 MLW Wrestlers of the Week.
10. Mads Krügger
9. Calvin Tankman
8. Laredo Kid
7. ACH
6. Richard Holliday
5. Myron Reed
4. LA Park
3. Low Ki
2. Tom Lawlor
1. Alexander Hammerstone
Rich Bocchini gives us an update on Simon Gotch/Jordan Oliver's grudge match for tonight. MLW officials have decided to postpone this match. They will provide an update on when this match will be rescheduled.
World Middleweight Championship: Myron Reed (c) (w/Jordan Oliver) vs. Lio Rush
Both men find themselves in an exchange of lockups. They rise to their feet and restart the match. Myron Reed catches Lio Rush in the air. Lio rolls Reed up for only a 2 count. Reed slingshots himself on top of Lio with a big leg drop. He only gets a 2 count after that maneuver. Reed lands a big kick towards the ribs of Lio. Lio fires back with a back elbow/kick combination.
Lio teases Myron by running the ropes around him. Lio flies through the second rope with a low suicide dive. He rolls the champion back in the ring for a near-fall. Lio keeps his dominance on point with a suplex and another near-fall. After Myron kicks out, Lio rubs his forearm across Reed's face.
Reed comes off the ropes and eats a big 540 kick. Lio goes for a cover, and Myron kicks out at 2. Lio corners Reed with three big midsection kicks. Myron Reed creates some space from Lio Rush by sending him into the turnbuckles. He follows it up with a codebreaker off the middle rope. Rush rolls out of the ring and Reed lands a high flying crossbody over the top rope. Next, Reed springboards in with a corkscrew for only a 2 count!
Reed counters Lio mid-air. Reed and Rush throw a series of forearm smashes. Reed takes Lio off his feet with a textbook enziguri. The champion lands a beautiful inside out cutter on the outside! Rush rolls away from Reed's No Cap Splash off the top. Lio surprises Reed with a low cutter. He climbs to the top and crashes onto Myron with The Final Hour splash off the top. Lio Rush looks for a cover and becomes the new MLW Middleweight Champion!
Winner and New Champion: Lio Rush
Post-Match: Lio Rush brags over his big win and tells the fighters in the back that no one can stop him and his reign as the Middleweight Champion.
Backstage: Alicia Atout speaks with Alexander Hammerstone before his main event match with Mads Krügger. Alicia asks Hammerstone what's his strategy going into this match? As he's about to answer, Josef Samael hacks into the show to warn everyone that a new soldier from CONTRA Unit will make his debut tonight.
As Rich Bocchini and Saint Laurent recap everything that's transpired from tonight's show, Salina de la Renta interrupts their segment. She's there to inform everyone that next week, she will be running Fusion, and she has some great matches in store. Next week, the Von Erichs will defend their Tag Team Championships versus Los Parks (La Park and Hijo de LA Park) with Tom Lawlor as the special guest referee.
In two weeks, Jacob Fatu will put his MLW World Heavyweight Championship on the line against ACH.
Backstage: Myron Reed admits that Lio Rush was the better man in their match tonight. But Reed will forever be the "Young G.O.A.T" Out of nowhere, CONTRA Unit (Jacob Fatu, Simon Gotch and their new soldier) attacks Reed and Jordan Oliver. Their new soldier is the former TNA X-Division Champion Daivari!
Speaking of CONTRA Unit, Mads Krügger makes his way down to the ring to challenge Alexander Hammerstone for his National Openweight Championship.
National Openweight Championship: Alexander Hammerstone(c) vs. Mads Krügger
Alexander Hammerstone runs down to the ring and both trade shots right away. Hammerstone smacks Krugger right in the face with his championship. Krugger catches Hammerstone off the top rope and throws him across the ring. The bell officially rings.
Both men spill to the outside. Krugger lays a big slap to the champion. Krugger throws Hammerstone back into the ring. Hammerstone throws three knife edge chops, but it doesn't change the dynamic of the match as Krugger throws the champion over his head. Hammerstone sends Krugger crashing onto the canvas with a pumphandle suplex. He only gets a 2 count on "The Black Hand of CONTRA."
Krugger lays in shot after shot in the corner. Hammerstone and Krugger continue their heavy hand exchange. Krugger sends Hammerstone face-first into the ring post. Both men make their way up on the stage. Krugger wraps his burly arms around Hammerstone's neck. Hammerstone bites his fingers. The referee decides to throw this match out, which ends the broadcast.
Winner: No Contest
That concludes Kings of Colosseum.