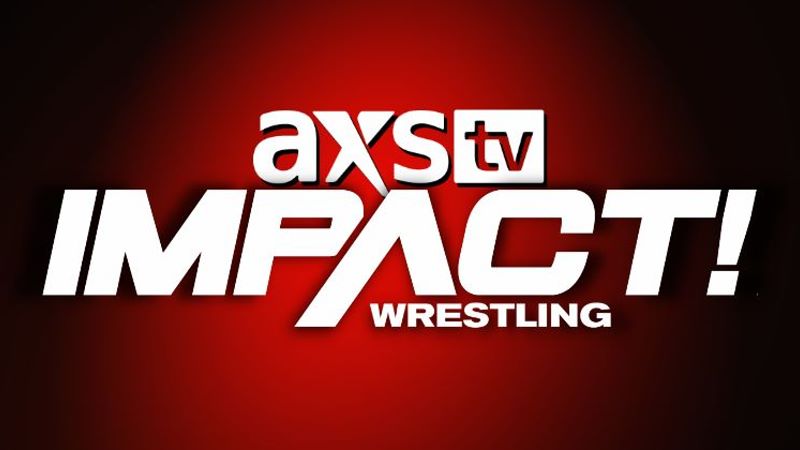 Impact Wrestling Results – January 19, 2021 – Before the show begins, a highlight video is shown, showcasing all the exciting and historic moments from Hard To Kill.
On Saturday, we see an exclusive clip of Kenny Omega, Don Callis and the Good Brothers hanging out and celebrating their big victory over Rich Swann, Chris Sabin and Moose. Don Callis informs everyone that they are heading back to Jacksonville and will disappear for a while. But he doesn't want anyone to forget what they've done here on Impact.
D'Lo Brown and Matt Striker welcome fans to Impact Wrestling! We kick things off with a singles grudge match!
Eric Young (w/Violent By Design – Deaner & Joe Doering) vs. Rhino (w/Cousin Jake)
Eric Young charges towards Rhino after the bell rings. Rhino blocks his attack with a set of elbows. Rhino slams Young's head into the top turnbuckle. He does it again on the opposite side. Young plants a thumb to the eye of Rhino. Deaner takes a swing on Rhino from the outside. Young goes for a cover. Rhino kicks out at one. Young drives his knee into Rhino's ribs for another two count. Young keeps his offense going with a tight headlock. Rhino fights out with a shot to the midsection.
Young misses an opportunity to land on top of Rhino off the top rope. Rhino works Young over with a big back elbow. Deaner distracts the referee in the ring. Joe Doering attacks Rhino from the outside. Young grips on to Rhino's injured ankle. Rhino taps out. Young wins the match via submission.
Winner: Eric Young
Post-Match: Violent By Design continues attacking Rhino's injured ankle and also Cousin Jake. Several referees run down the ring to break it up and to check on Rhino and Cousin Jake.
After Hard To Kill went off the air, Moose violently attacked the Impact World Champion Rich Swann after their defeat. Now, Moose is looking for a title shot. Tonight, Rich Swann is calling Moose out to the ring.
John E. Bravo and Acey Romero speak to Tommy Dreamer about Larry D. Acey tell Dreamer that they found Lawerene D's (Larry D's alter-ego) cologne in the Knockouts locker room, and they think he was set up.
The Good Brothers make their way to the ring. Karl Anderson asks Doc Gallows how many times do they have to keep proving how great they are. Gallows says after gaining the big win this past Saturday, it's hard to knock them off their pedal stool as the World Tag Team Champions. The Motor City Machine Guns' music hits. Chris Sabin comes out and notifies the Good Brothers that he wants a rematch for the titles. Gallows informs him that Alex Shelley isn't there, so who does he think he's going to pick as his partner. Sabin says he has a guy. James Storm's music hits! They make their way down to the ring.
Storm introduces himself and Sabin to the Good Brothers – explaining all the accolades they've had as individual competitors. Storm says it's time for them to either put up or shut up. All of a sudden, Matt Hardy's music hits! He and Private Party make their way down the ramp. Hardy believes if anyone should get a shot at the tag team titles, it should be Private Party. He thinks it's a good idea to have Private Party compete tonight ahead of their six-man tag team match on Dynamite. Hardy informs them all that in 2016, he was the only man who saved Impact from collapsing. He also mentions that he and Jeff Hardy technically never lost the tag team titles.
Tonight, Private Party will face James Storm and Chris Sabin in a No. 1 Contenders Match for the Impact World Tag Team Championship!
Backstage: Gia Miller speaks to Matt Cardona after his big victory over Ace Austin on Saturday. He says he's here in Impact to prove himself.
A video package is shown of the historic match between Fire 'N Flava (Kiera Hogan and Tasha Steelz) and Havok and Nevaeh for the Knockouts Tag Team Championship. Fire 'N Flava officially won the titles on Saturday.
Backstage: As Hogan and Steelz are talking to Tenille Dashwood and Kaleb, Johnny Swinger wants to join in on their Flava Party. But the problem is, they're still fighting over the wad of cash. Fallah Bahh joins in. As he's about to leave, Brian Myers accidentally gets off the elevator and picks a fight with Bahh.
Kimber Lee & Susan (w/Deonna Purrazzo) vs. Jordynne Grace & Jazz
Kimber Lee and Susan charge towards Jordynne Grace and Jazz. Jazz throws Kimber out of the ring. Jazz looks for a deep leg hook on Susan. Susan kicks out at one. She stomps on top of Susan's back before getting a tag in from Jordynne. She meets Susan on the outside with a big forearm. Kimber sneaks up from behind and tweaks Jordynne's elbow by pushing her down on the safety mat.
Back from the break, Kimber has Jordynne trapped in a scissors lockup. She rolls over for a cover. Jordynne kicks out. Susan tags herself in. Jordynne fights out of the corner with a big shot and a boot. Jordynne hoists Susan up. Susan sneaks out from the back. Kimber tags herself back in. She lands a spinning kick on Jordynne for another two count. Kimber gets one chop in before Jordynne blocks the second one. Jordynne needs a tag out. She gets an opportunity for a tag in after sending Kimber down with a big lariat. Jazz runs in. Jordynne gets a double knee, running smash and Vader bomb on Susan in the corner. Jazz sends Susan crashing with a big DDT. Deonna Purrazzo smashes her Knockouts Championship towards Jazz's face. Susan rolls her up for the pinfall victory.
Winners: Susan & Kimber Lee
Backstage: After taking a big loss to Deonna Purrazzo on Saturday, Gia Miller wants to know what's next for Taya Valkyrie. As she's about to answer, John E. Bravo confronts Valkyrie on if she was the one who framed Larry D. She admits she did do it. Security gets her and snatches her away. Tommy Dreamer, Acey Romero and Bravo try to figure out where she's going to go next – a metaphoric hint as to where she's going next in her wrestling journey. Dreamer says it could either be at a Jacksonville prison (AEW) or a Stamford Maximum Security Prison (WWE). But all three hope she doesn't serve her time in Baltimore (Ring of Honor). Rosemary is extremely disappointed that Valkyrie was the one who framed Larry D. They both hug it out before she's taken away.Tony Schiavone, Tony Khan and Jerry Lynn pay for another advertisement. They add they will be watching Impact very closely tonight. They also run through tomorrow night's card for Dynamite. Tony Khan and Jerry Lynn surprise everyone as the camera zooms out and shows that they're in Nashville for tonight's show!
Tony Schiavone, Tony Khan and Jerry Lynn pay for another advertisement. They add they will be watching Impact very closely tonight. They also run through tomorrow night's card for Dynamite. Tony Khan and Jerry Lynn surprise everyone as the camera zooms out and shows that they're in Nashville for tonight's show!
The Impact World Champion Rich Swann makes his way down to the ring. In his monologue, he admits he felt a tremendous amount of pressure this past Saturday in the main event. But he thrives under pressure. As of now, he isn't sure if his feud with Kenny Omega is over. All he knows is that Omega is not in the building tonight. So, he calls Moose down to the ring. The TNA World Heavyweight Champion's music hits.
Moose is dressed to the hilt in a nice suit. He believes Swann knows how destructive he can become when he's angry. He says ask Willie Mack – Swann's good friend. Swann says, why don't the fight now; he'll put the title on the line tonight. Moose rejects his offer. He says he wants the title match on his time. Swann then asks, if they aren't going to do this tonight, what do they do now? Both men start to brawl. Moose misses a chance to land a spear in the corner. Swann flies off the top rope with a Phoenix splash.
Backstage: Rohit Raju is extremely mad to see TJP holding the X-Division Championship. Scott D'Amore informs him that he's allowed to have it now that Raju isn't the champion anymore. In two weeks, Raju is issued a match with Manik (TJP). But the title won't be on the line. Raju has no idea about this.
Kiera Hogan and Tasha Steelz have a conversation with Alisha Edwards. They would like for her to be their MC. Just as their explaining their celebration party, Havok and Nevaeh would like to join in on the fun. Hogan and Steelz say all their ticket packages are all sold out except for the ones where they can view their party from home.
Brian Myers vs. Fallah Bahh
Brian Myers puts a temporary side headlock on Fallah Bahh. Bahh catches him with a big slam and leg drop off the ropes. Bahh hooks the leg for a two count. Bahh smashes Myers with a running crossbody. He gets another near fall count. Myers comes off the middle rope. Bahh catches him with a sidewalk slam. He gets the same results of just a two count. Myers connects a jackhammer fist for his first two count on Bahh. He locks Bahh back in a front face lock. Bahh creates some space with a belly-to-back suplex. He is on the move with a huge hip attack then a slam. Bahh lands himself another near fall. Bahh gets more and more fired up each time Myers chops his chest. Myers pulls some tricks out with a low blow to get a clothesline on Bahh for the pinfall victory.
Winner: Brian Myers
Backstage:Ace Austin with Madman Fulton have a lot to say after his big loss to Matt Cardona on Saturday. Now, he wants to redeem himself. He thinks he's the draw and moneymaker, not Cardona. Josh Alexander is sick and tired of hearing Austin talk. Both Austin and Fulton attack Alexander. Cardona runs in to help Alexander out.
A video package is shown of the bloody massacre that came from Sami Callihan and Eddie Edwards' Barbed Wire match on Saturday. Eddie picked up the victory with an emerald flowsion.
This week, the doctor checks in with Edwards. He strongly recommends he retires from death matches for awhile. Brian Myers comes charging in and asks the doctor to check on him. Eddie doesn't like his tone and challenges him to a match next week.
Chris Sabin & James Storm vs. Private Party (Marq Quen & Isiah Kassidy) (w/Matt Hardy)
Isiah Kassidy and Chris Sabin are already in action once the show returns from the commercial break. Both men tangle, showing off their general mat skills. Marq Quen makes a quick tag in with a leapfrog and a few shots before bringing Kassidy back in. James Storm becomes the legal man. He commands the ring with a big boot on Quen on the apron and a back elbow to Kassidy. Private Party fire back with their Silly String signature. The AEW President & CEO Tony Khan and Jerry Lynn bring out two chairs to see the main event up close.
Back from the break, Chris Sabin lands a big missile dropkick on Quen. He hooks the leg, and Quen kicks out at 2. Tony Khan and Jerry Lynn look pleased. Sabin and Storm look for a double hook. Quen sneaks out from the back. Storm sends Quen down with the lungblower for another 2 count. Kassidy catches Storm with a step-up enziguri. Sabin turns it around with a vertical suplex. Matt Hardy is trying to fire Kassidy up on the side.
Storm breaks up the perfect offense from Private Party. Quen elevates Storm on the outside with a big flip over the top rope. Jerry Lynn interferes in the ring to help Private Party set up Sabin for Gin and Juice. That sends Sabin down and out. They hook the leg, 1-2-23, Private Party are now the new No. 1 Tag Team Contenders!
Winners: Private Party
Post-Match: The Good Brothers stand toe-to-toe across from Private Party. James Storm and Chris Sabin interrupt the staring contest by attacking both teams. A big fight ensues, and that's how the show concludes.
That concludes this week's show.
---
Since 2001, WrestlingAttitude is your number one source for WWE wrestling news, rumors and results. Make sure to follow us on social media where you can get the latest news in real time! We are facebook, Twitter, Pinterest and Instagram at the following links:
WA on Facebook – https://www.facebook.com/wrestlingattitude/
WA on Facebook (Women's Wrestling) – https://www.facebook.com/WrestlingDivas/
WA on Twitter – https://twitter.com/wa_wrestling
WA on Instagram (Women's Wrestling) – https://www.instagram.com/wa_wrestlingattitude/
WA on Pinterest – http://www.pinterest.com/realbadrose/wrestling/
---