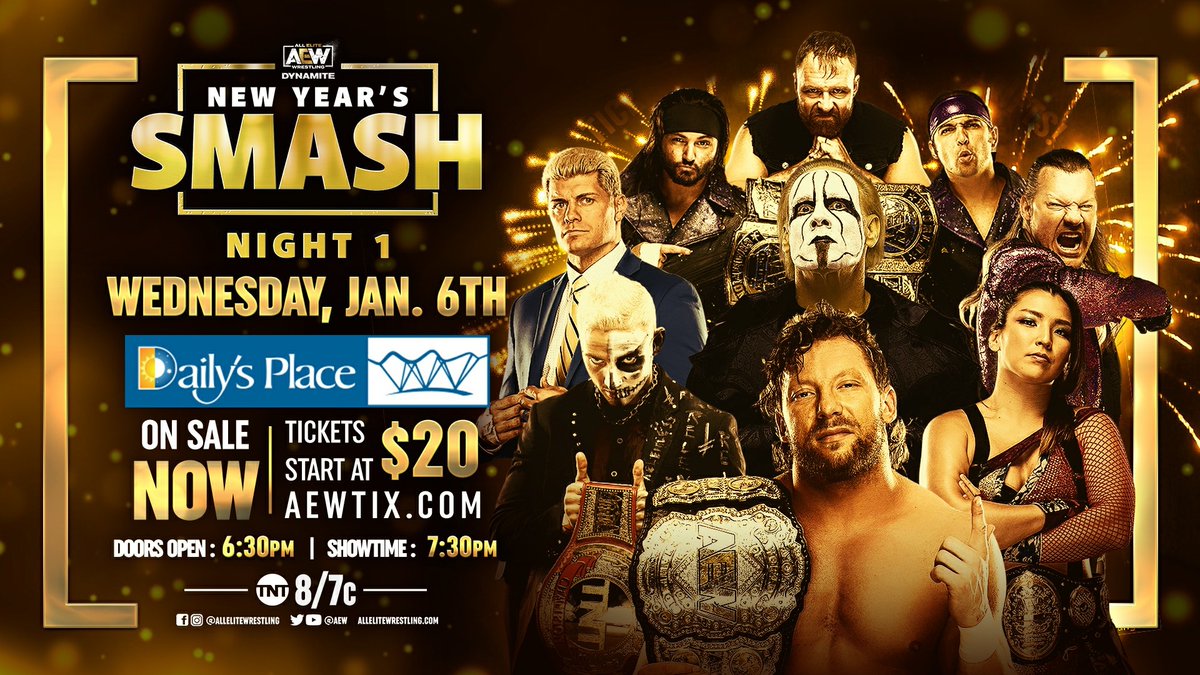 AEW New Year's Smash Night 1 Results – New Year's Smash special edition of AEW Dynamite on TNT kicks off with the usual trademark weekly signature opening video package. We head inside Daily's Place amphitheater in Jacksonville, FL. where Jim Ross begins by saying, "It's Wednesday night … and you know what that means!"
The Young Bucks & SCU vs. The Acclaimed & The Hybrid2
Brawl starts almost immediately between both teams and most of the wrestlers spill out to the floor. Nick Jackson takes out TH2, then hits a step-up flip out to a group of wrestlers on the floor. Daniels looked for an arabian moonsault, but blocked by Bowens. Daniels gets worked over by The Acclaimed, Evans tags in and hits a double stomp, cover, two. Daniels takes a string of aerial moves, Angelico with a submission lock, but Daniels gets his feet on the ropes.
Daniels finally hits a blue thunder bomb on Bowens, tags in Kazarian who is able to drop multiple guys. Evans recovers and gets control of the match for a moment, Kazarian is able to escape and tag in Matt Jackson, double northern lights suplex, big flips on two wrestlers, spear on a third. Matt hits a splash on two guys on the floor. Nick goes up top, risky business hits on Bowens, cover, two. BTE trigger on Bowens, cover, Evans breaks up the cover.
Anglico and Evans drop Nick, Evans goes up top for a 630 senton, but Nick gets the knees up. Matt tags in, double superkick to Angelico, and more superkicks to The Acclaimed. Evans takes a DDT, then a superkick. Meltzer driver blocked. Daniels with the blind tag, best moonsault / piledriver combo, cover, 1-2-3.
Winners: The Young Bucks and SCU via Pinfall
– Post-match, Kazarian gets on the mic and says that's how you start out the year. Kazarian says that the challenge was put out the next he and Daniels lose together, they will be done as a team forever. He doesn't see that happening on his watch. Daniels takes the mic and says he has Matt and Nick's back, other than the night they face the champions in the ring for the titles. The two team shake hands and celebrate a bit more.
– Jon Moxley heads out to the ring and gets on a mic. Moxley says fans may have expected him to come out here and cuss up a storm about what happened during his title match against Kenny Omega. He says life isn't fair, sometimes you're given a bad deal, and just take it on the chin. Moxley says that's when you stand your ground and don't give in an inch. Moxley says an appropriate response would be to find Omega and Don Callis, then beat them down with a crowbar. With a title match taking place, he's not going to take the opportunity away from Rey Fenix who has scratched his way to the top for 13 years. It's not his right to change someone else's destiny. Moxley then tells Omega that he's not safe, and when he says he's going to do something, he will do it. "The boogieman will forever be lurking over your shoulder!" Moxley says Omega is going to one day realize he crossed the wrong guy.
– Backstage, Dasha asks Orange Cassidy and Chuck Taylor about an update on Trent. Chuck says he has a torn pec out 4 to 5 months. Miro, Penelope, and Kip interrupt. Miro says he knows Trent was the leader, and if they need a friend, they can come to his house and wash his car / do his laundry. They decide to have a match next week, but Miro ups the stakes by saying if Chuck loses he has to be Miro's "young boy" until after Kip and Penelope's wedding.
Wardlow vs. Jake Hager
Early on we see both guys doing some exchanges in power displays. Hager out-wrestles Wardlow and gets him down on the mat and behind him. Wardlow works his way back up, however, and he throws Hager and then taunts him by smirking at him.
Hager blasts Wardlow with a back-elbow and then whips him into the corner, following him in with a big shot. He goes to do so again, however this time he runs right into Wardlow, who was running at him as well. The two bump shoulders and neither man budges. And repeat. And a third time.
On the fourth attempt, Wardlow hits a leap-frog and then clotheslines Hager over the top-rope, with both men flying over and landing on their feet on the floor. Wardlow gets in some punches before Hager takes a couple of steps back. He rushes forward and both men blast each other with a double-clothesline.
As both men are laid out on the floor outside of the ring as a result of the aforementioned double-clothesline, we listen as "Good Ole' J.R." leads us into a mid-match, picture-in-picture commercial break.
When we return from the break, we see Hager dominating the action in the ring, taking it to Wardlow in the corner. Seconds later, however, we see Wardlow start to show signs of life, as he begins his fired up comeback and starts taking over the offensive control of the contest.
Wardlow blasts Hager and knocks him off his feet with ease for the first time in the match and then follows up with a nice suplex. We see several members of the Inner Circle watching on from the entrance ramp as the action continues inside the squared circle.
As Wardlow continues to dominate the offensive action in the ring, he ends up slowing his momentum down when he runs into a big elbow from Hager. Now we see the MMA fighting cross-over member of the Inner Circle take back over control of the bout. He hits a big shot on Wardlow that drops him with ease and then he follows up with a big powerslam for a near fall.
Hager runs and leaps off the middle rope, looking for his Hager Bomb finisher, however he calls an audible on the fly and slaps Wardlow in the ankle lock submission. Wardlow ends up kicking his way out of the dangerous submission hold and then doing one better by sending Hager flying from the ring to the floor, where he crashes into the steel barricade.
MJF's bodyguard follows that up by heading out to the floor and grabbing Hager, rolling him back in the ring and going right back in after him. He hits a big slam for a near fall and then heads to the top-rope, where the big guy hits an impressive flying senton for a close near fall. Hager ends up snatching up an arm-triangle as a beautiful counter out of the attempt by Wardlow to finish him off.
Now with both guys standing up, Hager takes Wardlow up to the top-rope, all-the-while still holding onto the arm-triangle submission. Wardlow ends up escaping and sending Hager crashing down to the mat below. He follows that up with a giant F-10 for the pinfall victory.
Winner: Wardlow
After the match, we see the members of the Inner Circle that was watching on from the entrance aisle enter the ring to check on both guys. Then we see Wardlow and Hager each stand up and eventually shake hands as a sign of respect and peace and unity for the Inner Circle. Jericho likes what he sees as we hear him sing their praises on commentary.
— We're backstage and we see Private Party bummed out that they don't have all the required party favors for this New Year's Smash special. Their fears are put to rest when up walks hip-hop legend and a special guest here at night one of the New Year's Smash special — Snoop Dogg — carrying exactly what they needed. Finally, Matt Hardy walks up and approaches the three guys and focuses his attention on Marq Quen and Isiah Kassidy. He talks about getting everything done, paperwork wise, to become their manager and earning 30-percent. He promises he took care of all the issues they specifically mentioned.
– Team Taz heads out to the ring for the weigh-in between AEW TNT Champion Darby Allin and Brian Cage. The two will meet next week for the title. Taz wants to know why Cage has to go first, simply because he's the challenger, antagonizing Tony Schiavone over the order. Cage eventually goes up and weighs in at 272 pounds. Allin then heads up and weighs in at 170 pounds. Allin takes the mic and says he's dealt with s— from people like Taz his whole life. Allin says let's just get to the fun part. Allin grabs his skateboard. Taz tells Tony to get out of the ring and goes to talk, but out comes Sting. Team Taz bails out of the ring. Sting is now in the ring with Darby. Taz yells that he's sick of the snow and he's sick of Sting! Taz tells Allin that next week a new TNT Champion will be crowned! Sting and Allin exchange looks as Team Taz heads to the back.
– Backstage, MJF brings a camera man into a room where Jake Hager is super mad about his loss. MJF tells Hager that he should be proud of himself (he got in and out of the ring, which doesn't always happen in pro wrestling), and he's still undefeated in the octagon. Hager says MJF almost got dropped when he came into the room, but he's "cool" and gets a fist bump. Hager then tells him to head out.
Matt Sydal vs. "The American Nightmare" Cody Rhodes (w/ Snoop Dogg)
Cody emerges from the entrance tunnel with what "The Dapper Yapper" Justin Roberts introduces as his special coach — Snoop Dogg.
The two make their way to the ring and after playing to the crowd for a minute, the bell sounds and we see Cody and Matt get right down to business. Cody controls the action early on but then Sydal quickly turns the tables.
After securing his spot in the offensive driver's seat in this contest, Sydal sends Cody to the floor and climbs to the top-rope. He looks for a big high-risk spot to the floor, however nobody was home when he landed — although Snoop Dogg was close by and almost got taken out by accident.
Instead, Sydal ate dirt on his landing and Cody immediately takes over from there. He beats down Sydal outside the ring a bit before returning the action into the ring where he locks in a Texas Cloverleaf submission on Sydal. The high-flying veteran struggles but eventually makes his way to the bottom rope, forcing the hold to be broken.
As Cody lets go of the hold, he fires up and starts stomping at the softened up leg of Sydal. He then blasts him with a roundhouse kick while he was laid out and follows up with some push-ups as we are led into a mid-match, picture-in-picture commercial break with the action still in progress in the ring.
We return from the break to a nice reverse suplex spot from Cody. The action then continues with Cody dominating his smaller foe until finally, he goes to the top-rope looking for a moonsault. Things don't go well for the former TNT Champion and this leads to Sydal showing his first signs of life in several minutes, as he turns the tables and shifts the momentum in his favor.
Sydal gets in a couple of moves but then both guys are sent flying out to the floor with their own momentum. Each landed hard, however Sydal is back up first. He sends Cody back into the ring and follows in after him, however he walks into a disaster kick from "The American Nightmare." Snoop Dogg then leads the fans in a "This Is Awesome" chant. Sydal hits a hurricanrana for a pin attempt, however Cody kicks out at two.
Seconds later, Sydal hits Lightning Spiral on Cody for a very close near fall. Cody avoids a jumping knee-strike from Sydal and reverses into a Cross-Rhodes. That will do it, as he covers Sydal and gets the three-count for the victory.
Winner: Cody Rhodes
After the match wraps-up, as soon as Cody finished the pinfall on Sydal, he was attacked from behind by Serpentico and Luther, who hit the ring out of nowhere. Sydal ends up sending one of them to the floor, leaving the other in the ring for Snoop Dogg.
Snoop settles in on the top-rope, where he hits a flying knee/leg drop on him to clear the ring of the dastardly heels and leave it free-and-clear for himself and Cody to enjoy as they celebrate in style before we head back to another commercial break.
AEW Women's Championship
Abadon vs. Hikaru Shida (c)
The theme music of the AEW Women's World Champion Hikaru Shida hits and out she comes, with the action immediately getting underway before the bell even sounds, as Shida blasts Abadon with a kendo stick shot, a brutal one at that, and the challenger essentially no-sold it. Now the bell sounds to officially get this one underway and within seconds, Shida is controlling the action. She lays Abadon over the bottom rope and heads out to the floor, however Abadon takes over from there.
As they fight on the floor, Abadon ends up dragging Shida under the ring — or as the commentators refer to it — "dragging Shida to hell with her." The two disappear under the ring for a moment or two and then Abadon emerges and is covered in blood, but it's not hers. She makes a scary face and then finally we see Shida emerge from under the ring with her neck again covered in blood, much like previous weeks when Abadon has bitten her like a blood-thirsty vampire.
Abadon brings a blood-soaked Shida into the ring and hits a big spot and covers her, however she pulls her up before the ref can count to three even though it seemed as though she had things wrapped up. Instead, she decides to add insult to injury, as she bites on Shida again and shows off her vicious, scary side some more. As this goes on, we finally take a mid-match, picture-in-picture commercial break. J.R. began talking us into one a few minutes ago, however he said "we're going to stay right here! They're going crazy in the back!"
After we return from the break, we see Abadon still in control, however it doesn't take long at all before the reigning, defending champion takes things over. Abadon punches away at Shida, hits a facebuster, cover, two. Abadon continues to work over the champion. Shida able to bring Abadon in via superplex. Abadon bridges up a la Bray Wyatt, hits a clothesline, cover, two. Shida gets up and goes for a roll-up over her own for two. She quickly gets away, then Shida hits a running knee to the face, cover, and that will do it.
Winner and STILL AEW Women's Champion: Hikaru Shida
– Backstage, Tay Conti (with Anna Jay, John Silver, and Alex Reynolds) tells Deeb she has a lot of respect for her, but she's coming for that title. Conti says she has lots of experience in judo and jiu-jitsu, and has plenty of backup with her.
Kenny Omega (c) vs. Rey Fenix (AEW World Championship)
Back and forth action early on until Fenix takes control, sending Omega out to the floor. Fenix then leaps out for a hurricanrana on Omega. Both back in the ring, Omega looks for a swinging DDT, but Fenix pops up and lands on his feet. He nails Omega with a dropkick, big chop, looks for a springboard, but gets chopped down to the floor. Omega then nails a nasty snap dragon suplex on the challenger.
Omega with a suplex on the apron and drops him down on the barricade. "He's done, Kenny!" Callis yells. Omega with a kotaro krusher, cover, two. Omega then hits a big backbreaker on a hurt Fenix. Fenix recovers, ends up on the apron, dances the ropes and hits a nice dropkick, sending Omega to the floor. Fenix then lands a huge flipping dive on Omega, nearly going over the barricade himself.
Back in the ring, Fenix with a moonsault off the second rope straight into a release german suplex! Cover, two. Fenix with a step-up double foot stomp to the back of the neck. Omega crumples to the floor as Callis checks on him.
Omega with a knee strike, Fenix kips up and lands a nice hook quick. Crowd going wild for that one. Omega with a high stack powerbomb, two. Omega with a v-trigger, cover, another two-count. Omega with another v-trigger, looks for one winged angel, but Fenix reverses into a poisonrana. Callis gets Fenix's attention for a few moments. Fenix looks to fly and eats a knee. He then charges towards the ring for a step-up cutter, cover, two. He picks Omega up and hits a fire thunder driver (while kneeing Omega in the head just before), cover, very close three.
Fenix with stomps to the champ and heads to the top rope for a frog splash, Omega gets his knees up. Fenix is put on the top turnbuckle, Fenix fights him off, looks for a move, but is caught in midair, tiger driver by Omega. He hits a v-trigger, Fenix barely kicks out. Omega looks for one winged angel, pin, 1-2-3.
Winner: Kenny Omega
After the match, Don Callis gets on the mic. Callis says apparently something terrible is happening in the back. We see Kingston's family beating up PAC and Penta. Callis tells Fenix that Penta and PAC isn't coming for him, it's just a one winged angel sending him into the scrap heap of history. Callis tells Omega to finish off Fenix, but Moxley runs out with a barbed wire bat and smacks Omega in the midsection. Callis bails out of the ring as Moxley stares at him. Impact World Tag Team Champions The Good Brothers (Doc Gallows and Karl Anderson) then run out and take down Moxley. The Impact stars beat up Moxley and then hit magic killer on him. The two embrace with Omega and then continue to beat up Moxley. A bloodied Omega then grabs the bat and whacks Moxley over and over with it.
The Varsity Blondes try to get involved and help, but get thrown out. More wrestlers from ringside try to help and all get knocked out of the ring. Gallows put one of them through a table. The tag champs then hold Moxley and Omega smacks him again with the bat. Omega says to the camera "You (Moxley) made me flip the switch." The group continues to beat up Moxley as The Young Bucks come out to the ring and questioned Omega. Garrison and Pillman Jr. both grab Omega, but Matt and Nick superkick them?! Matt and Nick then throw up the Bullet Club hand sign with The Good Brothers and Omega as the show goes off the air.