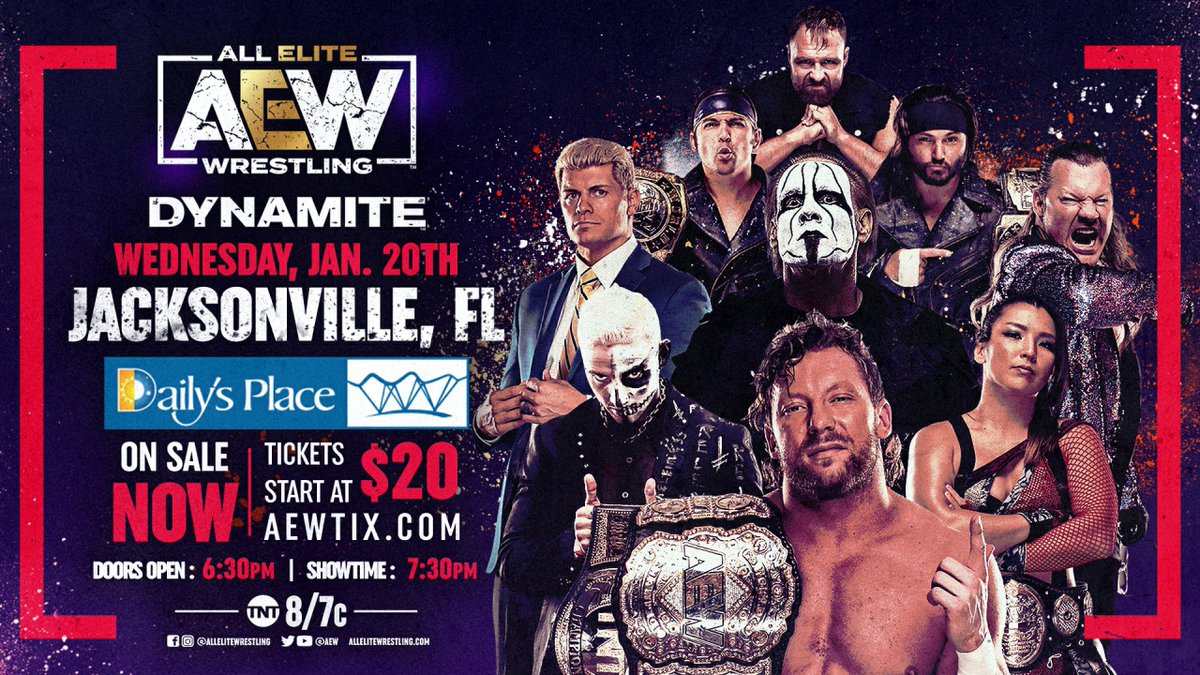 AEW Dynamite Results – January 20, 2021 – We are live inside the Daily's Place amphitheater in Jacksonville, FL. where pyro and fire starts exploding as the camera pans around the building and we hear Jim Ross on commentary say, "It's Wednesday night, and you know what that means!"
Hangman Page, Colt Cabana, John Silver, and Alex Reynolds vs. The Hybrid2 and Chaos Project
This match is in celebration of -1's birthday, who comes out on 10's shoulders. All of Dark Order comes out and there's a cake for -1. The group and the live crowd sing Happy Birthday to him. Out comes Chaos Project to ruin the fun and say they don't care. Luther says they don't like children and calls -1 stupid looking. He continues they are going to ruin his birthday and a brawl breaks out between both sides (The Hybrid2 show up). Page then comes out and leaps off the stage to take out a bunch of people.
Match finally gets going as Silver beats up Evans and Angelico. Silver takes a punch to the face from Angelico then tags in Luther. Butterfly suplex by Luther and then in comes Serpentico. Luther power slams Serpentico down on Silver, then does it with Evans, he then uses Angelico's face to hit a bulldog down on Silver. Silver finally drops Serpentico and tags in Page, Hangman beats the heck out of anyone that gets in the ring with him.
Page with big clotheslines to most of his opponents. He catches a leaping Serpentico, belly-to-belly suplex, cover, and it gets broken up. Quick brawl, but Dark Order sends most guys out of the ring. Page with a fallaway slam on Angelico. He then leaps out to the floor, but Evans moves out of the way. More brawling out at ringside. Reynolds with a flip down on Chaos Project. Page up to the top rope and hits a mooonsault on some wrestlers.
Page has Silver and Reynolds jump on his back, then flops back down on Serpentico. Evans with a 450 springboard splash on Reynolds, cover, it gets broken up. Page powerbombs Evans into the crowd at ringside. Luther looks to put Cabana through a table, -1 hits Luther with the kendo stick, Cabana then dumps Luther's face into the cage. Back in the ring Dark Order destroys Serpentico, Page with buckshot lariat, Reynolds thne gets the jackknife pin on Serpentico.
Winners: Hangman Page, Alex Reynolds, John Silver, and Colt Cabana via Pinfall
– Post-match, Dark Order grabs Serpentico. -1 says he thinks he's going to ruin his brithday?! He cracks Serpentico over the head with the kendo stick. He then tells Dark Order his birthday was actually three days ago and throws some papers at Serpentico. Silver then gets on the mic and gives Page a bunch of compliments. He then asks Page if he'll join. Page takes the mic and says, "I can't." Just as some music plays and banners go up that say "He said yes!" Dark Order can't believe it. Page says he's had fun with them over the past few weeks, but he's done the group thing before and it didn't end well for him. He apologizes to Silver and heads up to the stage. The group try to change his mind, but Page heads off.
— Alex Marvez approaches MJF and  Chris Jericho backstage about tonight's match. MJF tells him to stop talking and says his breath smells like rats in an orgy. MJF says he is a little worried that the match could drive a further wedge between the group tonight. Jericho says it will actually bring them closer. He says they will move on as a unit no matter who wins tonight.
— Tony Schiavone says that Sting has something to say Darby Allin and The Icon makes his way down to the ring followed shortly after by the TNT Champ himself. Sting says there is something in Allin that reminds him of Sting and he calls Allin a phenomenal wrestler and congratulates him on being the TNT Champion. Sting says he wasn't here to interrupt the match but just wanted to make sure he had a fair chance.
Taz interrupts him and appears on the screen with his crew. Taz tells Sting to shutup and says there was nothing about what they did last week and that they fight dirty. Taz says his group have been gentlemen but he grew up in the streets and they are all street fights so if they want to get in the streets they can do that, too.
Taz calls Sting and Allin bitches and challenges them to "take it to the streets." Allin says if they want to take it to the streets they better be careful what they wish for because it might just happen.
– Reminder of Thunder Rosa vs. Britt Baker taking place at Beach Break on February 3.
– The Young Bucks meet up at Kenny Omega's house. Michael Nakazawa greets them and bring them to Omega. They see an oil painting of Omega and Callis, both shirtless and muscled up. Callis shows up, Young Bucks aren't happy about what happened last week. Callis said he had someone in his ear and they had to change stuff on the fly. Callis says Omega can't make today's meeting, which annoys Matt and Nick Jackson. Callis says Omega had to change up his phone number because others were blowing it up. Callis was surprised The Young Bucks didn't get it. Callis says he's glad they are here. Callis then kicks out Marvez and the camera guy, but keeps the camera.
Callis then talks with the brothers about working with Omega. Callis offers up a check for them to make an "investment" in Omega. Young Bucks look at the number and say they made that much last week. Callis forgot they were merch guys! Callis gives them another check. Matt says it's crazy that Callis thinks he can buy out their friendship. Callis says Young Bucks are actually holding Omega back, they are "hanger-ons." Young Bucks says that company he works for (Impact Wrestling), they once worked for Impact, and know their checks are no good. He rips up the check. Callis calls the Young Bucks blood suckers! Matt and Nick then go to beat up Callis as the camera cuts out.
Cody Rhodes with Arn Anderson vs. Peter Avalon
Cody immediately hits Avalon with the CrossRhodes but Jade Cargill comes out distracting him. Avalon kicks Cody in the nuts as the referee is telling Cargill to stay out of the ring. Avalon goes after Cody's knee. Avalon hits a Superplex off the top. Avalon hits a Vertical Suplex for a nearfall. Cody and Avalon run into each other with clotheslines causing both men to crash and burn.
—-COMMERCIAL BREAK—-
Avalon goes for a Diving Moonsault off the top but Cody moves and attempts to leapfrog Avalon only for him to land knee first on Avalon. Avalon dumps Cody to the floor and hits a Tope Suicicda sending Cody into the guardrail. Avalon tosses Cody back in the ring but walks into a Cody Cutter. Cody hits a Powerslam and then puts him in a Figure Four. Avalon manages to roll over but Cody rolls it back and slaps Avalon in the face before Avalon taps.
Winner: Rhodes
— Backstage Tully Blanchard and FTR talk about being No. 1 contenders when Jurassic Express barge in and get in their faces. Jungle Boy says they might be the best team in the world but he knows he could beat either one of them. Dax says he'll fight Jungle Boy next week and he doesn't need anyone else to do it. Luchasaurus says he's going to be ringside next week to make sure NO ONE gets involved.
Jon Moxley vs. Nick Comoroto
Comoroto shoves Moxley, but eats a headbutt. Moxley with punches and stomps in the corner. Moxley with some big chops and clothesline in the corner. Moxley with a running crossbody, caught in midair and sent down to the mat. QT Marshall and Dustin Rhodes watching Comoroto from the crowd. Comoroto chokes Moxley with his boot, big flying elbow, backbreaker, and a second one, but he holds it and pushes down on Moxley.
Moxley bites his opponent's face, and hits a rolling forearm, big knee to the face, but Moxley runs into a neckbreaker, cover, two. Comoroto charges in and runs chest-first into the corner. Moxley with multiple kicks to the chest and looks for a suplex, nope. Moxley then hits a release german suplex. Moxley locks in a sleeper, Comoroto falls back, but Moxley shifts to avoid the impact. He holds on and his opponent goes goodnight.
Winner: Jon Moxley
Post-match, Moxley gets on the mic. He says Wednesdays are getting crazy and he can't keep track of who is on which team. Moxley brings up Kenny Omega bringing in friends from outside places. Moxley says all it is to him is more violence and necks to break. He says the taller the mountain is to climb, the sweeter it is when he gets to the top. Moxley says people can be brought in from Mexico or Japan, but all road leads through him.
— Next week Eddie Kingston will face Lance Archer and he Kingston says he doesn't prepare for fights, he just fights. Archer approaches Kingston and says he will put Kingston's ass down next week. Jake Roberts calls Kingston a chicken shit and says if he wants to talk shit he should do it in the ring next week without his "two monkeys" behind him.
– Backstage, Dasha tells Eddie Kingston he'll face Lance Archer for the first time, next week. She asks how he'll prepare for him. Kingston says he doesn't prepare, he just fights. Lance Archer shows up and tells Kingston he's ready to fight, he talks some more, but Kingston doesn't want to hear it and talks over him. Jake Roberts tells Kingston to leave his guys (Butcher and Blade) behind next week and see how he does against Archer on his own.
– Backstage, Marvez asks Omega about what happened at the beach. Omega says he wasn't there and doesn't have a comment. He goes into the locker room and sees Callis' face is all bruised up. Callis doesn't want Omega to get upset, Kenny wants to know who did that. Callis slips up and mentions Matt and Nick Jack. Omega can't believe it! Marvez tries to get another comment, Callis kicks him and the cameraman out of the room.
Top Flight and Matt Sydal vs. Private Party and Matt Hardy
Quen and Dante start things off, lots of dropkicks land from multiple wrestlers. Slow start for Private Party, Hardy says something to Quen, who then tosses his jacket at Sydal to get an advantage. Kassidy then goes over and drops the other two opponents off for a moment. Sydal and Top Flight then lock in double boston crabs on Private Party.
Private Party get control again as they work over Sydal. Sydal finally finds a window, double hurricanrana aon Private Party, tags in Darius who lands a string of kicks, then a spanish fly. Hardy tries for twist of fate, but gets sent out to the floor. Darius with a hard suicide dive on Hardy, sending him into the barricade. Back in the ring, Kassidy goes for silly string, nope, Dante goes for a pin, two.
Darius tags in, Kassidy able to counter two moves, then tags in Hardy. Matt hits side effect on Darius, then one on Dante. Sydal up on the top rope, leaps, Hardy puts him down, triple cover by Hardy, but only two. Quen and Sydal in the ring, kicks Quen in the head. Top Flight clears Kassidy and Hardy off the ropes, big corner clotheslines on Quen. Dante with a rough looking hurricanrana, cover, two. Quen and Dante up on the top rope. Kassidy with a chairshot to Dante's midsection during some chaos that got the ref distracted. Quen with a shooting star press, cover, 1-2-3.
Winners: Private Party and Matt Hardy
Private Party attacks Top Flight and Sydal after the match. Hardy hitsa Twist of Fate on Darius Martin and then one for Sydal, too.
— MJF comes into the Inner Circle locker room and says that if it was up to him he isn't sure if he would go forward with the match, but says Jericho is the leader and what he says goes. Sammy gets in MJF's face and says that if he got his way a lot of things wouldn't happen. MJF says they are family and they have to be a family to succeed. MJF says he respects Sammy because he isn't afraid to speak his opinion but asks him to understand that he wants what is best for the group.
"Legit" Leyla Hirsch vs. Penelope Ford w/Kip Sabian, Chuck Taylor & Miro
Taylor is dressed in a tux and Miro is calling him Charles Taylor. He holds the ropes open for Ford as she comes to the ring. Hirsch and Ford exchange waist locks before Hirsch trips Ford and puts her in a Waistlock. She rolls Ford all around the ring ragdolling her before taking her down again and getting a quick two.
Ford kicks Hirsch in the knee and puts her in a headlock. Ford hits a shoulder block but Hirsch nips up only for Taylor to trip her after being told to by Sabian. Hirsch still catches Ford in a Cross Armbreaker. Ford gets to the ropes and Hirsch goes after Sabian only to eat a Pump Kick from Ford. Ford throws Hirsch into the barricade as Sabian taunts her.
Ford misses a clothesline and walks into a series of forearms from Hirsch. Hirsch blocks a Spin Kick attempt and forces Ford to do a split and then hits a Flying Knee. Hirsch hits a Deadlift German Suplex and then a Running Knee in the corner for a nearfall. Hirsch goes to the top but Ford pulls her down and attempts a Cartwheel Axe Kick. Hirsch moves and and then springs to the top but hits a beautiful Springboard Somersault Plancha onto Taylor and Sabian instead. As she climbs back in, Ford hits a Pump Kick and then Sabian holds her legs down as Ford gets the pin.
Winner: Penelope Ford
After the match, Miro calls "Charles" in the ring and tells him to look into the future and see where he can go. Miro tells Taylor to look Orange Cassidy in the face and tell him that Miro is now his best friend. Taylor does it
— The Good Brothers are attacking Pentagon backstage before Omega joins in. The Good Brothers choke Penta with a cable. Omega uses the heel of his boot to stab at the eye of Penta.
– Next week on AEW Dynamite:
* Jungle Boy with Luchasaurus and Marko Stunt vs. Dax Harwood with Cash Wheeler and Tully Blanchard
* Eddie Kingston vs. Lance Archer
* Cody responds to Shaq's comments from a few weeks back
* AEW World Tag Team Champions The Young Bucks and Impact World Tag Team Champions The Good Brothers vs. Evil Uno, Stu Grayson, John Silver, and Alex Reynolds
– In two weeks at AEW Dynamite Beach Break:
* The Wedding of Penelope Ford and Kip Sabian
* Thunder Rosa vs. Britt Baker with Reba
* Tag Team Battle Royal (Winner faces the AEW Tag Team Champions at Revolution)
– Women's World Championship Eliminator Tournament to determine the number one contender. Commentary says it's "coming soon."
Chris Jericho and MJF vs. Santana and Ortiz vs. Jake Hager and Sammy Guevara
The winning team in this match will be considered the "official tag team" of the Inner Circle. Guevara and MJF stat off but MJF tags out instead of locking up with him. Sammy is on fire to start off with a ton of offense of Jericho. Guevara dropkicks Jericho to the floor and then fakes him out like he's going to dive but backflips back in the ring and break dances to taunt him.
Guevara catapults Jericho into a Forearm Smash from Hager for a nearfall.. Jericho manages to cut Jericho off and tags Santana. Hager tags in and Hager shows off his strength until PNP isolate Hager in their corner. PNP hits a Double Back Suplex on Hager but Jericho blind tags himself in. Jericho eats a Springboard Cross Body from Santana followed by a Senton and then a Moonsault from Santana off Ortiz's back.
Jericho goes for a Running Bulldog on Guevara but he blocks it causing Jericho to get hung up in the ropes. MJF and Hager tag in and Hager destroys MJF with clotheslines and a Powerslam much to Schiavone's glee. Guevara tags in and hits a Springboard Cutter on MJF but Ortiz tags MJF. Guevara attempts a Shooting Star Press off the apron on Jericho but Jericho moves and Guevara lands on his feet. Ortiz and Santana dive onto Jericho and MJF on the floor. Guevara hits a Fossbury Flop onto MJF.
Guevara goes up top but PNP cut him off and MJF lifts Guevara up on his shoulders only to eat a Poison Rana from Guevara! Guevara climbs back up with Ortiz and hits a Spanish Fly for a close two. Jericho grabs his bat but Hager catches him and kicks him in the face! Wardlow hands the ring to MJF but Hager sees that, too and decks him with a big right!
PNP hit a Double Enziguri on Hager but he comes right back with a Double Clothesline! Guevara hits a Standing Shooting Star for a nearfall on Ortiz. MJF Powerbombs Guevara and then Jericho hits the Lionsault for a nearfall. Jericho almost slipped on that. Ortiz blind tags Guevara and PNP hits a Flipping Powerslam on Jericho for a nearfall.
Jericho comes back with the Codebreaker on Ortiz but he kicks out at two. MJF tags in and they attempt a Backdrop but Ortiz counters into a Double DDT. Hager tags in and hits a Hager Bomb on MJF. Guevara hits a Swanton Bomb for two but Ortiz breaks it up. Guevara hits GTA on Jericho and then goes for one on MJF but Wardlow hits Sammy allowing MJF to roll him up for the pin.
Winners: MJF & Jericho
---
Since 2001, WrestlingAttitude is your number one source for WWE wrestling news, rumors and results. Make sure to follow us on social media where you can get the latest news in real time! We are facebook, Twitter, Pinterest and Instagram at the following links:
WA on Facebook – https://www.facebook.com/wrestlingattitude/
WA on Facebook (Women's Wrestling) – https://www.facebook.com/WrestlingDivas/
WA on Twitter – https://twitter.com/wa_wrestling
WA on Instagram (Women's Wrestling) – https://www.instagram.com/wa_wrestlingattitude/
WA on Pinterest – http://www.pinterest.com/realbadrose/wrestling/
---