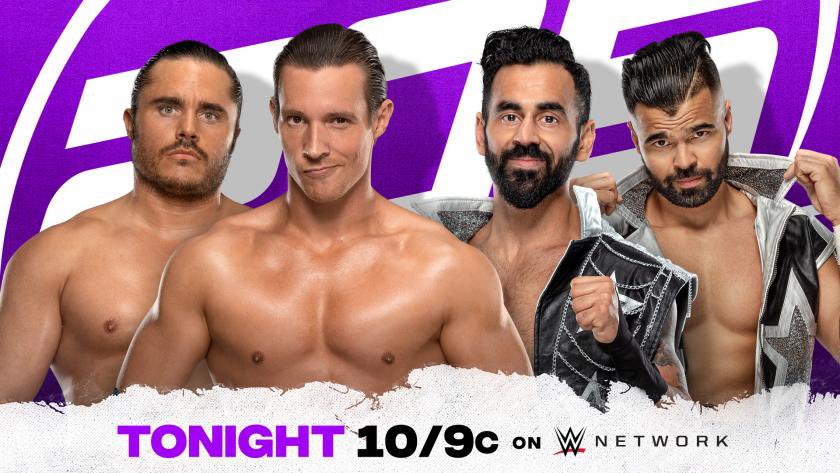 Vic Joseph and Nigel McGuinness welcome us to another edition of 205 Live from the Capitol Wrestling Center. Ever-Rise make their way to the ring for our opening tag contest. The Bollywood Boyz come out next, in what will be a rematch from last week' sshow.
Bollywood Boyz versus Ever-Rise
Brawl to start. Ever-Rise throw the Boyz into each other but they counter and run them out of the ring. Samir and Martel go at it on one side while Parker and Sunil fight it out on the other. Hard whip into the barricade and Parker is down. The action moves back into the ring…double-suplex attempt from the Boyz…Parker helps Martel escape and Ever-Rise gains the heat. They team up on Samir, Sunil takes out the lot with a springboard crossbody. Parker and Sunil are up on the top rope…superplex lands. Flying elbow from Samir for a close two but Martel breaks it up. Everyone is down. Samir uses a camera and wraps it over Martel's head. The referee sees it…yet still counts the pinfall. It gets broken up. Ever-Rise nail Sunil with a double-flapjack into the turnbuckle, which was exposed…that does it.
Ever-Rise wins by pinfall
Advertisement for the WWE Network, followed by a preview for TLC. The Universal championship matchup between Roman Reigns and Kevin Owens is highlighted.
Main event time. Former NXT cruiserweight champion Tony Nese is out first. Jake Atlas is second. Here we go.
Tony Nese versus Jake Atlas
Nese with a back heel kick and then Nese sends Atlas into the turnbuckles. Nese with a slam and then he sends Atlas to the floor. Nese punches Atlas in front of the announce table and then Atlas is sent into the announce table. They return to the ring. Atlas with a chop and punch but he misses a chop. Nese with a waist lock and Atlas with a standing switch. Nese blocks a kick and takes Atlas down and goes for an elbow drop but misses. Atlas with a rana and chops. Nese with a side head lock and a belly-to-back suplex. Nese with another belly-to-back suplex. Nese kicks Atlas and gets a near fall after a suplex.
Nese sends Atlas into the turnbuckles and Nese goes to the turnbuckles to pose. Nese goes for a missile drop kick but Atlas catches Nese and catapults Nese into the turnbuckles. Atlas gets a near fall. Nese with a running back elbow for a near fall. Nese with an Irish whip and clothesline into the corner. Nese with a forearm and then he connects with a crossface. Nese with an Irish whip and clothesline in the corner. Nese kicks Atlas in the head and shows him no respect. Nese with a belly-to-back suplex for a near fall.
Nese with a shot to the throat and then he leaps over the top rope and drops Atlas on the top rope. Nese with a double jump moonsault for a near fall. Nese with a reverse chin lock. Atlas backs Nese into the corner. Atlas with a lateral press to counter a belly-to-back suplex attempt. Altas with a kick and forearms. Atlas with a clothesline. Atlas with a German suplex and a forearm for a near fall. Atlas goes up top and Nese stops him. Nese gets Atlas on his shoulders and Atlas gets to the ropes. Atlas with Code Red for a near fall. Atlas with a jumping flatliner and it staggers Nese. Nese hits the ropes and it crotches Atlas.
Nese with a clothesline that sends Atlas and himself over the top rope to the floor. Nese gets back into the ring and Atlas beats the count by powering up at nine. Nese rolls tot he other side of the ring and to the floor. Nese gets a chair and the referee warns Nese. Ariya Daivari pulls Atlas from the ring and into the ring post. Nese goes up top and hits a 450 splash but Atlas gets his foot on the rope to break the count. Atlas with a knee and flatliner. Atlas with the Rainbow DDT for the three count.
Winner: Jake Atlas
After the match, Atlas grabs the chair as he holds off Daivari and Nese.
We go to credits.