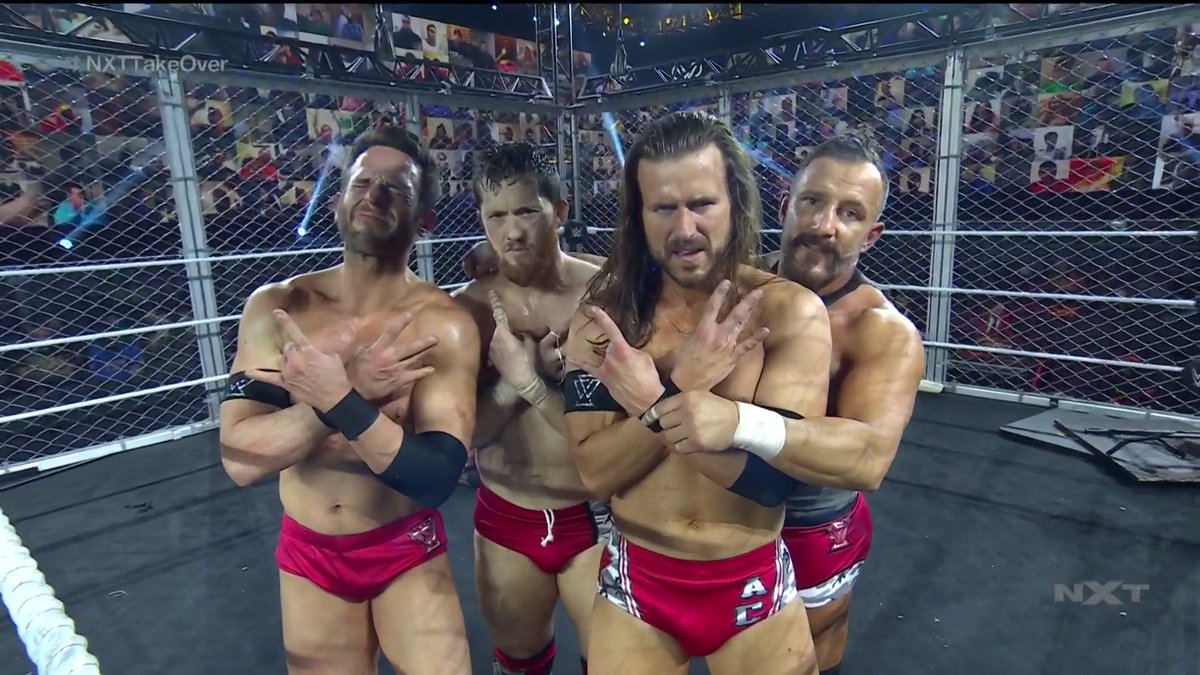 — WWE has announced New Year's Evil special for Wednesday, January 6, 2021.
This will be the first NXT episode to air in 2021, and the first episode that follows the December 30 episode, which will be the final episode of 2020. There's no word yet on if WWE will air live episodes or pre-taped specials on Christmas Week, December 23, or New Year's Week, December 30.
The Undisputed Era Defeats The Kings of NXT
— The Undisputed Era (Adam Cole, Kyle O'Reilly, Roderick Strong, Bobby Fish) defeated The Kings of NXT (Pat McAfee, Pete Dunne, NXT Tag Team Champions Oney Lorcan and Danny Burch) on tonight's NXT "Takeover: WarGames 2020" main event.
The finish saw O'Reilly pin Lorcan after a top rope knee to a chair that was laying over Lorcan's face.
Team McAfee had the entry advantage for the match. The bout featured several high spots, including a Swanton Bomb by McAfee, from the very top of the cage.
Red-y for war. ??

Time for #UndisputedERA to head back to their old stomping ground: #WarGames! #NXTTakeOver @AdamColePro @roderickstrong @KORcombat @theBobbyFish pic.twitter.com/lTervnOVcW

— WWE (@WWE) December 7, 2020
For the brand.#NXTTakeOver #WarGames @PeteDunneYxB @PatMcAfeeShow @strongstylebrit @ONEYLORCAN pic.twitter.com/n8HRQmDfaJ

— WWE (@WWE) December 7, 2020
.@PeteDunneYxB & @KORcombat starting off #WarGames? We LOVE to see it. #NXTTakeOver pic.twitter.com/6ebsOIQVS4

— WWE NXT (@WWENXT) December 7, 2020
ONEY HAS ENTERED WARGAMES SO WE HAVE TO SPEAK IN CAPS LOCK NOW WE DONT MAKE THE RULES WE JUST FEAR ONEY THROW 'EM UP ??#WarGames #NXTTakeOver @ONEYLORCAN @KORcombat pic.twitter.com/DWH8lBLlP6

— WWE NXT (@WWENXT) December 7, 2020
The most beautiful tag team wrestling. ??????#NXTTakeOver #WarGames @KORcombat @theBobbyFish @ONEYLORCAN pic.twitter.com/gjbOaxBKFI

— WWE NXT (@WWENXT) December 7, 2020
Looks like we got ourselves a British Invasion as @strongstylebrit has brought TWO Cricket bats to #WarGames! ???? ?? #NXTTakeOver pic.twitter.com/V7XSTebto8

— WWE Universe (@WWEUniverse) December 7, 2020
.@roderickstrong just playing himself a game of human pinball inside #WarGames.#NXTTakeOver @PeteDunneYxB @ONEYLORCAN @strongstylebrit pic.twitter.com/cTPIkMNHSm

— WWE NXT (@WWENXT) December 7, 2020
Super cute, Pat. ?? #NXTTakeOver #WarGames @PatMcAfeeShow pic.twitter.com/yQjtg8FsTR

— WWE NXT (@WWENXT) December 7, 2020
Oooooooo, @AdamColePro has been waiting a ???????? time for this moment. #NXTTakeOver #WarGames @PatMcAfeeShow pic.twitter.com/yJzqvuDpQl

— WWE NXT (@WWENXT) December 7, 2020
STRONG. ?? #NXTTakeOver #WarGames @PatMcAfeeShow pic.twitter.com/dFf0OzcFuq

— WWE (@WWE) December 7, 2020
"You wanna fight Kyle O'Reilly? Come on, @PatMcAfeeShow! I'll give you a free shot, you piece of crap!" – @KORcombat

A distraction at its finest, and most insulting. #NXTTakeOver #WarGames @AdamColePro pic.twitter.com/MLirneDPU8

— WWE NXT (@WWENXT) December 7, 2020
.@AdamColePro's favorite song. #NXTTakeOver #WarGames @PatMcAfeeShow pic.twitter.com/rFcrf4OwDE

— WWE (@WWE) December 7, 2020
See, Pat, this is what we in the biz call… PAYBACK! ?? #WarGames #NXTTakeOver @PatMcAfeeShow @AdamColePro @theBobbyFish @roderickstrong @KORcombat pic.twitter.com/u4L6MksThp

— WWE NXT (@WWENXT) December 7, 2020
You wanted a war? We think you just got it. #NXTTakeOver #WarGames #ThisIsAwesome pic.twitter.com/R3hBitYS20

— WWE (@WWE) December 7, 2020
WOW!@PatMcAfeeShow just dove off the top of the cage at #NXTTakeOver: #WarGames!!! pic.twitter.com/5gaA6KYZlN

— WWE (@WWE) December 7, 2020
?? ?? ?? ?? ?? ?? #NXTTakeOver #WarGames @PatMcAfeeShow pic.twitter.com/zEFieHMNK7

— WWE NXT (@WWENXT) December 7, 2020
A BITTER END for @KORcombat? Not yet, because Kyle O'Reilly just kicked out of @PeteDunneYxB's patented move! #NXTTakeOver #WarGames pic.twitter.com/CdbzpPZlKU

— WWE Universe (@WWEUniverse) December 7, 2020
We got our @AdamColePro #WarGames face for the year…

… and with good reason, because @PatMcAfeeShow just KICKED OUT of the #PanamaCitySunrise! ?? #NXTTakeOver pic.twitter.com/oH9bz9XeQZ

— WWE NXT (@WWENXT) December 7, 2020
With an EPIC performance by both teams, #UndisputedERA secures the victory in their stomping ground of #WARGAMES! #NXTTakeOver @AdamColePro @theBobbyFish @KORcombat @roderickstrong

BOOM. ?? pic.twitter.com/8qtoCrVzDL

— WWE (@WWE) December 7, 2020
#WarGames and the system = SHOCKED

…and that, boys and girls, is UNDISPUTED. #NXTTakeOver @AdamColePro @theBobbyFish @KORcombat @roderickstrong pic.twitter.com/DnRGa4Kaxo

— WWE NXT (@WWENXT) December 7, 2020
#NXTTakeOver: #WarGames is an absolute SPECTACLE.

And that……is UNDISPUTED! pic.twitter.com/sBq1IwUG9V

— WWE (@WWE) December 7, 2020
#WWENXT IS UNDISPUTED.

FOREVER. #NXTTakeOver #WarGames @roderickstrong @KORcombat @AdamColePro @theBobbyFish pic.twitter.com/VVrE156VmI

— WWE Network (@WWENetwork) December 7, 2020