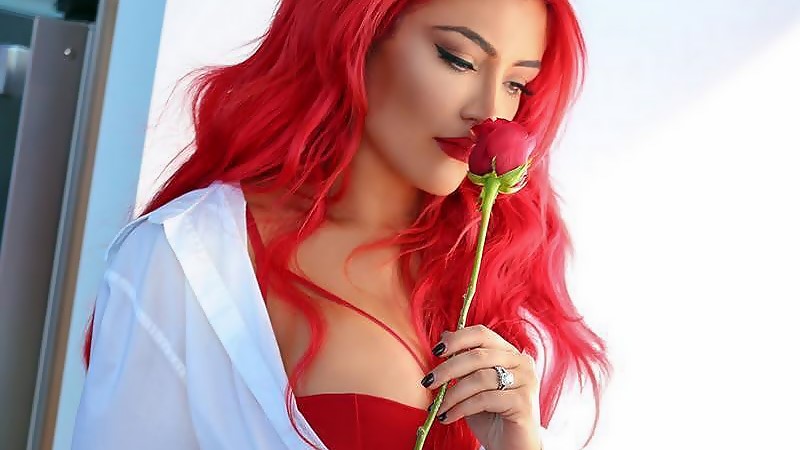 Speculation on Eva Marie WWE Return After Unseen RAW Video – As noted, WWE reportedly signed Eva Marie to a new contract in September, but she hasn't made her return just yet. On Sunday, PWInsider reported that Eva is listed as a member of the WWE roster on internal listings.
The rumor mill is churning now, after WWE released a new backstage RAW segment with Angel Garza that didn't air this week.
As seen below, Garza sends another message to the woman he's been searching for and then gifts her a rose.
"Eres mi sueño… it means 'you are my dream,'" Garza said. "But this is not a dream because you are more beautiful than I could have ever imagined. You are the one that I have desired all along, the woman that I have been searching for, fighting for, and this rose has gone for a women of the world, but tonight this rose goes to you."
Garza then smiled as an off-camera mystery woman took the rose from his hand.
There is no word yet on who the mystery woman might be revealed as, but with this video WWE may have dropped a possible Eva Marie return tease.
Right after this video, Eva Marie took to Instagram and shared an old photo where she holds red roses, just like the one Angel Garza handed a mystery woman.
It could be Eva Marie toying with fans, or just a big coincidence. Either way, the timing was pretty spot on and fans are talking.
As noted, Marie recently did tell Reel Talker's Jim Alexander that she doesn't feel fully finished with WWE and would welcome a return with open arms.
"I feel like I have some unfinished business…[if] Vince, Hunter, or Steph make the call and says 'Yo, it's time,' then [I'm] packing up my bags and it's time," she said after giving high praise to the company for helping her build a strong physically and mentally tough foundation for show business.