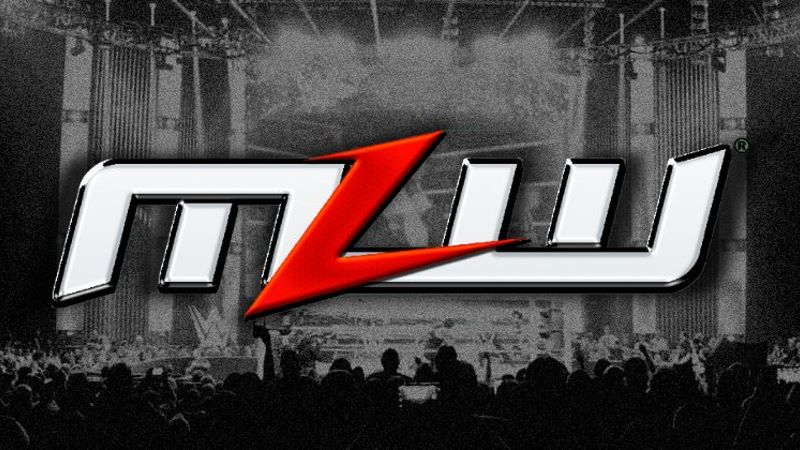 MLW Fusion #114 Results – Watch LIVE MLW Fusion #114 in the embedded video below thanks to MLW Youtube channel. Full results below the video at the end of the show.
MLW Fusion begins with Alicia Atout waiting outside for Richard Holliday and Alex Hammerstone's arrival. All of a sudden, CONTRA's Sentai Death Squad comes crashing in. Hammerstone and Holliday fight them off before the opening credits roll in.
Fight analysts (commentators) Jared St. Laurent and Rich Bocchini welcome fans to MLW Fusion. The show kicks off with a double debut!
Bu Ku Dao (w/ TJP) vs. LA Park Jr. (w/Los Parks)
LA Park Jr. stomps away at Bu Ku Dao as the match gets going. On the outside, LA Park gets a cheap shot in while the referee's back is turned. Both men exchange forearms before LA Park Jr. connects a roundhouse kick. Next, he flies through the air with a well-rounded dive. He looks for a cover, and Dao kicks out at 2. Dao finds gains some offense with a crossbody off the top. He, too, gets a near-fall count. LA Park Jr. sends Dao crashing with an enziguri that only gets him another near-fall. He plants an Alabama Slam for the same results. LA Park Jr. goes for a guillotine choke. Dao rolls LA Park Jr. over to gain the pinfall victory! Bu Ku Dao wins his debuting match!
Winner: Bu Ku Dao
We take a look back at Low Ki and Richard Holliday's Semi-Final match in the 2020 Opera Cup Tournament from last week. Low Ki will face either Tom Lawlor or ACH, which will be determined tonight.
We head back to the ring to see "The Black Hand of CONTRA" in action.
Mads Krügger vs. Budd Heavy and Daniel Starling
Mads Krugger lands a big shot on Budd Heavy right after the bell rings. Krugger sends Daniel Starling crashing into Heavy in the corner. Krugger ends the match with a big full Nelson slam to secure the victory.
Winner: Mads Krügger
Post-Match: The Sentai Death Squad comes out and puts Budd Heavy and Daniel Starling in body bags.
After Mads Krugger's match, we take a look at Pro Wrestling Illustrated's Top-10 rank for MLW. It goes as follows:
Mads Krugger
Calvin Tankman
Richard Holliday
Laredo Kid
ACH
Myron Reed
LA Park
Tom Lawlor
Low Ki
Alex Hammerstone
Speaking of Hammerstone, we are told there is commotion going on in the back between the National Openweight Champion and Mads Krugger. Alicia Atout informs fans that these two will officially fight at Kings of Colosseum.
At the Aztec Ruins, we see Salina de la Renta warns everyone that she has stared evil in the face, and he has stared right back at her. She warns that the former Lucha Underground Champion Mil Muertes is coming!
In Kauai, the Von Erichs were happy to help ACH train for his big Opera Cup match. They wish him the best before his match next!
Opera Cup Semi-Final: ACH vs. "Filthy" Tom Lawlor (w/ Kevin Ku & Dominic Garrini)
Both men show their best grappling skills as the match gets going. Tom Lawlor rolls ACH up for a schoolboy. ACH gets his shoulder up at 2. A quick dragon screw turns into an attempted cross armbar from Lawlor. They reset the match following a near-fall. Lawlor has his legs wrapped around the neck of ACH. ACH creates some separation and locks in a side headlock. Both men rise to their feet with the headlock still locked in. Lawlor gains some momentum from the ropes, which sends ACH down on the mat with a clothesline.
ACH smoothly transitions a cartwheel counter into a dropkick. He follows it up with two big chops to the chest. Another near-fall comes out of it. After a stalemate, Lawlor spins his elbow into the cheek of ACH. Both men trade big blows in the center of the ring. Lawlor locks in a rear-naked chokehold. ACH floats over for a close pinfall victory. ACH goes for another rollup counter. It still isn't enough. ACH connects a thunderous Tiger Driver for another 2.9 count. ACH lands a splash off the top rope. Lawlor rolls ACH up right after and gains the pinfall victory.
Winner: Tom Lawlor
Tom Lawlor will now face Low Ki next week in the final match of the 2020 Opera Cup Tournament!
Post-Match: Tom Lawlor is excited that he is just one step away from becoming the Opera Cup winner.
That concludes this week's episode.