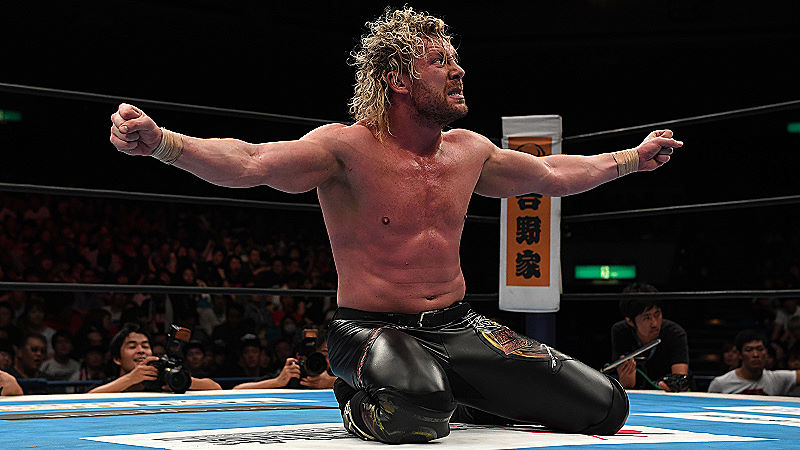 Kenny Omega Teases Major Announcement on Impact – As promised, AEW Champion Kenny Omega and Don Callis appeared on tonight's episode of IMPACT Wrestling.
In addition to putting Omega's nameplates on the belt and tossing Jon Moxley's on the floor of his RV, Callis explained his master plan.
"You want to know, I think, when this all started," Callis told Josh Matthews. "People like you live moment-to-moment in your lives. Kenny Omega and I think in years. Wanna know when this started? You probably expect me to go, 'Last week.' No. Not two weeks ago, not two years ago, not even two decades ago. 27 years ago this happened when I was trained as a professional wrestler by the Golden Sheik.
"The Golden Sheik was Kenny Omega's uncle. He not only trained me as a wrestler, he was my manager and 27 years ago he introduced me to his nephew, a 10-year-old curly-haired kid named Kenny. For all of Kenny's formative years, I have looked after Kenny like the Sheik looked after me. … I've always been the invisible hand in his life.
"Do you really think that I got back into this business five years ago to do a podcast? Did you people honestly think I came back out of a successful international business career to be the color commentator for New Japan Pro-Wrestling? No. It was all part of the plan for me to be next to Kenny when he won the IWGP Heavyweight title, all part of the plan for me to come to IMPACT Wrestling like I did. Al part of the plan when Tony Khan invited me to his house at Kenny's request … and to call the world title match against Jon Moxley."
Callis went on to say that he and Omega are family, which is rare in this industry. Callis also says he changed wrestling history by booking Omega against Chris Jericho. With Callis by his side, Omega will continue to make history. Omega already holds the main singles titles in both AAA and AEW, so why not add IMPACT as well.
"Who knows, but for now we're about 24 hours away for a big announcement in Jacksonville," Omega said. "And if you thought the Lex Express was riding in style, I got something even better planned for tomorrow. Something even cooler. Here's a clue: Lex Luger."