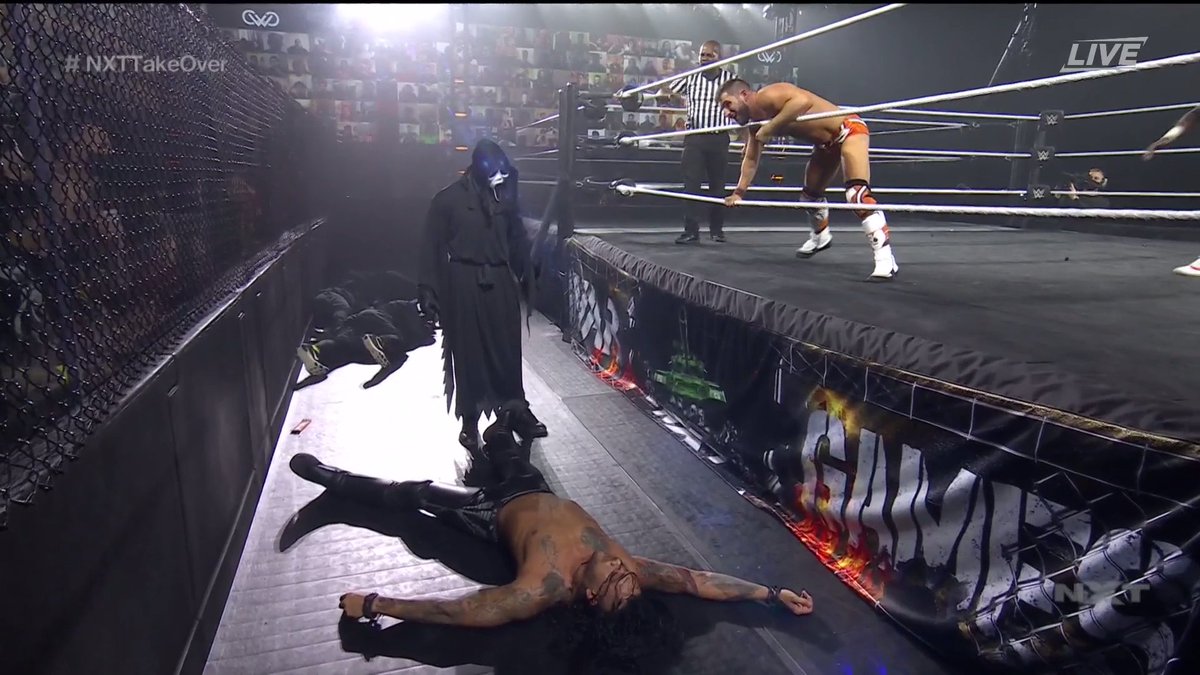 Johnny Gargano Wins The NXT North American Title, Ghostface Revealed – Tonight's NXT "Takeover: WarGames" event saw Gargano capture the title by winning a Triple Threat over Damian Priest and former champion Leon Ruff.
This is Gargano's third reign with the North American Title. Ruff won the title back during the November 11 NXT episode with the major upset win over Gargano.
It was every man for himself, as all three superstars wanted to walk away with the gold. Ruff held his own against both challengers. Priest didn't want to fight Ruff, but the champion punched him in the face. He finally snapped, as he slammed Ruff through a barricade.
Officials tended to Ruff and helped him to his feet. They took him to the back and seemingly removed him from the match.
Gargano hit a spinning DDT on Priest and planted him on the floor. Priest and Gargano went back and forth for several minutes. But Ruff charged to the ring and dove onto Gargano. He then dove onto both of his opponents outside the ring. Priest later took control and threw Ruff onto Gargano. Ruff nearly won by pinning Gargano with a crucifix bomb.
Ruff couldn't take Priest down with a clothesline, and Gargano floored the champion with a superkick. Six Ghostfaces attacked Priest, but he fought them off. He dove onto the masked men and slammed Gargano on the apron.
Priest destroyed Ruff with a spinning kick. He took Gargano down with two more kicks. But another Ghostface hit Priest with a lead pipe. Gargano then pinned Ruff with One Final Beat to win the title.
After the match, Austin Theory revealed himself as the final Ghostface. The post-show segment saw Gargano celebrate with Theory after the reveal.
Below are several shots from tonight's title change at the Capitol Wrestling Center in Orlando, Florida:
HERE WE GO. #NXTTakeOver @JohnnyGargano @ArcherOfInfamy @LEONRUFF_ pic.twitter.com/rEH1OfT9iM

— WWE NXT (@WWENXT) December 7, 2020
THIS is what happens when you get in @ArcherOfInfamy's way. #NXTTakeOver @LEONRUFF_ pic.twitter.com/28r8r0aciQ

— WWE (@WWE) December 7, 2020
This #WWENXT North American Title Triple Threat Match is PANDEMONIUM!@ArcherofInfamy just sent @LEONRUFF_ through the barricade at #NXTTakeOver: #WarGames! ?????? pic.twitter.com/uWGkw5Pfbi

— WWE (@WWE) December 7, 2020
#WWENXT North American Champion @LEONRUFF_ is making the MOST of his FIRST #NXTTakeOver match! @JohnnyGargano @ArcherOfInfamy pic.twitter.com/h2kplp7zPz

— WWE (@WWE) December 7, 2020
Is @JohnnyGargano going to make @LEONRUFF_ tap right in front of @archerofinfamy?! #NXTTakeOver pic.twitter.com/C9vkWRw2hS

— WWE Universe (@WWEUniverse) December 7, 2020
WHAT IS EVEN HAPPENING RIGHT NOW?! #NXTakeOver @ArcherOfInfamy

?? ?? ?? ?? pic.twitter.com/svVVnze8Bf

— WWE NXT (@WWENXT) December 7, 2020
Sooooo how many Ghostfaces does @JohnnyGargano have on retainer exactly?

?? #NXTTakeOver @ArcherOfInfamy pic.twitter.com/pTOZc9AhG1

— WWE Universe (@WWEUniverse) December 7, 2020
"Wait till next year…"@JohnnyGargano doesn't have to, because he just won his THIRD #NXTNATitle!!!! #AndNew #NXTTakeOver @Browns pic.twitter.com/H6rfST6e3s

— WWE (@WWE) December 7, 2020
"IT WAS ME, AUSTIN! IT WAS ME ALL ALONG… AUSTIN!" @austintheory1 is BACK! ?? #NXTTakeOver @JohnnyGargano pic.twitter.com/EgROumznXF

— WWE (@WWE) December 7, 2020
Johnny Gargano Wins The NXT North American Title, Ghostface Revealed