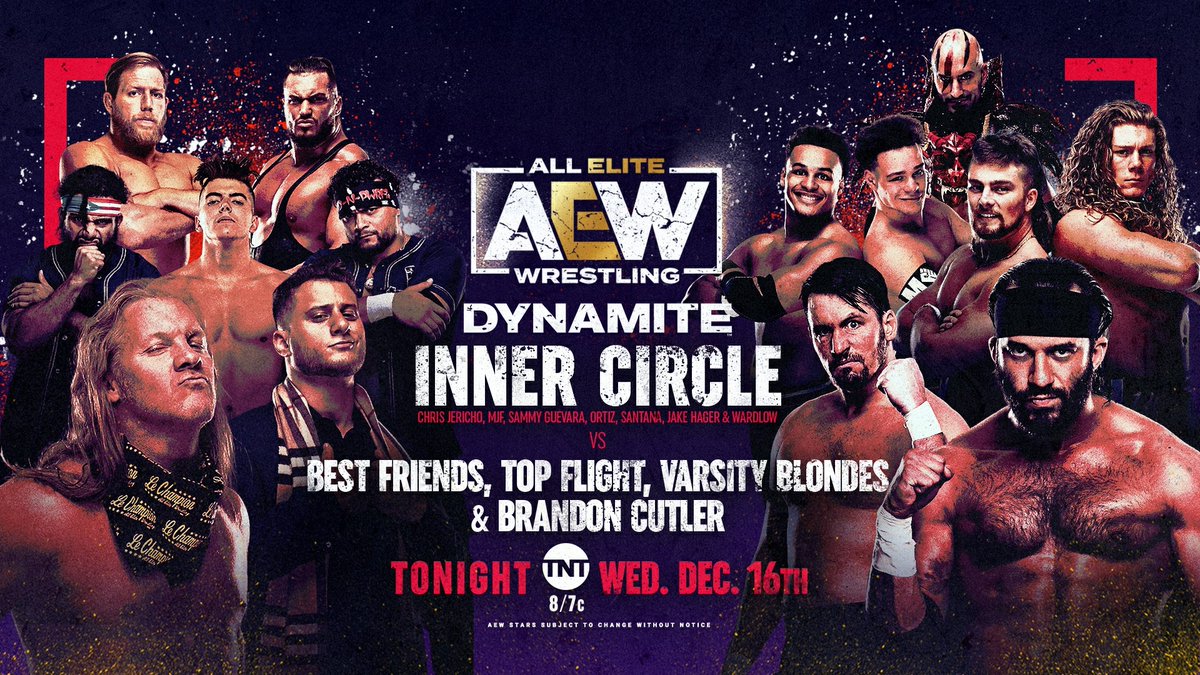 AEW Dynamite Results – December 16, 2020 – The pyro explodes and the commentary team of Jim Ross, Tony Schiavone and Excalibur welcome us to this week's show.
"Hangman" Adam Page, John Silver & Alex Reynolds vs. Matt Hardy & Private Party
"Hangman" Adam Page and Marq Quen kick things off for their respective teams, as the bell sounds to kick off this week's opening contest. Page jumps off to an early offensive advantage, so in comes Matt Hardy. We see our first in-ring action from Hardy in some time now as the opposing trio start to pull ahead into the offensive lead.
After a couple of minutes, Isiah Kassidy and John Silver tag in and are the legal men in the match. Hardy tags in briefly for a quick spot and then tags back out. We see Quen tag in and hit a moonsault off of Silver's back for a near fall. Silver has been isolated in the ring for a bit at this point. Hardy tags back in and delivers some pounding and thudding shots with forearms on Silver in the corner.
As he continues to dominate the action, we see Hardy slap a sleeper-hold on Silver and the Dark Order member starts to fade. Finally, Silver hulks up and powers out of the hold. This starts his comeback, as he lands some elbows to avoid a side affect attempt from Hardy. As he hits the ropes, however, Hardy brings him down to the mat the hard way. He heads to the middle rope, but takes too long, coming off into a big punch from Silver, who follows up with a nasty brainbuster on the pro wrestling legend.
Silver finally crawls to his corner and makes the much-needed tag to "Hangman" Adam Page. Hardy makes the tag as well, and in comes both members of Private Party briefly, but "Hangman" is on fire and is easily handling them both. He hits a dive on one member to the floor and back in the ring, hits the other with what J.R. calls "a slobber-knocker of a clothesline" for a close near fall attempt. Page hoists him up for a power bomb, however on his way up he tags in Hardy. Hardy comes in and hits a side affect on Page.
Hardy leads the fans in Daily's Place in a "DELETE! DELETE! DELETE!" chant as he waits for Page to get up. As he does, however, he side-steps Hardy and nearly takes his head off with another powerful clothesline. Page then makes the tag to Alex Reynolds. Reynolds comes in as the freshest man in the match at this point, and it shows, as he takes the hot tag and cleans house of everyone-and-anyone in sight. He hits a nice modified suplex for a near fall, however it is broken up from some quick interference from Private Party.
The announcers point out that Hardy is still down as we see Silver and Reynolds fire up on offense, and Page join them for some triple-team action. Hardy takes Silver as he was crawling under the bottom rope, and while standing on the floor, Hardy hits a Twist of Fate on Silver. Nasty. Page is sent over the barricade when he comes to ringside to enter the fun. Back in the ring, Reynolds is seated on the top-rope, however Private Party hits their Gin -N- Juice double-team finisher. Hardy ends up tagging himself in to steal the pin. The trio of Hardy and Private Party get the win in this week's opener.
Winners: Matt Hardy & Private Party
— In the back, Alex Marvez congratulates MJF and Jericho on winning "Best Performance of 2020" from the NY Times for their song and dance routine a few weeks back. Jericho starts to say something but MJF cuts him off and brags about winning back the Dynamite Diamond Ring and the NY Times Award. MJF mockingly says that he doesn't agree with all the fans saying that he is much better than Jericho. He calls Jericho the GOAT and says he is his best friend and his mentor. None of the Inner Circle members look happy.
— Cody Rhodes and Brandi Rhodes are shown decorating their Christmas Tree when the door rings and a gift arrives. The gift is a pair of Gucci booties with an ornament that says "we're having a baby" apparently announcing that Brandi is pregnant.
Cody Rhodes (w/ Arn Anderson) vs. Angelico (w/ Jack Evans)
Justin Roberts on the microphone introduces Cody as the soon to be father, as we see him with a big smile on his face. Brandi Rhodes as well. He makes his way to the ring and the announcers bring up him looking to be getting emotional as the news settles in that was just made public.
From there, the theme cuts off and the entrance music of Angelico hits and out he comes accompanied by Jack Evans. The TH2 member settles into the ring as Schiavone puts over "The Submission Savant" and his ground grappling skills. The bell sounds and we hear the fans chanting "Cody! Cody! Cody" as Angelico takes Cody down with an arm-drag.
Cody looks up at Angelico from the mat, who smiles. The two lock up again and Cody isolates the arm of Angelico, hitting the twist and then arm-dragging him down to the mat. Cody now looks at Angelico with a look of determination on his face this time, as Angelico gets up and the two lock up for the third time. Angelico grabs Cody's arm the same way Cody grabbed his, however "The American Nightmare" hits the mat for an attempted reversal. Regardless, Angelico holds on. He ends up taking Cody back down.
Now we see Cody beginning to look frustrated, as Angelico is now taken down but quickly returns to his feet. As the action continues, we head to a mid-match, picture-in-picture commercial break.
We're back live now and we see the action still ongoing inside the squared circle, as "The American Nightmare" is pulling ahead and taking a dominant lead in the offensive driver's seat. Cody gets close to finishing off the TH2 member with a Disaster Kick, however he is reversed and locked in Angelico's submission finisher for a dangerous near finish. Instead, Cody escapes and ends up finishing off The Hybrid2 member with a Cody Cutter for the pinfall victory.
Winner: Cody Rhodes
Team Taz come out and congratulate Cody for his win and the announcement that he is going to be a dad. Taz mocks Cody and Ricky Starks asks where their congratulations were last month when they made Cody and Darby call them daddy. Taz says that they are going to put Cody on paternity leave sooner than later but they are ultimately interrupted by some entrance music and out comes "The Icon" Sting. The pro wrestling legend makes his epic entrance to the top of the stage as snow flurries fly and Tony Schiavone does the trademark "IT'S STING!" call as Darby Allin is shown again in the rafters.
The camera switches back to "The Icon" at the top of the entrance area holding his trademark bat. He looks around and simply turns and walks off without ever saying anything. The camera pans up again to Darby Allin one final time and then we head to a commercial break.
— Alex Marvez interviews Miro and says that AEW fined him $75,000 for his attacks on security staff last week. Miro says that that money is money that OC owes him now. He says he will face Sonny Kiss on Dark next week and then an announcement will be made about Kip and Penelope's wedding on Dynamite next week. Marvez asks about the people Miro put in the hospital last week. "BAH HUMBUG," Miro says.
— Back from the break and Eddie Kingston comes out and says he doesn't care if the fans boo him because he doesn't care about any of them. Kingston says that they took PAC out and he won't be coming back and then turns his attention to Lance Archer which brings Archer out immediately.
Archer attacks Kingston but Butcher and Blade jump him and beat him down. Lucha Brothers run out with PAC and they attack Kingston's crew. Lucha Brothers take out Butcher and Blade with dives and then Archer goes for a Chokeslam on Kingston only for PAC to kick Kingston in the face. Archer gets pissed at PAC for intervening allowing Kingston and his crew to get away.
— Dustin Rhodes talks about what Evil Uno said to him last week. He says that Uno was wrong saying he is the third most important Rhodes and he says that he will take the Dark Order down one by one. He tells The Dark Order member, "You, me … hard-and-fast, I'm fixing to kick your ass!"
12-Man Tag Team Match: The Inner Circle vs. The Best Friends, Top Flight & Varsity Blonde
The bell sounds and now we're off-and-running with this 12-man tag-team contest. Kicking things off for the Inner Circle squad will be their leader, "The Demo God" himself, Chris Jericho. For the opposing team, Brian Pillman Jr. is in early and we see the heel faction jump off to a quick offensive advantage.
The babyface team makes a couple of tags and it is Dante Martin from Top Flight who ends up remaining inside as the legal participant. Sammy Guevara tags in for the Inner Circle and is taking it to the rookie tag-team competitor. Dante finally shows signs of life and as he hits the ropes, Darius Martin, the other member of Top Flight, tags himself in.
Top Flight hit a nice double-team spot on "The Spanish God" that sets up a pinfall attempt, however one of the members of Proud 'N' Powerful hits the ring to break it up. Afterwards, Guevara jumps back into the offensive lead, decking Dante Martin. Martin crawls over and tags in Trent. Now all 12 men end up in the ring and the announcers point out the obvious — that a donnybrook has broken out inside Daily's Place. The brawl spot culminates with all six babyface members standing in different corners of the ring, doing the big, dramatic "give the people what they want" Best Hug Ever.
The Inner Circle finally jumps back on the apron and in the ring comes Ortiz as the legal member. He turns the offensive momentum back in the favor of the Inner Circle team. He hits a three Amigos suplex spot on Martin, tagging out after two instead before tagging in Santana. The duo hits a couple of double team spots and then they tag in MJF. They hold the arm of Trent and in jumps MJF nailing the isolated limb.
MJF tosses Trent out to the floor and the Inner Circle team members jump on him like vultures, throwing him into the barricade and getting in some additional cheap shots as the commentary trio talks us into a mid-match, picture-in-picture commercial break as the action continues.
When we return from the break, we see that Trent is still isolated in the ring, as Jericho and Guevara are in the middle of hitting a double-team spot on The Best Friends team member. Afterwards, they do a cocky double-pose for the fans as Trent is laid out in the ring. Guevara stays in as the legal man as the action continues.
We see Guevara head up to the top rope for a shooting star press or 450 splash, something insane, and it back-fires on him, allowing Trent the sorely-needed opportunity to make it to his corner. He tags in Top Flight member Darius Martin. Martin takes the hot tag and goes nuts, taking out any-and-everyone in sight. He hits a standing Spanish fly before hitting the ropes for a dive out to the floor. He ends up diving into a big shot from Inner Circle members, however his brother follows up and flies from the ring to the floor, taking out the heel members at ringside.
Action resumes in the ring with Trent and Chuck hitting some double-team moves. Santana and Ortiz are now in as one of them are tagged. They hit some double-team spots and now even more members of the other side of the ring enter the picture as all hell starts to break loose again. Garrison is the legal man. He hits the ropes but Jericho whacks him with Floyd the bat as he does, and Hager tags in inside the ring, following up with a F10. He then responds to a demand from MJF on the ring apron, who tags in simply to score the pinfall he had nothing to do with. Didn't they just do that a couple of matches ago? Anyways, Inner Circle scores the win right there.
Winners: The Inner Circle
Top Flight chases off Jericho and Hager with dropkicks as they were continuing to beat Garrison down after the match.
— Backstage, Thunder Rosa says that Britt Baker put her nose into her business and that is why she is going to beat her ass. Rosa is pissed that Baker said she doesn't belong in AEW. Rebel comes up and talks trash to her as Baker attacks her from behind and screams at her that she doesn't belong in AEW. They pour water on Rosa's face to rub her facepaint off.
SCU vs. The Acclaimed
Anthony Bowens and Max Caster — The Acclaimed — are introduced as we return from the break. The newcomers rap their way down to the ring like an old-school John Cena, trying to get "ooh's" and "ahh's" from the crowd from wrestling storyline-related diss rhymes.
As the two settle into the ring, and their music continues playing, Frankie Kazarian takes a turn on the mic and as he stands next to Christopher Daniels, we hear Kaz rap and refer to the rookies as old school WWE tag-team Men On A Mission in a nice line.
After all of that crap, the bell sounds and it's time to get back down to business with our next match of the evening. Early on we see the veteran duo of Daniels and Kazarian jump off to a comfortable offensive advantage in the early goings. After establishing the lead, Kaz tags in Daniels.
Daniels picks up where Kazarian left off, taking it to Bowens. He takes his eye off the ball for one second, however, and one second was all Bowens needed to make it to his corner to make the tag to Max Caster.
Caster comes in and immediately turns the tables, shifting the offensive momentum in The Acclaimed's favor as he takes it to Daniels. This doesn't last for long, however, as Daniels re-establishes control and then tags in Kazarian. Kaz picks up where Daniels left off, and much like when SCU tagged earlier, things shift again as The Acclaimed makes the tag.
Bowens comes in and gets in some offense on Kazarian, who fights back as well until both members of The Acclaimed hits some double-team offense on Kaz on the floor. On that note, J.R. leads us into a mid-match, picture-in-picture commercial break as the action continues inside the ring with The Acclaimed in the clear-cut offensive lead at this point.
Kaz hits a Slingshot DDT on Caster and both men tag out. Daniels hits a clothesline and then backdrops a charging Caster. Daniels hits an STO on Caster and then a Blue Thunder Bomb for Bowens for two. Daniels goes for Angels Wings again but Bowens blocks it only to eat a Urange Suplex. Daniels calls for the BME but Caster attacks him from behind.
Kaz clotheslines Caster to the floor while Bowens lifts Daniels up to the top. Bowens goes for a Superplex but Daniels shoves him off. Caster grabs Daniels leg but Kaz pulls him off. Daniels hits a Flying Cross Body on Bowens for another close two. Daniels lines up for a dive but Bowens hits him from behind only for Daniels to roll him up for a nearfall. As Bowens kicks out Caster hits Daniels with his Bluetooth speaker and Bowens hits a Sidewalk Slam for the pin.
Winners: The Acclaimed
Caster cuts a freestyle on the Young Bucks after the match and calls them "cucks." Bowens says that The Acclaimed have arrived and challenges the Bucks to defend their titles against them next week. The Bucks seemingly agree.
— Top Flight challenges Jericho and Hager to a match next week.
Ivelisse & Diamante vs. Serena Deeb & Big Swole
Both teams go back and forth in the early going with quick tags. Swole hits a big Backbreaker on Diamante and then a big backdrop. Diamante hangs Swole up in the ropes and then hits a Hanging German Suplex for two.
After a break, Deeb locks Ivelisse up in an Indian Death Lock and catches Ivelisse with a Northern Lights Suplex at the same time. Deeb catches Diamante with a Dragonscrew Leg Whip and then hits a Hanging Neckbreaker on Ivelisse in the ropes. Deeb hits a Gutbuster Dean Malenko-style before putting Ivelisse in the Figure Four. Ivelisse rolls to the ropes and tags Diamante.
Diamante and Ivelisse sandwich Deeb with Double Knees and then a Double Sidewalk Slam for a nearfall. Diamante goes for a Suplex but Deeb counters with a Neckbreaker and tags Swole. Swole goes for Dirty Dancing but Diamante moves and Ivelisse grabs her hair from behind. Diamante goes for her Sliced Bread but Swole blocks it and headbutts Diamante. Swole hits a Tiger Bomb and locks Diamante in the Clearwater Cloverleaf. Deeb runs in and keeps Ivelisse from interfering as Diamante taps.
Winners: Swole & Deeb
After the match, we see Deeb and Swole celebrating when out comes Nyla Rose and Vickie Guerrero for a post-match attack. The two start attacking Deeb and Swole from behind. They take it to the babyface duo before ultimately Red Velvet runs out with a steel chair to chase them off.
— We head backstage to The Best Friends — Trent and Chuck, who are standing by with Orange Cassidy. The two bring up Miro teasing the announcement of the wedding next week. They announce that they will be there, too, and mention that they can't wait to see him. They then walk off to wrap up the brief backstage segment.
— The announce team send things to a special vignette on the trio of Luchasaurus, Jungle Boy and Marko Stunt. When it wraps up, we hear someone yelling on the commentary headsets.
From there, the camera catches up with things and we see Cash Wheeler and Dax Harwood standing over J.R., Schiavone and Excalibur who are seated and looking nervous. The former AEW World Tag-Team Champions and the self-touted first-ever grand slam tag-team champions talk about being sick seeing that Jurassic Express video and asks if the tag-team scene in AEW is already becoming a joke. They say this is how they feed their family and they don't appreciate it, as Tully Blanchard is shown standing behind them. They talk about Jurassic Express not being impressive at all to them and eventually storm off.
No DQ, Anything Goes No. 1 Contender Match (Non-Title)
Joey Janela vs. Kenny Omega (c)
"The Bad Boy" Joey Janela's music hits, as it's time for our main event of the week. Janela heads down to the ringside area as he prepares for his no disqualification, anything goes world title eliminator number one contender match against the current title-holder himself, Kenny Omega. As Janela settles into the ring, the commentary trio makes one final hard-sell for tonight's main event and then sends things to a pre-match commercial break.
Janela brains Omega with a trashcan as he enters and then hits a Tope Suicda on the floor. Don Callis tries to kick Schiavone out from the announce booth but he tells Callis to kiss his ass.
Janela sits Omega in a chair and tries for a move only for Janela to move and then Leg Lariat him onto the chair. Omega dropkicks Janela into a chair and then hits a Tope Suicida. Callis grabs a microphone and starts doing commentary at ringside anyway.
Omega hits Janela with a cookie sheet and then Omega starts cutting a promo mid match. Omega tells the referee to hold the mic for him as he goes to the top rope with a garbage can and hits a Moonsault off the top with it for a nearfall. Omega gets pissed at Janela for kicking out and taunts him with the microphone. Omega holds the mic up to Janela as he chops him.
Omega puts the trashcan on Omega and then hits a Springboard Ghetto Stomp onto it. Omega goes for the One Winged Angel but Janela counters with a Poison Rana! Janela and Kiss pull out a table and set it up at ringside. Janela lays Omega out on the table and then dives off the top rope with a Guillotine Leg Drop through the table!
Janela drags Omega back in the ring and goes for a Moonsault off the top but Omega moves and destroys him with a V-Trigger! Omega hits a second V-Trigger and then One Winged Angel for the pin!
Winner: Kenny Omega
Callis says that they continue to silence all the haters but then PAC walks out with the Lucha Brothers. PAC says that he and Omega have unfinished business but he isn't here to be selfish because they are here to address some injustice. PAC points to Fenix and reminds Omega that they were supposed to face in the tournament, as well. PAC asks how Omega could call himself the rightful champion since Fenix never lost in that tournament.
Callis tells PAC that wrestlers can't tell the World Champion what to do but PAC says that Tony Khan can and he has already sanctioned it for Dec. 30. Omega defends the title against Fenix! Omega freaks out as we go off the air.