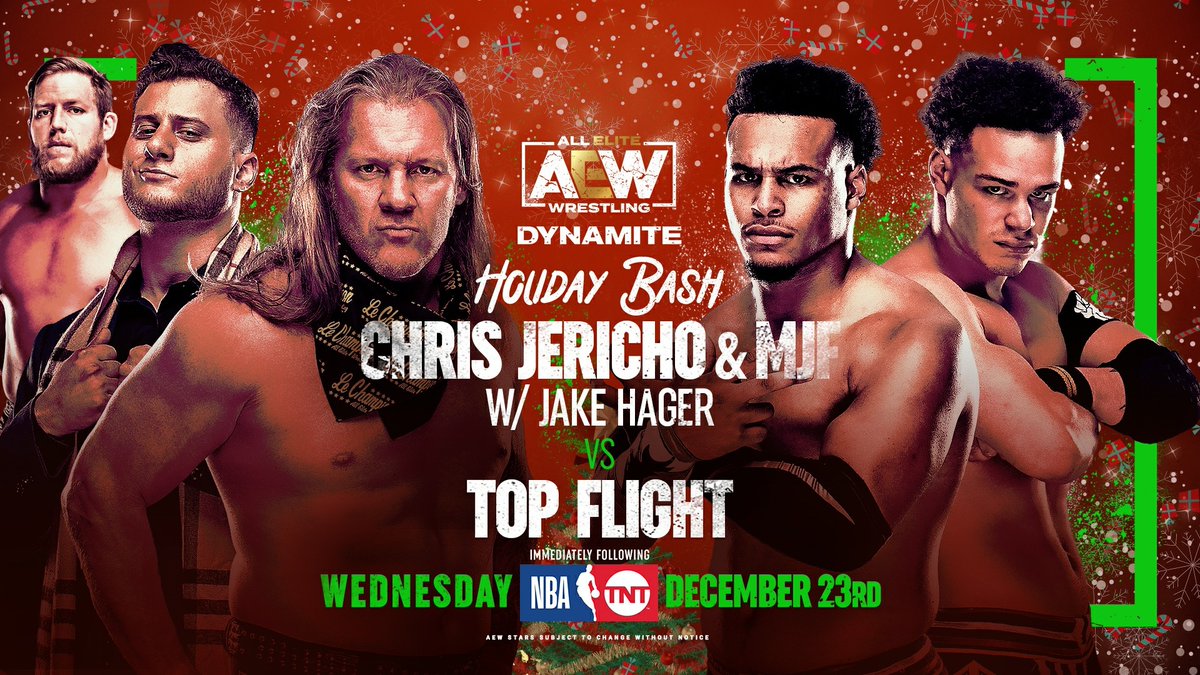 AEW Holiday Bash Spoilers – Next week's "Holiday Bash" episode of AEW Dynamite was taped at Daily's Place in Jacksonville, Florida. Check out the full spoilers at this link.
The Inner Circle (Chris Jericho & MJF) (w/Jake Hager) vs. Top Flight (Darius Martin & Daunte Martin)
Darius Martin and Chris Jericho start things off with Jericho slapping Darius, but Darius is not afraid and throws some punches at Jericho. Jericho stuns Darius with a few chops. Darius uses his speed and knocks Jericho down with an enzuguri. Daunte tags in and hits a combo move on Jericho, cover, but Jericho quickly kicks out. MJF tagged in, and he and Jericho assert their dominance over Daunte. MJF tries to taunt Daunte, but Daunte fights back and knocks MJF to the outside. Inner Circle recoup and meet Top Flight face-to-face in the ring.
Top Flight hit a synchronized top rope punches and synchro dropkicks on Inner Circle knocking them to the outside. Daunte tries to chase after MJF to bring him back into the ring but is met with a right hand from Jericho. MJF brings Daunte back into the ring, cover, and Daunte kicks out. Jericho tags himself in and isolates Daunte as he taunts his brother Darius. MJF tags in, and he and Jericho team up with a double flapjack. MJF taunts Darius distracting referee Aubrey Edwards allowing him to choke Daunte.
Inner Circle continue to ground Daunte, and MJF and Hager get some extra shots in as the referee is distracted. Jericho sets Daunte up on the top rope looking for a superplex, but Daunte fights out of it and hits a crossbody, cover, 1-2-no! MJF and Darius tag in, and Darius goes to work on The Inner Circle. Darius hits a standing Spanish Fly on MJF then a tope suicida on Jericho. Darius hits a missile dropkick off the tope rope, cover, but MJF barely kicks out! Darius bounces of Jericho to hits a tornado DDT, cover, but MJF kicks out again. Daunte and Darius hit another combo move, but MJF kicks out once more. Jericho tagged in and hits a lionsault on Daunte, cover, but Daunte kicks out.
Darius blind tags in and catches Jericho by surprise as he tries to set up Daunte in a Liontamer, and Daunte vaults off Jericho to hits a tope con hiro onto MJF on the outside! Darius tagged in and works his way into a double DDT on The Inner Circle. Daunte takes care of Jericho on the outside announce table. Hager pulls Darius before he springboards off setting up MJF for the Heat Seeker for the win.
Winners: The Inner Circle (Chris Jericho & MJF)
Post-match: Hager takes the mic and thanks Top Flight before commenting on how everyone in The Inner Circle have done their jobs. He said he's pissed off at Wardlow for not showing up because of "family business" saying "this is family business". Hager says he understands Wardlow is an "asset", but he says he's "an a–hole." He announces himself vs. Wardlow next week!
– The Acclaimed have sent in a music video. Max Caster raps about how they're going to beat The Young Bucks and make them "young ones".
— Tony Schiavone is in the ring as he welcomes in Sting for an in-ring interview. Schiavone asks Sting about how it feels to be back on TNT and in AEW. Sting reiterates that he knows he has come full circle. He shows his enthusiasm to be back in the jungle. Schiavone points to Darby Allin who is standing in the rafters and asks about Sting's plans. Sting notes that that's a deep question. He says he goes back in time and recalls when he needed a break. He talks about when he went one-on-one with one of the greatest of all time Dusty Rhodes as a "Dusty" chant breaks out.
Sting does a remember Dusty impression as he recalls Dusty telling him "we're gonna put some color on your face" before he would go on to face Ric Flair. He notes that now going face-to-face with Cody Rhodes in AEW was something he wanted to be a part of. Sting says it's good to be home and is about to tell Darby something but is interrupted by Team Taz.
Taz says Sting is always about Sting and that he's tired of "It's Sting!" Ricky Starks says they don't care about Sting's business with Cody or Darby, but they care about him getting into their business. Ricky and Taz threaten Sting about heading into their jungle and are about to attack Sting, until the lights go out, and Darby appears after leaving the rafters and is in the ring! Taz talks about Darby's upcoming TNT Title match against Brian Cage on Jan. 6. Cage says he doesn't want to wait, but Team Taz calms him down, and they leave. Sting and Darby end by staring at each other face-to-face.
— MJF is backstage and walks in on Santana and Ortiz's card game. MJF shows his support over Santana's recent loss in his family. Santana and MJF embrace as Santana tells MJF to "always keep your head up". Ortiz and MJF shake hands as the camera shows an emotional MJF.
The Jurassic Express (Jungle Boy, Luchasaurus & Marko Stunt) vs. The Dark Order (Five & Ten) & Colt Cabana
Colt Cabana and Marko Stunt start things off as Cabana does not take Stunt seriously. Stunt goes on the quick offensive even after Five tags in. Jungle Boy tags in, and he and Stunt hit a combo move on Five. Jungle Boy drops Five with a huge dropkick, cover, but Five kicks out. Stunt tags back in and another tag team combo from him and Jungle Boy, cover, but Cabana comes in to break up the pin. Stunt is distracted allowing Five to tag in Cabana. Stunt escapes from Dark Order and tags in Luchasaurus. Ten tags in to stand face-to-face with Luchasaurus, but Luchasaurus quickly takes down Ten.
Jurassic Express show off their team work, but Ten kicks out at two after an assisted top rope move from Jungle Boy. Dark Order intercept Jungle Boy's momentum allowing Ten to take back control with an elevated German Suplex. Dark Order isolate Jungle Boy and hold him off from tagging in his partners. Dark Order continue to wear down Jungle Boy, but Jungle Boy continues to show fight and kicks out of each pin attempt thrown his way. Jungle Boy gets caught by Ten, and Ten and Five hit a dropkick, fallaway slam combo.
Jungle Boy bounces off the ropes and takes Ten down with a clotheslines. Five tags in trying to stop Jungle Boy from tagging out, but Jungle Boy evades, and Luchasaurus tags in and takes out Dark Order. Five gets taken out by a German Suplex. Ten tries to take out Luchasaurus, but he makes quick work of him. Chokeslam then a standing moonsault from Luchasaurus. Stunt and Luchasaurus work together to take out Cabana. Luchasuarus gets taken out by Cabana. Ten sets up Stunt for a frog splash from Five, cover, and Jungle Boy barely breaks up the pin. Jungle Boy tags in and hits a drop kick tagging out both Ten and Cabana. Luchasaurus throws Stunt at Ten and Cabana leading to a powerbomb combo from Luchasaurus and Jungle Boy for the win.
Winners: The Jurassic Express
— Schiavone comes in to interview The Jurassic Express and talks about their rise in the rankings. Before Stunt can get a sentence in, a video plays of FTR and Tully Blanchard. Blanchard talks about FTR being the tag team of the year. He calls Jurassic Express "Jurassic Park". He calls them out for a match on Jan. 6 to give them time to prepare as they are "chomping at the bit" to get the tag titles back. He says "dinosaurs aren't going to take them down", and he mocks Stunt as Stunt is livid.
— Alex Marvez tries to interview Don Callis and AEW World Champion Kenny Omega at the hotel. Callis wonders how Tony Khan has he wrestlers run things. He says they "don't get dictated to by the talent". Omega notes that Rey Fenix "choked" at his opportunities for the tag titles, AAA and in the title eliminator. He threatens to "put Fenix out for good", and he says he "has friends in Impact Wrestling that would take you back". Callis brings up Konnan (or "K-Dog" as Omega calls him) and how he would take him back. Omega reiterates his threat towards Fenix.
PAC vs. The Butcher
PAC and The Butcher butt heads right away, and PAC tags The Butcher with a few leg kicks using his speed to evade The Butcher. A game of cat and mouse plays out as PAC quickly attacks Butcher as he tries to get back in the ring. Butcher catches PAC with a diving splash off the ropes and slams PAC in the corner and wears him down. Butcher hits a few strikes on PAC's back and throws him across the ring. Butcher with a strong right hand, cover, but PAC quickly kicks out. Butcher with a strong Irish whip into the corner and more strikes on PAC's back as Butcher tries to wear down PAC's back.
Penta distracts Butcher long enough to PAC time to fight back, but he's too weakened, and Butcher takes PAC to the outside after a few strikes. PAC only lures Butcher to the outside and tries to throw him into the outside barricade, but Butcher counters with a big boot as he intimates the crowd. Butcher throws PAC into the barricade and takes his time getting PAC back into the ring. Butcher stalks PAC as he's grounded and continues to wear him down with knees to PAC's chest. Butcher with a deadlift gutwrench slam, cover, but PAC kicks out. Butcher with more stomps and boots as Butcher continues to take his time in dealing more damage to PAC.
PAC with a surprise jawbreaker and some hamstring kicks on Butcher to ground him to his knees. PAC goes to the top rope and hits a shotgun dropkick on Butcher. PAC to the top rope once again, but The Blade takes out Penta distracting PAC. Butcher takes PAC out with a clotheslines then a high impact slam. Butcher hits a valuted powerbomb, cover but PAC kicks out, and Butcher and Blade are furious. Eddie Kingston provides coaching on the commentary, but Butcher continues to take his time. Out comes Lance Archer looking to confront Kingston! Butcher is distracted allowing PAC to tag him with a roundhouse kick. PAC goes up and hits Black Arrow for the win.
Winner: PAC
Post-match: Archer and Kingston are jawing back and forth as Kingston hides behind commentary. Archer and PAC are face-to-face in the ring talking about their own desires to take on Kingston as Kingston trash talks on commentary.
— Backstage Jade Cargill congratulates Brandi Rhodes as a fellow mother on her recent pregnancy news. She's calls out Brandi and asks for an opponent worth her time.
— Schiavone is with Kip Sabian, Penelope Ford and Miro. Miro is mad that Schiavone isn't showing his happiness over Sabian and Ford's wedding announcement. Sabian says this is the first wedding on TNT, and he says this is not only a big deal for the talent and people backstage but also the fans because of how big this is for "you're insignificant lives". Sabian is about to announce the wedding date, until The Best Friends' music plays. However, it's a ruse as footage is shown of Trent badly hurt and being placed in an ambulance with Chucky Taylor and Orange Cassidy going in with him. Sabian says "it's a shame they can't be there". Sabian announces it will be a beach wedding on Feb. 3 at Beach Break as Miro expresses his excitement, and Sabian and Ford kiss.
Dustin Rhodes vs. Evil Uno
Uno quickly slaps Dustin and gets some shots in before the match starts. Match officially starts as Dustin gains back control and gets some corner strikes on Uno. Dustin tries to bounce Uno off the ropes for a scoop slam, but Uno stomps on Dustin's hand and takes him out of the ring. Uno throws Dustin into the barricade as the two trade strikes. Uno tries for a chop, but Dustin ducks, and Uno hits the steel post. Dustin targets the hurt hand, but Uno goes for an eye rake to create some space. Dustin wears down Uno livid over Uno's previous "seven" comment.
Uno catches Dustin with a boot, goes to the top rope, hits a senton atomico, cover, but Dustin kicks out. Uno wearing down Dustin with strikes. Dustin tries to fight back but gets caught in a neckbreaker, cover and kick out from Dustin. More stomps on the ropes from Uno taking Dustin to the outside. Uno throws Dustin on the barricade and to the side of the ring working on his lower back. Rhodes tries to build momentum with a Code Red and a diving crossbody. Uno hits a sit-down piledriver, cover, 1-2-no! The two are matching each other strike for strike, but vintage Dustin takes down Uno. Uno catches Dustin with a spinning heel kick. Dustin evades Uno and hits a running bulldog and gets the win!
Winner: Dustin Rhodes
Post-match: Uno still tries to continue to recruit Dustin offering his hand. Dustin fakes the handshake and takes down Uno, but Grayson comes in and takes out Dustin and Johnson. Grayson hits Nightfall, and QT Marshall comes running in, but Dark Order take him out. Johnson springboards in and takes out Dark Order with double dropkick.
— Schiavone is backstage with Shawn Spears. Spears says he's more talented than anyone in the world and says his confidence is still high even if "the three letters change". Schiavone wonders if Spears is "the common denominator". Spears calls Schiavone "a piece of s–t" for saying that, and he wants management to know that he'll "come back when he feels like it."
— Dasha is with Hikaru Shida, but Abadon comes in and attacks Shida. Shida is instructed to go out for her match.
Hikaru Shida vs. Alex Gracia
Shida on the quick offensive against Gracia. Gracia hits Shida with a dropkick, but Shida uses that momentum to hit her own dropkick taking Gracia to the outside. Shida takes Gracia out with a running elbow, takes her back into the ring, cover and kick out from Gracia. Shida struggles to get Gracia back up, and Gracia catches her with an inside cradle pin, but Shida kicks out. Gracia hits Shida with a running boot in the corner, cover, but Shida with a quick kick out. Gracia tries to hits Shida with elbow strikes, but Shida absorbs them and hits a delayed suplex. Shida sets Gracia up with a running knee from the outside. Shida stares down Abadon on the outside and takes out Abadon on the outside. Shida avoids the 10-count, but Gracia catches her with a roll up, and Shida barely kicks out. Shida stuns Gracia and hits a Falcon Arrow for the win.
Winner: Hikaru Shida
Post-match: Shida grabs her kendo stick and goes toward an unconscious Abadon. Shida taps Abadon, and Abadon awakens as the two brawl on the outside. Abadon bites Shida on the neck! Abadon stares down the champion.
AEW World Tag Team Title Match: The Young Bucks vs. The Acclaimed
Before the match, Max Caster drops a diss rap. He mocks The Young Bucks saying "They don't have balls. They're playing with ours." Anthony Bowens says "The Acclaimed have arrived."
Matt and Caster start things off as they trade strikes back and forth. Matt catches Caster with a dropkick then an arm drag takedown as Nick tags in. Caster evades Nick and tags in Bowens. The Acclaimed are lured in by The Young Bucks and get taken out to the outside. The Bucks hits dual sliding dropkicks. The Bucks hits a splash and standing moonsault combo on Caster on the outside. Bowens is left alone as The Bucks go to work on him. Matt tires to bounce off the ropes, but Caster grabs his legs. Caster tags in, and The Acclaimed hit dual head kicks on Matt, cover, but Matt kicks out. Matt evades The Acclaimed, and Nick comes in and takes out The Acclaimed. Nick hits his vintage facebuster and moonsault combo.
Nick tries for a senton atomico, but Bowens gets his knees up, and Caster slams Nick on the side apron. The Acclaimed isolate Nick. Bowens hits an Olympic Slam, cover, but Nick kicks out. Bowens showing off his power launching Nick into the corner. Nick starts building some momentum and tries to tag in Matt, but Caster tries to hold him down. Bowens takes out Matt before Nick can take out. Bowens tags in, and The Acclaimed continue to wear down Nick. Caster tags in, and The Acclaimed fail in their double team combo, and Matt tags in.
Matt comes in on fire and drops The Accalimed with a double DDT. Matt baits Caster to the outside and runs into a superkick from Nick. Nick hits two northern lights suplexes and locks in the Sharpshooter on Bowens. Caster tries to break up the submission, but Matt is unfazed, and Nick catches Caster in a Sharpshooter on the outside. Bowens manages to force the rope break. Bowens is caught in mid-air, and The Bucks set him up with a Doomsday Device, cover, but Bowens kicks out. Nick goes up, but Caster takes him down. Caster sends Matt to the outside barricade and hits a superplex and sets up Bowens for a splash, cover, 1-2-no as Matt breaks up the pin.
Nick slides in to tag in Matt, and Matt and Caster trade right hands. Caster with an eye gouge, but a Superkick party commences including on the referee Rick Knox! Caster with a low blow, and Bowens with the boombox, cover, and a new ref comes in for the count, but Nick kicks out! The Accalimed try to set up Nick, but Bowens is met with a Superkick, and Matt powerbombs him through the table. Caster eats a superkick and BTE trigger, and the champs retain.
Winners: The Young Bucks
We go to credits