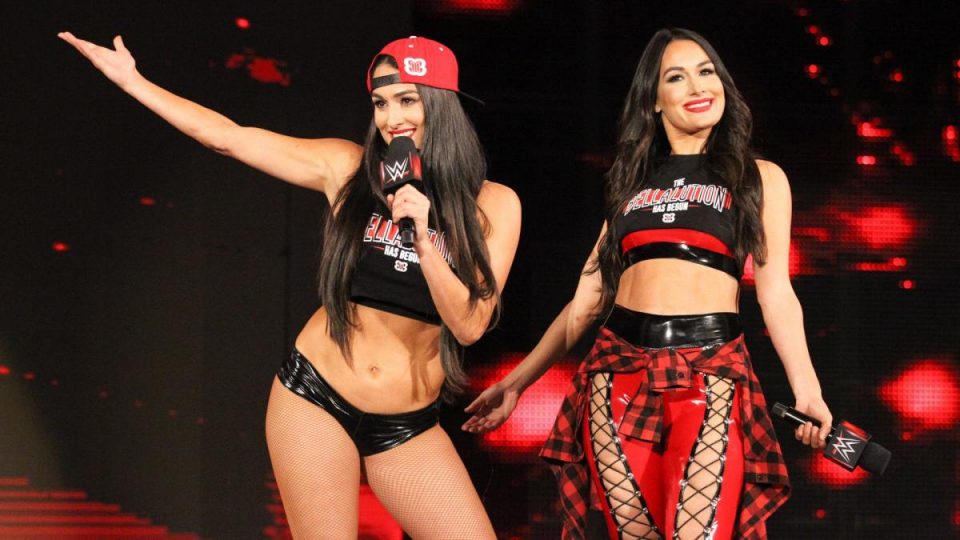 The Bella Twins In Talks For a WWE Return? – Since the beginning of this month, both Nikki and Brie Bella are teasing a possible WWE return. First, they teased a match against Nia Jax And Shayna Baszler, then they shared their interest in going after the WWE Women's Tag Team Titles during an an appearance on Access Hollywood.
During an interview with US Magazine, Nikki's husband, Artem Chigvintsev, noted that Nikki has been having talks with WWE about a return.
"She's been having talks about coming back and doing something together with Brie. They both have kids, and I feel like they still have this unclosed chapter with wrestling. I would not be surprised," said Artem.
The Bella Twins always do things together and that was no different for Nikki and Brie with their recent pregnancies. Nikki was pregnant with Matteo at the same time Brie was pregnant with her and Daniel Bryan's second kid, Buddy. The Bellas then gave birth just one day apart with Matteo being born on July 31 and Buddy being born on August 1.
Brie and Daniel Bryan's first kid – Birdie – was born in 2017 so Brie has competed as a mother since then. That is something Nikki has yet to do and Artem would be her biggest fan if Nikki were to return to the ring.
"I'd love to be cheering in the front row sitting with Matteo on my lap … like, 'Go, Mommy, go,'" said Artem.
Both Brie and Nikki Bella were announced for induction into the WWE Hall of Fame during WrestleMania 36 weekend. However, the pandemic put those plans on hold and WWE announced that the entire 2020 class will be inducted in 2021 during WrestleMania 37 weekend.