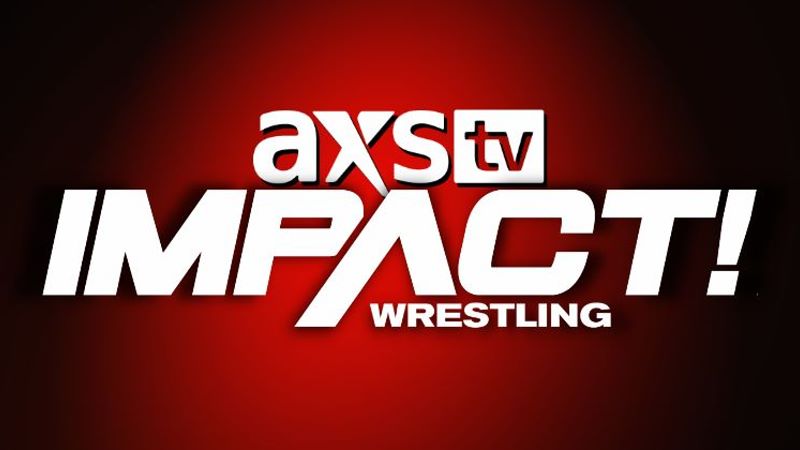 Impact Wrestling opened with a look at everything that took place last week.
Josh Mathews and Matt Striker were the announcers
Impact Wrestling Knockouts Tag Team Championship Tournament: Kiera Hogan & Tasha Steelz vs. Sea Stars, Ashley Vox & Delmi Exo.
This was the Sea Stars' official debut for the promotion. Delmi Exo started out with Kiera and nailed a neckbreaker and a backbreaker. Vox nailed a neckbreaker of her own. Steelz tagged herself in. She offered Vox a handshake but kicked her in the mid-section. Vox regained control but was sent into the ropes. Hogan nailed Vox from behind, setting up a spinebuster. They battled back and forth until Exo made the hot tag. She worked over Steelz and Hogan and covered Hogan for a two count. The Sea Stars worked over Hogan with double-team maneuvers. Steelz interfered, setting the stage for Hogan to score the pin on Exo.
Your winners, KIera Hogan and Tasha Steelz.
Backstage, Jordynne Grace was watching the match and the camera pulled back to reveal former WWE and ECW star Jazz was with her. Jazz is going to retire but wants to go out on top and will be Grace's partner in the tournament. Greast choice.
Matt Striker and Josh Mathews discussed the Knockouts tournament and ran down the lineup for the show.
Backstage, The North were talking. Ethan Page said that Gallows is out 4-6 weeks before he's cleared to return from the beating he received last week. Josh Alexander is mad that they now have to wait 4-6 weeks to get their titles back. Page said they are going to fix this and promised Alexander that we've got this. Josh wanted to know who is we.
Johnny Swinger, dressed like Naiz, and wearing a neckbrace (think Vince McMahon at his trial) entered Wrestler's Court. Madison Rayne is his defense attorney. D'Lo Brown, billed as from the Nation of Litigation, is prosecuting. Tommy Dreamer is the judge. Madison Rayne objected Dreamer as Judge, so D'Lo replaced him. Dreamer, now prosecutor, said Swinger had the means, motive and opportunity as well as the smoking gun in his fanny pack. Rayne argued that a criminal mastermind planned the crime and that anyone would know Swinger is no mastermind.
Fallah Bahh was the first witness. He said that Swinger was bitter that Bravo chose Bahh as his best man. Cody Deaner testified that he found a gun in Swinger's pack. Acey Romeo testified that he found Johnny Swinger's fingerprints on the gun, as well as Cody, Dreamer, Larry D, Taya, Rosemary, Ron Simmons, Brian Pillman and Greg Valentine.
Swinger asked to approach the bench and gave D'Lo beer but was told to sit down back. Swinger thought he was doing great but Rayne said he was misreading the room.
X-Division Champion Rohit Raju came out and cut a promo about how great he is, then said it was time for the Defeat Rohit Challenge. Suicide came out. Raju assumed it was TJP and said he thought he was slick but now it's non-title.
X-Division Champion Rohit Raju vs. Suicide
Raju attacked him but Suicide nailed several clotheslines. He went for a springboard clothesline but was knocked to the floor. When they returned from commercial, Raju was trying to unmask him, then nailed a suplex. Raju nailed several elbows and stomps for a two count. Raju keeps working over the masked man while trying to remove the hood but Suicide grabbed an Octopus submission. Raju slipped out and slammed him down.
Suicide grabbed a Russian Legsweep for a two count. Raju scored a DDT and nearly got the mask off. He pulled it off but the masked man had no hair. TJP's music played and he came out on the stage. It was Crazzy Steve under the mask. He scored the pin.
Your winner, Crazzy Steve! 
Backstage, Sami Callihan was psyching up Ken Shamrock and said tonight was all about making him the Impact Champion. TNA Champion Moose showed up and said his title is the most important title. He was planning on being the one putting the hurt on Swann but Shamrock beat him to the title match. He warned Shamrock that if he wins the title, remember that Moose beat him last time. Shamrock wanted to fight but Sami prevented it.
Backstage, Alisha Edwards confronted Tenille Dashwood. Edwards said they needed to tag again but Tenille said she didn't get the hint and needs to move on. Edwards said if they put work into it, anything is possible. Dashwood and Kaleb with a K weren't convinced.
Kimber Lee with Knockouts Champion Deonna Purrazzo vs. Killer Kelly with Renee Michelle.
Lee attacked her immediately and flung Kelly across the ring by her hair. Lee stomped her across the back and ripped her across the ropes. Lee tied her up on mat, trying to force a submission. Kelly made a comeback with a cartwheel into a striking kick. She charged with a big running dropkick into the corner for a two count. Kelly picked up Lee on her shoulders but Lee got on the ropes and kicked her away. Lee nailed a tilowhirl backbreaker and nailed a swanton off the ropes for the three count.
Your winner, Kimber Lee.
Susie's music played and she came out on stage. She told them that they hurt their friends and that's bad but now, her friend is here and that's bad. Out came Su Yung. That was a cool edit. Yung hit the ring and attacked both, nailing them. She kicked Lee out of the ring and rained down punches on Deonna. She pulled out the Mandible Claw but Lee pulled Purrazzo out of the ring before it could be used. They headed for high ground, returning to the back.
Gia Miller interviewed The Motor City Machine Guns. Alex Shelley said rehab is over and he's back. Sabin said they want XXXL, then they want The North, then they want the titles back from the Good Brothers.
Impact Champion Rich Swann was hanging with Willie Mack. He apologized to Mack for what happened last week. Mack said he fights it out to the end and the referee had no right to stop the match. Chris Bey walked in and asked Mack to leave so they could talk business. Swann told he needed to leave. Bey told him that if he gets past Shamrock to give him a call.
Ethan Page vs. The Phenomenal One.
Anderson, without Gallows, brought out the Phenomenal One. Anderson blamed Page for injuring Gallows. AJ Styles' music and graphic played and it was Swoggle as the Wee-Nomenal One. Oh dear.
Page got on his knees to mock Swoggle, who nailed a series of strikes. Anderson distracted him, allowing Page to kick him out of the ring. Alexander beat him on the floor and tossed him back into the ring. Page nailed a running shoulderblock on Swoggle. Page sold he was scared until he learned who it really was. Page nailed a big elbowdrop for a two count. Swoggle bit him on the leg and nailed him with a superkick. Swoggle rolled him up and scored the pin.
Your winner was…. AJ Swoggle.
Josh Alexander wasn't thrilled about this.
Back at Wrestler's Court, Tommy Dreamer was about to cross-examine Swinger. He asked him if he really thought he was going to get away with this. Swinger said he had all sorts of offers and called himself the OJ Simpson of pro wrestling. Swinger said he cuts corners but he couldn't really bring himself to shoot someone. He asked Dreamer if he ever thought it was any of the other stooges.
Dreamer called Jim Mitchell to the stand. He testified the blood of virgins is highly prized for its magical properties by some people. He admitted he suspected one of those people for shooting Bravo.
Rosemary was now on the stand. She was asked if he ever loved John E. Bravo. She admitted she did not. She said she is heir apparent of the Undead Realm and once she got a whiff of sweet virgin's blood, she knew how powerful it would be on his wedding night. Bravo stormed in, wearing a hospital gown and an IV, calling her a liar and the worst thing that ever happened to him. The place fell apart. D'Lo declared everyone needed to calm down. Bravo then declared Rosemary didn't shoot him. He said he couldn't see it but he could smell them.
Larry D was placed back on the lie detector machine and said he didn't shoot him. No lied detected. Dreamer sprayed him and D turned into Lawrence D. He admitted he did it because Bravo was taking away his woman…Rosemary. D'Lo declared Swinger not guilty. Swinger immediately took off his neckbrace.
Fallah Bahh vs. Daivari.
Daivari worked over Bahh with chops. Bahh fired back with right hands. He nailed a high cross bodyblock on Daivri but Joe Doering and Eric Young hit the ring and attacked both.
No contest.
Young took the mic and said we are looking at the truth. He said the world is sick and we are looking at the cure. Rhino's music hit and he charged out and hit the ring. They overwhelmed Rhino and beat him down. Young said he warned the world that it doesn't belong to them, it belongs to us.
Backstage, Swoggle told Suicide he looks ridiculous. Steve took that as a compliment. TJP thanked him for dressing like Suicide and getting himself a title shot. Brian Myers showed up and knocked all of them. He told them this wasn't the Impact he signed up for, that they were all clowns and losers.
Deonna Purrazzo and Kimber Lee found Jim Mitchell roaming the halls. They have a Su Yung problem and they wanted to know if he could turn Su Yung back into Susie. He said he can do it, for a price. They asked what the price was. He told them they didn't need to worry about that now, but if they need his help, they have it. Nothing good can come of this.
Impact Wrestling Champion Rich Swann vs. Ken Shamrock
Sami Callihan is ringside.
Swann used his speed to evade Shamrock early on. Shamrock caught him in the ropes and nailed a series of punches. Referee Brandon Tolle argued with Shamrock and Callihan and ejected him. Swann nailed a series of dropkicks and focused on his knee. He came off the ropes but was caught in mid-air and driven into the turnbuckles head-first several times in a row. Shamrock began drilling him with knees and strikes across the back.
Shamrock began grabbing at Swann's leg. Shamrock spent a lot of time working over his leg. Swann tried to grab at his leg but Shamrock stomped his foot. Shamrock went for a front facelock and pulled him to the canvas working over the front guillotine. Shamrock continued with the knee strikes as they went to commercial. When they returned, Swann drilled him with a series of right hands. Swann began to mount a ton of offense and nailed a clothesline into the ropes.
Swann charged but was cut off with a knee to the jaw. Shamrock continued to work him over with kicks to the back and cinched in a rear chinlock. Swann mounted a comeback and nailed Rolling Thunder for a two count. They battled back and forth. Swann scored the surprise win.
Your winner and still Champion, Rich Swann!
Sami Callihan comes back out. He sends Rich Swann crashing onto the mat with his cactus special piledriver. He finds his baseball bat underneath the ring. Before "The Draw" can use it, Eddie Edwards runs out to come to the aide of the world champion. Shamrock and Callihan catch him and tape him. Callihan uses his baseball bat on Edwards and whacks him in the eye again. Edwards is bleeding profusely. Impact officials come out. Shamrock knocks out D'Lo Brown and lays into him with a series of punches.