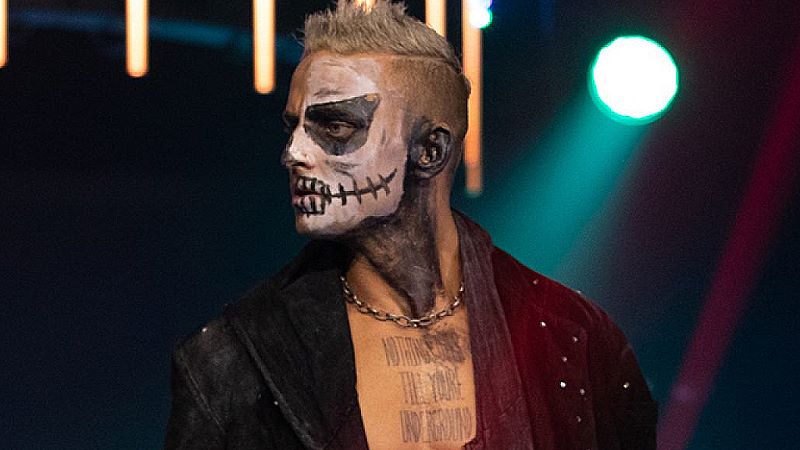 Darby Allin won the AEW TNT Championship against Cody at tonight's AEW Full Gear.
Allin came away with the win after he and Rhodes began rolling each other over in various pin attempts.
After the win, a clearly emotional Allin was presented the title by Rhodes, but the two were interrupted by Taz as they began to celebrate. Taz told Darby to act like he had been there before, and then told them both to go to the back before Brian Cage and Ricky Starks attacked the two from behind. Cage eventually lifted up Darby's body, and carried it over to a damaged car while trying to smash his arm in the door. Thankfully for Allin, Will Hobbs came out for the save, stopping things from happening.
Few other notes: Mike Chioda returned to referee this title match. Cody was also introduced as "Cody Rhodes," as noted he now has the rights to the name after WWE filed a cancellation notice with The United States Patent and Trademark Office.
Welcome home, @CodyRhodes. #AEWFullGear. pic.twitter.com/catWd3GhUi

— All Elite Wrestling (@AEW) November 8, 2020
Arn Anderson (@TheArnShow) isn't impressed with the showboating @CodyRhodes is doing in this match. #AEWFullGear pic.twitter.com/gf0UN0NftC

— All Elite Wrestling (@AEW) November 8, 2020
Avalanche Cross Rhodes! ?? #AEWFullGear pic.twitter.com/QMAcczP4Bm

— All Elite Wrestling (@AEW) November 8, 2020
.@DarbyAllin right on target! #AEWFullGear

?? https://t.co/wrY0zFE3Jk
?? https://t.co/s3LVN89K4G pic.twitter.com/RNo6tAj1Vp

— TDE Wrestling (@tde_gif) November 8, 2020
COFFIN DROP! @DarbyAllin #AEWFullGear

?? https://t.co/wrY0zFE3Jk
?? https://t.co/s3LVN89K4G pic.twitter.com/2cmlRwgUS3

— TDE Wrestling (@tde_gif) November 8, 2020
Is @DarbyAllin good enough to be the face of TNT? You're damn right he is. #AEWFullGear

?? https://t.co/wrY0zFE3Jk
?? https://t.co/s3LVN89K4G pic.twitter.com/iOydasGuwR

— TDE Wrestling (@tde_gif) November 8, 2020