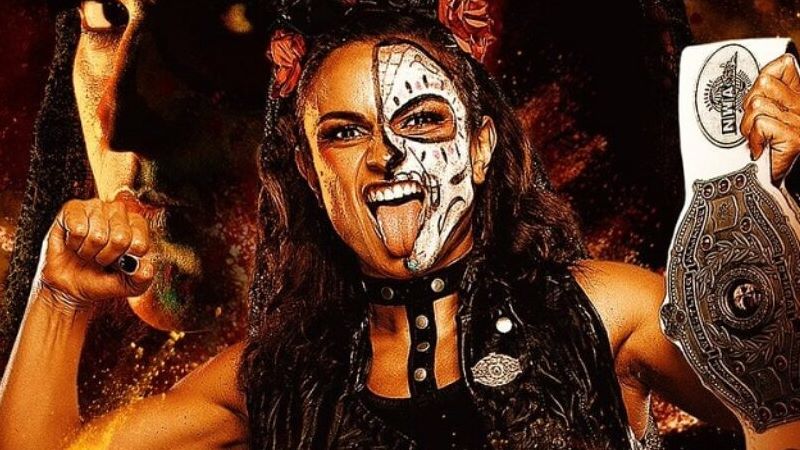 Thunder Rosa Responds to Reports About Her Future – As seen below, Thunder Rosa responded to the speculations about her future in wrestling in a unique way.
Rosa teased that things are still in the air in regards to her future with either AEW, WWE and the NWA.
As noted, Rosa dropped the NWA Women's Championship to Serena Deeb on Tuesday night. Deeb defended the title earlier tonight on AEW Dynamite.
The belief is that Rosa is WWE-bound because she would not have needed to drop her title if she was going to sign with AEW. Dave Meltzer noted on Tuesday that there has been interest in her from both WWE and AEW.
Meltzer was also confident when he stated that WWE is her likely destination. WWE tells wrestlers not to keep their signing with them as a secret so you will likely not get a confirmation from Rosa on her WWE contract status. If anything, if she has indeed signed, the confirmation will come from WWE's website.
However, NWA President Billy Corgan has shot down reports that Thunder Rosa is a free agent.
While responding to a fan on social media, Corgan said that Rosa was under contract with NWA until 2021.
"No [she's not leaving NWA]. You have to love press and media reports that don't contact the company she is under contract to but instead listen to someone who has my email address but doesn't write and ask. "She's under contract thru [through] 2021 and there's a reason for that [it's called excellence and faith) @nwa," wrote Corgan.
Thunder Rosa Responds to Reports About Her Future:
🤔🤔🤔🤔🤔 pic.twitter.com/hjAvAz6Fzv

— Thunder Rosa (@thunderrosa22) October 28, 2020