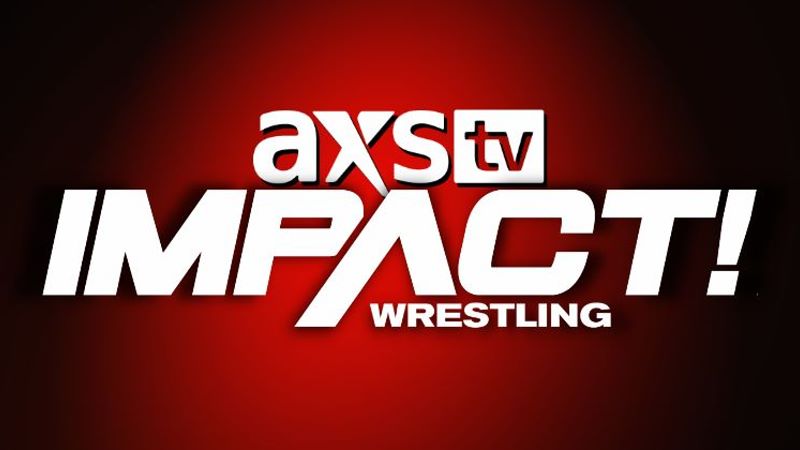 Josh Mathews and Madison Rayne welcome fans to Impact Wrestling! We kick things off with a Victory Road rematch!
Tommy Dreamer vs. Brian Myers
Both men stare one another down and talk a little smack right after the bell rings. Brian Myers throws the first forearm. Tommy Dreamer catches him and sends him out of the ring. The referee begins the count-out. Dreamer smashes Myers' face into the apron. Dreamer misses his chance to chop Myers – his hand smacks right into the ring post. Myers follows it up with a strong suplex on the ramp. Myers runs back into the ring. Dreamer rolls back in. Myers stomps away on Dreamer before locking him up into the ropes. He follows his offense with a side suplex, but he only gets a near-fall, as Dreamer kicks out at 2. Myers lands a big clothesline in the corner then sends Dreamer for a ride with a driving elbow. Dreamer lands a few midsection shots before connecting a sunset flip. Myers kicks out at 2.
Myers connects two driving elbows on Dreamer before locking in a front facelock. Dreamer catches him with a sidewalk slam. Dreamer blocks a shot from Myers – he sends Myers into the corner with a series of jabs. Dreamer hooks the leg on Myers again only to get a near-fall at the 2 count. Myers sends Dreamer off his feet with a scoop and a slam. He goes for another pin. Dreamer kicks out again. Dreamer spins out and drops Myers with a DDT. Next, he goes up to the top rope. He misses his chance to connect a diving elbow. Myers cannot believe he didn't get the pinfall after sending Dreamer down with his Myers DDT. He rolls out of the ring to grab a kendo stick. He tries to hit Dreamer with it. Dreamer catches the stick and grabs hold of it. Myers begs Dreamer not to hit him. As he pleads, he grabs the stick right out of Dreamers' hands and smacks him several times. The referee calls for the match to end in a DQ.
Winner By Disqualification: Tommy Dreamer
Post-Match: Scott D'Amore and security run down to stop the match.
Josh Mathews and Madison Rayne run through the Bound For Glory card, and the matches still to come tonight.
Before EC3 puts on a funeral for the TNA World Heavyweight Championship tonight, we see Moose at a gym searching high and low for his self-proclaimed championship.
Backstage: John E Bravo meets up with several of his Wrestle House friends to inform them that his wedding is costing him a lot of money, and he needs their help to pay it.
We go back to the ring to see Rohit Raju continue his "Defeat Rohit" X-Division challenge from this past Saturday!
Raju grabs a microphone before his match and says that he is the most generous champion out there. He believes that no one will take advantage of his challenges because he is one step ahead. He wants to know who thinks they can defeat him. It's Willie Mack again! He wants another crack at the opportunity!
As Mack comes down to the ring, Raju tries to shoo him away. He says he gave him a chance already on Saturday, he wants a new challenger. It's Jordynne Grace who answers the call!
Rohit Raju vs. Jordynne Grace (X-Division Championship)
Rohit Raju takes his time stretching before the match. He warns Jordynne Grace and the referee that they have to go on his time. He's not ready for this match. Jordynne Grace rolls Raju up to become the new X-Division Champion. Well, we thought…
Winner: Jordynne Grace
The announcer says that he was informed that the X-Division was not on the line tonight. So, Raju still retains. Scott D'Amore meets him by the curtain to congratulate Raju for his open challenges. D'Amore knows that Raju is confident so he gives him a big challenge for Bound For Glory. He says that he'll be defending his title against Jordynne Grace, Wille Mack, Chris Bey, TJP, and Trey in a six-way scramble!
Backstage: Fallah Bahh finds Hernandez and says that he needs money to help out Bravo and his wedding.
We follow that with another Victory Road tag team rematch!
XXXL (Acey Romero & Larry D) vs. Rascalz (Wentz & Dez)
XXXL pushes Wentz out of the ring as the bell rings. The team keeps the beat down on Dez by stretching him out in the ring and then slamming him down on the mat. Their match will continue right after the break.
We are back from the commercial break. We see Romero has Dez locked up on the ropes. Romero sends Dez off his feet with a side suplex. Romero goes for a cover, Dez kicks out at 2. Romero tags in Larry D. Larry D drives his forearm into Dez, then stomps on his chest. Larry D keeps his brutal offense up to par with a facelock. Dez breaks out of it with a few running shots. Larry D catches Dez with a hard boot. He goes for a pin, but Dez kicks out again at 2. Larry D sends Dez out of the ring. He keeps the referee distracted, while Romero tries to put the beatdown on Dez. Wentz runs over to break it up.
Dez rolls back into the ring. He breaks out of another hold from Larry D. Dez rolls out of Larry D's control to grab a tag from Wentz. Wentz comes in hot with enziguri followed by a shooting star press. Larry D kicks out of Wentz's pin attempt. Wentz locks in a strong sleeper hold. Larry D grabs Wentz up by his neck. Dez runs in to break the grip with a kick to Larry D's spine. The Rascalz end the match with their Hot Fire Flame. The Rascalz win this match!
Winners: Rascalz
Fallah Bahh continues his search for Hernandez's money by trying to take his wad of cash while he's in the shower. Bahh gets lucky and walks out with the cash!
Jimmy Jacobs checks in with Rich Swann's doctor to see how his road to recovery is going. Swann's doctor says he's in good shape, and he's ready for his championship match. Before Jacobs can get a word in with the No. 1 contender, Eric Young, who's dressed as a nurse, runs in and attacks Swann's repaired leg.
Backstage: Gia Miller talks to Motor City Machine Guns before their tag team match with Ace Austin and Madman Fulton tonight. Alex Shelley says that Austin reminds him a lot of himself at 23. While making their comments, the Good Brothers interrupt their interview. They say that at BFG, they're going to take the Impact World Tag Team Championships away from MCMG. MCMG tell them good luck with that.
We head back to the ring for a Knockouts tag team match!
Rosemary & Taya Valkyrie vs. Kiera Hogan & Tasha Steelz
Both teams exchange some words before Taya Valkyrie plants Kiera Hogan on the mat. Valkyrie sends Hogan towards the corner and lands a hard chop. Valkyrie then smashes Hogan's face with both a hip attack and a double knee attack. This doesn't put Hogan down as she kicks out of the near-fall at 2. Rosemary comes in and lands a powerful exploded suplex. Hogan crawls over to tag in Tasha Steelz. Rosemary flies in with a Superman elbow strike. Next, she slams Steelz with another exploded suplex. Rosemary locks in her Upside Down off the ropes. Hogan scissor kicks Rosemary in the head to break the hold on Steelz.
Hogan comes back in as the legal woman. Rosemary charges towards her. Hogan catches her with a toe hold. Steelz comes in quickly to land an uppercut before bringing Hogan back in. Hogan goes right away for a pin. Rosemary kicks out at 2. Steelz is back in. Both her and Hogan tackle Rosemary with an overhead powerslam. Steelz goes for a pin. Rosemary kicks out again. Steelz puts Rosemary in a side headlock. The camera in the back catches Nevaeh and Havok watching the match closely.
Back in the ring, Valkyrie is back in. Valkyrie lands a series of strikes on Hogan then a powerbomb. Valkyrie goes for a cover and Hogan kicks out at 2. Steelz comes flying in to break a submission hold. All four women are in the ring. Valkyrie sends Hogan and Steelz crashing into each other. Valkyrie lands a devastating suplex before bringing Rosemary back in. Rosemary pounds Steelz into the mat with Sense Out. She gains the win for her and Valkyrie!
Winners: Rosemary & Taya Valkyrie
Following the commercial break, the tag team matches continue!
The Deaners vs. Crazzy Steve & Johnny Swinger
Cousin Jake hands Crazzy Steve a beer. Steve takes the beer and makes his pet monkey drink it. Johnny Swinger is livid by Steve's comedic approach, so he tags himself in. Cousin Jake smacks Swinger with two big shots before Cody Deaner comes in. Swinger crawls on top of Cody in the corner and connects a series of forearm shots. Swinger rolls Cody in a snapmare followed by a front facelock. Swinger grabs Steve's pet monkey. Steve grabs it out of his hands. Cody catches Swinger with a Deaner DDT and wins the match!
Winners: The Deaners
We see a recap of Deonna Purrazzo's match against Susie from Victory Road. Josh Mathews reports that Purrazzo broke Susie's arm, and there is no set date on when Susie will return.
Follow that, Gia Miller interviews Kylie Rae about Susie's match on Saturday. Rae is furious that Purrazzo injured her friend. Kimber Lee interrupts her interview by taunting Rae for sticking up for Susie. Rae loses it and beats the living daylight out of Lee. Rae can't believe she had that much rage in her.
Scott D'Amore is ready to talk to Heath! D'Amore admits he wasn't so sold on Heath in the beginning. Now, he believes Heath is worthy of being part of the Impact family! Heath tells D'Amore that his brother, who is a lawyer, helped him create his contract. D'Amore wants to creates some sort of negotiation with Heath, especially with how much Heath expects Impact to pay him. Heath informs him that he's been out of work since April and he deserves a decent earning. D'Amore informs Heath that he did a lot of bad things coming into the company which including sneaking into Slammiversary, hurting the talent, and running his #Heath4Impact ads without management's permission. He throws Heath's ss contract up in the air and leaves the office.
Rhino is outside the office waiting for Heath's good news. Heath doesn't have anything good to tell him. Heath says it's Rhino's fault that he didn't get a contract signing tonight.
After, we see EC3 standing outside with the TNA World Heavyweight Championship. He informs Moose that it's time to break away from the title. After making that chilling statement, he throws the title off a bridge.
Backstage: Ken Shamrock feels really bad for injuring Eddie Edwards last week. Sami Callihan tells him that what he did was the right thing to do. He says that helps build their social media presence. After Shamrock accepts Callihan's statement he asks "The World's Most Dangerous Man" who's next? Shamrock grabs a security guard and starts beating him up.
Before the main event, Mathews and Rayne announce next week's card. It'll be:
Knockouts Triple Threat Match: Nevaeh & Havok Vs. Rosemary & Taya Valkyrie Vs. Kiera Hogan & Tasha Steelz
Kylie Rae will go one-on-on with Kimber Lee
Madman Fulton will face Doc Gallows
Also, we'll see part 3 of Rich Swann's Road To Recovery
Ace Austin & Madman Fulton vs. Motor City Machine Guns
Chris Sabin and Ace Austin begin the match. Sabin locks Austin's arm. Austin tries to roll out of the submission then lands a dropkick to get out of it entirely. Sabin sends Austin down on the mat again with a deep arm drag. Alex Shelley tags himself in. Sabin holds on to Austin so Shelley could land a punt kick. Shelley locks Austin's wrist up and tags Sabin back in. MCMG make quick tags to each other. Shelley drops down on Austin's arm with a double axe smash. Austin finds his footing by reversing a hold on Shelley into a sleeper, then a kick to Shelley's back. Austin crawls over to tag in Madman Fulton.
Fulton drives Shelley's face into the top turnbuckle, twice. Fulton continues his dominant demeanor with a big boot. Austin comes in with a high springboard onto Shelley. Austin goes for a cover. Shelley kicks out. Austin sneaks his playing card into this hand and slices Shelley's hand. Shelley cries out in pain. Austin tags Fulton back in. Fulton manhandles Shelley with a big bear choke. Sabin runs in to help his partner out. Fulton drops Shelley and puts Sabin in the same position. The referee stops Fulton from using his playing card, but he doesn't see that Austin pulls his out again on Shelley. Shelley lands a series of boots on Austin. Shelley rolls over to tag in Sabin.
Sabin comes in hot with a spinning kick followed by a missile dropkick off the top rope. Sabin drops Austin with a DDT before he gets a near-fall. Sabin eats a boot from Austin. Austin and Sabin tag in their partners. Sabin strikes Fulton with a punt on the apron. Sabin catches a boot to the face from Austin. MCMG send Fulton down with a combination choke/power slam. This isn't enough to keep Fulton down. Fulton kicks out with a near-fall. Fulton slams Sabin with a huge suplex. All of a sudden, The North run down to the ring. The Good Brothers follow after them. Back in the ring, Shelley drops a crossbody on Fulton. MCMG get the pinfall and win the match!
Winners: Motor City Machine Guns
That concludes tonight's show.