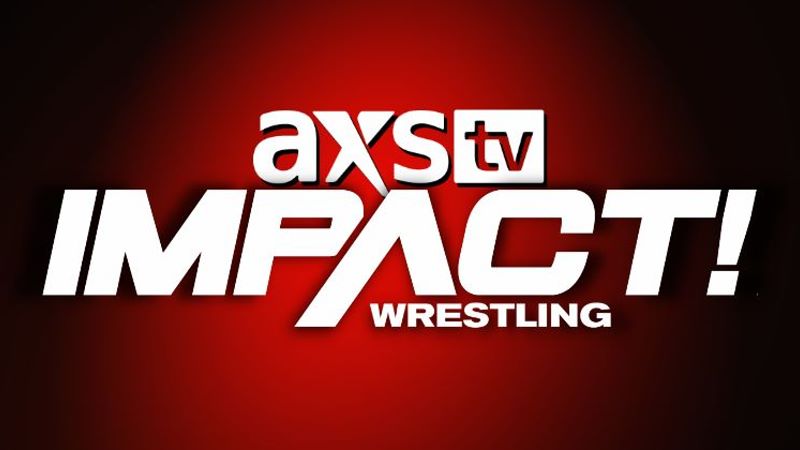 Tonight's episode follows the fallout from Bound For Glory.
After the opening credits roll, we see Eric Young throwing the new Impact World Champion Rich Swann around backstage. They spill their brawl towards the Impact Zone. Josh Mathews and Madison Rayne are shocked to see this carnage.
Young sends Swann shoulder-first towards the steel stairs. He doesn't stop there; he drags Swann by his hair, but Swann reverses and sends Young into the ring post. Young gets up and stomps, then wraps Swann's shirt around his neck to choke him out. Swann and Young roll into the ring. Swann connects a superkick. Young jumps on top of Swann and throws down a series of punches. Scott D'Amore and security run down to break them apart. Young yells out to D'Amore that he wants a rematch. D'Amore says he will get his rematch but not right now.
Young interjects and says he is fine to compete right now. D'Amore asks him if he is sure; Swann says yes he is. So now their rematch is official!
Rich Swann (c) vs. Eric Young (Impact World Championship)
Young heads to the top right after the bell rings to connect a splash. He goes for a cover on the champion, but he only gets a 2 count. Swann rolls into Young with a senton. He only gets a nearfall too. Swann's body crashes onto the mat after receiving a devastating jackknife powerbomb from Young. Young gets a nearfall count at 2. Swann connects his 450 splash to retain his championship!
Winner: Rich Swann
Mathews and Rayne run through what's to come on tonight's fallout show!
Backstage:Nevaeh waits for Havok to come out from the dressing room. Havok informs her that Father James Mitchell is back for Rosemary and John E Bravo's wedding, which is still to come tonight. Nevaeh says she has a bad feeling about this.
Backstage:All the Knockouts are standing outside D'Amore's door to find out when they'll be competing for a chance at the Knockout Tag Team titles. Kaleb (With A "K") informs the girls that he saw on social media they'll officially start their tournament in three weeks. This sets up for a Knockouts tag team match between Alisha Edwards and Jordynne Grace taking on Kiera Hogan and Tasha Steelz later on tonight!
We head back to the ring to see a hardcore Halloween match!
Brian Myers vs. Tommy Dreamer
Tommy Dreamer sends Brian Myers over the top rope as the match begins. Dreamer sends Myers crashing down with a giant suplex on the ramp. Dreamer wraps a jersey around Myers' neck. Myers finds his way to counter by sending Dreamer face-first onto the steel stairs. Dreamer gets up and slams a walker on top of Myers. Dreamer ding, ding, ding's Myers' lower region with a ring bell. Myers takes a strong swing towards Dreamer's midsection with a caution sign.
Back from the break, we see Dreamer sitting in the corner with a kendo stick hanging above him. Myers glides Dreamer up towards the kendo stick. Dreamer's neck slams right into it. Next, Myers brings in some apples and uses them to his advantage by chucking them towards "The Hardcore Legend." Myers then introduces a chair into the match. He smacks Dreamer in the back with it before putting him a front facelock. Dreamer finds his way out with his well-known series of jabs. Dreamer goes for a cover. Myers kicks out at 2.
Dreamer brings in a small black bag. He pours out a thing of candy corn and thumbtacks, which he scatters across the mat. Myers meets Dreamer up on the top rope. Dreamer bites Myers before sending him into the pile of candy corn and thumbtacks. Dreamer goes for another cover. Myers gets his shoulders up at 2. Dreamer was too focused on setting up a table to see Myers come charging in with a clothesline. In a garbage can, Swoggle crawls out to grabs Myers' groin with a bbq tongs. Dreamer destroys Myers with a Death Valley Driver. Dreamer goes for the final cover in the match and picks up the win!
Winner: Tommy Dreamer
Backstage:Gia Miller interviews the new Call Your Shout Gauntlet winner, Rhyno, with his buddy Heath. Millers asks Rhyno if he has an idea of who he'd like to use his CYS on. He says he does; he and Heath would like to challenge The North for their Impact Tag Team Championships once Heath is fully recovered. Heath also informs Miller that next week, he'll sign an official contract with the company!
Backstage: Hernandez and Reno Scum jump Fallah Bahh to get their money back. Bahh tells them he doesn't have their money. The guys tear his shirt right down the middle and find nothing. As they leave, Bahh pulls out the wad of cash.
We back to the ring for some tag team action!
XXXL (Acey Romero & Larry D) vs. Rascalz (Wentz & Dez)
The Rascalz refuse to wait for the bells to ring before they both fly off the top rope on top of XXXL. Larry D and Wentz get the action going, legally. Larry D bides his time by throwing a few shots towards Wentz's midsection. Acey Romero tags himself in. Wentz lands a few shots on Romero before losing control. Larry D makes his way back in. He goes right for a pin, but Wentz kicks out at 2. Larry D crushes Wentz with a powerslam. He goes for another pin on Wentz. He kicks out at 2. Romero goes back in for Larry D. Wentz catches Romero with a high knee off the second rope. Wentz rolls over to his corner for a tag from Dez. All four men make their way into the ring. Wentz flies in with a springboard back elbow. He gets thrown out of the ring. Larry D climbs up to the top rope before Wentz comes back in to stop him. Romero connects a powerful super uppercut on Wentz midair. Larry D towers down on Dez with a splash off the top rope! XXXL takes home the win!
Winners: XXXL
Backstage: D'Amore is met with Deonna Purrazzo's legal team (R.D. Evans) and Kimber Lee. Purrazzo's lawyer wants D'Amore to go to the ring to call out the new Knockouts Champion Su Yung to forfeit her title to Purrazzo. He's got until tonight to go down there; D'Amore says why not now? We'll hear what he has to say after the break!
Backstage: Gia Miller checks in with Motor City Machine Guns to see how Alex Shelley's condition is from BFG. Shelley says that he'll be out for two months, but once he is healthy again, he and Chris Sabin want a rematch for the tag titles. XXXL interrupts the interview. They say they've been working their tails off for a shot at the titles; MCMG needs to go to the back of the line. Both teams throw shots at each other.
In the ring, D'Amore addresses Purrazzo's situation with Yung. He says after some consideration, Yung is the deserving champion. Purrazzo's music hits. She, Kimber Lee and R.D. Evans head down to the ring.
Evans does all the talking for Purrazzo. Evans finds D'Amore's statement to be unfavorable. He warns him that litigation will occur if he decides to not strip Yung from her title. D'Amore tells Evans to back up before he breaks his teeth. He proposes that instead of going to court, Purrazzo can receive her rematch next week if she wants it. Evans, Purrazzo and Lee step aside to talk about it. Evans says that Purrazzo has accepted his terms. Purrazzo will meet Yung for her rematch next week. After, "The Undead Bride" makes her appearance!
Yung grabs Lee and Evans by their necks while spraying her red mist in D'Amore's eyes. Purrazzo charges towards Yung. Yung catches her with her deadly mandible claw! Yung lets her go and stands tall with her prestige title!
Backstage: All three Rascalz and Willie Mack chit-chat with Rich Swann. Moose interrupts their celebration to call Swann a second-best champion to his TNA World Heavyweight Championship. Swann does not find Moose's remarks to be genuine at all and tries to hit him. The Rascalz pull him back. Mack calls Moose out to fight. Moose tells him not tonight; it'll be on his terms. The Rascalz asks Swann if he's ok before they leave him alone. He tells them he is. As he tries to catch his breath, he is confronted by Sami Callihan and his new comrade, Ken Shamrock.
Coming back from the break, we rewatch Ken Shamrock's induction into the Impact Hall of Fame from Saturday.
Backstage: The new Impact tag champs, Ethan Page and Josh Alexander teach the guys in the back tag-teaming 101. The Good Brothers invade their lesson to taunt them.
Following that segment, we see this week's Impact Flashback Moment of the Week. It's Rohit Raju vs. Willie Mack for the X-Division Championship from Victory Road from earlier this month.
Speaking of the X-Division, we see it's retaining champion, Rohit Raju, brags to Jimmy Jacobs about winning his Six-Way Scramble from BFG. He thinks they should celebrate. Jacobs agrees, but he doesn't think Raju has any right too, since he stole the win.
John E Bravo finds Fallah Bahh to tell him that he found out that Hernandez and Reno Scum are looking for their wad of cash and he stoled it. He tells Bahh that he's dead to him.
We head to the ring for some Knockouts tag action!
Alisha Edwards & Jordynne Grace vs. Kiera Hogan & Tasha Steelz
Tasha Steelz brags that she's stronger than Jordynne Grace. Grace tests her strength by pushing her hand down. Steelz cries out in pain and tries to fight back, but Grace sends her down again with a shoulder tackle. Alisha Edwards and Kiera Hogan come in for their partners. Alisha pulls off two stiff shots while backing Hogan into the corner. Hogan moves away and Irish Whips Alisha to the ropes. Alisha flies off the ropes with a clothesline. Grace gets tagged in. Before she takes over, she assists Alisha with a splash. Hogan drags Alisha down on the mat before the commercial break.
We're back from the break. Steelz comes charging in with a Superman punch, followed by a beautiful uppercut on Alisha in the corner. Hogan grabs a tag from Steelz to become the legal woman in the match. Hogan chokes Alisha with her boot. The referee calls for a rope break. Alisha gains some offense with a flatliner. Alisha hooks the leg for a pin, Hogan kicks out. Steelz tags in for her partner. Alisha pushes Steelz and Hogan into each other, then lands a running bulldog. Grace sticks her hand out for a tag – she gets it. Grace smashes Steelz's face into the middle turnbuckle. Grace drops on top of Steelz with a Vader Bomb. Hogan breaks up the attempted pin on Steelz. Steelz meets Grace with a back elbow. Steelz pushes Alisha towards Grace. Steelz rolls Alisha up with a schoolgirl pin to win the match for herself and Hogan.
Winners: Tasha Steelz & Kiera Hogan
Post-Match: Jordynne Grace and Alisha Edwards get into it after the match ends.
Outside: Willie Mack meets a fan. The fan asks if he could record a message to send to his friend, who is a big fan of Mack. He says, sure. As they're about to record the message, Moose bashes Mack in the face with his title.
Taya Valkyrie finds Rosemary before her big wedding! Valkyrie believes that Bravo is out of control and wants to warn his future bride about it. Rosemary is not worried at all. In fact, she says she has a surprise for him at the altar.
Before we see the big wedding, Mathews and Rayne run down next week's card. It'll be:
– Ethan Page vs. Doc Gallows
– Sami Callihan & Eric Young vs. Eddie Edwards & Rich Swann
– Trey Miguel will face Chris Bey
– Knockouts Championship Rematch: Su Yung (c) vs. Deonna Purrazzo
We head down to the ring to witness the darkest wedding of the century!
The wedding party heads down to the ring first. Following them is Father James Mitchell, who will be officiating the wedding. John E Bravo comes out third, and lastly, Crazzy Steve walks the pinstripe bride, Rosemary, down to the ring.
Bravo recites "The Addams Family" intro as part of his vow. Rosemary goes next. After they exchange vows, Swoggle brings over their rings. After Mitchell pronounces them to be husband and wife, they both go in for a kiss.
As they go in for their kiss, the lights turn off. A shot rings out. When the lights pop back on, we see Bravo laid out dead in the ring! Tommy Dreamer runs over to his side and yells out, "Who shot Bravo?" The group looks stunned. Dreamer screams out, and the show ends.