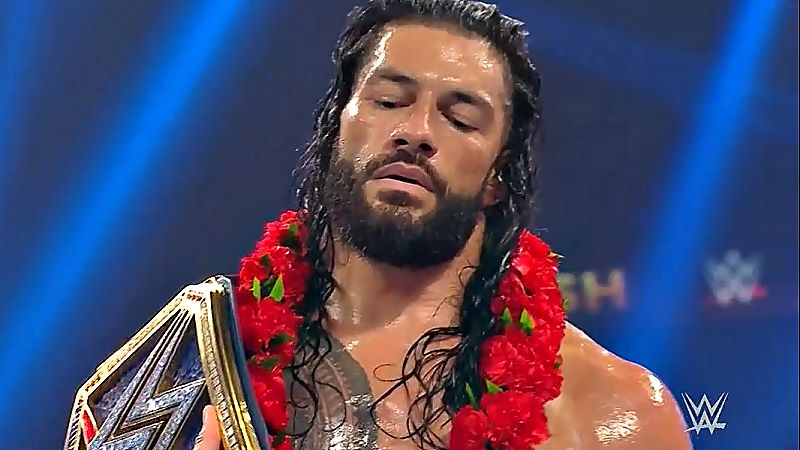 Tonight's
WWE Clash of Champions
main event saw the Universal Champion
Roman Reigns
defeat his cousin Jay Uso.
Both men felt each other out early on, and the intensity in the air was palpable. Despite the serious situation, Uso still danced when he briefly gained the upper hand. Reigns sent Uso to the outside, and the challenger regrouped.
Uso rocked Reigns with a stiff punch, but Reigns dropped him with a clothesline. Reigns took control and grounded Uso. The champion dominated the match and tossed his cousin around ringside. He bounced Uso off the broadcast table.
Uso rallied and hit Reigns with a Samoan drop. Reigns dropped Uso with a Superman Punch to regain control. No matter what Reigns threw at Uso, the challenger never stayed down. Reigns drilled Uso with a vicious uppercut. Then, the Big Dog talked some trash. "You should have laid down," Reigns said. Uso tried to rally, but Reigns dropped him with another thunderous blow. Uso persevered and hit Reigns with some strikes of his own. He shoved the champion shoulder-first into the ring post. Uso dove onto Reigns outside the ring and a crossbody earned him a two count.
Reigns gained the upper hand again with a clothesline. A look of cold determination transformed Reigns' face, but Uso countered a spear and dropped Reigns with a superkick. Uso earned a near fall with a frog splash. After the impact, Uso yelled in pain. During a replay, the camera showed that Reigns hit Uso below the belt during his kickout. Reigns got to his feet and dropped Uso with a Spear. Reigns talked more trash and told him to call him the chief. He pulled Uso to his feet, telling him to say it, before he dropped him with another Spear.
He held Uso by the head and told him to tell the world that he's the chief. Uso still refused, which made Reigns angry. He drilled Uso with stiff blows. "Acknowledge me," Reigns said before he hit Uso with several more blows. Jimmy Uso came to the ring and said he didn't need to prove anything. Jimmy said he's going to throw in the towel. Reigns told Jimmy to tell him he's the chief, and Jey told him not to. Jimmy threw in the towel and the referee called for the bell. Jimmy protected Jey from more blows from Reigns. The injured Uso told Roman that he's the chief.
Heyman draped a Samoan necklace around
Roman Reigns
' neck and he posed to end the show.
Who says we can't have a little 𝙛𝙪𝙣 during this one?#WWEClash #UniversalTitle @WWEUsos pic.twitter.com/4UEaecm9Y8

— WWE Universe (@WWEUniverse) September 28, 2020
So much for family.#WWEClash #UniversalTitle @WWERomanReigns @HeymanHustle pic.twitter.com/9SWSBtGZ2E

— WWE Universe (@WWEUniverse) September 28, 2020
HERE COMES JEY @WWEUsos heatin' up! #WWEClash #UniversalTitle pic.twitter.com/a36qmaN7FW

— WWE (@WWE) September 28, 2020
A family portrait.#WWEClash #UniversalTitle @WWERomanReigns @WWEUsos pic.twitter.com/ucswT5IFS9

— WWE Universe (@WWEUniverse) September 28, 2020
Nobody quite knew @WWERomanReigns was capable of THAT.#WWEClash #UniversalTitle @HeymanHustle @WWEUsos pic.twitter.com/5cSbAbiEIX

— WWE Universe (@WWEUniverse) September 28, 2020