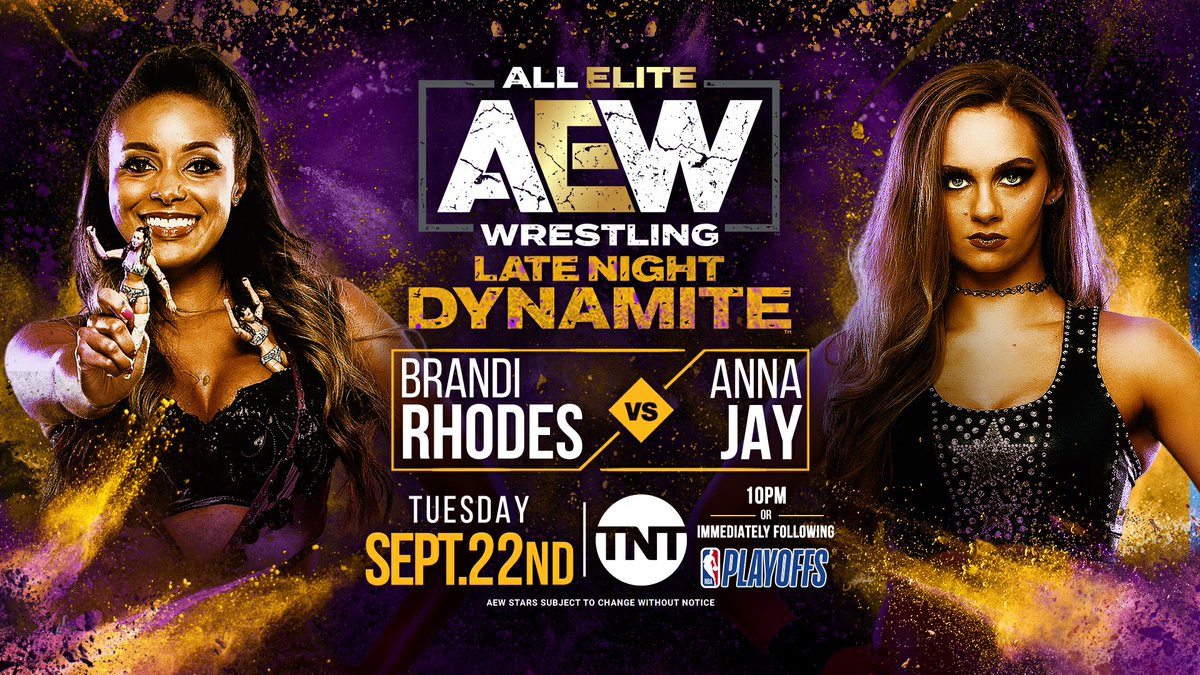 Jim Ross, Tony Schiavone, Excalibur, and Chris Jericho on commentary for tonight's show.
Scorpio Sky vs. Ben Carter
Side headlock by Carter, back and forth counters with Carter finishing with an arm drag. Carter off the second rope, lands on his feet, Sky looks to fly with a crossbody. Sky with some shots in the corner. Carter sent into the corner, but he flips across the ring, ducks under Sky and hits a dropkick on Sky, who bails out to the floor for a moment. Carter's speed is matching, if not exceeding, Sky's in the early parts of the match.
Sky back in the ring, both wrestlers trade wrist control. Carter ducks some shuts, eats a knee, then a big dropkick, drops Carter back to the mat, cover, two. Sky hits a backbreaker and stretches him back for a moment, then goes right into an abdominal stretch. Carter able to escape, runs in with a few chops in the corner that send Sky crumpling to the mat. Sky with a huge shot as Carter goes to pick him up. Sky then stomps the face.
Carter on the apron, kick to Sky's face, flips into the ring, springboard moonsault into a reverse DDT, cover, two-count. Running shooting star press, cover, two-count. Both out on the floor, Carter takes a kick to the face that puts him down. Sky moves him to the apron, slams his face to the apron, tries for a leg drop, but nobody home. Sky has a small cut next to his eye.
Carter in the ring, big flip out on Sky, tosses Sky back in, Carter heads to the top rope, frog splash, cover, two. Sky back up hits a hanging neckbreaker, cover, two. "This is awesome" chant from the crowd. Carter reverses a suplex, throws some shots, lands a kick to the back, but Sky with a fisherman's buster, cover, two-count. Sky looks for scorpion deathlock, Carter kicks him in the face, tries to roll- up Sky, no. Carter tries for some kicks, nope, tripped down to the mat, double stomp to his back. Sky with a big boot to the face, TKO, pin, 1-2-3.
Winner: Scorpio Sky via Pinfall
Post-match, Sky helps Carter up, gives him a hug, and raises his arm.
Hype video for AEW World Champion Jon Moxley vs. Lance Archer on October 14.
Anna Jay vs. Brandi Rhodes
Brandi heads straight into the ring and throws a shot at Jay. Anna looks for a clothesline, but takes a spear. Jay immediately rolls to the apron, Brandi follows and hits a modified DDT. Rhodes sends Jay into the barricade and gives her a big smile. Back in the ring, Rhodes continues to swing away on her opponent in the corner. Jay whipped to the other corner. Jay able to lock in a sleeper on Rhodes, she sinks down to the mat, and rolls up Jay for a pin, two. Clothesline, another pin, only two.
Rhodes gets on Jay and throws some punches to the face. Jay charges in and eats a back elbow. Rhodes gets put into the corner, back rake by Jay, then a double stomp, cover, one. More strikes by Jay, suplex, kicks in the corner, throws Brandi into another corner, forearm, then Jay chokes Rhodes with her boot. "Brandi!" chant breaks out. Jay with a flipping neckbreaker, cover, two.
Rhodes tries to send Jay into the corner, runs in and takes another back elbow to the face. Both women down as the referee starts his ten-count, both up at five. Brandi with a couple forearms, clothesline, another one, slingblade, and out comes Grayson and Uno.
Winner: Anna Jay via Referee Stoppage
Sky says Ben Carter is going to have a bright future. Sky continues that he's still going after the AEW TNT Championship though. Matt Sydal suddenly shows up and gives some props to Sky. Sky then hypes up Sydal a bit before his match, and does (I think) an impression of Ric Flair. Sydal heads off for his match against Shawn Spears (who he eliminated in the Casino Battle Royale at All Out).
Hype video for AEW TNT Champion Brodie Lee vs. Orange Cassidy on this week's Dynamite.
Matt Sydal vs. Shawn Spears (with Tully Blanchard)
Sydal using his quickness to counter Spears a few times as he gets in a side headlock. Sydal continues to keep Spears down on the mat with his technical wrestling. Spears finally drives Sydal into the corner. Sydal sent out to the floor, Spears looks for a splash, ends on the apron, and gets tripped up by Sydal. He sends Spears back in, but eats a baseball slide. Spears looks to fly, Sydal runs in and stops that with a leg lariat. Sydal with a kick to the back, cover, one-count.
Spears up to the second rope, Sydal with a leaping hurricanrana. Sydal with kicks to the legs, a few to the chest, pin, two. Both back up, Sydal lands a roundhouse kick, drops Spears with the slice, pin, two-count. Standing twisting moonsault, cover, two. He brings Spears near the corner, Spears grabs Sydal's leg for a moment. Sydal on the second rope, swinging DDT, no, Spears hits a back elbow. Spears with a sit-down powerbomb, cover, two.
Spears with chops to the chest. Sydal gets in Spears face, they shove each other and Sydal throws some forearms. Spears send a rolling forearm into Sydal, looks for a suplex, but takes a knee to the face. Jumping knee strike by Sydal. Spears counters with an ushigoroshi. Spears looks for a death valley driver, Sydal grabs the ropes and ends up on apron. He drops Spears over the top rope, kick to the head, Sydal up top (whips the top turnbuckle off before doing so — no slipping this time!), meteora, pin, two.
Spears out to the floor, tries to take a breather on a chair, but gets dropkicked. Sydal grabs the chair and goes into the ring, referee takes it away. Tully loads up Spears' glove with that steel slug. Sydal moves him into the ring. Sydal headed up top for the shooting star press. He has to leap off early, Spears looks for C4, Sydal counters and eats a punch with that steel slug, C4, cover, 1-2-3.
Winner: Shawn Spears via Pinfall
Post-match, Spears looks to beat Sydal up some more. Sky runs out and chases Spears out of the ring. Sky goes to check on Sydal, Spears almost jumps him from behind, by Sky notices him and Spears bounces to the stage. Sky talks with Sydal and raises up his arm as the show comes to a close.