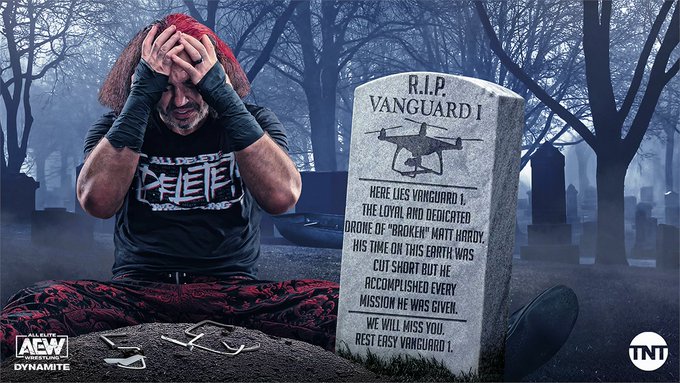 "BROKEN" Matt Hardy is still reacting to the demise of his beloved Vanguard 1 drone, and to comment on the vengeance he seeks when
he meets Sammy Guevara next week
.
Hardy released the following video promo:
"You would think after you poked the bear as many times as you've poked the bear you would have learned your lesson. Then you pushed him way too far because you Sammy were involved in the destruction of Vanguard-1 and that incident, regardless of what you felt about it, it made everyone feel something. You know what Damascus felt? He felt fury and rage and anger because regardless of what anyone thought about it, Damascus the Broken One, he loved Vanguard-1 like a man loves a dog that he's had his entire life. This Wednesday you have accepted Damascus' offer to step in the ring and go one-on-one Sammy? He's coming for blood, he's coming to break you into little pieces the same way you broke Vanguard-1 into pieces, Sammy."
In another clip, the "BROKEN" one explains what he is going to do when he and Guevara meet inside the squared circle in what will be Hardy's singles debut match for All Elite Wrestling:
— #BROKEN Matt Hardy (@MATTHARDYBRAND) May 16, 2020
Additionally, the official AEW Twitter feed shared a photo of "BROKEN"
Matt Hardy
at a mock grave site for the late drone, which captured its' final image as it floated its' final flight before being attacked by Chris Jericho with a baseball bat before being smashed to bits by the rest of his Inner Circle squad on AEW Dynamite this past week.
The epitaph written in memory of the late Vanguard 1 tombstone in the photo reads:
"R.I.P. VANGUARD 1
HERE LIES VANGUARD 1,
THE LOYAL AND DEDICATED
DRONE OF "BROKEN" MATT HARDY.
HIS TIME ON THIS EARTH WAS
CUT SHORT BUT HE
ACCOMPLISHED EVERY
MISSION HE WAS EVER GIVEN
WE WILL MISS YOU
REST EASY VANGUARD 1
— All Elite Wrestling on TNT (@AEWonTNT) May 16, 2020
Hardy chimed in on Twitter again to post a response to the aforementioned tweet shared by AEW on Saturday afternoon.
I'll always carry your memory with me, Vanguard.

— #BROKEN Matt Hardy (@MATTHARDYBRAND) May 16, 2020
PLEASE SHARE THIS ARTICLE:
---
---
LATEST NEWS
---