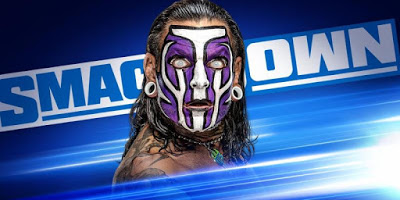 Tonight's WWE SmackDown opens up live from the WWE Performance Center in Orlando, Florida.

We immediately see Triple H, who has a mic and talks to the camera. Triple H introduces himself as "The Game, Triple H" and welcomes viewers to the WWE Performance Center. He goes on and talks about the state of the art facility, as we see clips from training and other sessions in the background. He talks about how many of the top WWE Superstars have gone through the Performance Center, and tonight they return, not to train, but to do what they do better than anyone else in the world – entertain.
Triple H says this will be different than anything we've seen before tonight. He says to sit back and relax, try to forget about the world around you if you can, and let WWE do what they do best – let them put a smile on our faces. Triple H welcomes us to Friday Night SmackDown on FOX as the music hits and the camera shows us the empty chairs, along with the SmackDown ring and the blue lasers going around the venue. Michael Cole welcomes us and hypes up tonight's show. Cole is joined by Triple H instead of Corey Graves tonight at the ringside announce table.
– Sasha Banks makes her way to the ring with Smackdown Women's Champion Bayley.
Bayley tells them to keep it quiet and turn the music down. They are starting the show because they are the face of Smackdown. Sasha says it doesn't matter if there are 10,000 fans or 0 fans. It is fitting that they return to the place that they built, the Performance Center because it is the place that they built. Bayley says hello to Cole and Hunter. Bayley and Sasha want to know where Paige is. Bayley says they are on time and Paige is late.
Cole says that Paige has travel issues and Bayley and Sasha are frustated and Hunter says he doesn't like Cole's excuses.
Alexa Bliss and Nikki Cross make their way to the stage.
Alexa says you have to love surprises. Last week, they called out the Kabuki Warriors and all they got were some random tweets. They know that Asuka and Kairi that they want the tag titles. If you are tired of talking trash about every woman in the company. Nikki says they are looking for a fight. Bayley says to bring out a referee.
Bayley and Sasha Banks vs. Alexa Bliss and Nikki Cross
Nikki and Bayley start things off and Nikki with kicks and Alexa tags in. Alexa with an STO and a double knee drop. Nikki tags in and hits a drop kick. Alexa tags in and Nikki with a splash and Alexa with a slap in the corner. Alexa goes up top and Sasha pulls Bayley out of the ring. Nikki with a cross body off the steps onto Sasha and Alexa with a baseball slide to Bayley as we go to commercial.
We are back and Bayley kicks Alexa in th ecorner. Sasha tags in and kicks Alexa. Alexa gets a near fall. Alexa with a slap and she hits a head scissors take down. Sasha sends Alexa into the turnbuckles and Sasha with a running double knee strike into the corner for a near fall. Sasha sends Alexa into the corner and tags in Bayley. They send Alexa into the turnbuckles and get a near fall. The referee keeps Nikki from interfering and Sasha kicks Alexa. Bayley gets a near fall. Bayley sends Alexa into the corner and Sasha tags in and she slaps Alexa. Alexa with a rollup for a near fall. Sasha with a drop kick for a near fall.
Sasha with a suplex and she gets a near fall. Sasha stretches Alexa. Alexa with an arm drag to escape but Sasha with a shoulder tackle. Bayley tags in and punches Alexa. Bayley with a reverse chin lock. Sasha tags in and kicks Alexa. Alexa with a kick and she knocks Bayley off the apron. Sasha with an Irish whip but Sasha misses a knee in the corner. Nikki tags in and hits a series of running forearms followed by a splash and bulldog. Nikki knocks Bayley off the apron. Nikki with an elbow but she is unable to hit a tornado DDT. Nikki with a series of rollups for near falls. Nikki with an inside cradle for a near fall. Nikki with a back slide for a near fall.
Nikki with an Irish whip and Nikki is sent to the apron. Nikki with a shoulder and she goes up top and hits a cross body for a near fall. Alexa stops Bayley after Bayley tries to interfere. Bayley distracts the referee and Asuka sends Alexa into the apron. Sasha with a lungblower and Banks Statement while Asuka dances on the ramp. Nikki taps out.
Winners: Sasha Banks and Bayley
After the match, Asuka taunts Bliss and Cross from the ramp. Triple H jokes about Asuka running in through the crowd. Banks' music hits as she heads to the corner to pose for the crowd that isn't there.
– Cole thanks Triple H for joining him and it looks like Triple H is headed back to the back to work.
– Still to come, a Roman Reigns interview. Back to commercial.
– We are back with a look at Roman Reigns making the challenge to Bill Goldberg at Wrestlemania.
In the (empty) Arena:
Michael Cole welcomes Roman Reigns for an in-ring interview.
Cole asks Roman how weird was this entrance. He talks about dealing with reactions and it was weird but it is good to be back at the Performance Center. Roman says it has been a crazy year. He has been blessed with the highs and the lows. As long as he has his health and can wake up and participate the next day. He says it feels good to be back and in the main event. Roman is asked about the critics who feel that Roman does not belong in the main event. Roman says he has been dealing with these critics all these years. If he can main event a small town in front of 5,000 people during the year, why can't he main event the biggest show. Why can't he capitalize on the hard work he has done night in and night out. No one has the level of commitment that he has. He came back to do what he loves. He is not bowing down to anyone.
Cole brings up that this match is spear versus spear. Cole is asked about Goldberg's comments about bulldozing Roman. Roman says he doesn't know if Goldberg is smart enough to work a bulldozer since he went to Georgia. Goldberg is a legend but he is a part timer. Roman says this is all he thinks about. He was bred and groomed for this. He has mastered the nuances of performance and it shows in the ring. He is going to whoop Goldberg's ass in the main event and get back his title.
Backstage:
Kayla Braxton is with Cesaro and he introduces the Intercontinental Champion Sami Zayn. Sami is also with Shinsuke Nakamura. Kayla says Sami is not the interview because he has been bumped. Sami says he has some celebrating to do.
Kayla brings out her real guest, Jeff Hardy. Jeff says it feels good to be back. He feels so healthy and hungry. He has been searching his soul and he says he has a lot left to do in WWE. Baron Corbin stops by and says that we are not happy to see him back. Smackdown is run by a benevolent king. Baron says Jeff can walk a straight line or say the alphabet backwards or touch his nose. Jeff says he has a match tonight, against YOU.
Elias shows up and he says he never forgets and he remembers what Baron said about him. Baron leaves before Elias can perform. We go to commercial.
– We are back with a look at photos of Drew Gulak's match against Daniel Bryan. Triple H talks about how much Drew did to counter what Bryan did.
Backstage:
Daniel Bryan sees Drew Gulak in the back and Daniel says he has been looking for him. Daniel says he did not believe what Drew said about finding holes in his game. Daniel says his neck still hurts after last week. He wants to know if Drew is willing to teach since he is willing to learn.
Sami Zayn, Shinsuke Nakamura, and Cesaro stop by and Sami says that Daniel refused to join their group and now Sami points out that he is the Intercontinental Champion. Now you are a shell of yourself after being chewed up and spit out by the Fiend and now you are asking for help from a nobody. Daniel says his issue isn't with Cesaro, but with that loudmouth. Daniel tells Cesaro that he knows where the ring is.
– We take a look back at the Elimination Chamber Match for the Tag Team Titles. Basically they are showing the whole match so it will be long.
– Elimination Chamber match still in progres…
– At 9:15 Miz and Morrison finally "retained" their title.
In the Arena:
Miz and John Morrison are in the ring. Miz says you thought that putting them in a match against five teams would hold them back. In their first match as a tag team they won the title. They continue to win the titles. Morrison says if there is anyone who does not think they are the greatest tag team, speak now. Miz says if anyone thinks that he is not the greatest technician in the ring, speak up now. Miz says there will be no booing or You Suck chants. Morrison says they don't need a fancy sing along and Miz says they don't need a chant.
– We go back to the ring and out comes Daniel Bryan with Drew Gulak. Triple H starts speaking as Greg Hamilton does the introductions but Cole cuts him off and jokes about not speaking over the ring announcer. Bryan comes down the ramp with Gulak and tries to lead a "yes!" chant to an empty arena. Cole confirms Bryan vs. Cesaro instead of the tag team match indicated earlier. Back to commercial.
-We are back and Triple H is working the camera as Cole talks about how this is full circle with the way that Hunter is tormenting him.
– We take a look back at Backstage and the rumors of Rob Gronkowski signing with WWE.
Michael Cole and Triple H are with Mojo Rawley and Cole asks Mojo if he is going to sign. Mojo says the rumors are true. While nothing is officially signed, Rob Gronkowski will be on Smackdown next week.
Daniel Bryan vs. Cesaro
They lock up and Cesaro with a side head lock and shoulder tackle. Bryan backs Cesaro into the corner and Bryan with punches and kicks. Cesaro blocks a kick and Cesaro with European uppercuts.
We go to commercial.
We are back and Cesaro with a European uppercut. We see footage from the commercial break when both men went European uppercut crazy and Bryan got a near fall. Back to the live action, Cesaro with a superplex and he gets a near fall. Cesaro with an elbow and Irish whip followed by a European uppercut. Bryan flips out of the corner and hits a flying clothesline. Bryan with kicks to the chest followed by a round kick to the temple for a near fall. Bryan with a kick to the chest but Cesaro with a pop up European uppercut for a near fall. Cesaro wtih a cross face and rollup for a near fall.
Bryan with a small package for the three count.
Winner: Daniel Bryan
After the match, Cesaro is shocked as Bryan's music hits. Nakamura immediately hits the ring and starts pounding on Bryan. Gulak makes the save but the numbers game catches up as Sami also joins in. Gulak gets launched into the steel ring steps. Bryan does a suicide dive to Nakamura but barely connects, sending him into the ring post. This is a bad watch as we hear the referee echoing as she yells at them. It's really been like this all night, a strange look. Cole mentions how he's not sure if we have enough referees here tonight to break things up. Things finally settle down at ringside as Bryan's music starts back up.
– Hunter does some touch ups on Cole's make up. We go to commercial.
– We are back and Roman Reigns and Bill Goldberg will have their contract signing.
Jeff Hardy vs. Baron Corbin
Corbin sends Hardy to the floor and into the ringside barrier. Corbin sends Hardy into the apron and the match officially starts. Corbin sends Hardy into the turnbuckles and Corbin with a hard Irish whip. Hardy with a jaw breaker. Hardy with punches and a running forearm. Hardy with a reverse atomic drop and leg drop to the midsection followed by a drop kick and splash for a near fall. Hardy with a kick but Corbin escapes a Twist of Fate. Corbin with a forearm into the corner. Hardy with boots to Corbin but Corbin with Deep Six for a near fall.
Corbin argues with Elias at the announce table and because of the crowd noise, we can hear what they are saying. Corbin gets distracted by Elias' music and Hardy with a kick and Twist of Fate. Hardy with a swanton for the three count.
Winner: Jeff Hardy
– Still to come, John Cena. Back to commercial.
– We are back and Triple H says they are missing the most important part of the experience, the WWE Universe. You might not be in the building, but you are in our hearts. The superstars are giving their all for you.
In the Arena:
Michael Cole is in the ring and John Cena makes his way to the ring.
Cena says this is the first time he has dealt with something like this. Cole asks Cena about facing Bray Wyatt again. Cena says it is nothing new to him who have blamed him for their failure. John says it is a long list of names of people with 'potential'. It can be good or it can make you lazy and believe your own hype. Why did Bray fall into a spiral six years ago? He got lazy and he blamed John Cena. Why has no one said that about him? People say you don't lose, but he has lost to the Miz at Wrestlemania, he lost to RVD at One Night Stand, he lost to CM Punk in Chicago. He got destroyed by Brock Lesnar. He lost to the Undertaker.
Cena says he does not blame others for his losses. John says when the work gets to heavy for some people and they get lazy.
Cole asks Cena about his return two weeks ago and we see the footage.
Cole asks why did Cena antagonize Bray Wyatt. Cena says that Bray is not the future. Names like Mcintyre, Dream, Ripley, CIampa and Riddle are the future. John says he wants to invest in people who earn it every day. He took Bray Wyatt's challenge to take him out of the equation. This will not steal the show. It will be physical, gruesome, and uncomfortable to watch. It will be the end of the most overhyped superstar in WWE history.
Bray Wyatt is laughing behind the barricade and says that John had his attention. He says he is glad that John is here even though he said some hateful things about him. Bray says you are doing great. You are a big Hollywood star, have big muscles, and have a beautiful girlfriend. Bray says you have him all wrong. He is not sick. You are. Bray says he knows why John came here and he knows why you can't say no. Do you think we think you care about the future? It doesn't matter who he has to smash or bury as long as John gets his spotlight. You crave it like an addict.
Six years ago at Wrestlemania, you took something from him. Bray says he thought about it a lot. He thought about it so much that he wanted to push his hands into his skull and smash his brain so the voices could stop. Something magical happened. He stopped fighting the voices and he listened to them. They took his crooked world and turned them into a fun house. You broke me but the Fiend put me back together. At Wrestlemania, it is going to be a slaughter. You just don't know it yet.
Let me in, John.
Wyatt laughs as SmackDown goes off the air.
PLEASE SHARE THIS ARTICLE:

---
(adsbygoogle = window.adsbygoogle || []).push({});
---
LATEST NEWS var numposts = 7;var showpostthumbnails = true;var displaymore = false;var displayseparator = true;var showcommentnum = false;var showpostdate = false;var showpostsummary = true;var numchars = 100;
---