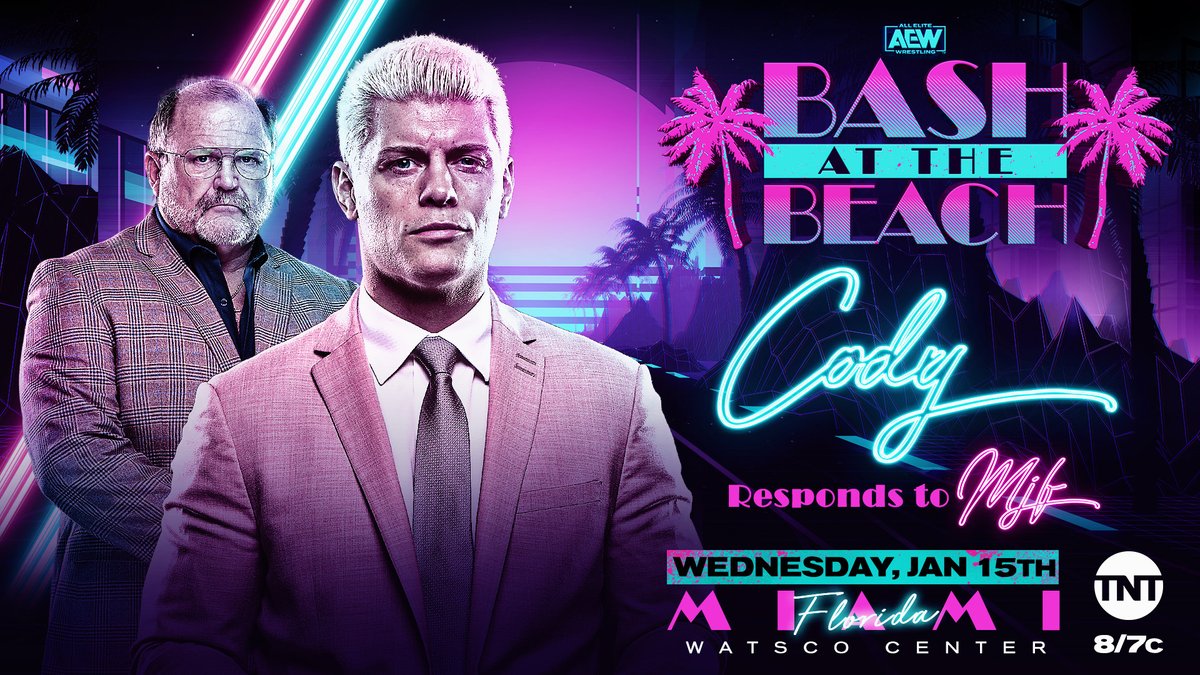 We are live from the Watsco Center in Miami, Florida, and the competitors for the first match are already in the ring to start the show.

Number One Contenders Match: Santana & Ortiz vs. Kenny Omega & Adam Page vs. The Young Bucks vs. Best Friends
Trent and Nick get things going as Nick tries a few shoulder tackles, no luck, Trent does one of his own and drops Nick. Nick with a chop, springboard arm drag, couple counters lead to a stalemate. Page and Taylor get in there as the crowd chants "cowboy s—." More counters until Page hits a fallaway on Taylor. Matt and Kenny Omega now both tag in and pause for a moment, slap hands, and lock up. Santana & Ortiz then jump in and attack both wrestlers. Santana tags in and chops away on Omega.
Back and forth action, Matt and Trent tag in. Nick sneaks in with the blind tag for a double hip toss, double handspring / dropkick. Matt gets back in there and whips Trent into the corner, northern lights suplex four times, goes for a fifth, but Trent is able to hit a tornado DDT and tag in his partner. Taylor with a release belly-to-belly suplex. Standing slice bread on Nick, sitdown powerbomb on Matt, but Ortiz gets in there to break up the pinfall. Best Friend look for a hug, Santana and Ortiz stop that, too. Ortiz and Santana try to work over Matt, Santana with a cutter, Ortiz with a kick, double reverse suplex. Ortiz with a cannonball on some guys, Santana clears out the rest on the other side.
Back in the ring, Matt with a stunner off the second rope on Trent. Matt needs to tag out and can go with either Page or Omega. He ends up tagging in Omega. Page looks a little annoyed. Omega with snap dragon suplexes on Ortiz and then Santana. Trent eats one, too. Omega plants Trent, Page with a standing moonsault. Omega then hits one himself. Adam Page then nails a moonsault out to the floor on a crowd. Omega looks to fly to the outside, but gets stopped. More guys go flipping into the night and almost everyone is down at this point. Matt heads to the top rope, gets chopped by Trent. Trent then hits a superplex down on everyone in the match. "Holy s—!" chant.
In the ring, Trent hits a Flying Knee to Omega and goes for a Strong Zero but Omega blocks it and attempts a Suplex. Taylor comes in and cuts Omega off but Page stops a Double Suplex attempt. The Bucks and PNP come in now and a gigantic Suplex Chain is attempted by everyone as the referee gets knocked down. Orange Cassidy comes in and helps the pile as the biggest suplex in wrestling history is hit!
Best Friends hit Double Spike Piledrivers on Omega and Page and then hit the Strong Zero on Omega but The Bucks break up the pin attempt following it. Taylor and Matt Jackson square up and exchange strikes. Page runs in and kills Taylor with a Lariat but Taylor nails him with his own Lariat.
PNP double team Trent and Santana dives off his partners back with a Cannonball on Taylor! Nick with a Superkick to Ortiz and then a rana attempt but Ortiz blocks it with a Liger Bomb! Matt kills PNP with Superkicks but Page avoids a Superkick attempt. Taylor hits him with a big knee and then he eats a Superkick Party from The Bucks!
The Bucks go for a Meltzer Driver but Trent tosses Nick to the floor. Page tags himself and sends Nick Jackson crashing to the floor. Omega hits a V-Trigger on Taylor and then he and Page hit a V-Trigger/Buckshot Lariat combo for the pin!
Winners: Kenny Omega & Adam Page
– DDP was shown stretching and doing DDP Yoga during the break.
– Cody Rhodes comes down to the ring and addresses the stipulations that MJF has demanded, which also appear on the scream. Cody says he's thinks MJF is afraid that fans will think MJF should be carrying Wardlow's bags – not the other way around – when they finally see him in a match, so he wants to make him face Cody in a Cage Match right off the bat.
Cody says he has no issues with that or the lashes. "I don't need to touch you until Revolution, Max, because I live rent free inside your head every day," Cody says about the final stipulation. Cody says that MJF is stalling.
Cody makes fun of MJF's rich childhood and says he clings to all of the "old timers" that boost him up by saying he is an "old school heel." Cody says that less is more for MJF because he doesn't have more.
Cody accepts all of the stipulations and says that he failed as a mentor to MJF but he can give him one final lesson when he gives MJF his "own god damn scar."
– We're back from commercial break and we hear from Jim Ross, who introduces a Joey Janela pre-taped backstage promo. He talks about the Homecoming at Jacksonville. He talks about getting punched in the balls by his ex-girlfriend Penelope Ford. He talks about their issues and how she's trying to get herself over on his name with her new side-piece Kip Sabian. He delivers a warning to Kip before mentioning that 2019 didn't go his way. He says next week he's got a match against Rey Fenix and he has something to prove as one of the backbones of All Elite Wrestling. He delivers a message to Rey Fenix and says everyone will see why Joey Janela is a bad, bad boy.
Brandi Rhodes & Melanie Cruise (with Luther) vs. Kris Statlander & Hikaru Shida
We shoot back live inside the Watsco Center where we hear music as The Nightmare Collective's Brandi Rhodes, Melanie Cruise and Luther make their way to the ring. Brandi is replacing Awesome Kong after the latter was unable to get medical clearance for tonight's show.
After the trio makes their way inside the squared circle, Kris Statlander's music hits and out she comes. She B-Lines straight to the center of the ring and gets in Brandi's face. Hikaru Shida's theme then hits and out she comes for this women's tag-team bout. As Shida makes her way down the aisle, Luther cuts her off.
We then see that Brandi and Melanie are double-teaming Statlander in the ring. Shida takes her kendo stick and beats Luther with it enough to get some room to make it to the ring to help her partner. Order is restored as Shida and Cruise kick things off for their respective teams. The two fight back-and-forth until Shida knocks Cruise to the floor where Statlander hits a cool spot on her from the ring apron. Shida unfolds a steel chair and sets it up at ringside. Statlander holds it for her while Shida runs and leaps off it, blasting Cruise on her way down. Back in the ring, the two continue a quick double-team spot on Cruise before Statlander returns to the ring apron as Shida continues to deliver punishment inside the ring. The crowd is dead and even buried…
We're back from the break and we see that Melanie Cruise is in firm control of the offense, taking it to Shida in the ring while the fans try and chant some comeback-life into her. She starts firing up on offense. Brandi Rhodes tags in, as does Kris Statlander. Rhodes tries to tag right back out, but Melanie is still down. Brandi tries to make peace with Statlander, but Kris is having none of it. She slams Brandi down but Cruise breaks up the pin attempt.
Out of nowhere, Shida comes flying off the ropes with a missile dropkick. This leads to Brandi taking over the offense in the ring. She blasts Kris with a spear but only gets two on the pin attempt. After a sequence of big spots and near-falls / false-finishes with all four ladies flying all over the place, we get to the finish. Statlander with a crazy folded-over piledriver on the large Melanie Cruise earns the pin fall victory for the team of Statlander and Shida.
Winners: Kris Statlander & Hikaru Shida
– We get the latest vignette to learn more about The Dark Order and some potential upcoming recruits. We hear a voice off camera talking as the leader as the speaker talks about Hangman Page, Brandon Cutler, Michael Nakazawa and others possibly joining forces with them.
Sammy Guevara vs. Jon Moxley
"The Spanish God" of The Inner Circle — Sammy Guevara — makes his way to the ring for our next match of the evening, which is one of two elimination singles matches where the winners face off on next week's AEW Dynamite "Rock 'N' Wrestling Cruise" special to determine the next title challenger to "Le Champion" Chris Jericho.
As Guevara makes his entrance we go to a split-screen commercial break, where he flips through cue-cards in the ring to tell a funny story / jokes to the camera without speaking. We're almost at the top of the final hour, which of course means one thing… Jon Moxley!
Back from the break Moxley he makes his way to the ring through the crowd for this match in the mini-tournament designed to crown the new number one contender to "Le Champion" of All Elite Wrestling.
The bell sounds and Guevara immediately lunges at Moxley with a flying knee. Now he's taking it to Moxley in the corner with the boots and some chops for good measure. Moxley finally turns him around and lights him up with some chops of his own.
Moxley in firm control now as the pace of the match slows down with Moxley playing to the crowd a bit, taking his time and having his way with the Inner Circle member.
Out to the ring apron, Moxley looks for a spot of some kind, but instead eats the double knees from Guevara that fly into his grill. "The Spanish God" delivers some additional punishment to Moxley, smashing him into the barricade before getting back in the ring and laying on the mat to pose in cocky fashion. We head to a mid-match commercial as the action continues inside the ring.
When we return from the commercial break, we see Guevara still in control, however Moxley is making his comeback and is quickly having his way with an exhausted Guevara.
Moxley delivers some punishment and then climbs to the top rope looking for a big spot of some kind. Instead, Guevara breaks free and sprints at him, leaping up and blasting Moxley in one swift motion for a big pop from the crowd.
Guevara lands another cool flip-move that earns him a near fall before going to the top for a crazy dive. He misses though, and a waiting Moxley slaps a quick submission on "The Spanish God," who quickly taps out or gives up, as the ref almost immediately calls for the bell.
Winner: Jon Moxley
Moxley celebrates and poses on the ropes as the announcers remind us that he will now advance to square off against the winner of tonight's PAC vs. Darby Allin match on next week's show.
Before he can celebrate too much, however, the familiar sound of "Le Champion's" theme music plays and the lights go out inside the arena. When they come back on, the entire group of The Inner Circle is standing in the ring staring down Moxley.
An ass-whipping gets underway as the Inner Circle swarm and attack an already drained Moxley in a five-on-one beat down that goes on and on and on, as each member of the group takes turns delivering un-defended punishment to the man who could end up becoming the next man to challenge for Chris Jericho's AEW World Championship.
The announcers point out how the reason no one is coming to Moxley's aid is because he is an island to himself with no friends or alliances, as he doesn't trust anybody. The Inner Circle restrains Moxley now, holding his arms as Jericho takes a spike off of his leather jacket, which was the size of a spike on the old Legion of Doom shoulder pads. Jericho charges at Moxley and blasts him with it.
A number of AEW officials try to restore order, but The Inner Circle stops them from getting in the ring. Finally they do, and The Inner Circle seem ready to finally leave. The fans briefly chant "Cody! Cody!" as The Inner Circle walks around acting cocky. We shoot to a close-up of Moxley being checked on by ringside medics. We hear him say he got stabbed in his eye. The doctors continue to work on Moxley and his eye as The Inner Circle finally slowly starts exiting the ring as we head to a split-screen commercial break.
– As we return we see a replay of officials assisting a potentially partially blinded Jon Moxley to the backstage area. We shoot to the announce position now where the trio introduces a set of highlights of what just transpired between Jon Moxley and The Inner Circle after his win over Guevara. After the video highlights are shown, the announcers speculate about Moxley possibly not being able to compete against the winner of PAC vs. Darby Allin next week.
– Jim Ross says he hears in his headsets that something is going on backstage. From there, we shoot backstage where a female AEW broadcast team member is catching up with The Inner Circle.
Chris Jericho does the talking for his group and says what happened to Moxley tonight is his own fault. He says next week on the Cruise special edition of AEW Dynamite, they're going to do the same to Jurassic Express. He says whoever wins between PAC vs. Darby Allin tonight will be moving straight to challenge him, as he speculates as well that Moxley won't be able to compete next week after the attack he just endured. As they leave, Guevara tells the hot female interviewer to "hit him up."
MJF, The Butcher & The Blade (w/ The Bunny & Wardlow) vs. Diamond Dallas Page, Dustin Rhodes & QT Marshall
We finally get back to scheduled action now, as The Butcher and The Blade make their way to the ring accompanied by The Bunny. They settle inside the squared circle. MJF and Wardlow come out next.
Their opponents begin their entrances to the ring now. Next out is QT Marshall by himself, who waits at the end of the aisle for his tag-team partner, Dustin Rhodes, who makes his way out now. Finally, they are joined by the returning WWE Hall Of Famer Diamond Dallas Page (DDP). Our six-man tag-bout is up next, as MJF joins The Butcher & The Blade to take on the trio of DDP, "The Natural" and QT Marshall.
As the bell sounds, J.R. admits being surprised that DDP is actually starting things off for his team, while MJF kicks things off inside the ring for his team. DDP gets in some action and quickly tags in Marshall. MJF and Marshall go at it a bit, with MJF getting the better of the exchange before tagging out to The Blade.
The Blade picks up where MJF left off until QT tags in Dustin Rhodes. "The Natural" takes the hot-tag, comes in and takes out any-and-everything that moves until MJF gets in a cheap shot, which we find out he used the Diamond Ring to blast him with. Dustin is thrown out of the ring now and while The Blade distracts the ref, The Bunny slaps Dustin and Wardlow takes him out with a big boot.
Dustin is thrown back into the ring where The Blade goes to work on him and tags in The Butcher, as we head to a split-screen, mid-match commercial break.
We're back from the break and we see Dustin trying to make a comeback in the ring. He's still showing signs of life, which are picking up now as he starts teasing making the tag. He keeps getting cut off, but finding a way to take out the person cutting him off, keeping his chances of tagging in a fresh man alive.
Finally, DDP takes the hot-tag and the Watsco Center roof almost comes off the joint as the founder of DDP Yoga puts his product on display in the form of a fired up comeback for his team, taking out any Blades, Butchers and anyone else in the process. He hits a Diamond Cutter and goes to do the same on MJF, but Friedman hits a low-blow to avoid it.
Dustin tags in and blasts MJF with a crazy move, sending him right into DDP for a Diamond Cutter that connects this time. Now QT tags in as the legal man in the match while Dustin hits a cannonball onto the heels on the floor. The QT Special now from a running Marshall in the ring to the floor.
Yes, now it's his turn.
The elder statesman of the group heads to the top rope and comes flying off with a big splash onto all the guys on the floor. The fans erupt for that spot as DDP pops up just fine, throwing the Diamond Cutter symbol up to the approving Miami fans. Literally seconds later, MJF sneaks in a pin when the action spills back into the ring. The fans boo.
Winners: MJF, The Butcher & The Blade
– Backstage, SoCal Uncensored (SCU) cut a promo about their AEW Tag-Team Title defense at next week's AEW Dynamite "Rock 'N' Wrestling Rager At Sea" cruise special against the team of Hangman Page and Kenny Omega. As they continue to talk, up walks Hangman Page and Omega. Page is a loose canon, simply trying to get a fight started on the spot with the trio while Omega apologizes to SCU for his friend and asks them to have a respectful showdown next week.
– We shoot to the announcers who promote some in-house notes before taking us to a commercial break. The other No. 1 Contender Match eliminator between Darby Allin and PAC is up next.
"The Bastard" PAC vs. Darby Allin
We return from the break as Justin Roberts is in the ring to introduce us to our main event of the evening here at this week's special Bash At The Beach edition of AEW Dynamite.
With that said, "The Bastard" PAC makes his way to the ring as J.R. reminds us that the winner of this match moves on — hopefully — to challenge Jon Moxley after his victory over Sammy Guevara earlier tonight.
From there, Darby Allin skateboards his way to the ring to a huge pop from the fans in Miami. PAC and Allin stare each other down from opposing sides of the squared circle as the referee calls for the bell. Here we go — it's main event time here on this week's AEW Dynamite!
Both guys exchange brief moments of offense early on until PAC establishes the early offensive advantage. The announcers put over the fact that Darby Allin almost enjoys pain, pointing out that he claims to be "indifferent" to it.
The pain-loving, skateboard-riding up-and-comer is now enjoying his first offensive lead in the contest, as he starts using some high-risk offense to gain the upper-hand over "The Bastard."
After enjoying some time in the lead in this one, PAC smashes Allin into the steel ring steps as we head to a split-screen, mid-match commercial break with J.R. questioning whether or not Allin will be able to continue after that.
We return to see some action from the commercial break, including PAC power-bombing Allin onto the ring steps. Back live, PAC is in control with ease now, as Allin can barely get to his feet at this point.
Back in the ring, PAC hits a big missile dropkick off the top rope as the camera shoots to a close-up of a fan doing the concerned, "Britt Baker look" from her infamous NXT TakeOver: WarGames cameo. We see now that Allin has a big cut on the side of his arm from some of the punishment he has already taken in this contest.
PAC hoists Allin up for a Samoan Drop off the top, but Allin turns it into a Crucifix spot that looked awesome. We see several replays before Allin one-ups himself by hitting his fan-favorite Coffin Drop. We see more replays.
A big Code Red spot from Darby Allin gets a very close two count. The camera closes in on both guys trying to get to their feet as the fans cheer them on, and we see that Allin is black-and-blue and red all over from the offense delivered by PAC throughout this grueling AEW Dynamite main event.
PAC is now comfortably in the lead again. He hits a big clothesline and another big move before trying to cover him to finish things off. Allin still somehow finds a way to kick out before the count of three. Darby crawling around now, covered in welts and bruises, trying to use PAC's body to pull himself back to his feet.
He does.
Now Allin is firing up, blasting "The Bastard" with punches before attempting a wild roll-up style pin attempt. PAC reverses and Allin reverses again with a cross-leg pin attempt. Allin hits a leaping Coffin Drop off the middle ropes to PAC in the ring. Allin dives into a power-bomb spot from a waiting PAC that almost ends the night for Allin, however he still manages to kick out at two.
The two head up to the top rope. PAC knocks Allin off and hits his Black Arrow finisher for the 1-2-3. "The Bastard" PAC will now move on to either face Jon Moxley to determine the next title contender for AEW World Champion Chris Jericho, or he will move on to face Jericho directly if Moxley is unable to compete at next week's AEW Dynamite "Rock 'N' Wrestling Rager At Sea Part Deux" cruise.
Winner and moving on to face Jon Moxley next week in No. 1 Contender Match: "The Bastard" PAC
Tony Schiavone enters the ring to interview PAC about his victory. He mentions how he will face Jon Moxley next week, which prompts PAC to talk about how Moxley is unable to compete so he is moving on to fight Jericho directly for the title.
Schiavone cuts PAC off and says something is going on in the back. We see Moxley being loaded into an ambulance outside the Watsco Center with his eye wrapped up. When the ambulance door shuts, however, it eventually pops back open and Moxley, eye-still-covered-and-all, charges through the backstage area to inside the arena.
He cuts a promo and tells PAC it ain't going down like that. He says he's gonna have to beat him, one eye or not, next week if he wants any shot at taking his title match against Chris Jericho. His music plays again as Moxley vs. PAC is confirmed for a number one contender match for next week's AEW Dynamite "Chris Jericho's Rock 'N' Wrestling Rager At Sea Part Deux" cruise special.
PLEASE SHARE THIS ARTICLE:

---
(adsbygoogle = window.adsbygoogle || []).push({});
---
LATEST NEWS var numposts = 7;var showpostthumbnails = true;var displaymore = false;var displayseparator = true;var showcommentnum = false;var showpostdate = false;var showpostsummary = true;var numchars = 100;
---