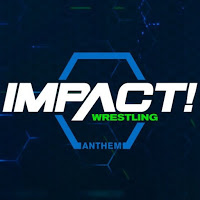 We see the usual opening video looking back at last week's episode, then we go to the ring for our opening match…

Rich Swann vs Willie Mack
Swann tries to use his speed to outmaneuver Mack, but Mack keeps up with him and then uses his power to take Swann to the mat and control him. Swann tries to evade, but Mack hangs him in the Tree of Woe and drills him with a Van Terminator, then when Swann tries to break the momentum by rolling to the floor, Swann takes him out with a slingshot crossbody. Back into the ring, Mack hits a pop-up flatliner for 2. Mack slaps Swann so hard he hurt his own hand, but nonetheless goes for a fireman's carry, and Swann is finally able to slip out and take Mack's knee out, drill him with a series of kicks, and come off the second rope with a 450 splash for 2. Swann with a charging lariat in the corner, but Mack dodges a second and hits a pair of running forearms, followed by a HEAVY rolling senton in the corner. Mack pops Swann up, hits a Samoan drop, nips up, and hits a standing moonsault for 2. Mack hits a Stunner and makes a cover, but Swann gets his foot on the ropes at 2. Mack goes back to the top and misses a frogsplash, Swann drills him with a pair of knockout kicks, and the Lethal Injection…ONLY GETS 1!! Swann with another superkick to lay Mack out, and a second rope Phoenix Splash finishes it.
Winner: Rich Swann
That was a HELL of an opener! Great match, both guys are such an asset to this company.
To the oVe Cam, where Sami Callihan reminds us that they were the first to take down Brian Cage. They're going to do it again and take his X Division Title.
Josh and Don talk about stuff, then Gama Singh introduces the next match…
The New Desi Hit Squad vs Hekyll & Jekyll
I didn't catch the other guys' names. Rohit Raju's new partner is Raj Singh, apparently the son of Gama. Raju gets the early adventage on Hekyll, then Raj tags in and tosses him to his own corner so he can tag Jekyll in. Jekyll gets beat up, and they hit him with a leaping kneestrike/Samoan drop combo for the win.
Winners: The New Desi Arnaz Hit Squad
Okay then.
We see the OGz hanging out on the street, with Hernandez doing pull-ups on a walk/don't walk sign. King says they took out Konnan's boys when they took out his new Rey, Fenix last week. He asks when happened to Juvi Juice and Psicosis, and Konnan's done leeching off of them since he leeches off the two young boys now. Homicide says he's got Pentagon tonight and he's going to take him out.
Now we're off to the bar LAX has been hanging out at for the last week, and apparently Ortiz is the bartender there now. Konnan says he's not about this psychobabble about third eyes, they're about busting teeth out, straight up, like scrubs. Santana asks about the OGz taking out Fenix, and Konnan says King is trying to get to him by going after his boys, but he knows Fenix and Pentagon can handle it.
Video package of Eddie Edwards and Moose talking about their match coming up next week at Final Hour.
We go to footage from Rockstar Pro Wrestling in Ohio, where Sami Callihan comes out to face Brian Cage…except it's not the real Brian Cage, it's some other dude with a fake X Division Title belt and fake Brian Cage beard. Sami makes some jokes about him looking 50 pounds lighter since Bound For Glory, then has his imposter do some faux Brian Cage flexing before hitting him in the ding ding with the mic. Sami lays the ref out, then the Crists come in for a 3-on-1 beatdown on Not Brian Cage. Jake steals the referee's shirt as Sami puts his foot on Fake Cage's chest and makes a three count. Sami takes the fake X Division Title belt and declares himself the new X Division Champion.
We see Eli Drake walking into a law office that turns out to be a janitor closet occupied by Joseph Park having dinner. Drake doubts that Park is a real lawyer, but nonetheless tells him he's suing Impact Wrestling and needs representation. Park suggests making it a class action lawsuit including everyone, even the Knockouts, and they can end up owning Impact Wrestling! Park thinks this is his ticket, and Drake says let's punch that ticket, dummy.
Gama is backstage with the New Desi Arnaz Hit Squad when Scarlett Bordeaux and her smoke suddenly appear in the background to tantalize them. Gama backs them off to keep them from thinking about girls, then he starts singing something Indian to her as she pretends to be swept off her feet. Raju says he's been happily married for like 45 years, and Scarlett mentions that India is where they invented the kama sutra, then tells him to send her a video for her talent search.
Knockouts Title Match: Tessa Blanchard vs Taya Valkyrie
Tessa piefaces Taya, Taya shoves her back, then they doe lucha back and forth stuff until Taya hits a series of double running kneestrikes. Taya's got her pink and black "Notalya" outfit on tonight. Tessa rolls to the floor, blocks an apron punt, and yanks Taya to the floor by the hair. Tessa heads into the ring and hits a dive that drives Taya right into the barricade, then we go back in where Tessa covers for 2 as we go to commercial.
We're back, and Tessa is still in control. Taya makes a comeback and hits a spear for 2. Tessa ducks a clothesline and hits an Ace Crusher, but Taya takes Tessa down and gets a sufrboard into a curb stomp. Taya hits a moonsault for 2. Tessa goes to the floor, and Taya hits a dive from the top rope to wipe Tessa out. Back into the ring where Tessa straight up punches the referee in the face to get herself disqualified.
Winner by DQ: Taya Valkyrie
Well, Taya seems pretty unhappy with that little turn of events! And that is why Tessa is undoubtedly her father's daughter.
Video package looks at next week's Johnny Impact-Killer Kross match at Final Hour, then a video promo hyping Jordynn Grace joining the Knockouts Division, then the GWN flashback takes us back to Gail Kim beating Candice LeRae in 2013, then Fenix and Pentagon Jr cut a promo on the OGz, then we're at commercial.
Brian Cage cuts a promo saying Sami Callihan has been ducking him, but if he wants a fight at the Rockstar Pro Arena, he'll be there next week, and he'll get the real thing instead of a cheap imposter.
Josh and Don talk about stuff, then we head to the ring for our next match…
World Tag Team Title Match: LAX vs Matt Sydal & Ethan Page
LAX takes the early advantage with a series of double teams on Sydal, then they mock Sydal's third eye as Page tags in. Santana catches Page with a boot to the face, then some HARD chops, but the challengers turn the tide and Sydal gets into a confrontation with Konnan at ringside, with Page coming over to confront Konnan as well until Santana takes both of them out with a dive as we go to commercial.
After a commercial for Aro Lucha, we're back as Sydal and Page somehow seem to have taken control during the commercial. He eventually makes a hot tag and Ortiz cleans house, then Santana comes in for a series of double teams on Page. Sydal and Page with a pair of knockout kicks on Ortiz, but Santana breaks the cover at 2. Modified Carnageplex finishes Sydal.
Winners: LAX
Good hard fought match.
We go to a video package of Allie getting yelled at by her demon self in a mirror, then Kiera comes in to ask her if she's okay. Allie swears she is, but Kiera says to be honest with her, and keeps pushing and pushing, and Allie finally admits there's something wrong with her, ever since she left her soul in the underground realm. Oh man, here we go. She's had something in her trying to consume her, and ever since she saw what happened to Rosemary, this malevolant presence has been trying to take over and she doesn't know what to do. Kiera says she promised to have her back until the end, and everything begins and ends with Su Yung, and they have to end her.
And with that, it's MAIN EVENT TIME!
Homicide vs Pentagon Jr
We're back as Pentagon armdrags Homicide around and boots him in the head. Homicide briefly takes the advantage, but Pentagon hits a lungblower, Homicide goes to the floor, and Pentagon goes after him with a series of punts and dumps him back into the ring. He takes too long doing zero fear at the fans, and Homicide takes him out with the Crazy Homicide Dive ™. Homicide quickly loses control back in the ring, with Pentagon hanging him in the Tree of Woe and drilling him with a top rope double stomp for 2. Homicide escapes the package piledriver and they trade chops, Homicide goes for the Cop Killa, but Pentagon slips out and rolls him up for the win.
Winner: Pentagon Jr
Fenix and Hernandez wind up in the ring and the Lucha Brothers get the early advantage, but King comes in with a sock full of bricks (or whatever) and lays Pentagon out, then Homicide hits an Ace Crusher on Fenix and King whips him with his belt. The OGz leave the ring and leave Fenix and Pentagon laying as we call it a week.
---
FOLLOW US ON YOUR FAVORITE SOCIAL MEDIA. WE ARE ON FACEBOOK, TWITTER AND G+!
---
LATEST NEWS var numposts = 5;var showpostthumbnails = true;var displaymore = false;var displayseparator = true;var showcommentnum = false;var showpostdate = false;var showpostsummary = true;var numchars = 100;