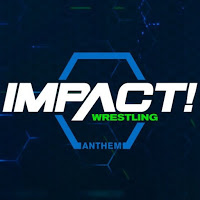 We take a video look back at Bound For Glory, then the new World Champion, Johnny Impact, comes otu to open the show.

He says wrestling is a crazy business, but that's what he loves about wrestling since he was a kid. He begged his dad to take him to wrestling shows like the fans are doing now, and he's always been the kind of guy to go for it when he wants something. He did a lot of things that people thought were dumb, but he's proud of them because he did them. Everyone who dreams of becoming a wrestler wants to become a World Champion, and he's gotten close and been told he has the look to be a champion, and he has the potential, but that itwas never his night. He heard that so much he almost believed it, but now, he's got the title, and everything he's worked for has culminated in this, and the business is what we (him and the fans) make it. He's the guy here, and he won't hide behind two goons and play backstage politics and tweet things because he knows he doesn't have what it takes. He'll give anyone who deserves a title shot what they want. Fenix crashes the party and congratulates Johnny, but he's won championships around the world, except in Impact Wrestling. It's an incredible opportunity to fight for his belt, and he asks Johnny for a title shot next week. Impact says it's a good time to come out, because after he said all that stuff, he's not going to say no. They're friends, but they'll both do what they have to in order to walk out with the title next week. No matter what happens, though, they'll shake hands after the match because, unlike the ex-champion, they're professionals. They'll tear this place down next week because that's what they do.
Josh and Don talk about stuff, then we go backstage to McKenzie with Tommy Dreamer, who says to expect the unexpected. Moose can go down as one of the greatest NFL to wrestling athletes in history, but he wants to take shortcuts. They lost at bound For Glory, but he saw Moose and Killer Kross leave Eddie Edwards laying, so tonight, he'll go old school and wrap a chair around Moose's dom3e. Concussion may not be okay anymore, but he's never been politically correct, and he's damn proud of it.
McKenzie catches up with Killer Kross and Moose, who shows off his custom made monk suit, then tells Tommy that the "you still got it" chants must be going to his head. Tommy is the hardcore legend, but Moose is the life legend. Kross says Dreamer thinks he's in control, but asks if he really feels in control. Moose doesn't accept his challenge, the both of them do. Tommy Dreamer obviously has brain damage, and it'll get worse tonight.
Katarina vs Taya Valkyrie
Katarina gets an early advantage, overpowering Taya with hard-hitting offense and a hair Beell or two. Katarina with a side backbreaker for 2, followed by a tornado DDT for 2. This has been all Katarina, but Taya finally manages to escape a fireman's carry and hit the road to Valhalla out of nowhere for the win.
Winner: Taya Valkyrie
One-sided match. McKenzie gets in the ring after the match to ask about bound for glory, and Taya says it's just speculation what would happen if the referee didn't get knocked out. Tessa is one of the best wrestlers in the world and still had to resort to cheap tactics to beat her. She used to respect Tessa, but now she doesn't.
Ethan Page is meditating with Matt sydal, who laments their defeat at Bound for Glory. They've accepted that life is suffering, and Page says he's suffered worse before he met Matt, and this loss didn't feel as painful as it would have before, because Matt taught him the way. Sydal says that Ethan will take on Trevor Lee and show him how to open his third eye…and how to suffer as well.
Rohit Raju asks the Great Gama what's next for him, and Gama says not to worry about it because there's one test left before him: to fight Gama himself, and that'll happen next week.
Trevor Lee vs Ethan Page
Feeling out process to start, then Trevor Lee takes Page to the corner and stomps him out Stone Cold style. Lee continues the assault until Page catches him with a shot, and now he puts the boots to Lee. The referee gets bumped, and Lee uses the opportunity to dump Page to the floor and hit an apron punt. Page catches Lee coming back in and hits a butterfly backbreaker for 2. Lee blocks a powerbomb and a Superman forearm sends Page to the floor where Lee…almost goes for a dive when Page rolls back in, so Lee hits a crossbody instead for 2. Page with a uranage for the win.
Winner: Ethan Page
Match was okay but kind of disjointed. Lee is pretty disappointed.
McKenzie is backstage with Willie Mack and Rich Swann, who says he's on a rollercoaster ride. He and Willie won this past Sunday, and Willie says he was happy to help Swann take out some enlightened jokers. Tonight, Swann has an opportunity, and he knows Swann is gonna do good, but he'll be watching from the back and he's got his back. Swann says the title is close to his, and he may be up against a machine, but he has charisma, athleticism, and raw talent, and he won't be held down.
We look back at Allie's trip to the underworld, then Kiera Hogan finds a now-brunette Allie backstage and wants to check on her since they haven't talked since the PPV. Allie says she's fine, and seems really bubbly and happy despite clearly being crazy.
The GWN takes us back to Eric Young beating Magnus for the World Title years ago, then we're at commercial.
Petey Williams is backstage, and he and Scarlett found each other, and he wants to know when Scarlett is announcing that her talent search is over. Scarlett says he's so cute and impressive, and strokes his flag up and down, but then says many other people are impressive too. Her talent search isn't open to just wrestlers, but the fans as well, and she'll have her first viewing party next week, and he should send in a video.
Tommy Dreamer vs Killer Kross
Kross immediately takes tommy to the corner and unloads with knees to the ribs. Tommy hits a crossbody and an armdrag, grounding the big man, then takes them both to the floor with a Cactus clothesline. Tommy continues dishing out the offense to Kross, takes a swig of water, but his spew is cut off by Kross, who picks him up and crotches him on the barricade, with Tommy spewing as he lands on the rail. Kross distracts the ref while Moose chokes Tommy, and Kross covers for 1. Kross launches Tommy over with an exploder suplex and covers for 2. Kross goes to the top, but Tommy nails him and hits a superplex. They trade right hands, and Tommy connects with an Ace Crusher. Moose distracts Tommy, but Tommy low blows Kross and hits a DDT/flatliner combo when Moose runs in. Tommy covers for 2, then uses a kendo stick to work Moose over. Kross comes in for a backdrop driver, but Tommy bites him on the face. That just pisses off Kross, who drops Tommy with the backdrop driver, picks him up and hits another one, and Tommy is out. The referee stops the match.
Winner: Killer Kross
Moose and Kross continue attacking Tommy after the match, and Kross gets his choke on Dreamer, then holds him for a spear from Moose.
We look back at last weekend's Hall of Fame induction, as Abyss became the latest inductee, then we go to McKenzie, who is with Eli Drake. Drake looks back at Bound For Glory and sees a conspiracy of people who want to take a piece out of him: La Parkaand his chair, and now Abyss and his table. This is an unsafe work environment, and he'll be suing Impact Wrestling.
We go to a New York bar, where LAX is celebrating the end of the OGz. Richie better not be in here, we DO have laws in New York, after all. The OGz come in to interrupt them doing shots. Kingston says they had a little message from the bosses, who were kind enough to let him and the OGz keep a piece of New York, but under the condition that they stay on separate sides. Konnan says they're on the wrong side, and tells him to get to stepping. The OGz take a walk, and they have a toast to the OGz as they retreat in shame.
Josh and Don talk about stuff, then we go back to the ring for our next match…
Allie vs Alisha Edwards
We start off with some even Steven back and forth, then Allie takes Alisha's head off with a clothesline for 2. They trade shots in the middle of the ring, and now Alisha with clotheslines of her own. Alisha with a Flatliner for 2, then gets a rear naked choke on Allie, who stands up, growls, and hair tosses Alisha off her back. Allie does an evil stare at the crowd, starts slapping herself, and hits a corner clothesline, then proceeds to just beat Alisha down in the corner like she owes her money. Allie picks Alisha up, looks her dead in the eyes, and hits a codebreaker for the win.
Winner: Allie
Allie does a crazy sit up, clutches at her face, then goes back to attacking Alisha with a big smile on her face until Kiera gets in the ring to stop her and ask her what the hell she's doing. Allie snaps out of it and goes to check on Alisha, who wants nothing to do with her. The crowd chants "psycho bunny" at Allie as Alisha crawls out of the ring.
Brian Cage is backstage, and he's…PUTTING HIS BOOTS ON! And Rich Swann is outside, and he's…DANCING! They'll face off…NEXT!
We are informed that Jordynn Grace is coming, and then it's…MAIN EVENT TIME!
X Division Title Match: Brian Cage vs Rich Swann
Swann uses his speed to outmaneuver Cage and hit an enziguiri, but then Cage catches a flying headscissors attempt and just ragdolls Swann across the ring. Cage whips Swann face first into the corner, then hammers him with corner clotheslines followed by a big short clothesline. Swann sidesteps and Cage tumbles to the floor, but catches Swann attempting a rolling senton off the apron, and powerbombs him onto the ringpost. Cage deadlifts superplexes Swann into the ring and covers for 2 as we go to commercial.
We're back, and Cage is still on the offensive, crushing Swann with power-based offense. Cage picks Swann up and curls him several times, then hits a fallaway slam without going down himself, and covers for 2. Swann tries a crossbody, but Cage catches him in a vertical suplex. Swann comes back with some kneelifts, tries a top rope flipping headscissors, Cage catches him, and Swann converts it into a DDT for 2. Swann misses a phoenix splash, Cage hits a superkick, but Swann connects with a flurry of knockouts kicks for 2. Cage survives more kicks and hits a pump handle slam for 2. Cage with a wrist clutch burning hammer for 2. Cage puts Swann up top and goes for a top rope F5, Swann fights out and hits a leaping enziguiri and a Guile kick, Cage tries a second rope leap, but Swann catches him and hits an Ace Crusher, a Lethal Injection, and a second rope 450 for a VERY close 2. Swann goes back up for the phoenix splash, but takes too long, and Cage moves. Cage with a powerbomb, hoists him up into a buckle bomb, then hits Weapon X for the win.
Winner: Brian Cage
Excellent main event! Both these guys are just SO good. Sami Callihan interrupts the postmatch celebration and gets in Cage's face, apparently demanding a title shot. A replay of Sami pinning Cage at Bound For Glory replays over and over on the screen, and he tries to suckerpunch Cage, but Cage takes his head off with a clothesline and goes for the Drill Claw when the Crists run out. Jake gets a Drill Claw, Dave cowers outside the ring with Sami, and cage dumps Jake through the ropes to his friends as we call it a night.
---
FOLLOW US ON YOUR FAVORITE SOCIAL MEDIA. WE ARE ON FACEBOOK, TWITTER AND G+!
---
LATEST NEWS var numposts = 5;var showpostthumbnails = true;var displaymore = false;var displayseparator = true;var showcommentnum = false;var showpostdate = false;var showpostsummary = true;var numchars = 100;