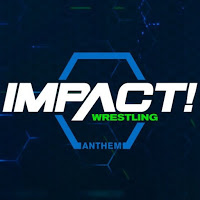 We start the show off with Austin Aries, Killer Kross, and Moose coming out to take a seat in a pair of golden couches that are sitting in the ring.

He runs down his "supposed" opponent Johnny Impact, and says that everyone who has stepped up to him since he came back here has been knocked down. Moose points out that Eddie Edwards hasn't been around here for a while either, and maybe he'll go check up on his wife. Out comes KM and Fallah Bahh, and Aries says he can't blame them for wanting to join the party, and he offers Bahh a banana because he's so fat, then stops himself because it's 2018 and you can't fat shame people anymore. KM says they have some motivation from a very pretty lady who told them to speak their mind, and Aries calls himself the Greatest Man That Ever Lived, but he's calling him a liar. Aries says he's been called worse, but KM continues and says he's both a terrible human being and a worse World Champion.&nnbsp; KM tells Moose that Eddie Edwards was his best friend, and he stabbed him in the back, and KM leads the fans in chanting "deuce" at Moose. Moose gets up in his face, and Aries tells everyone to calm down and says he owes KM and Bahh an apology. He agrees that the last few weeks have been a bit hectic, so he wants to offer them a peace offering, and offers Bahh a shot at the Impact World Title…if he thinks he's man enough. He offers to shake on it and sticks his hand out, and Bahh hesitates before shaking the champ's hand. Aries calls his crew off, and they head to the back, and it looks like we have a main event tonight!
Josh and Don talk about stuff, then we go to the ring for our opening match…
Pentagon Jr & Fenix vs Trevor Lee & Caleb Konley
Pentagon immediately cleans house on both Lee and Konley, then Fenix comes in to join in the fun. Assisted double dropkick sends both opponents to the floor, and the Cult of Lee regroups as we go to commercial.
We come back just as heel chicanery lands Fenix in the wrong part of town. Fenix is in peril for a few moments before making the hot tag to Pentagon, and the tide quckly turns with a series of lucha double teams. The Cult of Lee briefly regains control with a doomsday double stomp, but Pentagon shuts that down quickly with some superkicks, then Fenix takes Konley out with a dive while Pentagon hits a hanging lungblower for 2. Double stomp/package piledriver combo finishes it for the Lucha brothers.
Winners: Pentagon Jr & Fenix
Mostly a showcase for Pentagon and Fenix, who looked great here. oVe appears on the screen and challenges them to a six man tag with oVe against Pentagon, Fenix, and Brian Cage.
Fallah Bahh is feeling a lack of confidence backstage, and KM tries to fire him up, then says they need advice, and he knows exactly who they should get it from.
KM and Fallah Bahh are backstage, frantically searching for Eli Drake, and they finally find him making notes in a Five Star notebook. KM asks him for advice on how to help Fallah Bahh beat Austin Aries and become the face of Impact Wrestling, and Drake was about to go out and call out a dummy, but Austin Aries beat him to the punch. He tells Bahh to get himself a bowl (?) and walks off. KM and Bahh look as confused as I am.
The Global Wrestling Network takes us back in time a few years to Kevin Von Erich's sons beating DJ Z and Jessie Godderz. The match ends in a DQ, but
Alicia is backstage with Kiera Hogan and Allie, and asks why they saved Tessa Blanchard last week. Allie says Tessa accuses them of having a hidden agenda, but she made a promise that what happened to her, to Madison, and to Rosemary wouldn't happen to anyone else, not even a spoiled, entitled little brat like Tessa Blanchard. Su's not the champion anymore, but her reign of terror is far from over.
After commercial, Alicia now gets Tessa's side of the story, and she heard what Allie said earlier, and she wants everyone to think she's this virtuous person, but she sees right through her. She didn't need Allie's help, and she can play best friends and go zombie hunting with Kiera, but she is the champion, and when they go to Mexico City next week, they'll see why Tessa Blanchard is undeniable.
Alisa Edwards vs Katarina
The bell rings, and out come Joe Hendry and a very snappily dressed Grade, who wears the kind of loud track suit my great grandfather would have worn in the 70s. Grado tries to cut a promo, but he's too stressed, and Hendry grabs the mic to tell Katarina to look at what she's done to him, and all the weight he's lost. Just for Katarina, he prepared a custom music video to express how he feels about her. She seems to like the idea, but then the video starts for his new hit song, "Access Denied" which even includes a shout out to her pirate brother. Alisha slips in from behind and gets a quick schoolgirl rollup for 3.
Winner: Alisha Edwards
Katarina is livid, and Grado starts the fans on an "access denied" chant as she loses her mind in the ring.
KM is backstage telling Bahh that Eli was making fun of him, and to take this seriously because he's fighting for the World Title. Suddenly, the Smoke Show begins, and here is Scarlett Bordeaux. The only thing she likes more than a big man is gold…around that big, strong waist. KM says he's got this, and rushes Bahh out the door while Scarlett revels in her lustful powers.
We go to a Skype interview, as Josh Mathews chats with Johnny Impact about Bound For Glory. We look back at last week when Aries and his goons left Impact laying, then Impact gives an update on his condition and says the longer he's in this business, the more devastating these things become. It'll take him a while, but he'll be back in time for Bound For Glory. It'd be stupid for him to ignore Killer Kross and Moose, but it's telling that Aries is insecure enough about his ability to beat him that he needed to surround himself with them.
The Fraternity vs LAX
The Fraternity is introduced as a total combined SAT score of 4000, but shockingly, they don't get completely squashed, and actually dominate most of the match. They finally turn it around and hit the Street Sweeper for the win.
Winners: LAX
Expected outcome, but the Fraternity looked way more competitive than I expected them to be. The OGz come out of the (former) LAX clubhouse and surround the ring. He dares them to come outside the ring and start a brawl, trying to get him to ignore the cease fire as Konnan holds Santana and Ortiz back. He says he regrets one thing: that Richie is still breathing. What a heel.
Alicia is backstage with Austin Aries, and asks what his motivation in challenging Fallah Bahh tonight. For the most bitter man in wrestling, he is really happy tonight, he feels like Santa Claus handing out gifts. Fallah Bahh gets the biggest gift of them all, but that's going to end in defeat just like everyone else. That's okay, because Eddie Edwards and Johnny Impact are gone, and after tonight, Fallah Bahh will be gone, and there'll be nobody left. At this rate, there might not be a main event for Bound For Glory, or even a Bound For Glory at all.
KM is backstage giving Fallah Bahh a pep talk and telling him he can do this, and Rich Swann comes in to reaffirm that tonight is Fallah Bahh's night! Swann walks away and right into Matt Sydal, who calls him foolish for thinkiung he can help Bahh when he can't help himself. He says he can open Swann's third eye, but Swann says how about he takes that enlightenment to Mexico so he can whoop it.
Josh and Don inform us that we'll find out this year's inductee into the Impact Wrestling Hall of Fame on next week's show, then we go to the ring for our next match…
X Division Champion Brian Cage vs Kongo Kong
They collide like a pair of locomotives as soon as the bell rings, and Kong tackles Cage clear across the ring. Cage comes off the second rope, Kong catches him, but Cage slips out of his grasp and ducks a charge to send Kong to the ramp. Kong counters an attempted dive with a forearm to the face, then hits a running dive over the ropes of his own for 2. Kong with a fireman's carry neckbreaker, then he goes to the top. Superfly splash misses, Cage hits a powerslam, followed by a Lionsault for 2. Cage drops Kong on the second rope, but charges right into a hard clothesline. Kong with a rolling cannonball in the corner, and covers for 2. Kong goes up the corner, but Cage carries him out and hits a sitout powerbomb for 2. Kong counters a roaring lariat with a chokeslam attempt, Cage backflips out of it, hits a high knee, a roaring clothesline floors Kong, and an F5 finishes it.
Winner: Brian Cage
Really fun match! I could watch these two face off all night. Cage gets a mic after the match and says if they want to lay out a challenge, then they may not have brains, but they damn sure have balls. He accepts the challenge, and he's going to decimate every one of them.
Fallah Bahh has nearly the entire locker room cheering him on as he makes his way to the entryway for his big match.
And with that…IT'S MAIN EVENT TIME!
Impact World Title Match: Austin Aries vs Fallah Bahh
Very slow feeling out process to start, then Aries uses his speed and agility to maneuver around Bahh and frustrate him. Bahh takes a side headlock and cranks down hard on it, and Aries struggles to get free, then uses drop downs to blow Bahh up. Aries lounges in the corner while Bahh catches his breath in the corner, and since this could take a while, we go to commercial.
Aries is still mocking Bahh as we come back, but Bahh suddenly runs him over with a shoulderblock that knocks him into next week. Aries slaps Bahh, and Bahh responds with a flurry of hard chops to the champ. Aries ducks to the apron to avoid an avalanche in the corner, comes back in and gets caught in a fireman's carry, but goes to the eyes to escape, then clips Bahh's knee out. Bahh is in trouble now, as Aries casually picks him apart, focusing on the knee. Aries goes for a sunset flip, avoids the predictable vertical drop attempt, and punts Bahh in the back. Aries goes for the brainbuster, but that doesn't go well. He tries again to no avail, and a third attempt is reversed to a snap suplex by Fallah Bahh. Now Bahh is on the warpath, hitting a series of double chops to the champ. A second avalanche attempt misses, but a Samoan drop doesn't, and Bahh covers for 2. Bahh goes for a banzai drop, but Aries is up and goes for the knee to stop that. Aries goes for a roaring elbow, but Bahh catches him coming in and hits a belly to belly suplex for 2. Bahh goes for the steamroller, but Aries hangs on and rolls through with it, ending with Bahh right in the Last Chancery. Great reversal! Bahh makes the ropes, and Aries is not happy. Aries goes for the brainbuster yet again, but Bahh slips out and goes "NO NO NO!" Aries goes to the eyes and tries for the IED, but Bahh gets a foot in the face and quickly follows up with a crossbody for 2. Bahh hits the avalanche on the third attempt, then he goes up for the banzai drop. Moose and Kross are up and distract Bahh long enough for Aries to nail him again. Aries goes up for a sunset bomb, hits it, and gets the Last Chancery again. Bahh is too worn out, and is forced to tap.
Winner: Austin Aries
Great main event. Aries whips the ref out to the floor and goes back after Bahh. KM comes in to intervene, but here comes Kross to turn KM inside out with a backdrop suplex. Moose comes in and spears KM into next week, then Aries gets a chair and does the necklace conchairto on KM. Another week, another massacre by Aries and company.
---
FOLLOW US ON YOUR FAVORITE SOCIAL MEDIA. WE ARE ON FACEBOOK, TWITTER AND G+!
---
LATEST NEWS var numposts = 5;var showpostthumbnails = true;var displaymore = false;var displayseparator = true;var showcommentnum = false;var showpostdate = false;var showpostsummary = true;var numchars = 100;