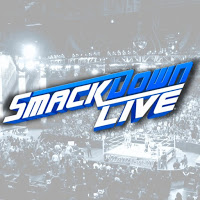 Tonight's WWE SmackDown opens live from the Scotiabank Arena in Toronto, Ontario, Canada. Tom Phillips welcomes us. He's joined by Corey Graves and Byron Saxton.

– We go right to the ring and out comes new SmackDown Tag Team Champions The New Day – Kofi Kingston, Big E and Xavier Woods. We see how they became five-time champions last week as fans chant for pancakes.
The New Day hits the ring for their championship celebration. They have a Stanley Cup full of pancakes. They give props to The Bludgeon Brothers. Big E goes on about how they are now five-time, five-time… the music interrupts and out comes WWE Hall of Famer Booker T to a pop. Booker comes out with his King Booker gimmick. Fans chant for Booker T, who enters the ring to give a royal decree. Booker gives regal nicknames to Woods and Kofi. Big E already has one – big. Big E says Booker just went full Saxton. Booker goes on and welcomes The New Day to The Five-Timers Championship Club. Now can you dig that, sucka? Booker's original music hits and he turns to leave.
The New Day stops him and wants him to do a Spin-a-rooni. Booker gets the crowd hyped up and nails it for a pop. Woods and Kofi hit Spine-a-roonis next. Big E tries to do one but can't get off his back until Kofi and Woods help him. Booker poses with The New Day to end the segment.
– We see how a custom announce table for The New Day is being set up at ringside next to the regular announce team.
– Still to come, Daniel Bryan and Brie Bella will be here. WWE Champion AJ Styles will also be here, plus Carmella gets her title rematch.
#1 Contenders Tournament Triple Threat: The Bar vs. The Colons vs. Luke Gallows and Karl Anderson
We go to the ring and out first comes The Bar, Cesaro and Sheamus. We go to commercial.
Back from the break and we see Luke Gallows and Karl Anderson in the ring with The Bar. The Colons, Primo and Epico, are wrapping up their return entrance. The New Day is on commentary. Sheamus starts off with Anderson and they trade holds.
Sheamus looks to take control but Anderson drops him and hits a low dropkick for a 2 count. Cesaro tags in for a quick double team. Cesaro rocks Anderson but Anderson dropkicks him for a 2 count. Gallows tags in and takes over on Cesaro, beating him down in the corner. Gallows hits a suplex and covers for another pin attempt. Anderson tags back in for another quick double team. Cesaro counters but Primo tags himself in. Anderson takes Primo right to the mat and keeps him grounded by his arm.
Epico ends up tagging in for a double team on Anderson. Epico with a 2 count. Anderson turns it around but misses a flying elbow in the corner. Anderson with an enziguri. Anderson goes to the second rope but Primo distracts him, allowing Epico to send Anderson out to the floor. Primo tags in and floors Anderson on the outside. We go to commercial.
Back from the break and The Bar is double teaming Anderson. Cesaro with a big flying elbow while Sheamus holds Anderson. Cesaro with a 2 count. Sheamus works Anderson over and applies a backbreaker submission. Anderson counters and brings Sheamus to the mat. Gallows rallies for a tag. Gallows tags in with Cesaro. Gallows unloads and hits a big running splash in the corner. Gallows drops Epico with a big boot as he charges. Gallows with a big pumphandle slam on Cesaro, and another splash on the mat. Cesaro kicks out at 2.
Primo ends up tagging in, coming off the top for a close 2 count. Sheamus runs in but Gallows and Anderson clean house. They go for a Magic Killer on Primo but Epico breaks it with a Backstabber to Anderson. Sheamus comes in but gets hit with a double Backstabber by The Colons. Cesaro tags in and takes out Gallows while Sheamus stops The Colons on the outside. Cesaro covers for the win.
Winners: The Bar
– After the match, The Bar goes to ringside and has words with The New Day.
Backstage:
SmackDown General Manager Paige is backstage watching. Rusev, Aiden English and Lana come walking in. Paige announces the second Triple Threat for next week's SmackDown – Rusev Day vs. The Usos vs. SAnitY. The winners will face The Bar to determine the new #1 contenders. Rusev praises Lana for getting them the shot at a title shot but she says it wasn't her. It was English. Rusev and English are back on the same page now.
– We get a video looking at Becky Lynch's recent turn on Charlotte Flair. Still to come, Carmella vs. Flair with the title on the line.
– We see Jeff Hardy backstage in his paint. Tom says Jeff has a challenge for Randy Orton tonight. Back to commercial.
In the Arena:
Jeff Hardy makes his way to the ring and says that since returning to Smackdown, Randy Orton has an obsession with him. Randy has gotten inside his head and altered his mind. Jeff says Randy has eradicated rational thought from him. Randy made him think he could fly and that is why Jeff did this… and we see what happened last week.
Jeff says when he put Randy through that table, he felt alive. He felt reborn. He felt rebroken by faith. Jeff says he knows that Randy can hear him so he wants Randy to come out so Jeff can finish what he started.
Randy Orton's music plays and he makes his way to the stage.
Randy says that Jeff Hardy has found himself and he is back on that pedestal. You know who you truly are. Randy says he appreciates being given the credit for it. Randy says the truth is that he is not finished with Jeff. This version of Jeff Hardy is the identity that he is going to take away. This is the career that he is going to end. Randy says he knows what he has to do and that is to leave Jeff a heap of broken bones in the ring.
Randy asks Jeff if he thought Randy was going to get in the ring on Jeff's terms? Randy says Jeff is not as dumb as these Canadians. You can call him what you want but the only thing you have to call him are the three most destructive letters in wrestling: R… K… Jeff screams NOOO and says that Randy is going to hell and Jeff is going to join him at Hell in a Cell. Randy drops the mic and backs away.
Backstage:
Carmella is getting ready in the back and Renee Young asks her about her match against Charlotte and how the buzz is coming off her. Carmella says the only reason Evolution exists is because of the attention she brought to the women's division. Becky threw an epic temper tantrum. Charlotte never pinned her and she beat Charlotte twice. Tonight, she will complete the trifecta. Becky and Charlotte are chump change and Mella is Money.
R Truth shows up and wants to know where Carmella went. Tye Dillinger wants to know what Truth is doing. Truth says when the time is right, the Truth will set her free.
Billie Kay vs. Naomi
Naomi makes her way to the ring as we go to commercial.
We are back and Billie Kay and Peyton Royce are out. Billie Kay says she thinks she is clairvoyant. Billie explains that she could see the future. Just like she predicted last week that Peyton would beat Naomi. Billie says she sees the Raptors having a dismal season. She sees Naomi having nightmares about losing again tonight.
Naomi with a drop kick and leaping leg drop for a near fall. Billie grabs Naomi by the hair. Billie with a kick and she punches Naomi. Billie has something to say to Naomi and Naomi with a jaw breaker and round kick followed by clotheslines. Naomi with a running bulldog into the turnbuckles. Naomi with a round kick. Naomi with a rollup for a near fall but Naomi is sent into the ropes and Peyton with a kick. Billie gets the three count.
Winner: Billie Kay
– We see Daniel Bryan and Brie Bella watching what Brie did last week. We go to commercial.
In the Arena:
We are back and Brie Bella makes her way to the ring with her husband Daniel Bryan.
Bryan talks about what happened last week and also takes shots at The Miz, calling him a coward and a bad actor. Brie says she came down last week to get her hands on Maryse but it felt good to hit Miz. They talk about the mixed tag team match at Hell In a Cell, and say Miz and Maryse won't be able to hide. The music interrupts and out comes Andrade "Cien" Almas with Zelina Vega.
Bryan and Brie look on as Almas and Vega enter the ring. Vega says it's an honor to be standing next to two legends – Brie and Almas. Vega asks Bryan to forgive her, and she formally introduces them to Bryan and Brie. Vega brags on Almas' accomplishments since coming to SmackDown – putting Sin Cara on the shelf, taking AJ Styles to the limit and destroying Rusev. Vega says Miz has already out-smarted Bryan and now it's time for Almas to out-wrestle him.
Almas speaks some in Spanish and English but fans give him the "what?!" treatment. Bryan says he would love to make the match official but unfortunately he's no longer the General Manager. If only there was someone in the back who could come out and make the match. Bryan looks to the back but no one is coming. Bryan says that was kind of embarrassing. The music finally hits and out comes Paige. Paige acts like she was running across the arena in high heels. She asks the fans if they want to see Bryan vs. Almas and they do. Paige calls for a referee and makes the match as fans cheer. Her music hits and we go to commercial.
Daniel Bryan vs. Andrade "Cien" Almas
Back from the break and the bell rings. Fans chant for Bryan as they lock up. Brie and Zelina watch from ringside.
Almas and Bryan trade holds and counters on the mat now. They stare each other down as fans clap. More back and forth now. Almas does his signature pose on the ropes but Bryan dropkicks him to the floor. Almas quickly takes back control as we see The Miz and Maryse backstage watching. Almas drops Bryan in the corner and covers for a quick pin attempt as Vega barks orders. Almas counters a move and puts Bryan in a submission. Bryan slides out and nails him for a 1 count. Almas rocks Bryan with a big chop. Almas with chops in the corner now.
Bryan turns it around in the corner with chops of his own. Almas wants more and Bryan gives them. Bryan with Yes Kicks in the corner now. Bryan with the running corner dropkick now. Almas charges with a running knee in the corner. Almas goes for another running knee but Bryan side-steps and Almas lands bad, flying out of the ring to the floor. Vegas cheers on Almas to get back to his feet as the referee counts. Bryan runs the apron and nails a flying knee on the floor. Bryan does the "yes!" chant now. Bryan brings it back into the ring and goes to the top. Almas moves and Bryan lands on his feet. Almas drops Bryan with a big elbow for a 2 count. We see The Miz and Maryse watching again. They walk away, possibly to the ring. We go to commercial.
Back from the break and Bryan comes out of a submission but Almas covers for a 2 count. Almas goes to the top but Bryan jumps up and kicks him. Bryan climbs up and nails a super double underhook suplex from the top. The music hits and out comes The Miz to interrupt. Miz creeps down the ramp as Bryan waits. Almas comes from behind and decks Bryan. Bryan runs the ropes and nails a big dive on Miz. Bryan unloads but this allows Almas to leap out and take him down. Almas brings Bryan back in for the inverted DDT from the corner for a close 2 count.
Fans chant "this is awesome" now. Almas goes to the top for a moonsault but Bryan gets his knees up. Bryan applies the Yes Lock in the middle of the ring. Vega gets on the apron but Brie pulls her down and drops her on the outside. The referee is busy looking at Brie and Vega, not Almas in the submission. Maryse comes out of nowhere and nails Brie, then sends her face-first into the ring post. Miz takes advantage of the chaos and comes in the ring, decking Bryan with a cheap shot for the disqualification.
Winner by DQ: Daniel Bryan
After the bell, Almas hits the double underhook DDT on Bryan in the middle of the ring while Miz watches. Miz applies the Yes Lock on Bryan while Vega hits the running double knees on Brie in the corner. Almas and Vega leave the ring. Maryse drops Brie on her head while Miz forces Bryan to watch. Bryan crawls for Brie but Miz picks him up and hits the Skull Crushing Finale. The It Couple stands tall over Bryan and Brie, kissing to a mixed reaction.
– Renee is backstage outside of Charlotte Flair's locker room for comments. Flair comes out and says Becky Lynch thinks she deserves the title but you don't deserve anything you don't win. Flair goes on and says Becky wants to blame her because she can't win the big one. Flair won't apologize for busting her ass every day and she won't roll over for anyone who tries to take that from her, even if it was her best friend. Flair says Becky wants the spotlight and after she runs through Carmella tonight, Flair is going to give the spotlight to Becky.
In the Arena:
We go to the ring and out comes WWE Champion AJ Styles. Greg Hamilton does the introduction. We go to commercial.
We are back and AJ is in the ring, but we see what happened last week on Smackdown.
AJ says it is official. Samoa Joe versus AJ Styles at Hell in a Cell for the WWE Championship. AJ says that Joe is good with these mind games. Joe has him where he wants him. Joe brought his wife and daughter into this. It shows that Joe is not man enough to take the title from him. Why not confront him face to face like a man. Joe is not a man. AJ says he is going to put an end to these mind games right now. AJ says he is the WWE Champion and he makes the rules around here. AJ says he does not have to wait until Hell in a Cell. AJ wants Joe to come out right now.
AJ says this is a demand by your WWE Champion because he is going to know Joe's teeth down his throat.
Joe is in the garage and he calls for AJ. Joe says he is not coming out tonight. AJ is proving his point. AJ is acting like super hero to the world, but who is watching your kids? Joe says he isn't done playing daddy yet.
Joe makes a call and it is to Wendy. Joe asks how the kids are doing. Joe says he knows why Wendy is angry but Joe says he will keep the promise that AJ never did. Joe wants to know if they are still on for the back to school barbecue next week. Joe says to save a plate because he might stop by next Tuesday. AJ leaves the ring and goes to the back.
– The announcers hype Joe vs. Styles and Orton vs. Hardy at Hell In a Cell.
– We go to the ring and out comes Carmella for her title shot rematch. Back to commercial.
– We are back and AJ Styles is running in the back and he wants to know where Samoa Joe is.
SmackDown Women's Title Match: Carmella vs. Charlotte Flair
Charlotte struts and wooos before locking up. Carmella with a waist lock and Charlotte with a standing switch and take down. Carmella with elbows and a rollup for a near fall. Charlotte with a rollup for a near fall. Carmella send Charlotte to the mat and applies a side head lock. Carmella holds on to the side head lock and Charlotte tries for a head scissors. Charlotte with a rollup for a near fall. Charlotte with a fallaway slam.
Charlotte goes up top for a moonsault but she takes too long and Carmella pushes Charlotte off the turnbuckles. Charlotte hits the ringside barrier and the referee starts his count. Carmella sets for a suicide dive and she hits it. Carmella sends Charlotte back into the ring and gets a near fall.
We go to commercial.
We are back and Carmella with a reverse chin lock on Charlotte. Charlotte with a belly-to-back suplex to get out of the hold. Carmella with forearms but Charlotte with chops.Carmella with a snap mare and drop kick. Carmella is sent to the apron and Carmella with a forearm. Charlotte goes for a shoulder but misses and Carmella with a kick to the midsection. Carmella with a cross body from the top and Charlotte rolls through and gets a near fall. Carmella with a kick when Charlotte goes for a spear. Carmella with a flatliner for a near fall.
Carmella runs into a back elbow. Carmella goes for a handstandcanrana but Charlotte blocks it and she gets Carmella up for a power bomb but Carmella counters into a rana and gets a near fall. Carmella slaps Charlotte and screams in a very high pitched voice. Carmella goes for a sunset flip but Charlotte rolls through. Carmella with a super kick and Charlotte bounces off the ropes and Carmella with a second super kick. Carmella gets a series of near falls.
Charlotte blocks a super kick and hits a spear. Charlotte with Natural Selection and then she applies the figure four leg lock and bridges to get Carmella to tap.
Winner: Charlotte Flair
After the match, Flair stands tall with the title as her music hits. Becky Lynch hits the ring from out of nowhere and attacks Flair from behind. Becky unloads on Flair and destroys her as fans go wild, chanting her name. Fans chant "let's go Becky" now. Becky demands a mic. She raises the title and kneels down in Flair's face. Becky says when she gets her way, come Hell In a Cell, she's getting her title back. Becky calls Flair a bitch and drops the mic. Becky raises the title again and looks out at the crowd as fans cheer her on. A big "Becky" chant breaks out as she exits the ring. Flair is laid out in the middle of the ring with the title laying beside her. We go to replays of Carmella vs. Flair and the attack from Becky. Flair sits up in the corner with the title but fans boo her. SmackDown goes off the air.
---
FOLLOW US ON YOUR FAVORITE SOCIAL MEDIA. WE ARE ON FACEBOOK, TWITTER AND G+!
---
LATEST NEWS var numposts = 5;var showpostthumbnails = true;var displaymore = false;var displayseparator = true;var showcommentnum = false;var showpostdate = false;var showpostsummary = true;var numchars = 100;