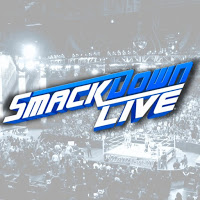 Tonight's WWE SmackDown opens up with graphics in memory of WWE Hall of Famer Nikolai Volkoff and former WWE Tag Team Champion Brian Christopher Lawler.

– We're live from the Amalie Arena in Tampa, Florida as Tom Phillips welcomes us. He's joined by Byron Saxton and Corey Graves.
– We go right to the ring and Renee Young is waiting with a mic. She introduces #1 contender Becky Lynch and out she comes to a pop.
Renee asks Becky how does it feel to be back in the title picture. Becky says that when you wait so long, you doubt it may happen. She says she has fought hard to get here. She says she has not been the champion since 2016. She has not had a title match since Wrestlemania 33. She has not been able to sleep because she is thinking about being the Women's Champion again. Becky says it is the excitement and pressure knowing you have a target on your back. Becky says she was not born to be a champion, she fought to be a champion. She says it will be honored to walk into Evolution as the Smackdown Women's Champion.
Carmella makes her way to the ring. She says it is not what Becky thinks. Normally she would make some excuse for why she lost last week. That is not the case. Last week, you beat me fair and square and earned your opportunity at SummerSlam. Carmella says she did not think about the importance of Stephanie's announcement. Carmella says they are going to be part of the first women's pay per view. They are not representing Smackdown or Raw, they are representing every woman who has ever been in the ring. Carmella says she felt like she failed. Carmella says she has been jealous because Becky was always ahead of her.
Carmella says she was always told she would only be a manager but you were there to give her advice. Then you go on to WWE and you are the first woman drafted to Smackdown. Carmella reminds everyone was the last pick. Becky was the centerpiece while Carmella was an afterthought. Everyone has always loved Becky. Carmella starts to tear up and she says that people do not think she should be the champion. She tries so hard to block out the haters who say that she sucks and is unworthy of the title. People say that she should just go away. She says she has to put on a brave face and act like she belongs here. She is looking forward to tearing the house down. She wishes Becky good luck and she offers her hand.
James Ellsworth's music plays but he never appears and Carmella takes advantage of the distraction to drop Becky from behind. Carmella delivers a big kick next. Carmella brings a steel chair into the ring and goes to drop Becky onto it but the music hits and out comes Charlotte Flair, returning to make the save for Becky. Flair blocks a chair shot and drops Carmella, sending her out of the ring. Flair checks on Becky as Carmella grabs her title and retreats. Flair stands up and points at her. Flair and Becky talk as Carmella heads to the back.
– Still to come, Samoa Joe delivers a personal message to AJ Styles. Also, Jeff Hardy returns to confront Randy Orton.
– The Usos are backstage with words for The Bar. We go to commercial.
Backstage:
Back from the break and SmackDown General Manager Paige is backstage when Carmella comes in complaining about Charlotte Flair. Paige says Carmella should be ashamed of herself for what she did out there. Carmella disses Paige and says she's something Paige will never be again – champion. Paige says she's going to teach Carmella how to be a real champ because real champs overcome the odds and don't complain about it. Paige announces Flair vs. Carmella for tonight and if Flair wins, the match at SummerSlam will become a Triple Threat. Paige tells Carmella to go get ready for the match and she leaves without saying anything.
SummerSlam Tag Team Tournament Match: The Usos vs. The Bar
We go to the ring and out comes The Usos. The winner of this match will face The New Day to determine who faces SmackDown Tag Team Champions The Bludgeon Brothers at SummerSlam. Out next comes The Bar.
The New Day is out next for commentary. Big E, Kofi Kingston and Xavier Woods take seats at their own colorful announce table, which is full of pancakes. Jey Uso starts off with Sheamus and they go at it but we take an early commercial break.
Back from the break and Cesaro covers Jey for a 2 count. Cesaro keeps control and stops Jey from tagging. Sheamus comes in with another pin attempt. Sheamus hits the ropes and drops a knee. Sheamus delivers more offense before keeping Jey grounded in the middle of the ring now. Sheamus with knees to the ribs while keeping Jey down. Sheamus drives Jey back to the mat as Jimmy Uso tries to rally the crowd.
Jey fights up and out of the hold. Sheamus stops him with a knee. Jey slides out of a suplex attempt. Sheamus charges but Jey moves and Sheamus hits the ring post in the corner. Cesaro and Jimmy tag in at the same time. Jimmy unloads and catches Cesaro with a Samoan Drop for a close 2 count. Jey with an enziguri to the face. Jimmy gets hyped up in the corner and runs for the splash but Cesaro rolls to the floor. Jimmy launches himself over the top and takes out Sheamus as he put himself in the way to save Cesaro. They bring it back into the ring and Jimmy hits a crossbody on Cesaro for a close 2 count.
Cesaro ends up rocking Jimmy with an elbow to the jaw as he goes to the top. Cesaro shoves Uso from the top and he falls hard out to the floor. We go to commercial.
Back from the break and The Bar is trying to hit a double suplex on Jimmy up top. Jey pushes Sheamus off from the outside. Jimmy sends Cesaro to the mat with a big move but they both land hard. Jimmy and Cesaro go at it now. Cesaro blocks a shot and in comes Sheamus off the tag. They go to double team Jimmy but Jey superkicks Cesaro. Jimmy with a 2 count on Sheamus. Jimmy superkicks Sheamus to the mat. Jey tags in and hits a big Superfly splash on Sheamus from the top but Cesaro breaks the pin just in time.
Cesaro gets dumped over the top rope by Jey. Jimmy tags in and The Usos both go to the top of opposite corners. Cesaro nails an uppercut to Jey as he leaps from the top. Jimmy comes flying off the top but Sheamus blocks it and rolls him for the win.
Winners: The Bar
After the match, The Bar stands tall in the ring as we go to replays. They turn their attention to The New Day at ringside. The New Day gets up and enters the ring. The New Day vs. The Bar is confirmed for next week. The two teams face off in the ring and talk trash now as fans chant for The New Day. The Bar exits the ring and backs up the ramp as The New Day's music starts up.
– Still to come, Daniel Bryan will be here live. We see The Miz throwing the baby doll at Bryan on last week's show. Bryan will address the underhanded tactics tonight. Also, Zelina Vega's main roster in-ring debut against Lana.
Backstage:
We see Renee Young backstage with Charlotte Flair, asking her about possibly getting the title shot at SummerSlam. Flair says she was just here to help her best friend Becky but she now has this golden opportunity thanks to Carmella. Flair says she didn't even expect to be at SummerSlam, especially not in a title match. Flair hasn't forgotten her losses to Carmella but she says The Queen is back and ready to reclaim her throne. Flair does a "Wooooo!" to end the segment.
– The announcers show us Samoa Joe putting AJ Styles to sleep after their contract signing last week. Joe will be here to deliver a personal message to AJ tonight. Back to commercial.
In the Arena:
Back from the break and out comes Samoa Joe.
Joe addresses WWE Champion AJ Styles and says what he did last week was send a message. Joe hopes there are no hard feelings. He says he respects AJ, he respects the house AJ built and the fact that AJ made the WWE Title the most prestigious title in WWE. Joe also respects AJ's grind and the sacrifices he's made to get where he is. Joe says AJ puts the title before everything, including his friends and his own family. Joe goes on about how AJ is a bad father and a bad husband, calling him a failure.
Joe says he's coming for AJ and he's going to take everything from him. Joe says at SummerSlam when the world is cheering AJ on, AJ's family will be cheering Joe on because when Joe is done, AJ's wife and kids will have their daddy back. But Joe will be WWE Champion. Joe drops the mic and walks off as his music hits.
– We see recent happenings between Randy Orton and Jeff Hardy. Hardy is backstage working on his paint and will return tonight to confront Orton. Back to commercial.
In the Arena:
Back from the break and out comes Jeff Hardy to the ring.
Fans chant Hardy's name as he takes the mic. Hardy talks about how important the WWE United States Title is to him – it's part of his life force, it's his 5th eye that elevates him and keeps him connected to the WWE Universe, and more. Hardy says a piece of him was severed away when he lost the title and nothing is more important than beating Shinsuke Nakamura to take the title back but one thing comes close – beating the hell out of Randy Orton. Hardy says that's exactly why he's out here tonight. He calls Orton to the ring for a fight.
The music hits and out comes Orton. Hardy readies for a fight but Orton is careful to enter the ring. Nakamura comes from behind and drops Hardy with a kick to the head. Nakamura attacks Hardy and goes for a Kinshasa but Orton gets in the way. Nakamura and Orton face off now. Orton backs Nakamura into the corner. Orton looks back at Hardy and then back at Nakamura, nodding in approval for Nakamura to attack. Nakamura delivers a Kinshasa to Hardy as he tries to get up. Nakamura and Orton trade looks again as Nakamura exits the ring to boos.
Orton turns his attention back to Hardy and plays to the crowd for some boos. Orton drops to the mat and readies for the RKO. Orton just takes Hardy's legs out instead, making it clear he had him if he wanted. Orton starts stomping on Hardy while he's down now. Hardy yells in pain as Orton grabs him from the apron. Orton nails the second rope draping DDT next. Orton goes to the floor and hits another draping DDT, this time going from the apron to the floor. Orton takes apart the announce table now. Orton places Hardy on top of the announce table and beats on him while referees try to get him to back off. Orton rips off some of Hardy's accessories and rips open his shirt, also taking his necklace off. Graves says Orton is stripping away Hardy's identity. Orton pours a bottle of water on Hardy's face next and punches him several times. Orton talks trash as he wipes Hardy's face paint off as the boos continue. Orton finally backs off and the referees order him to go to the back. We go to commercial as Hardy recovers on the announce table.
Backstage:
We are back and Renee Young is outside Becky Lynch's locker room with Becky. Renee asks about Charlotte potentially being added to the match. Becky says she is happy to be back and that Charlotte has a chance to get into the title match. Becky says she relies on instincts more than the mathematics. She says she is happy that Charlotte is back but not at the possibility of a triple threat match. Becky says she can beat anyone in a one on one match. Renee asks if Becky is rooting against Charlotte and Becky says she never roots against her friend.
Lana vs. Zelina Vega
We go to the ring and out first comes Lana. We see what happened during Rusev vs. Andrade "Cien" Almas last week. Lana looks on from the ring as Zelina Vega makes her way out for her main roster in-ring TV debut. Almas accompanies her to the ring. Tom says Rusev is not out here because Lana has given him the professional space that he asked for last week.
Vega rolls past Lana and goes Tranquilo on the mat. Lana does something to show that she can try to be tranquilo. They push each other and then Lana with a take down and she punches Vega.
Vega returns to the ring and they lock up. Lana with a wrist lock but Vega with an Irish whip. Lana with a kick to the head and then she hits a bulldog for a near fall. Vega sends Lana face first into the ropes. Vega chokes Lana in the ropes. Vega with a Dragon Sleeper and Lana tries to escape but Vega holds on and keeps Lana on the mat. Vega sends Lana to the mat and then returns to the Dragon sleeper. Vega with a reverse chin lock. Lana with forearms but Vega sends Lana to the mat again. Vega jumps on Lana's back and applies a reverse chin lock. Lana backs Vega into the turnbuckles to try to get out of the hold.
Vega sends Lana into the turnbuckles and Vega follows with a knee to the head. Vega with the running double knee strike for a near fall. Vega sets for the hammer lock DDT but Lana with a back drop.. Lana with clotheslines and a kick to the midsection followed by a neck breaker. Lana with a double knee strike to the back for a near fall. Lana with an Irish whip and elbow into the corner. Vega with an Irish whip but Lana with a back elbow. Lana goes to the turnbuckles and Almas distracts Lana. Aiden comes out and pulls Almas off the apron.
Lana is distracted and Vega with a rollup for the three count.
Winner: Zelina Vega
After the bell, Aiden looks shocked as Vega and Almas head up the ramp. Lana recovers and she's not happy. Vega is all smiles as she looks on from the stage.
– Tom confirms The New Day vs. The Bar in a #1 contenders match for next week.
– The Bludgeon Brothers are in a boiler room. Harper says if Sheamus and Cesaro want to set the bar, they will break it. Rowan says they will positively destroy the New Day. They say that no one can escape the bludgeoning.
– We go to the ring and out comes Daniel Bryan to a big pop. He's here to address The Miz and last week's underhanded tactics. Back to commercial.
Backstage:
We are back and Aiden English is in the back and he wants to know if Lana is okay. Aiden says he wanted to help even if Rusev wanted him to give her some space. Aiden says it is an accident as he hears Rusev screaming. Rusev asks Lana if she is okay. He says that wouldn't have happened if he was out there. Lana says that she could have used Rusev's help out there.
In the Arena:
We go back to the ring and Daniel Bryan mentions Evolution. Daniel says he felt proud of his wife Brie because Brie was in a ring for a 30 second match when the hashtag Give Divas a Chance trended worldwide. This announcement was a huge step forward. Every time they take two steps forward, they take one step back. We see what happened last week.
Daniel says watching that bothers him. For two years, Miz taunted him and baited him. He antagonized him because Miz knew that Daniel was not cleared to compete. Miz thought he was safe, but then Daniel got cleared. That protective wall came crumbling down. What did Miz do? He brought his wife out to the ring. Miz brought out what Daniel thought was his daughter to the ring. He did it to build the wall because Miz knows in a fair fight that Daniel would destroy him. If you think he is wrong, he tells Miz to come out and prove it. He would love nothing more than to punch Miz in the face right now.
Miz is in the back and he is on the TitanTron. Miz says he thought he would have known that Daniel is not on the indies any more. He won't be able to call him out in some gym. Miz tells Daniel to contact his agent. Miz says he is on the set of Miz and Mrs. Miz talks about this week's episode. Miz says he has security because fans are trying to sneak on set. Miz says he does not want security but they gave it to him.
Daniel says he came out to fight. Daniel says that Miz is hiding and it proves that Miz is nothing more than a coward.
Miz asks if everyone thinks he is a coward. Miz asks Daniel if he remembers the last time Daniel called him a coward. Miz reminds Daniel that when he was called a coward on Talking Smack, you did nothing. Miz says that Daniel has been riding on Miz' back since NXT.
Daniel says this is about passion while for Miz this is about fame. Your dream of being sports entertainer turned into Hollywood star has been done before and by better people. The reality is you are not going to be The Rock. You aren't even going to be John Cena. Nobody will remember you as a great superstar because you are too soft. If you want a big stage to come out and fight, why don't you talk to you agent and come fight him at SummerSlam.
Miz says the cycle keeps repeating. You create sympathy, mention your wife, get beat, and repeat. The Yes Movement is over. Team Hell No is over. Miz tells Daniel he is over. Miz tells Daniel to let his contract run out and entertain dozens of people in gyms. People are annoyed with you. Why don't you go away. People look at you and see one thing…
Miz puts photos of crying babies on the TitanTron. Miz returns to the screen and mocks Bryan for being a crybaby. Bryan looks on and the screen fades to black.
– Still to come, Flair vs. Carmella with SummerSlam implications. We go back to commercial.
– Back from the break and Tom says WWE Champion AJ Styles will be back next week.
Charlotte Flair vs. Carmella
We go to the ring and out comes Charlotte Flair for tonight's main event. Flair will be added to the SmackDown Women's Title match at SummerSlam to make it a Triple Threat if she wins this non-title match. We cut backstage to Renee Young and Carmella. Carmella mentions how she really wants to face Becky alone at SummerSlam because she knows she can beat her and how she knows Becky is really rooting against Flair tonight. Out next comes Carmella to the ring.
The bell rings and they go at it. We see Becky backstage watching the match. They go back and forth to start, trading holds. Flair sends Carmella down and shows off some. We get a quick 2 count before Flair tosses Carmella over her head. They go to the floor and Carmella sends Flair into the ring apron, then launches her into the barrier. Carmella stands tall on the outside as we return to commercial.
We are back and Charlotte with a double sledge off the turnbuckles followed by a series of chops. Charlotte avoids a clothesline and hits a belly-to-back suplex. Charlotte walks across Carmella and goes up top for a moonsault but Carmella gets her boots up and hits Charlotte in the face. Carmella sends Charlotte to the floor. The referee starts his count. Charlotte gets on the apron and Carmella kicks her off. Carmella goes to the floor. Both women miss kicks and Carmella with a head scissors into the ringside barrier. Carmella sends Charlotte into Yeatonville and then Carmella returns to the ring.
The referee starts his count. Charlotte gets back into the ring but Carmella with forearms and she gets a near fall. Becky is still watching in the back as Carmella applies a reverse chin lock. Charlotte backs Carmella into the turnbuckles to get out of the hold. Carmella sends Charlotte into the turnbuckles a few times. Carmella with a kick but Charlotte bounces off the ropes with a boot to the chest for a near fall.
Charlotte with a rollup for a near fall and then she goes for the figure four leg lock but Carmella gets to the floor. Charlotte kicks Carmella and then she goes to the ringside barrier for a moonsault. They return to the ring. Charlotte with Natural Selection for a near fall. Charlotte sets for a spear but Carmella with a kick. Charlotte goes for a figure four leg lock and Carmella with an inside cradle for a near fall. Carmella with a kick and she can only get a near fall.
Carmella sets for a figure four leg lock but Charlotte rolls through and applies the figure four and bridges. Carmella taps out.
Winner: Charlotte Flair
After the match, we see Becky backstage again and she's not happy. Flair celebrates the win as her music hits. The announcers confirm the Triple Threat for SummerSlam. Carmella recovers on the floor and she's also not happy. We go to replays. Flair continues her celebration as Becky watches from backstage. SmackDown goes off the air.
---
FOLLOW US ON YOUR FAVORITE SOCIAL MEDIA. WE ARE ON FACEBOOK, TWITTER AND G+!
---
LATEST NEWS var numposts = 5;var showpostthumbnails = true;var displaymore = false;var displayseparator = true;var showcommentnum = false;var showpostdate = false;var showpostsummary = true;var numchars = 100;