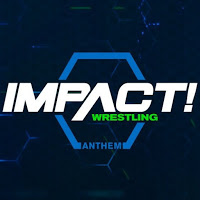 We're not wasting any time this week, we go right to the ring for our opening match…

X Division Title Match: Taiji Ishimori vs Desmond Xavier
Slow start, believe it or not. Extended feeling out process to start, as they slowly tie up and then go to the mat. Ishimori dropkicks Xavier to the floor, and Xavier looks a little frustrated, then comes back in and gets dropkicked right back out to the floor. He dodges a dive attempt, Ishimori swings back into the ring, and Xavier hits a superkick for 2. Xavier with a series of punches in the corner, then a snapmare into the chinlock. Ishimori gets out, so Xavier goes to a bridging chinlock. Ishimori works his way out of that, tries a handspring move, and Xavier stops that dead with a baseball slide to the face. Ishimori rolls to the floor, and Xavier drills him with a dive through the ropes. Ishimori goes into the crowd to escape, but Xavier takes him out with a dive over the top rope, clearing the barricade, and onto Ishimori in the crowd. Yipes! We go to commercial.
We come back as Xavier unloads a series of strikes and an Ace Crusher on Ishimori. Xavier with a snapmare and dropkick to the back of the head for 2. Ishimori stops Xavier as he goes to the top and tries a superplex, Xavier fights it, but Ishimori powers him up and hits it for 2. Xavier fires back with a series of strikes out of nowhere, but Ishimori hits the handspring enziguiri for 2. Ishimori with a slam in the corner and goes for a springboard splash, but Xavier gets the boots up and hits the Spiral Tap for…a VERY close 2! Xavier is done screwing around and unloads on Ishimori while telling him to stay down. Ishimori escapes a fireman's carry, but Xavier sweeps the legs and hits a standing Spiral Tap for another 2. Xavier dodges a charge and hits an enziguiri to the back of the head, but a back handspring lands right in Ishimori's arms, and he hits the inverted lungblower followed by the 450 splash for the win.
Winner: Taiji Ishimori
Great match! Not at all what I expected, they actually told a decent story in this one and didn't just chain spots the whole time. Best Xavier match I've ever seen. Handshake and hug after the match.
oVe are backstage, and they're going to take no prisoners tonight, they're going to take over everything…EVERYTHING!
We see a video package hyping tonight's oVe vs LAX Barbed Wire Massacre. There'll be a second part later.
We see a video package for American Top Team, then the Global Wrestling Network takes us back to a Grand Championship Match between Aron Rex and Eddie Edwards, then a bit on EC3 and Matt Sydal before we're back at commercial.
Video package looking at Gail Kim giving up the Knockouts Title, Laurel Van Ness winning it, and Allie working her way towards a title shot next week. McKenzie asks Allie backstage if she's ready, and she says that Laurel's been playing these games, but game time is over. she didn't forget everything Laurel did to her, and next week, she finally gets her shot and is taking that Knockouts Title.
Kongo Kong vs Chandler Park
Chandler backs off and runs every time Kong gets too close, and he fires off a flurry of weak punches before running again. Kong crushes Chandler with a corner splash, but Chandler dodges a second one and does the ten punch count in the corner. Kong goozles Chandler and hits an over the knee neckbreaker. Kong with a corner cannonball, then hits a sitout piledriver for 3.
Winner: Kongo Kong
Well, that didn't last long. Joseph is scared on the floor as Kong goes to the top and hits a splash on Chandler, who may be legally 2D now. Joseph finally runs in to check on his cousin, and Kong menaces him before Jimmy Jacobs orders Kong to the back.
We head to Border City Wrestling for our next match…
Impact Title Match: Eli Drake vs Johnny Impact vs Alberto El Patron
All three men brawl, Impact gets tossed, and Eli and Alberto go at it. Alberto with a toss for 2. They brawl into the crowd as Jeremy informs us that the new season of Schitt's Creek starts this Wednesday! I'd want to watch that more than this, I'll tell you that. Back into the ring where Albert hits the hanging double stomp on Eli for 2. Impact is back in and clears Alberto out, but eats a big uranage from Drake, but Alberto drags the referee out of the ring at 2. Alberto hits Drake with a lungblower and makes a cover, and now Impact drags the referee out of the ring. The referee has finally had it and yells at all three guys, who lay him out with a triple superkick. Okay, I guess knocking referees out is okay now. Another referee is in as Alberto low blows Impact and covers for 2. Drake gets rid of Alberto and hits Blunt Force Trauma on Impact for 2. Drake doesn't like that, so he gives the second ref the Gravy Train. Come on now. All three men go at it again as the locker room empties to break this up, and Jeremy says he received word that the match has been thrown out.
NO CONTEST
Well, this was a big old waste of time.
Rosemary vs KC Spinelli
Back in the Ottawa Zone! KC tries to backjump Rosemary, who casually takes her to the corner, rams her face into the corner a few times, hits a Stinger Splash, and dumps Spinelli with a t-bone suplex for 2. Jeremy announces that, based on what we just saw, we'll get a title rematch between Alberto, Drake, and Impact next week in a cage, as well as Matt Sydal getting a Grand Championship match with EC3 that won't be under Grand Championship rules. Rosemary clocks Spinelli and gets a series of clotheslines, then turns her inside out with a German suplex for 2. Rosemary fakes the mist, then hits the Red Wedding for the win.
Winner: Rosemary
Rosemary gets the mic after the match and says that Laurel Van Ness is in possession of a shiny new toy, and they're not angry, because she respects someone who will block her mist with their bare hands. Laurel will defend that title against our favorite bunny, Allie, but if she is worthy of victory that night, their alliance will not save her because whoever stands victories after Genesis, she will reclaim their Knockouts Title. Rosemary gets jumped by…Aniya? Never heard of her. Must be Canadian. She beats Rosemary up all around ringside before giving her a deathdrop on the ring steps and flipping her hair around for good measure.
Another video package hyping oVe vs LAX with more comments from both sides, and we're at commercial.
Video package hyping the top matches we'll see next week at Genesis, and then it's…MAIN EVENT TIME!
Well, actually it's not…even though they didn't mention this AT ALL during tonight's show, they're just setting up the Barbed Wire Massacre on Twitch because it's TOO HOT FOR TV. So if you care to, go open up Twitch and see what happens. All we get is introductions and then we call it a week.
---
FOLLOW US ON YOUR FAVORITE SOCIAL MEDIA. WE ARE ON FACEBOOK, TWITTER AND G+!
---
LATEST NEWS var numposts = 5;var showpostthumbnails = true;var displaymore = false;var displayseparator = true;var showcommentnum = false;var showpostdate = false;var showpostsummary = true;var numchars = 100;