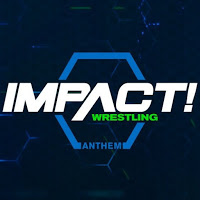 Dan Lambert opens up the show to gloat over sending James Storm packing forever. Storm was here since day one and helped build this place, but not he's on the unemployment line, so maybe the fans should take up a collection to raise Storm some beer money. By the way, we have a new member of American Top Team: KM! He proceeds to say that KM could do what Lashley couldn't by getting rid of Storm for good (which Lashley doesn't seem to appreciate), then KM gets the mic and says that he proved he belongs in American Top Team by getting rid of Storm, and by the way, he also took out Moose singlehandedly. Moose runs in and attacks KM, Lashley jumps Moose, but Eddie Edwards runs out to even the odds, and American Top Team heads for the hills.
Ethan Carter III vs Petey Williams
This is not a title match, just to establish that. EC3 jumps Petey before the bell, but Petey turns the tablesand rallies back, then hangs EC3 in the Tree of Joey Lawrence and stands on his ding ding to sing Oh Canada. EC3 shuts that down with a hard clothesline, then covers for 2. EC3 maintains control for a short time until Petey starts a comeback, getting a Russian leg sweep for 2, then a Flatliner for another 2. EC3 blocks the Canadian Destroyer and counters to the TK3 for 2. EC3 goes for the 1%, but now Petey blocks and dumps EC3 to the floor. Petey goes for a dive, EC3 dodges and Petey hits hard, and suddenly Matt Sydal runs in and attacks EC3 to draw a DQ.
Winner: Ethan Carter III by DQ
Match was chugging along just fine until the abrupt ending.
Allie cuts a promo warning Laurel Van Ness that she's not weak, and she's COMING FOR HER.
Alberto El Patron is arriving at the arena, and he's…WALKING!
Matt Sydal challenges EC3 to put the Grand Championship on the line in a 60 minute match without Grand Championship rules. Doesn't that kind of fly in the face of the point of the title?
Our Global Wrestling Network flashback this week is of James Storm (you know, the guy who wrapped up in Impact last week?) beating Kurt Angle for the TNA World Title.
Knockouts Title Match: Laurel Van Ness vs KC Spinelli
Laurel gets an early advantage and works Spinelli over in the corner, but Spinelli comes back with some power moves until Laurel turns the tide. She yells into Spinelli's face that she's going to make her into a fur coat, then unloads with a series of running Yakuza kicks and a rolling Ace Crusher for 2. Spinelli gets a bridging vertical suplex for 1, then a double underhook suplex for another near fall. Spinelli tries a rollup with the ropes as blatantly as can be, and the ref unsurprisingly doesn't count. Double bicycle kick knocks both ladies out. Laurel with a side Russian leg sweep for 2, blocks another big boot, and sweeps Spinelli's legs. Laurel with a running curb stomp followed by the Unprettier for the win.
Winner: Laurel Van Ness
Good match, probably the best I've seen from Laurel so far. Allie runs in after the match and attacks Laurel, taking her down with a Thesz press. Laurel runs while the babyface who viciously assaulted her stands tall in the ring.
Eli Drake and Chris Adonis come out to the ring, and Adonis channels Rick Rude's usual promo telling everyone to respect the namer of dummies. Drake takes the mic and runs down the fans for living in this sub-zero hellhole. Oh, they're still in Ottawa, by the way. The fans tell him he sucks, which he doesn't buy since he's still holding the title, and Patron found out in New Jersey last week that he can't swim with the big fish, and he should go back to the kiddy pool. He got upset that they took his title away, he comes back and thinks he has a namesake for that title, but it didn't happen. Alberto doesn't have enough tingle in his loins to take the title away from Eli Drake, so since everyone's been run down and crushed, he's gonna defend the title one more time, and it doesn't matter who it's against…oh wait, here comes Alberto. He says to stop the music right now, then tells Eli to shut his damn mouth, perro. He sees a loser and a little kid pretending to be the champion walking around like he's the big deal in this place, and Drake doesn't have the cajones to go toe-to-toe against El Patron. He doesn't want to wait until next week in Detroit when Drake defends the title next, but here comes Johnny Impact! He says if Drake and Alberto are going to be in Detroit, it sounds like they're having a party in Detroit! Johnny Impact likes parties, so somebodty should tell the internet that he'll see all you turdcutters in Detroit. Usually when Alberto opens his mouth, a bunch of stupid nonsense comes out, but Alberto said something that makes a lot of sense: why wait for Detroit when he has a feeling…well, we don't get the end of that because Alberto runs out to the floor and jumps Impact, then Drake and Adonis attack both of them. Impact superkicks Alberto's teeth out, then hits a twisting dive to the floor on all three guys.
Moose and Eddie Edwards are backstage, and they're…HANGING OUT!
The Pluto TV flashback shows us Jim Mitchell scalping Raven.
Dan Lambert is backstage with KM and Bobby Lashley, gloating over what they did to James Storm.
Chandler Park is excited over his big win last week, and Joseph Park tries to tell him to calm down, and Jimmy Jacobs comes in and says he knew what Joseph Park was and can't believe he's this ambulance chaser in a suit since he used to be the guy putting people in ambulances. Joseph says that Abyss is never coming back, and Jacobs says that if he ever did, he'd find out who the true monster around here is. Chandler tries standing up to Jacobs, but Kongo Kong comes in and frightens the Park family.
oVe goes into LAX's clubhouse, steals their briefcase full of money (or product, or whatever) and trashes the place.
We come back from commercial as LAX sees oVe's handiwork, and decides this has to end today. Konnan says these crackers are crazy for taking their paper and flags and destroying their clubhouse, so they're gonna go back to their roots, replace the ring ropes with barbed wire, and Santana says it's time for MUERTE!
We see Taiji Ishimori winning the X Division Title last week, then it's time for our next match…
Trevor Lee, Caleb Konley & Hakim Zane vs Sonjay Dutt, Garza Jr & Desmond Xavier
Garza gave a little Garza Jr doll to a ringside fan during his entrance. Cute. For those who don't remember (or didn't pay attention), Hakim Zane is the guy who won Global Forged. Zane and Garza start us off, and everyone proceeds to do one set of flippy dippy after another. We're at commercial.
We're back, and Sonjay is in trouble in the heel corner. He plays babyface-in-peril until wiping Zane out and tagging Garza in to clean house. He tells the heels to stop so he can tear his pants off, then dodges a missile dropkick from Zane that wipes Lee and Konley out. Garza hot tags Desmond right in front of Zane, and Zane has to pretend he wasn't looking right at it so Desmond can "surprise" him with a shot from the apron and then come off the top with a twisty flippy thing for the win.
Winners: Sonjay Dutt, Garza Jr & Desmond Xavier
Finishes like that make the wrestlers involved look SO amateurish. Here comes Ishimori, who faces off with Xavier and holds the belt up in his face. By the way, the title match between them happens next week. Xavier goes for a shake, Ishimori shakes his hand, and no trouble starts.
The announcers let us know that LAX vs oVe in a barbed wire match is happening next week, and then…IT'S MAIN EVENT TIME!
Bobby Lashley & KM vs Eddie Edwards & Moose
The increasingly bandaged manager guy gets on the apron and mouths off to Eddie, who big boots him in the face and sends him crashing to the floor. KM and Lashley attack, and Moose and Lashley powder out to the floor while Eddie hits KM with a flying headscissors. Lashley comes back in and powerbombs Eddie so KM can cover for 2 as we go to commercial.
We're back, and Eddie is still in trouble as Lashley hits a delayed vertical suplex for 2. Eddie sidesteps a charge from Lashley that sends him to the floor, then tags Moose in to unload on KM with a double back elbow and a pair of sentons. Moose picks Eddie up on his back to hit a double senton on KM for 2. Eddie gets dumped to the apron, and Lashley sweeps his legs and Eddie hits the apron HARD. Eddie goes back in the ring and back into peril. He reverses a vertical suplex on KM, drills Lashley with a missile dropkick, scoots under KM, and makes the hot tag to Moose. Moose flattens KM with a series of corner charges and a hesitation dropkick. Moose and Lashley brawl to the outside, Eddie dumps KM out and drills him with a dive, then rolls KM back inside and gets distracted by Lambert, allowing KM to jump Eddie and hit Project Ciampa (Project KM?) on Eddie for the win.
Winners: KM & Bobby Lashley
We go to credits.
---
FOLLOW US ON YOUR FAVORITE SOCIAL MEDIA. WE ARE ON FACEBOOK, TWITTER AND G+!
---
LATEST NEWS var numposts = 5;var showpostthumbnails = true;var displaymore = false;var displayseparator = true;var showcommentnum = false;var showpostdate = false;var showpostsummary = true;var numchars = 100;