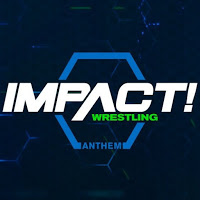 Jeremy Borash and Josh Mathews welcome us to the first ever Impact from Ottawa, Ontario, Canada, then send us to a video package looking back at Bound For Glory this past weekend.

We come back to Ottawa as Eli Drake and Chris Adonis come to the ring for our opening promo. Adonis cops Rick Rude's promo style to tell the fans to shut up and show respect to the man who is still the Global Champion, Eli Drake. Drake says he called his shot just like Babe Ruth, and Johnny Impact thought he had it in the bag, and he told himself he was ready, but he came up short. Drake says everything was perfect except for Alberto El Patron, who put a mark on his title, and did it literally by getting Eli's blookd on the title belt itself. Alberto thinks he's been mistreated by the company, but he hasn't been mistreated until he's been in the ring with Eli Drake. It won't be tonight because he has the night off, and it's because there's nobody left to challenge for his title. It's just as well, because it's not like Canada has anyone here who can give him a run for his money, but that brings out Petey Williams, clad in a Canadian flag. He tells Drake that he's never beaten him, so why doesn't he put his title on the line right here…in OTTAWA, ONTARIO, CANADA! Drake calls him a dummy and says that if Petey wants a title shot, and if that's what the fans want, then let's do it…but not tonight, because he has the night off. Petey says he understands, but says that Adonis didn't get the night off. Adonis goes out after Petey, who boots him into the barricade, then goes into the ring and takes it to Drake, who runs before Petey can hit the Canadian Destroyer.
Johnny Impact arrives at the Impact Zone, and he's REALLY PISSED OFF!
We go to the announcers, who are joined by Jimmy Jacobs, who gets a big pop from the crowd. Jeremy wants to know what he's doing here because they have a match to call, and Jimmy says that sounds great and joins them on commentary for…
Sonjay Dutt vs Matt Sydal
They share a moment of peace and a handshake before tying up for a feeling out process in the middle of the ring. The announcers bicker with Jacobs early on and make fun of his painted fingernails and silver jacket, then Jacobs talks about his reputation for being unprofessional before walking off just as Sydal hits a standing moonsault for 2. Sydal gets a half crab, but Dutt makes it to the ropes. His knee appears to be banged up, as he pulls down his kneepad, but Sydal drapes his leg over the bottom rope and drops all his weight on it. Sydal with a snapmare into a crucifix for 2. Sonjay starts to mount a comeback, hitting a flying headscissors, but Sydal comes back with a Silver Slice for 2. Sydal goes back to the knee and heads up top, but Dutt is up and pops Sydal with a leaping palmstrike. Dutt hits a superplex as we go to commercial.
We're back as Sydal and Dutt are trading knee kicks and bicycle kicks, then Sydal connects with a spinkick to the jaw for 2. Sydal gets a modified Indian Deathlock/anklelock combo, but Dutt gets to the ropes and they go out to the floor. Dutt gets the advantage and rolls Sydal inside, but takes too long going to the top and Sydal dodges the splash, then hits a Chemical Imbalance on Dutt followed by the Sydal Press for 3.
Winner: Matt Sydal
Terrific match, and I LOVELOVELOVELOVELOVE that they let the X Division guys go out there and work instead of just doing endless spots! Ethan Carter III comes out to the ring with the Grand Championship I forgot he held since it's been months since he defended it. Actually, has he ever defended it? I honestly can't remember. He tells the fans to stop chanting for him and chant for Matt Sydal, because he came out here to offer him congratulations for another win, because he keeps winning and winning…but then falls short when the big lights are on him. He ran undefeated, beat Bobby Lashley, then he choked. Sydal has a ton of talent, he excites, and he delights, but he's missing a killer instinct. Not to toot his own horn, he's got the killer instinct and he's in the top 1% in this company. That's the difference between them: he's a killer, and Sydal is a nice guy, and he knows Sydal wants him to step in that ring, but he wants Sydal to know that he could have been Reborn a winner.
Johnny Impact is backstage, and he's…WALKING!
Josh and Jeremy plug the Global Wrestling Network, and show us an old match featuring Team Canada, then we go to the ring for what Impact is falsely claiming to be the first GHC Title match to take place in North America (the real first time happened 11 years ago in ROH when Nigel McGuinness challenged Naomichi Marufuji in New York City).
GHC Title Match: Eddie Edwards vs Phantasma Jr
Feeling out process to start with takedowns and escapes, and we go to a stalemate. Eddie unloads with some hard chops in the corner, then Phantasma blows a tilt-a-whirl backbreaker for 2. Phantasma gets a COPS lock on Eddie, then puts Eddie on top and hits a Frankensteiner for 2. Phantasma goes to the top, but Eddie connects with a hard boot and goes up for a superplex, planting Phantasma right in the middle of the ring. Eddie catches Phantasma with a Blue Thunder Bomb for 2, Phantasma counters a powerbomb to a Frankensteiner, then drills Eddie with a big knee to the face for 2. They go to the apron where Eddie goes for a Tiger driver on the apron, Phantasma backdrops him into the ring, but Eddie sends him to the floor with a leaping enziguiri and takes him out with a dive through the ropes. Eddie rolls Phantasma into the ring, but Phantasma knocks Eddie back to the floor and now connects with a dive of his own. Back into the ring where Phantasma counters a Tiger driver attempt to a modified 619 for 2. Eddie with a hard clothesline, and now he hits the Tiger Driver for 2. Phantasma avoids the Boston Knee Party and takes Eddie out with a clothesline and a leaping enziguiri, Eddie dodges a top rope something, and he connects with the Boston Knee Party. Eddie waves off the pin attempt and hits the Die Hard for the win.
Winner: Eddie Edwards
Another excellent match! This has been a really good episode so far!
All three members of oVe are backstage in Security Cam Vision, then we see a video package looking back at the Moose/Bonnar vs Lashley/Mo match at Bound For Glory before we go to the ring for our next match…
Phil Atlas, Burke & Ray Steele vs oVe
Sami Callihan starts us off and brutalizes Burke, then oVe hits a triple team boot in the corner. Atlas tags in and oVe witha triple big boot, followed by the All Seeing Eye for the easy win.
Winners: oVe
LAX runs in and attacks oVe, who head for the hills. LAX as babyfaces, huh? Okay.
McKenzie Mitchell is backstage with Hakeem Zane, who won Global Forged, but Johnny Impact runs in and lays him out, then looks into the camera to tell Alberto El Patron that he came here to kick his ass and get blood, and he's not leaving until that happens.
Allie is backstage, and she's…WALKING!
We head to Border City Wrestling for our next match…
Allie vs KC Spinelli
A lot of stalling to start this one, but Allie finally has enough and unloads with forearms on Spinelli. Spinelli quickly turns the tide and hammers Allie with a barrage of hard hitting offense, but Allie dodges a corner charge, hits a flatliner into the corner, and a charging knee from behind for 2. Spinelli hits a spinning neckbreaker for 2, but Allie fires back with a series of clotheslines and a charging elbow in the corner for 2. Allie hits a Codebreaker for another close 2, then Spinelli hits a clothesline for 2. Spinelli is fired up, and she goes to the top, but Allie dodges a moonsault and hits a Death Valley driver for the win.
Winner: Allie
Good match!
Alberto El Patron is arriving at the arena and laughs about Impact wanting to fight him, and tells him to be careful what he wishes for.
Allie is backstage marking out over being in the ring with Gail at Bound For Glory. She says Gail has an announcement to make next week, and she can't wait to hear what it is.
The announcers run down what's happening next week, then we see Johnny Imapct jump Alberto El Patron in catering. Alberto tries to hook Impact as Impact rams him into a crane of some kind, then shoves him into Braxton Sutter, who comes out of a trailer to see what's going on. Impact beats Sutter up for no good reason, then Caleb Konley comes out to brawl with Sutter while Impact breaks something over Alberto's head. Alberto gets a trash can and bashes Impact over the skull with it, then they brawl out of the building. Impact beats Alberto down on the sidewalk and busta him over the head with a trash can. Alberto rams Impact's face into a stack of pallets, then grabs him by the head and tells him that it's not his title, it's his, then he rams Impact into the door and they fight back inside. Security runs in, but they're about as effective as they ever are. Impact and Alberto go through them, then go back to fighting and Impact tries to choke Alberto out. Impact rams Alberto in the face with a kneestrike against a wall, then gets a kneeling version of the Hell's Gate and nearly chokes Alberto out, but Alberto got free and gets rammed into a table instead. Alberto rams Impact into what is clearly not a real bathroom, then climbs a ladder on top of the opposing port-a-potty instead. He kicks the ladder over to get away from Impact, but Impact vaults up over a Pepsi machine and goes back after Alberto, kicking him off the port-a-potty and into the arms of security, who are mobbing together just conveniently enough to catch Impact when he does a dive off the bathroom as we go to commercial.
We come back just after Alberto bashes Impact with a pipe and informs him that this is his company. He walks off, but Impact pops up and goes back after Alberto, beating him up on the stage and through the curtain into the arena. Alberto gets the advantage and grabs a mic to tell everyone that this is his company and Impact tries to go back after him, but security holds him back this time as Alberto says he doesn't have his title because of the office, and he knows Impact wants to fight, and he'll give him a fight. He tells Impact to get in the ring so they can have this battle, and Impact obliges, but Alberto tries to walk…until Impact gets a mic and says Alberto not only isn't the pride of Mexico, he's not even the pride of his father. That is enough to get Alberto back in the ring to continue the fight, blindsiding Impact and hitting a DDT. Alberto hauls him up for another one, beats up security some more, then gets a hanging armbar on Impact in the ropes as referees run out to try and stop him. Alberto finally releases the hold, but Impact seems to be hurt as Alberto sits on the entry ramp applauding him as we call it a night.
---
FOLLOW US ON YOUR FAVORITE SOCIAL MEDIA. WE ARE ON FACEBOOK, TWITTER AND G+!
---
LATEST NEWS var numposts = 5;var showpostthumbnails = true;var displaymore = false;var displayseparator = true;var showcommentnum = false;var showpostdate = false;var showpostsummary = true;var numchars = 100;