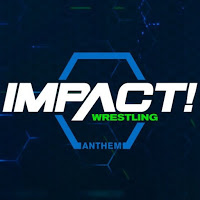 Thanks to MrEddyG for these results from Thursday's Impact Wrestling taping in Ottawa, Ontario, Canada. These will air in late Dec. & early January:

* Taiji Ishimori vs Trevor Lee for the X Division Title. Caleb Konley is out with Trevor and interfered a lot on the outside the Ishimori wins the title with a 360 splash to win his first X Division Championship and first overall in Impact. Great match. After this match, JB announced the main event tonight would be the ring surrounded by barbed wire
* For the first time ever a 3-way match for The Grand Championship: Fallah Bahh vs Matt Sydal vs EC3. Bahh completely dominated round 1 with slams and tossing EC3 & Matt around to rightfully earn round 1 by the judges. Bahh is knocked out the ring early in the second round EC3 is all over Sydal, Bahh is outside for almost the entire round. EC3 is awarded the round. Bahh controls the round early and goes for the Banzai Drop to Sydal, but EC3 dumps him to the outside. Sydal goes for Air Born late in round 3 on EC3, but time expires as he has the pin. The judges award 3 to EC3 & he retains in a very controversial decision. I thought Bahh did enough to earn the round.
* We have a new member to the roster: John Bolin vs Joseph's newest signee: Chandler Park. Chandler tries to extend his to Boldin who had none of it and kicked him in the gut. The crowd seemed to be on Chandler's side. Boldin gets in Joseph's face & tells him: "Screw your grandma." Joseph punches him while the ref is distracted & Chandler rolls him up to win.
* Career vs career match: Dan Lambert – out by himself and found some running shoes – vs "The Cowboy" James Storm. Top Team eventually comes to help – along with KM – I don't get what his deal is. Storm is hit twice with beer bottles before Lambert pins him. Storm thanks the fans, his wife and tells his kids that: "Daddy's gonna be home for a little while." He thanks Jeff Jarrett, Dixie Carter and Bob Ryder before spraying some beer on the fans – a bit on me, too – before he leaves.
* LAX (w/ Kennan) vs OVE (they're out by themselves). This is a title rematch. Konnan and Orti are sneak attacked by OVE who were waiting by the aisles where LAX normally enters. Santana is left by himself for a long time but LAX turn it around & hit their top rope blockbuster into a powerbomb to regain the titles!
* Kongo Kong (w/ Jimmy Jacobs) vs Kaito Kiyomayi from Noah. Kongo completely dominates the kid and mercifully ends it with a top rope splash.
* Dan Lambert comes out with Lashley to brag about his victory over Storm and how they're dominating Impact Wrestling. He gets the "WHAT" treatment and says that the wrestlers remind him of cockroaches. He introduces the newest member, who could do what even Lashley couldn't, of American Top Team: KM. KM brags about taking out Storm & Moose. Moose just walks to the ring and stares beating on KM. Lashley stops him but Eddie Edwards evens things up. They have Lambert backed into a corner, but gets pulled out just in time.
* Grand Champion EC3 is in the ring and calls Sydal a choker-while making some useless choking noises, ugh. He insults the Senators for being chokers also and asks a referee to come down and issues an open challenge, which is answered by Petey Williams. This is a non-title match. Sydal comes out of the crowd to attack EC3 for the DQ. Petey looks annoyed, but they shake hands after.
* KC Spinelli vs New Impact Wrestling Knockouts Champion Laurel Van Ness. This is her first title defence. Laurel retains in an uneventful match with her version of the Unprettier. Allie attacks her after the match for some reason, until Laurel escapes with her title.
* 6 man X-Division Match: Trevor Lee, Caleb Konley & Hakim Zane vs Sonjay Dutt, Garza Jr. & Desmond Xavier. While Lee & Caleb are trying a double team move on Garza he gives the stop sign into the tear away pants routine; they try to double clothesline him, but he ducks & Hakim was in the top rope to try and hit a missed drop kick misses and hits Lee & Konley. Dezmond tags himself in and hits Konley with a spinal tap move off the top to win it. Ishimori comes down with his X Division Title; he looks at Xavier who extends his hand and they eventually shake to end this segment.
* Lashley & KM (w/ Dan Lambert) & one of ATT – the guy with the crutches – vs. Eddie Edwards & Moose. While Moose & Lashley are fighting to back, KM gets the pin on Edwards after Lambert grabbed Eddie's leg and KM hit him with his powerbomb onto his knees finisher.
* Chandler Park (w/ Joseph Park) vs. Kongo Kong (w/ Jimmy Jacobs). Chandler gets very little offence in as Kongo pins him with a Big Ending type move. He does his top rope splash after the match. Poor Chandler.
* For the first time on TV there's a barbed wire rope match with the new Tag Team Champions LAX facing OVE. Konnan has a bandage on the right side of his face, I'm not sure what happened there. Santana, Ortiz & Homicide face off in the ring with Sami Callahan & OVE. There's trash cans, forks and barbed wire tables all used. Jake got caught on side of ropes and Homicide used a fork on his neck. Dave got a cut on the back of his left shoulder, Homicide brought a small glass bottle of tequila and poured some of it on to Dave's cut. Sami then took the bottle away and sprayed tequila in Homicide's eyes. The finish comes when Santana & Jake are fighting on top of a ladder, Santana eventually superplexes him off the top of the ladder onto a table that had barbed wire on it. A great, great match. Konnan gives credit to the crowd for supporting LAX to end the night.
---
FOLLOW US ON YOUR FAVORITE SOCIAL MEDIA. WE ARE ON FACEBOOK, TWITTER AND G+!
---
LATEST NEWS var numposts = 5;var showpostthumbnails = true;var displaymore = false;var displayseparator = true;var showcommentnum = false;var showpostdate = false;var showpostsummary = true;var numchars = 100;