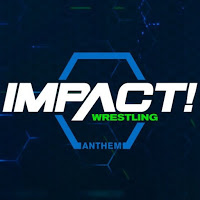 – Jeremy Borash and Josh Mathews welcome us in to tonight's show and the Turkey Bowl, which will determine who will wear the dreaded turkey suit. It will be a 5-on-5 tag match, whoever takes the pin, wears the suit.

– We look back at the Turkey Bowl in 2008 featuring Rhyno, Alex Shelley, and Sheik Abdul Bashir (Shawn Daivari). The match starts part way through with Rhyno having to fight off his two opponents for most of the match. Rhyno eventually hits the gore on Alex Shelley, who was forced to wear the turkey suit. Mick Foley comes out and tells Alex he has to wear the suit because he agreed to the stipulation. Mick then rambles on about something not important and finally gets to the point of Shelley having to wear the suit or he'll be fired. Shelley finally puts it on, much to his dismay.
– Backstage, Borash is using a random draw to figure out who will be competing in tonight's Turkey Bowl and some chef shows off a turkey he's working on as we head to break.
– We hear from a number of Impact stars talk about their memorable Thanksgiving moments. Eli Drake said in 1997 he was in the Macy's Parade. Allie talked about her Grandma making a massive meal for the family.
– Backstage, Borash looks to figure out who was involved in the match, Eli Drake and Chris Adonis show up. Drake talks up the match and names it the Gravy Train Turkey Trot. The first pick – and Captain – is Eddie Edwards. McKenzie Mitchell is with Edwards who says this is definitely something off his bucket list with a straight face.
– Back to Borash, he picked the second team Captain, El Hijo del Fantasma. Going back to McKenzie, Fantasma says he's ready to go.
– We see a preview of the upcoming Knockouts Championship Tournament, which will feature Laurel Van Ness, Rosemary, Sienna, Allie, KC Spinelli, and Madison Rayne.
– More Impact stars talk about their favorite Thanksgiving foods. Sami Callihan said he would put cranberry sauce on everything.
– Highlights from another Turkey Bowl match is shown with Eric Young defeating Robbie E, but he was knocked out so Rob Terry was forced to wear it. The suit barely fit the big guy.
– The second member of Edwards' team is Allie. McKenzie talks with her and Allie is super pumped to wear the suit, but doesn't want to lose to do so. The second name for Team Fantasma is Caleb Konley. With McKenzie, Trevor Lee tells Konley he better not lose the match, he doesn't want to see him in a turkey suit. Third pick for Team Edwards is Richard Justice, who says he's so excited to be included, but he's worried the turkey suit might be a little bit snug on him.
– Back to hearing from the Impact roster who talks about what they are thankful for this year. Drake says he was thankful for being the Impact Global Champion. Sienna thanks the fans.
– The third member of Team Fantasma is KM. Fourth member for Team Fantasma is Laurel Van Ness, who tells McKenzie she loves a good turkey dinner and gobbles drunkenly around the interviewer.
Robbie E vs. Grado (2016 Turkey Bowl)
Robbie corners Grado, goes for a big strike, Grado dodges it and taunts a bit. We get a couple stalemates until Robbie slaps Grado in the chest, Robbie gets a chop and a few punches to the face. Robbie pinches Grado's nipples and gets it himself. Robbie tries to use the ropes during the pin, but Grado kicks out. Grado then does the same thing, tons of mirroring in this one. Grado tries for a roll-up, but gets caught and pinned.
Winner: Robbie E via Pinfall
– Post-match, Grado puts it on and isn't happy about it. Robbie E dances around him. Music suddenly plays and Grado kind of gets in the mood and begins dancing.
– Backstage, Borash picks some more names for tonight's 5-on-5 match. The Fourth member of Team Edwards is Fallah Bahh! Eli Drake calls him a big tube of goo. The final member for Team Edwards is Garza Jr. So it will be Eddie Edwards, Garza Jr., Fallah Bahh, Allie, and Richard Justice. The final member for Team Fantasma is Chris Adonis. So, for Team Fantasma it will be: El Hijo del Fantasma, Laurel Van Ness, Caleb Konley, KM, and Chris Adonis.
– Team Fantasma comes together with Chris Adoins rallying the troops so they don't wear the turkey suit. We then see Team Edwards asking his team if they are ready about six or seven times and just wants them to win.
Eddie Edwards, Fallah Bahh, Garza Jr., Allie, and Richard Justice vs. El Hijo del Fantasma, Laurel Van Ness, Caleb Konley, KM, and Chris Adonis (Turkey Bowl 2017)
On the floor is a full Thanksgiving meal for both teams, each at sitting at their respective table. Before things get started, Eli Drake gets the mic and talks about the stipulation about wearing the suit. He wants the crowd to make sure whoever loses must wear it! The wrestlers then repeat an oath to do so and we finally get started. Justice and Konley start things out with Justice getting a few punches and shoves some food in Konley's face. Laurel tags in and piggy backs on Justice before Allie gets in. The two swing wildly at each other, Alli with a diving chop. We see Eli Drake take a seat at the table and get some food. In comes Bahh and KM, KM with some punches to the head, Bahh charges in but gets throw into the ring post, shoulder-first as we head to break.
Action in the ring is still KM and Bahh, KM trying to bring down Bahh, but he gets cross body blocked to the mat. Garza Jr. and Bahh working together now as Garza yanks off the pants and Bahh hits a samoan drop. Garza goes for a springboard, but gets caughter in mid-air. In comes Fantasma, hits a drop kick, pin, two-count. Now, Chris Adonis and Konley beat up on Garza, Adonis goes for the pin, two. Since this is from the same taping, Garza's shoulder is still messed up as he wrestles with basically one arm. Garza really needs to tag out as the other team is just taking turns destroying him. Edwards finally gets tagged in and goes to work hitting a blue thunder bomb on Adonis, pin, two. Everything breaks down in the ring with everyone attacking each other.
Fantasma sent to the floor, Edwards hits a suicide dive on him. KM gets splashed between Justice and Bahh. Justice throws Konley out of the ring down on to a group of wrestlers. Justice then gets on the apron and just drops down on them, but he's caught. Allie gets up on the top rope and splashes down, taking out everyone. "Allie!" chant breaks out from the live crowd. Edwards and Adonis now in the ring, Adonis looking for the Adonis Lock, Edwards slips under, 1-2-3!
Winner: Eddie Edwards via Pinfall
– Post-match, since Adonis got pinned, now he'll have to wear the turkey suit. Borash says Adonis has to put on the suit, but Drake says no way, this is his deal and he doesn't have to do it. Borash pretty much ignores Drake and says to put it on per the oath! Everyone chants "Turkey!" while Richard Justice helps himself to some food. Adonis tries to head to the backstage area, but security slows him down. Borash demands that he return to the ring and put on the suit. He tries to run to the back, but more security come out and push him back towards the ring. Borash says if Adonis doesn't put on the suit, then Eli Drake will have to do it.
At first, Drake was trying to get him to leave, but now he's trying to talk him into wearing it and even gets security to make him get in the ring. He slowly puts it on as the crowd taunts and laughs at him. Drake has a smirk on his face while he puts the turkey head on. A "Gobble! Gobble!" chant starts up as he struts around the ring in anger. Adonis bails out of the ring and yells at Allie. Edwards ends up throwing some food at him and an all out food fight starts up. Bahh is throwing plates like a Frisbee! Garza Jr. threw an entire turkey, Konley got gravy on him. Drake hold Edwards as Adonis goes to throw a pie in his face and instead hits Drake as we sign off.
---
FOLLOW US ON YOUR FAVORITE SOCIAL MEDIA. WE ARE ON FACEBOOK, TWITTER AND G+!
---
LATEST NEWS var numposts = 5;var showpostthumbnails = true;var displaymore = false;var displayseparator = true;var showcommentnum = false;var showpostdate = false;var showpostsummary = true;var numchars = 100;