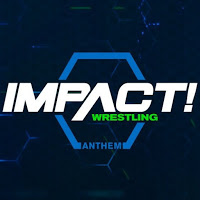 We start off with a video package looking back at last week's main event, then we go to the ring where Eli Drake, still the GFW Global Champion, gloats over his win over Johnny Impact last week, claiming that Impact will never be back after what happened to him last week. Jim Cornette has done everything in his power to screw him, and he's brought in every golden boy he could, but he can't get the job done, so Cornette sent him to Mexico, and next week he's sending him to Japan. Cornette can do anything he wants because the title isn't going anywhere, but he's taking the night off tonight, so he wants any woman between 18 and 30 with DD cups to come to the Doubletree tonight. Drake can see the fire in Adonis, so he got him a match for tonight, and he doesn't know who the opponent is, but it doesn't matter because Adonis is going to run over him the same way they ran over Impact. Garza Jr comes out, and I guess we know who the opponent is!
Chris Adonis vs Garza Jr
Eli Drake joins the announce team as Garza unloads on Adonis with a flurry of superkicks for 2. Adonis grounds Garza and goes to work on the arm, but Garza maneuvers Adonis to the floor and wipes him out with a dive. Adonis dodges a second dive as we go to commercial.
We're back, and Adonis is still firmly in control, using his power to keep Garza from mounting a comeback. Adonis drills Garza into the mat with a spinebuster as we see Johnny Impact arrive at the arena. Drake decides to go check the parking meter after seeing Impact arrive, and Garza mounts a comeback and takes his pants off for 2. Garza misses a delayed lionsault as Impact runs in and attacks Adonis.
Winner by DQ: Chris Adonis
Garza tries to pull Impact off of Adonis and gets knocked on his ass so Impact can go back after Adonis. Security runs in to stop this, and out comes Cornette as well to ask Johnny and Garza what the matter is with them. Cornette says if they want to fight that bad, to wait for when they'll get paid for it, which will be next week. I didn't think they seemed that angry at each other, but okay.
We look back at last week when oVe won the World Tag Team Title, then we get comments from the new champs before going to the LAX clubhouse where everybody's mad. Konnan's mad because his briefcase used to be full of money and it's not anymore. Everyone is mad at each other, and Konnan says this is what they want, to cause dissension. Okay.
World Tag Team Champions oVe vs Two Guys
Total squash, oVe dominated this whole thing with a series of high flying moves before turning one of the opponents inside out with a double goozle/Total Elimination mash up.
Sienna comes out to the ring with KM to complain about not having a match at Bound For Glory, but she thinks she should just be the next Hall of Fame inductee and retire, because unlike Gail Kim, she's the real greatest of all time. Gail Kim comes out to say that she fought for years for this division, and Sienna never would have beaten her at Destination X without Taryn Terrell. Speaking of Taryn Terrell, she comes out to gloat over being the longest reigning Knockouts Champion, and Gail can focus on sometihng she's never done before: beating her. Allie comes out and puts over everyone before saying she wants a title shot, then Karen Jarrett comes out to say Sienna isn't going in the Hall of Fame, and she will be defending the Knockouts Title at Bound For Glory against Gail Kim…and Taryn Terrell…and Allie!!! Allie jumps up and down and gives Gail a big hug while Karen's music hits.
We go to a signing that Joseph Park set up for Grado, charging $100 a photo. Grado thinks that's a bit much, but Joseph says the boys told him you can charge these marks anything. Grado signs like 500 pictures, and Park pays him like $80. I think Joseph Park has this indy promoter schtick down.
X Division Champion Trevor Lee, Caleb Konley & Andrew Everett vs Sonjay Dutt, Matt Sydal & Petey Williams
Wait, didn't Everett and Lee hate each other a few months ago? And I guess this means Sydal's big push is over. Heels get the early advantage, but the babyfaces turn the tide with flippy dippy stuff as we go to commercial.
We're back, and the babyfaces are still in control. Sonjay gets caught in the wrong part of town for a bit, then he makes a hot tag, everyone takes turn doing spots, and Sydal hits the Sydal Press for the win.
Winners: Matt Sydal, Sonjay Dutt & Petey Williams
All the babyfaces want a shot at the X Division Title at Bound For Glory. Haven't I seen this somewhere before? Like, earlier tonight maybe?
We see this week's Global Forged, then we're at commercial.
We come back from commercial and the X Division babyfaces are yelling at Cornette about getting a title shot, then we see Laurel Van Ness riding a Dutch Mantel scooter around the crowd and kissing people, then Moose goes to the American Top Team training facility to start a fight with Bobby Lashley, but gets his ass kicked and thrown out the front door by Dan Lambert's people.
And with that, it's…MAIN EVENT TIME!
Texano Jr & Phantasma Jr vs Ethan Carter III & James Storm
We're back, and Storm is going at it with Texano with neither man able to get much of an advantage. Storm and EC3 finally double team Texano to get an advantage, and maintain that edge when Phantasma tags in. Storm and EC3 tag themselves in off each other rather than offering and receiving tags like you normally see, and Texano gets a cheapshot on Storm from the apron, then Phantasma superkicks Storm to turn the tide. Double teams put Storm firmly on the mat and in deep trouble. Storm makes a hot tag and EC3 cleans house and hits a TK3 on Texano for 2. That only lasts a short while before EC3 winds up in trouble, and takes a STIFF boot to the face from Phantasma, who follows up with a nice dropkick for 2. EC3 fires back with a series of chops, but Texano comes in and clips EC3 from behind to shut EC3 right back down. Pagano comes out to ringside and distracts Storm, drawing him away from the corner so EC3 can't tag him when he gets there. Phantasma drills EC3 with a flying knee as we go back to commercial.
We're back, EC3 is still in trouble, but he makes a hot tag and Storm cleans house. Everyone winds up brawling in the ring, they do the highly-implausible Tower of Doom spot, Storm tries to suplex Phantasma, and Pagano pulls the ankle and Phantasma lands on top to score the win.
Winners: Texano Jr & Phantasma Jr
Good match, better psychology than I'm used to seeing from luchadores, though they did have to squeeze in that Tower of Doom match.
We go back to LAX, where Low Ki says that should take those tweaker fruit roll ups to school in a 5150 streetfight, then go to Diamonte's club to spend some time with the ladies. They're off to celebrate, and that's it for this week!
---
FOLLOW US ON YOUR FAVORITE SOCIAL MEDIA. WE ARE ON FACEBOOK, TWITTER AND G+!
---
LATEST NEWS var numposts = 5;var showpostthumbnails = true;var displaymore = false;var displayseparator = true;var showcommentnum = false;var showpostdate = false;var showpostsummary = true;var numchars = 100;